Thanks to sharp looks and rising values, we say now's the time to bag a Vauxhall Calibra – the Cavalier-based coupe that's gaining traction as a modern classic
Words: Chris Randall, Matt Bell
The Opel Manta was a pretty car, at least in its first and third generations. We shall skate over an awkward phase between 1975 and 1981 when it was basically a hunchbacked, two-door Cavalier. Otherwise it was a graceful sports coupé, an evolution of the Ascona saloon from a manufacturer whose offering was dominated by distinctly quotidian machinery.
In 1989 Vauxhall repeated the trick with the Calibra. Underneath it may have been the wholly ordinary Mk3 Cavalier, but its pared-down profile made it one of the better-looking cars of its generation. It sold reasonably well as a result.
The Vauxhall Calibra was very much the descendent of the Manta, as both were the work of stylist Erhard Schnell. He shares credit for the Calibra with another GM design legend, Wayne Cherry. The car was an exercise in restraint, with unadorned coachwork, a long nose, elegant frameless side windows and swooping roofline that would later be echoed by the notably good-looking Audi TT. A happy side-effect of this was an exceptionally low drag coefficient.
Under the skin was the Vauxhall Cavalier's front-wheel drive chassis, plus two-litre 8 and 16-valve engines used across the company's product range. Of these the latter was particularly well-regarded, having been developed with motorsport in mind as a collaboration with Cosworth. Known as the red top engine, its reputation was tarnished slightly when GM replaced the Cosworth cylinder head in 1991 with its own version which tended to suffer from porosity issues.
The eight-valve unit delivered 112bhp and 125lb.ft of torque, giving the car a leisurely 0-62mph journey time of 10.0 seconds and a top speed of 127mph. The 16-valve model fared better, with 145bhp and 144lb.ft of torque. Thanks to this, 62mph appeared after 8.5 seconds and peak velocity was 139mph.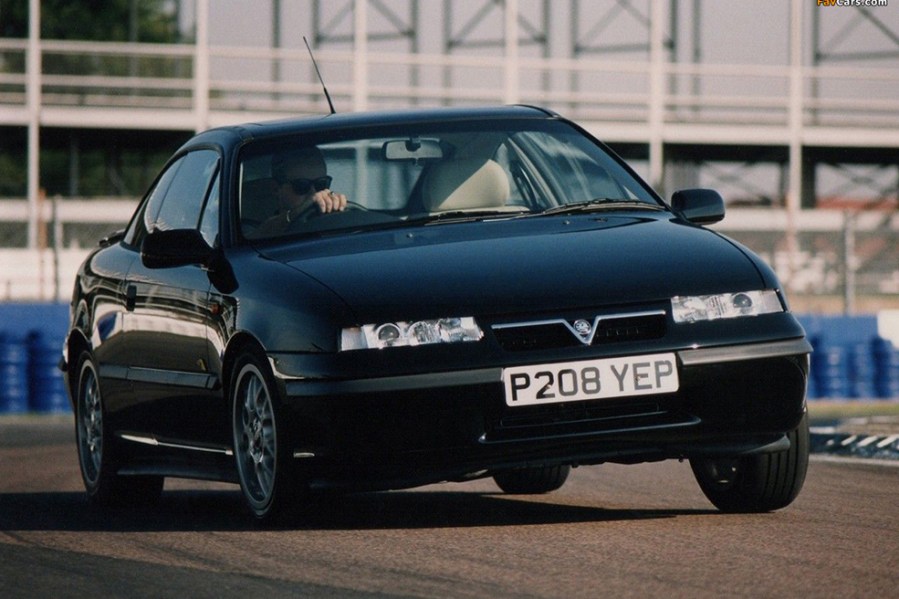 In 1992, the Vauxhall Calibra gained performance that matched its sporting looks, thanks to a turbocharged version of the 2.0-litre, 16-valve motor. This unit was both powerful and tractable, because peak torque of 206lb.ft was developed at just 2400rpm. Maximum power of 198bhp appeared at 5600rpm. The turbo engine has become a classic in its own right, being a favourite for conversions and kit cars. In the Calibra it was deployed via a six-speed gearbox, way before such a unit became the norm. The Turbo model also featured four-wheel drive. Vauxhall has typically been efficient at using components across model ranges, and in this example the Omega's rear axle was repurposed.
The result is a Calibra which handles in a far more sporting fashion than its front-wheel drive brethren – sharing the Cavalier's undercarriage meant that the two-wheel drive Calibra sadly inherited its unremarkable on-road dynamics. An interesting alternative arrived in 1993, with a front-wheel drive variant packing a 165bhp 2.5-litre V6. Unlike the four-cylinder models, the V6 was available with both manual (five-speed) and automatic transmission options.
Thanks to the four-seat accommodation and load space, the Calibra appealed to some as a company car, and it remained on Vauxhall's model list until 1997. It was largely unchanged throughout, receiving only a featherweight facelift in 1994, and more emissions-friendly Ecotec versions of the 16-valve and V6 engines in 1995.
During its production life several special edition models appeared. Nine of these were offerings with exotic paint colours and finishes, wheels and trim schemes. A run of 167 cars was built to celebrate the Calibra's success in the German Touring Car championship. It brought BBS alloys, special trim options, lowered suspension and a rear spoiler to the party, and was available with the 2.0-litre 16-valve, 2.0-litre turbo and 2.5-litre V6 engines.
While this is an interesting variant today, even more niche is the Turbo Limited Edition, a numbered run of 51 cars produced only in black, which enjoyed heated leather seats, lowered suspension and BBS alloys. Vauxhall also approved a conversion with specialist coachbuilder Tickford, which added luxury features to the interior of an already well-equipped car. Unsurprisingly, demand for this proved limited, and only 26 were built.
The years following 1997 were not kind to the Vauxhall Calibra. Like the Cavalier it depreciated remorselessly, and many succumbed to the neglect and consequent corrosion that is the lot of cheap, ageing, mid-market cars. As a result, the only examples left are those that have been cherished, which means that the Calibra is today very much an appreciating classic.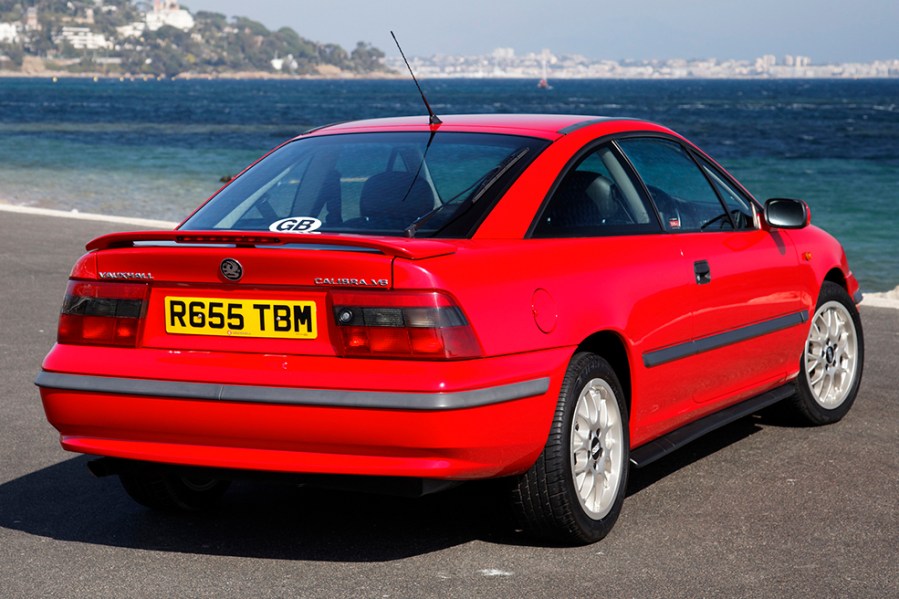 Bodywork
The Calibra doesn't fare too badly when it comes to corrosion, and a galvanised shell from 1995 vastly improved matters, but it would be wise to examine the panels all the same.  Early models could suffer from rot in the panel behind the rear bumper and in the front bulkhead, the latter caused by sound-deadening material trapping water.
The bulkhead can also develop cracks around the steering rack mounts, and look for bubbling around the sills, door bottoms, and wheel-arches, along with a wet boot caused by blocked drain holes.
Replacement panels are rare in the UK, and while Germany is a better hunting ground you may need to consider a donor car if repairs are needed.
Engine and transmission
Familiar from other Vauxhall models, the engines are a known quantity making repairs and maintenance straightforward, but they aren't without a few foibles.
The 16v 'Red Top' engines can suffer from head gasket failure so look for signs that oil and coolant are mixing while later Ecotec units have a reputation for troublesome engine management sensors.
With all engines you'll want to see evidence that cam belt changes have been attended to – a kit for the 16v engine is around £130 if you fancy tackling the job yourself. As for the turbocharged unit it's important to watch for exhaust smoke that indicates an ailing turbo. Unsurprisingly, plenty of Calibra engines have been modified and upgraded over the years so if that's your bag you'll want to satisfy yourself that work has been done to a good standard.
The five-speed manual boxes are generally robust and whines and weak synchromesh will be obvious, but the six-speed Getrag F28 item fitted to four-wheel drive models needs greater care.
It seems early ones suffered from a weak third gear, and replacement units are both rare and expensive. You could also have a Calibra with an Aisin AF20 four-speed automatic transmission, and while it hampers outright performance it's broadly reliable; check that the Economy/Sport/Winter modes work, though.
Reliability isn't so hot with the Turbo's four-wheel drive system, so tread carefully – the transfer box is a known weakness, and its longevity can be affected by things like tyre wear and pressures (it's advisable to rotate the tyres every 3000 miles or so to even out wear). You won't find a new replacement, so while there's the potential for repairs or an uprated aftermarket unit you'll be looking at a hefty bill either way. The alternative route that some owners take is to lock the transfer box so it operates permanently in four-wheel drive, but it does affect the driving experience.
Suspension, steering and brakes
It's all reliable enough, so just look for tired struts and dampers and for any rot developing around mounting points. Original replacement bushes aren't expensive and uprated polyurethane items are around £300 for a full set.
The brakes should be trouble-free in normal use, with original or uprated pads and discs both affordable and easy to source, but some items such as calipers are becoming rare, and pricey as a result. More important is checking that ABS and traction control systems still work.
Interior and trim
Shared with the Cavalier, the interior was fairly well-appointed, solidly built, and in Turbo form really rather plush. Sourcing replacement bits may not be straightforward, so be wary of anything too decrepit, but joining owner's clubs and forums can pay dividends here. For example, Club Calibra.net has developed a fix for cracked windscreen demister vents with the availability of carbon-fibre replacements.
Much the same advice applies to the electrics, where it's important to check for broken switchgear and inoperative electric motors. There's a reasonable supply of second-hand parts if you're prepared to search but patience may still be needed, and we'd certainly encourage taking advantage of the enthusiastic owner scene.
Vauxhall Calibra: our verdict
Overall the Vauxhall Calibra is handsome, durable, pleasant and practical to own. As a bonus, a good example is a fine investment and will reward its owner's care with reliability and rising value. Not all elderly Vauxhalls were created equal, and at three decades old the differences show up plainly. This might be a Vauxhall Cavalier underneath, but it has attitude and that counts for a great deal these days.
While values have begun to climb the Calibra wasn't always so desirable, with a predictable effect on survival rates. Projects can be found from £500 or less, but 8v/16v cars in that bracket may be beyond economical saving; a project Turbo is nearer £2000.
Expect to pay £2500-3500 for clean naturally-aspirated models, although we've seen exceptional, low mileage ones with perfect histories advertised for £5000+. Nice Turbos are heading for £5000-6000 and you can add another couple of thousand pounds for the best examples, with show cars nudging five figures.
As for the V6, it appears less sought after which could make it a good option if you want to avoid the complication and cost of a Turbo; budget around £2500 for a scruffy one and closer to £4000 for something nice. With the classifieds not exactly awash with Calibras, clubs and forums are a good starting point.