The Triumph TR3 offers a spartan, no-frills driving experience that makes it one of the very best British sports cars of the 1950s. Here's how to buy one
Words: Sam Skelton
The Triumph TR3 story can't be told without the Triumph TR2. Following a failed attempt to buy Morgan, Triumph sought to develop its own sportscar from existing components. Help from BRM test driver Ken Richardson saw the TR2 launched in 1952. In 1955 this was replaced by the Triumph TR3 – a new grille, more power and an optional GT package with hard top meant that the TR3 appealed to a wider range of motorists than its predecessor. It still retained a simple ladder chassis, the engine derived from the Standard Vanguard and modified Triumph Mayflower suspension though, making it an evolution rather than a thorough redesign of the prior TR2 model.
From 1956 the Triumph TR3 gained front disc brakes, becoming the first British production car to be so equipped as standard – and a firm favourite with the amateur and professional racing communities as a result. A more comprehensive update was offered for 1957, though, with the TR3A. Easily identified by its full width front grille, TR3A is a modern application of a name in the same manner as the Jaguar Mk1 – in period these cars were still sold under the Triumph TR3 name. Exterior handles for the doors and a lockable handle for the boot were other easily noticed identifying features, while the previously optional toolkit became a standard feature. Modifications in 1959 changed the windscreen fittings and the shape of the rear floor, but these cars continued to be known as the TR3A until 1961. A 2.2 litre engine also became optional for 1959.
The final Triumph TR3 model coincided with the launch of the TR4 in 1961 – a car which dealers felt might not appeal to TR customers, causing Triumph to continue to offer a revised TR3 alongside. This car was the TR3B. Two series were built – the first 530 with TSF chassis numbers were identical to the outgoing TR3A – a three synchromesh four-speed gearbox and the 2.0-litre engine as standard. The final TR3Bs, with TCF chassis numbers, were fitted with the TR4 spec 2.2-litre engine and all-synchromesh gearbox, with overdrive as an optional extra.  These cars were discontinued in 1962, once Triumph was satisfied that the new TR4 was selling just as well as the outgoing range had done and that two 2.2-litre sports cars represented unnecessary complication in its range.
A total of 74,800 TR3s were built, making it the third most popular model in the TR series behind the TR7 and TR6. And that ubiquity means there are still plenty out there to choose from if the idea has captured your imagination. Better still, with usable examples out there still for under £20,000 if you look hard enough, you don't need to have a bank balance the size of Fort Knox to be able to own or enjoy it. If you're tempted, here's what to look for.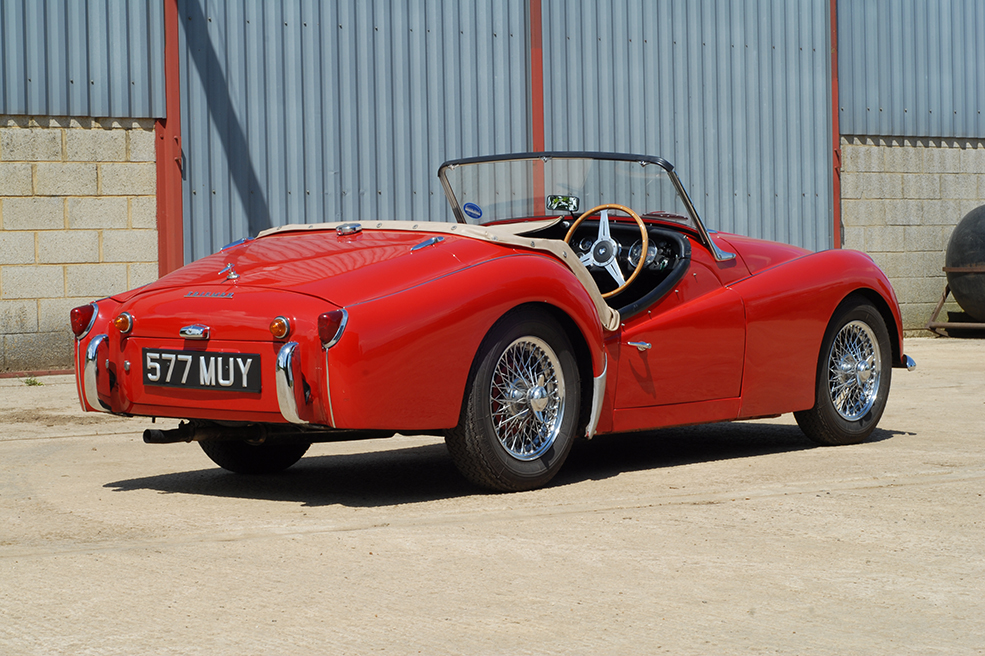 Bodywork
Check the scuttle for corrosion – early TRs drained water from the bonnet down the wings and into drainage holes in the scuttle. These holes can block up, or water can drain into the front wing or sill and cause these areas to rot out. Worst case you can end up with a rotten sill, wing, A-post and scuttle because of this one water trap.
Also check the inner wings and floorpans as these are known rot traps, and check both the boot lid and boot floor for corrosion around the rear of the car. Again, this is because of blocked drain holes, which should be kept clear and checked regularly.
Chassis are generally corrosion resistant but check carefully not only for rust but for signs of damage or distortion from accidents. It's also wise to check every mounting point between the chassis and body for corrosion at any point, as these are key to the rigidity of the car.
While a TR isn't the sort of car most people would choose for concours, it's still worth checking the paint finish and quality, and looking for signs of any filler under the paint. We'd be suspicious of recent paint – a good quality older paint job is less likely to be hiding anything too nasty underneath. The chrome can be excellent, but the passage of time can affect this. Fortunately, replacement brightwork is available, or you can have bumpers re-chromed for a reasonable fee.
Beware of American imports and the belief that such cars are less rusty than British TRs. We grant that cars which have spent most of their lives in dry states are more likely to have survived in good order, but there is a belief that this applies to all imports and the fact is that parts of America can be just as wet as Europe. Unless there is documentary evidence that a car has only ever been used in dry states, be as vigilant toward rust as you would with an original UK example.
Engine and transmission
There's pretty much nothing to be concerned about under the bonnet of a TR3. Engines are tough and rebuilds are easy should it be required. Remember it's also a Vanguard or Ferguson tractor unit, nothing's under an awful lot of stress and they were built to last. Check the oil pressure though, which ought to read 50psi at 3000rpm. If it's much lower, or there's excessive blue smoke (a little is normal), there could well be engine wear necessitating a rebuild. Water/oil contamination should be obvious from the radiator cap, and nasty noises from the big ends won't be hard to spot either.
The beautiful thing about TRs of this era is the parts availability. You can pretty much start with a bare shell and finish with a perfect car if you have the time, money and inclination to do so. Less than £3000 buys you a recon engine on an exchange basis, which is nothing compared to the cost of bringing a body up to scratch. Far wiser long term to buy a solid car than a mechanically sound one, if forced to choose.
Finally, remember that the 2.2-litre engine became optional from 1959 and standard in the TR3B. Parts are as easy to source as for the 2.0-litre, but you get extra torque. It's worth seeking out a 2.2 if you can.
All TR3s came with four speed manual gearboxes, usually with synchromesh on second, third and fourth gears. They'll all whine, especially in lower gears, and this is a part of the character of the car you need to get used to.
However, there are signs all is not well. If you find you're losing synchromesh, or the gearbox is rumbling or jumping out of gear, bank on a gearbox rebuild or replacement. The good news is that a replacement isn't expensive these days, and they're easily available from specialists. TR3Bs have the all-synchromesh box from the TR4 – again easily available, and easier to use for those used to more modern machinery.
An 'O' in the chassis number denotes a car supplied with overdrive, so make sure it works if it's fitted. Again, no big deal if not as the overdrive units are available, but it's a negotiating lever and better not to have to do the work if you can find a functioning example.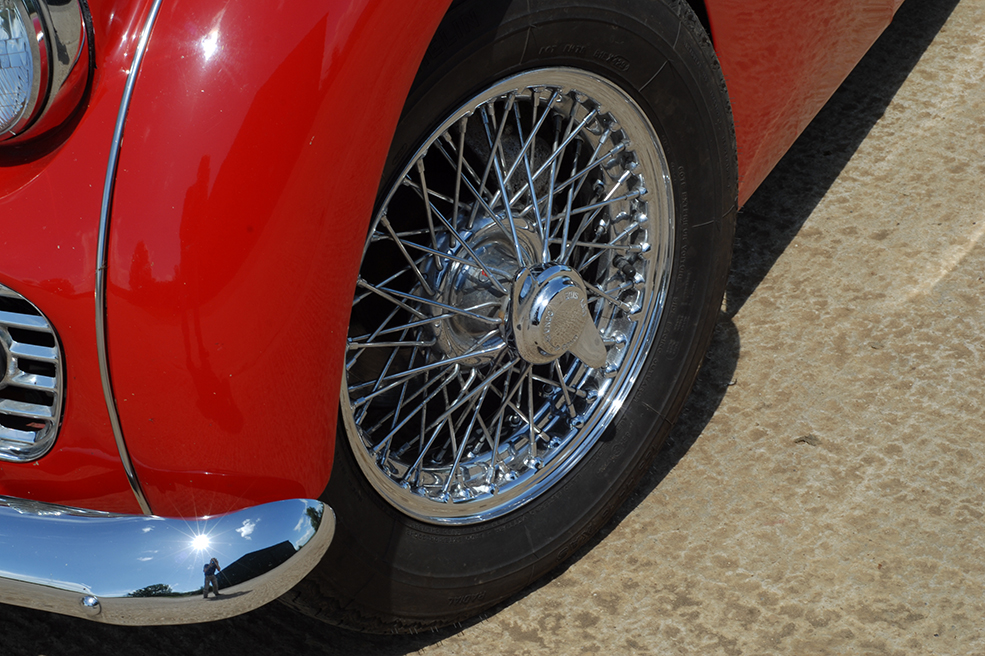 Suspension and brakes
Ask the current owner when the trunnions were last lubricated. If not regularly dosed with EP90 gear oil, they will wear and introduce play. It's not always easy to tell when feeling for play, as it can also be a symptom of hub or bearing wear. At the rear, the leaf springs and lever arm dampers work well – some have been converted to telescopic dampers but we really don't see the need on a car with good springs and reconditioned lever arm units. The worm and peg steering can feel a shade vague, and some upgrade to rack and pinion from the TR4. It's worthwhile seeking one out unless you're a purist, but there's really nothing wrong with the standard setup.
If it's on wire wheels – and many are these days – check the condition and tension of the spokes. They should ring nicely when tapped gently with something like a spanner – a little like a tuning fork for a piano. Any that sound dull or rattle are suspect, and the wheels will need refurbishing.
The first year or so of production had drum brakes all round. Many of these have now been converted to discs – from late 1956, the TR3 was one of the first cars to be available with disc brakes as standard equipment. There's nothing wrong with either system, though the disc/drum setup is less prone to fade if braking hard. Pads, shoes, discs and cylinders are all fairly easy to come by courtesy of the myriad TR spares suppliers, so you should have no trouble here. It's worth asking when the fluid was last changed, though.
Interior
The most important piece of trim to check with any TR is the condition of the hood. A simple affair in a TR of this era, it should still erect and stow away nicely, and should be free of tears or holes. Make sure the rear window isn't opaque, too.
Side screens, as extensions of the hood, should be attended to as well. If a car has lost these it's not the end of the world as they can be bought, but it's hassle you can do without. These should be in good condition too.
Trim itself is hard wearing, with vinyl, leather and painted metal the order of the day and Smiths gauges on the dash. Any competent trimmer ought to be able to make the inside of the average Triumph TR3 look as good as new, though it should be noted that it will often be cheaper to buy a trim kit and fit it yourself.
Triumph TR3 – our verdict
While it might not be the first 1950s sports car which comes to mind, the Triumph TR3 is every bit as entertaining as the Daimler SP250, the MGA and the Austin-Healey 100. Simple and well-tried mechanicals make it reliable, while the plethora of Triumph specialist should make ownership a doddle compared even to some of the rivals listed above.
No TR3 is going to cause a prospective owner headaches through specification, and it's possible to avoid traumatic bills by being careful through the buying process. The TR3 represented the peak of the traditional TR, prior to the extensive facelift into the TR4 of 1961, and the two models continued side by side in showrooms to show those unconvinced by modernity that the TR3 was still competitive.
While it's tempting to buy blind, we'd only advise that in cases of trusted specialists and known restoration projects – for example, dry state cars brought into the UK for total restoration where the body is likely not to be harbouring the same nasties as a UK car might. Specialist or current owner viewpoints would help as with most classic purchases, but the TR3 is far less fraught with danger as a buyer than many classics of its age.
Our choice would be a TR3B if we could find one, one of the final sanction cars which were effectively a TR4 in the older shell. They incorporate several refinements over the earlier cars without losing any of what gives them their character. An Italia 2000GT would be nice, but these hand-built TR3 based creations can command serious money and no prospective TR3 owner is likely to consider an Italian fixed head as an alternative.