Subaru – or rather, Fuji Heavy Industries – had already been in the car business for some time when the Impreza was launched, having become established as a car producer in 1958. Starting out with microcars, Subaru eventually entered the mainstream and its first model to be sold in any numbers here in the UK was the Leone. An unremarkable-looking car it was in fact pretty novel, running a water-cooled flat-four engine and optionally available with four-wheel drive.
Subaru remained a niche player in the UK with its four-wheel drive saloons and the 'Brat' pick-up, but when the bigger Legacy arrived it found a ready market among country types who wanted a multi-purpose 4×4 vehicle without the cost or image of the Range Rover.
When British firm Prodrive was enlisted to make the Legacy a contender on the world rallying circuit, people started to take notice. Its 290bhp turbocharged flat-four and all-wheel drive made it a kind of latter-day Quattro and Subaru soon started to shed its workhouse image in favour of motorsport glamour.
In 1993 the Legacy was joined by the smaller Impreza, known internally as the 'GC8' and boasting more modern, softer styling but retaining the four-cam EJ20 boxer engine with permanent four-wheel drive.
As with the Legacy, the Subaru Impreza found favour with those wanting a 4×4 workhorse, but when the turbocharged engine was added to the mix, Subaru had a hit on its hands. The addition of the unusual-looking estate to the range made it even more practical.
Launched in Japan with the WRX badge, the turbocharged Impreza was good for 240bhp, with official UK sales beginning in late 1994. To conform to UK regulations, the engine was retuned to 208bhp and the car was badged as Impreza 2000 Turbo AWD. This coincided neatly with Ford's decision to pull out of the performance saloon market and many Sapphire and Escort Cosworth owners soon defected to a blue oval of a different kind.
The world of special edition Subaru Impreza models is a minefield so we'll concentrate here on the official UK-market models rather than the grey imports. The first of these was the 200-off Series McRae created by Prodrive in 1995 just in time for Colin to take the WRC title and boasting 16-inch Speedline wheels, Recaro seats and special Mica Blue paint. In 1996 the Sport was launched in the UK, featuring similar styling to the Turbo but with the normally-aspirated 2-litre and 4×4 but no bonnet scoop.
Another special edition for 1997 was the Catalunya – named after the rally – another Prodrive-prepared 200-off edition in Mican Black with carbon-effect dash and air conditioning. Engines were revised for 1997 and the Japanese domestic market cars now boasted up to 280bhp, but the standard UK spec remained 208bhp.
In 1998 minor engine changes were claimed to improve torque and reduice turbo lag without altering the output. In April, the Subaru Terzo ('third' in Italian) was released by Subaru UK, finished in a slightly lighter Mica Blue and the first of the gold wheels, in 16-inch flavour of course. A fixed rear seat made the shell more rigid and Alcantara trim gripped the occupants.
One Japanese model which did make it over here albeit in tiny numbers was the 22b STi (Subaru Technica International) sporting a 2212cc engine rated at 280bhp, adjustable rear wing, quicker steering and the two-door shell with wide arches. Just 16 of the 399 produced were officially imported during 1999, but at the same time Prodrive had developed the RB5 – named after up-and-coming Subaru rally driver, the late Richard Burns – which boasted 237bhp. Only 444 were built, using the Japanese-market shell with fixed rear seat and in Blue Steel with 17-inch Speedlines and Prodrive quickshift. The spec also included air conditioning and Alcantara trim, although buyers could also opt for the WR Sport option which added a Prodrive remapped ECU, modified exhaust and intake pipework and a bigger rear wing.
In 1999, the Prodrive-developed P1 was introduced, matching the Japanese-market cars for power output despite the tougher European regulations and boasting the two-door body. Finished in Sonic Blue with spoilers, unique interior and quicker steering rack, they wore 17-inch OZ alloys and were a great riposte to the big numbers of grey-imported Japanese-spec cars arriving in the UK Production was originally tabled at 500 units which was eventually doubled.
The first-generation Subaru Impreza was replaced by the second-generation 'GD8' car for 2001 complete with its rather odd 'bug eye' styling. An equally competent car, it somehow lacked the character of the original and has yet to gain modern classic appeal in the same way.
Bodywork
Where modern classics are concerned, the bodywork isn't usually the issue it would be with the 60s and 70s favourites, but the first-generation Impreza can rot alarmingly in the British climate.
Areas like the wheelarches will be obvious but the killer is rust around the rear strut turrets, where the strut meets the inner arch which is caused by the seam sealant around the joint failing and allowing water in.
It's difficult to repair properly as the affected area extends behind the wing and a simple patch repair is unlikely to solve the problem, meaning the strength of the shell is compromised. In really bad cases a repair will involve removing the outer wing and replacing the entire turret, which will require a jig to make sure it's all lined up properly. This is of course an expensive business which means it's often not financially viable except on limited-edition cars.
Sills are also susceptible to corrosion, commonly at the rear end and early cars can also suffer rot around the rear screen.
At the front end, rot isn't quite such an issue but so many of these cars will have seen the wrong side of the hedge at some point that it's worth checking for accident damage. The chassis legs are designed to crumple and as such are easily distorted so need checking.
Engine and transmission
In standard tune the car's boxer motor is pretty tough, but it all depends on the way the car's been driven – and most Subaru Imprezas have been driven really pretty hard. After all, that's really rather the whole point of them.
The early engines can suffer from bottom end failure if they're been neglected and driven hard, while the later units tend to suffer with piston slap, but it all depends on the service history: we've spoken to specialists which have encountered engines which have started to sound rattly at 50,000 miles but also units which have been fine at 140,000.
That of course is with a standard engine. When it comes to modified cars, it all goes out of the window and it's really an unknown quantity, depending on the state of tune and the way it's been driven and serviced. Remapping the turbo engine generally means running more boost and this is fine if it's matched by suitably increased fuelling, but all too often it isn't. The result is an engine running too lean under boost and before long a damaged or melted piston.
The con rods can also suffer when even mildly modified cars are driven hard, while engine rebuilds can often reveal cracked ring lands on the pistons. The age of the units these days means that head gaskets are often past their best, but replacement can often reveal other problems related to the age of the castings, like stripped studs and cracked heads. Elsewhere, leaky cam covers can also cause a burning smell.
In a nutshell, try to stick to standard cars or ones with mildly uprated engines to a sensible spec from a reputable firm known in the Subaru scene.
Hard-driven cars can exhibit a notchy shift, although the later '54' units used from 1999 are more robust, featuring a larger casing. The nut can come off the back of the gearbox, making it jump out of fifth gear but this can be fixed without removing the box, so needn't be the end of the world.
Modified cars again are a different story, with big horsepower engines entirely stripping second and third gears.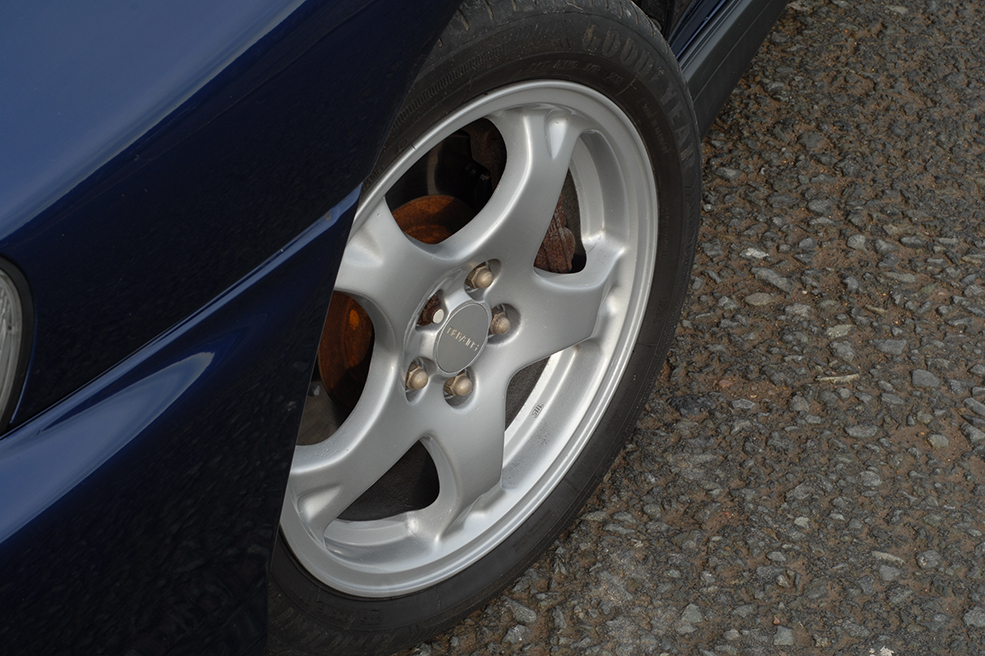 Suspension and brakes
It's a straightforward set-up with discs at each corner but the early cars use a single-piston caliper which can suffer with the sliding mechanism seizing. Later cars use a four-piston caliper but again they can seize when one piston – usually the lower one – seizes. Replacement calipers are easily sourced though and are around £110 exchange.
Again, very few of these cars are still on their original suspension, most having been replaced with performance kit over the years. That's something of a shame since the standard set-up is a firm yet civilised set-up ideal for daily use. The age of the cars does mean that worn original bushes will tend to take the edge off the handling but poly replacements are easily sourced to sharpen things up again.
Interior
This is the easy part. The Subaru Impreza was given stick by contemporary road testers for its hard, shiny plastics and unadventurous 'generic Japanese minicab' interior styling but the trade-off is that those hard shiny plastics were durable in the extreme. Drive a well cared-for standard Impreza today and you'll find a car with no squeaks or rattles and every switch still doing what it's supposed to do.
It takes a fair bit of abuse to wreck the interior of one of these cars, so if you find a tatty one then assume it's had a hard life.
One thing you can't do much about is any holes from alarm and immobiliser installations. These cars were once the joyrider's favourite and since they came with precious little security from Japan, a decent alarm or immobiliser is essential.
Unusually for a car of this era, parts supply for the Impreza is pretty good – thanks partly to their popularity worldwide. There are loads of used parts around and Subaru itself can still supply many parts too. What can be tricky to source is the import-specific details like graphics sets and specific trim parts.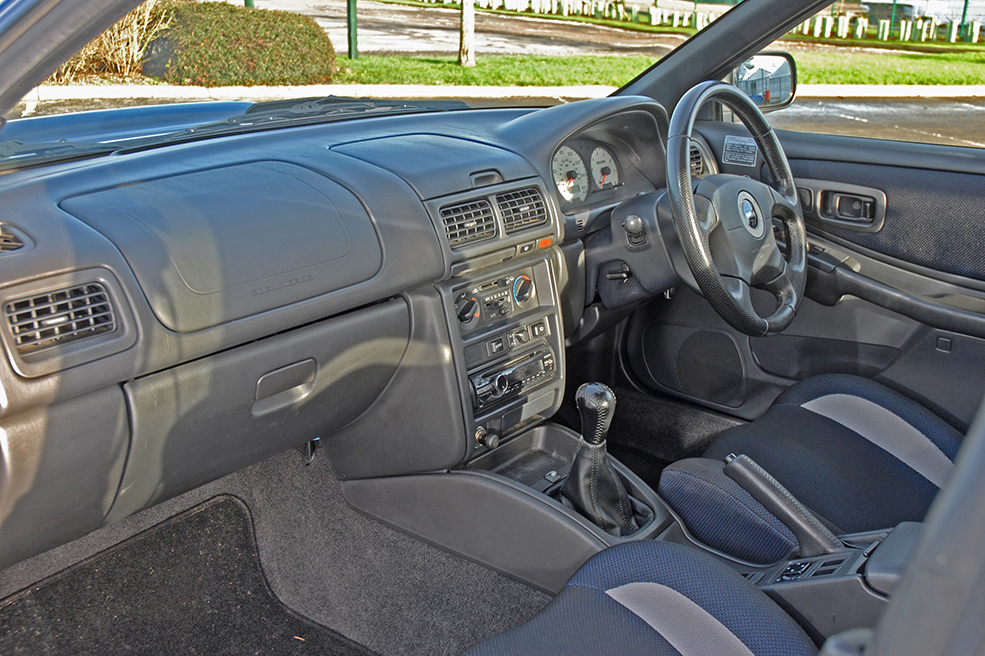 Subaru Impreza: our verdict
The Subaru Impreza is a true modern classic with bags of character thanks to its unique engine and drivetrain combination, rally heritage and handsome, racy looks. It's not the most comfortable saloon around but is practical enough for daily transport, and if you're prepared for punchy servicing costs and fuel bills, a good example should be a reliable companion.
Any well preserved, turbocharged Impreza is likely to hold its value in the future, too – and especially so if it's a fruitier STI-tuned model or rare Japanese-imported special edition. There aren't many ways to go faster or have more fun with your hard-earned cash!