The Nissan Skyline GT-R R32 was a car guaranteed to be a collector's item from the moment it was launched, and today values are rapidly rising. Here's how to buy one
Words: Will Daniels
The Nissan GT-R arrived in 1989, reviving the nameplate first used on the third-generation 'Hakosuka' Nissan Skyline to designate the high-performance, lightweight version of the sporting saloon in 1969. The famous badge was also used on the coupe version of the car, which racked up some 50 victories on track until 1972. The GT-R name continued on the rare 1973 model, known more commonly today by its 'Kenmeri' nickname, before the badge took a hiatus of almost 20 years.
The next model was instantly a hit when it arrived in 1989, based on the eighth generation of standard Skyline, known today by its shortened 'R32' chassis code. The car saw phenomenal success on the world's race circuits, wresting victories from the previously all-conquering Ford Sierra RS500 in the Australian Bathhurst 1000 Classic series, and BMW's M3 in the Japanese Touring Car Championship (JTCC). The new GT-R raced in the JTCC 29 times, scoring 29 victories and taking the series title every year between 1989 and 1993 and also taking 50 races from 50 starts in the N1 Super Taikyu series.
The R32 Skyline was available in various forms, from humble four-door saloon in GXi spec with a peppy 1.8-litre 90bhp engine through to the GTS-T with its single-turbo, 212bhp 2.0-litre straight-six. The top-of-the-range GT-R, meanwhile, featured the legendary 2.6-litre twin-turbo straight six and all-wheel drive.
The RB26DETT engine in the in the R32 GT-R pumped out an official figure of 276bhp, although in reality it was more like 316bhp. The engine was designed from the outset to achieve 500bhp in racing form and many have now been tuned to double that and more. Today, the RB26 is famous for its tunability, with its strong cast-iron bottom end, aluminium alloy head boasting DOHC and 24 valves, six individual throttle bodies, forged internals and a pair of ceramic-spool turbos.
Power is put down through all four wheels through the snappily titled Advance Total Traction Engineering System All Terrains Electronic Torque Split system (ATTESA E-TS). In normal driving, 100 per cent of the GT-R's power goes to the rear wheels; when road conditions or driving style demand, up to half of the torque can be sent to the front wheels. A gauge on the dash is provided to monitor this split.
Through its lifetime the R32 GT-R was carefully revised four times and, after three straight Japanese Group A championship wins, the V-Spec model (short for Victory Specification) was released alongside the regular GT-R in February 1993. This model featured improved Brembo brakes, 17-inch BBS wheels, improved suspension and a revised four-wheel-drive system.
In 1994, the V-Spec II was launched following yet another GT-R Group A championship win. This is the most exclusive of R32 models with just 1303 built, although the first V-Spec wasn't common either, with only 1453 vehicles made. Some 40,390 'regular' R32 GT-Rs were built, a tremendous number for a manufacturer to produce given the level of performance, complexity and cost involved.
The R32 GT-R has its weak spots, and these can be exaggerated when then car has been tuned, particularly by people buying bits off the shelf, fitting them and hoping for the best. This parts include boost controllers, bigger fuel pumps, after market performance chips, air intakes, exhausts, wheels, bodykits, brakes – and its easy to find examples that have all of these and more. The quality of these parts and the way they're fitted can vary wildly; this has big effects on the car's performance, its safety and its value. When viewing a modified example, it pays to do your homework and look for evidence of professional work, either on these shores or in the car's native Japan.
Finding a stock R32 GT-R will be tough given this tuneability and and once-affordable prices. Many examples have been mistreated or abused with cheap parts and infrequent servicing. Nowadays, a GT-R is more likely to be kid-gloved and seldom used given rising values and increasing scarcity.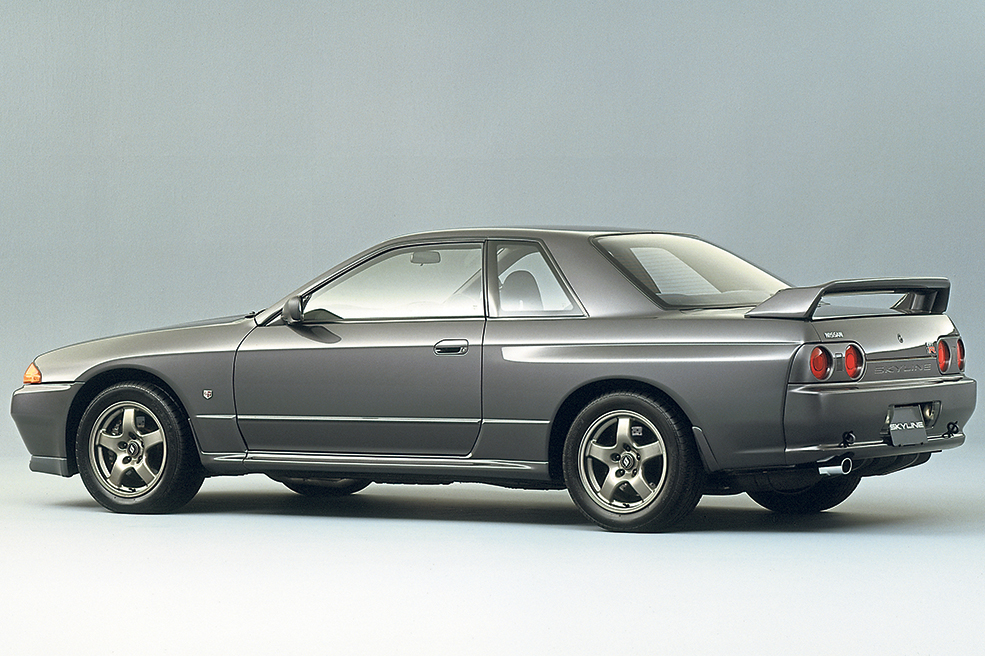 Bodywork
This has started to become an issue on some cars, given they were not undersealed in Japan and arrived here without owners realising and because of exposure to UK weather and salty roads the tin worm has set in.  Many cars have now been expensively restored whilst others have been bodged or need work so do check the car out as thoroughly as possible both underneath, atop and of course its MoT history online.
The main areas that can show corrosion issues are the rear wheel arches and the rear of the inner sills. Another area to watch out for is the lower edge of the back window. Have a good look to see if there are any tell-tale signs that the vehicle has been in an accident or had some dodgy bodywork by checking panel gaps, shut lines and/or ripples in the bodywork suggesting the panels are full of filler.
Remember, the bonnet and front wings were aluminium and should still be unless someone has fitted an aftermarket bonnet or wide body kit – body kits can hide all manner of sins, so try and get a good look underneath or get the car checked over by an independent garage with a ramp.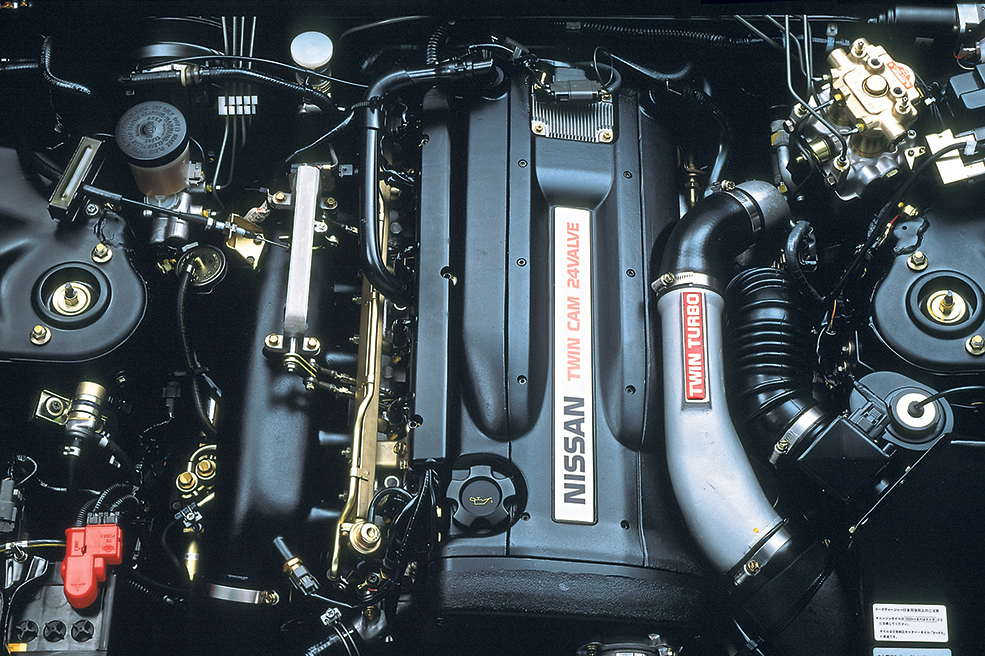 Engine and transmission
The RB26 engine is considered fairly bomb-proof but of course this depends on a multitude of factors. Is it standard? Has it been abused or over-revved? The engine should idle nicely, quietly and be smooth right up to the red line, but regular trips to and beyond the rev limiter can cause damage, so listen for any roughness throughout the rev range as a tell-tail sign. The original ceramic-turbine turbochargers can wear, especially if the boost has been increased via an aftermarket boost controller fitted by an amateur on the quest for big power gains. It pays to check to see if the turbos have been rebuilt with steel turbines or upgraded/replaced completely.
Crankshafts have been known to be a weak point if over-revved but this is tricky to diagnose until something breaks. Exhausts will most likely have been changed as the original system on a stock R32 GT-R is very restrictive; if it's a pre-1992 car, it won't need a catalytic converter.  Loud doesn't equal faster and straight-through systems can lead to back pressure issues, so do check what's been done and what brand the system is. If it's a post-1992 car, check if the catalyst is fitted and that there are no related warning lights on the dash. Coil packs can degrade with heat, particularly with modified cars, so misfires could be down to failures here.
The transmission is considered a strong if slightly clunky unit that doesn't like to be rushed. The synchromesh can wear in fourth and fifth so check to make sure its smooth, as it should be, then look after it with a fluid change every so often.
Suspension, steering and brakes
It's likely that most GT-R's will by now have had upgraded brakes and suspension, particularly given the braking improvements in recent years. Look for blued discs for lots of high-speed use and of course signs of drift and track work the vendor may be trying to hide.  Same goes for the suspension: many R32 models will be lower, stiffer and multi-adjustable compared with the stock system – which is fine – but do listen for knocks and bangs and ensure what's been fitted looks right and is a quality set-up.
Odd tyre wear can indicate track or drift work so do check. Quality rubber is generally a sign of a well-looked after car, while cheap rubber can suggest poor maintenance on a shoestring. Good tyres are crucial in what is an old car with supercar-like performance.
Watch out for warning lights related to the HICAS four-wheel steering system, as this can be very expensive to repair.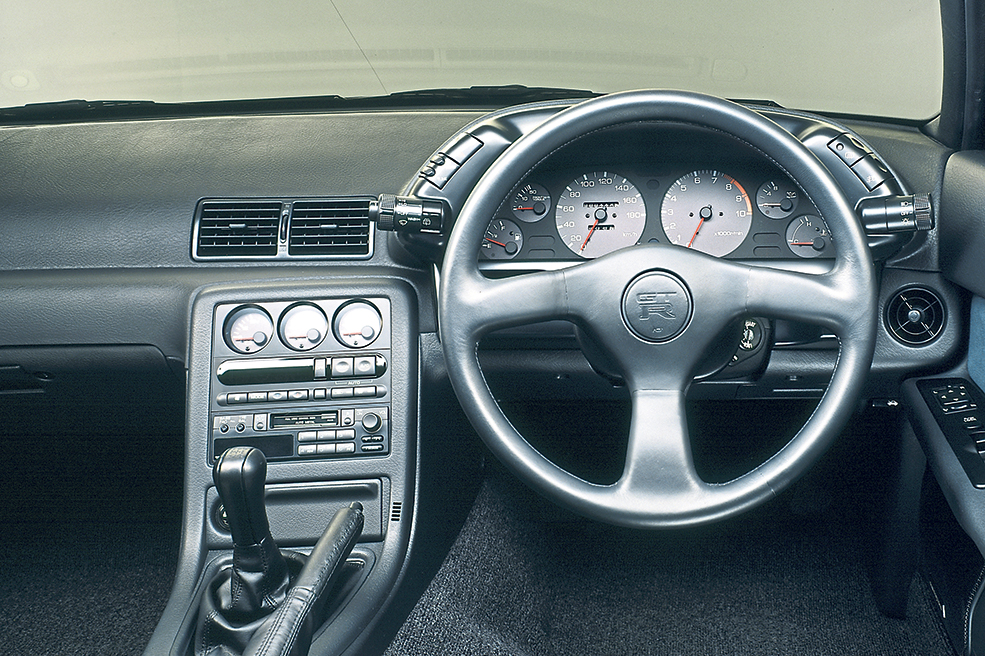 Interior, trim and electrics
The electronics in the R32 are generally known to be good and reliable, but of course that doesn't cover aftermarket mods such as extra gauges, boost controllers, turbo timers and so on, so do check earths and keep them clean. The revcounter is also known to bounce around but that seems to be more common on the later R33-generation Skyline.
Aftermarket insurance required alarms and immobilisers can and do cause headaches and battery drains, so check your requirements and what has been fitted (and by whom) to make sure it fits the needs of your insurance policy. Lots of owners have been left stranded by poorly fitted immobilisers. There nothing worse than being left high and dry at a petrol station or car show, so make this a priority check.
Elsewhere, the Skyline's interior will feel familiar to anyone who has spent time in a 90s Japanese car – solid build and a logical layout, but with plenty of drab plastics. Many examples will have had their original seats swapped out for aftermarket items; getting your hands on a nice set of standard seats can be a challenge, so consider if this is important to you before stumping up the cash.
Nissan Skyline GT-R R32: our verdict
The number of R32 GT-Rs in the UK looks to have reduced as the American import market opened up to these desirable models once they hit 25 years old, with many being bought up from the UK and sent to owners, enthusiasts and collectors abroad.  As a result, prices have risen sharply both here and abroad, particularly in Japan where many were imported from in the late 1990s and through the 'grey import' party of the 2000s.
You can still source and import GT-Rs from Japan, but remember the Yen/£ sterling fluctuates greatly; remember too to factor in the shipping costs, auction fees (if applicable) and of course shipping time. Once here, there may be duty/VAT applicable and further registration costs; if in doubt, make sure to import your car through a reputable importer. Its always worth giving any new purchase a timing belt change and oil service to be safe.
Is an R32 worth buying? Yes – as a serial R32 and R33 Skyline owner and current R33 owner, all I can say is do it.  It knocks its period rivals out the park, and many latter-day fast cars too.