MGA (1955-1962) BUYER'S GUIDE
The MGA might look sleekly modern compared to the T-Types it replaced, but those sensuous curves sat on a separate chassis and wooden floorboards. Launched in September 1955 as a two-seat roadster, power came from the B-series engine at a capacity of 1489cc and the combination was just a trailing wind short of being a 100mph car. The engine was later tweaked to increase power from 68bhp to 72bhp, and it was joined in 1956 by a Coupé version. This was far more than just an MGA Roadster with a hardtop, and was in fact a comparatively luxurious option with niceties such as wind-up windows and full interior trim. As a result it was heavier than the Roadster and performance was slightly lower.
The 1500 MGA was joined by an exotic Twin Cam version in 1958, but this had been rushed into production and ruinous warranty claims ensured it had a short and volatile life. It is outside the scope of this feature anyway because, as is so often the case with MGs, the once-derided Twin Cam has been fully rehabilitated on the classic scene and the combination of strong demand and limited supply means it's been some time since you could hope to find an MGA Twin Cam for this budget.
We do have slightly more powerful options to consider though, as the MGA 1600 of 1959 gained six bhp with a hike in capacity to 1588cc, the same capacity as the Twin Cam (though the two blocks are not interchangeable) but with the more reliable pushrod head. This also increased torque by 17%, a change that is both noticeable and welcome in real world driving conditions. The 1600 was a true 100mph car, so thankfully MG also saw fit to improve the brakes from drums all round to discs at the front. Legislation changes also persuaded them of the need to fit separate orange flashing indicators for the first time.
There were also a few hundred De Luxe 1600s produced, which used up surplus Twin Cam components that included all-round disc brakes but stuck with the reliable OHV version of the engine, first at 1588cc and then a new 1622cc capacity. Like genuine Twin Cams, the De Luxe cars too are beyond the scope of this feature, but if you have an irresistible urge for a 1622cc MGA, then the 1600 MkII is the one for you. This is easily distinguished by having the bars to the radiator grille inset in the frame and more vertical rather than laid back, plus horizontal Mini lights at the rear end rather than the vertically stacked units of the previous MGA.
When considering a purchase, your primary concern has to be the condition of the body. Panels are not cheap, but they are available – reckon on £500 for a rear wing and double that for a front wing made of steel; fibreglass front wings will only cost £115, but fitting them will really devalue the finished article. However, whether steel or fibreglass, it is the fitting that takes real skill, something which does not come cheap professionally. That is not to say it can't be done on a DIY basis, but a lot of us who give it a go will find our ambition outstrips our talent. It gets even more complicated if the body is separated from the chassis because getting everything to align properly afterwards is a time consuming process – tedious if doing it yourself and once again expensive if paying an expert to do it for you.
We've given ourselves a healthy £20,000 budget for this purchase, a sum that would have bought you one of the very best just a few short years ago. However, prices have risen rapidly in recent years, and you can easily pay £40,000 for a top car from a dealer. If you are shopping privately or even having a gamble at auction, our £20,000 should still be able to buy you a very nice and usable car with good panel fit and even gaps, not perfection because MG rarely achieved that themselves, but certainly a car of which you can be proud.
Of course, not all that glitters is gold and the last thing you want to do is blow your hard-earned cash on shiny paint that is hiding a bad car. Your primary areas of concern as far as rust goes are sills and door posts, then the flanges where the front wings bolt on. Boot floors and the steel door frames also rust, and you should check for bubbling anywhere that disparate metals meet – doors, bonnet and bootlid are aluminium attached to steel frames.
Chassis last well, but anything that is connected to them is fair game for the rust bug, so floorboard supports, battery boxes and the like might not have fared so well. Check too below the A-post between the inner sill and the chassis rail, as this is an area that can fill with mud. You also want to inspect for accident damage, so look for any chassis rails that are kinked or bent.
Mechanically there is less to worry about. The B-series engine is a well-known entity that is rugged and easy to rebuild, but if you are paying good money for an MGA then you want to get value from it. Expect at least 50psi of oil pressure at 3000rpm when hot, and look for oil leaks from the bellhousing – it will probably be from a leaking rear crank scroll. You can convert this to a lip seal, but it is a major job and of course means taking the engine out. Most people accept the occasional drip, though you will have to get your wallet out and investigate if it is more serious than this.
You want to be sure you are getting your full complement of horses, too. Early MGB engines can be fitted for a capacity and power hike, something which most people would consider a bonus unless they are aiming for concours, but so too can 1500 or 1600 saloon engines. Bolting twin carbs onto one of those will not turn it into an MGA engine, as those also had a different cam, head and pistons. If there is no rev counter drive on the back of the cam of a 1500 or 1600 unit, then you are being short-changed.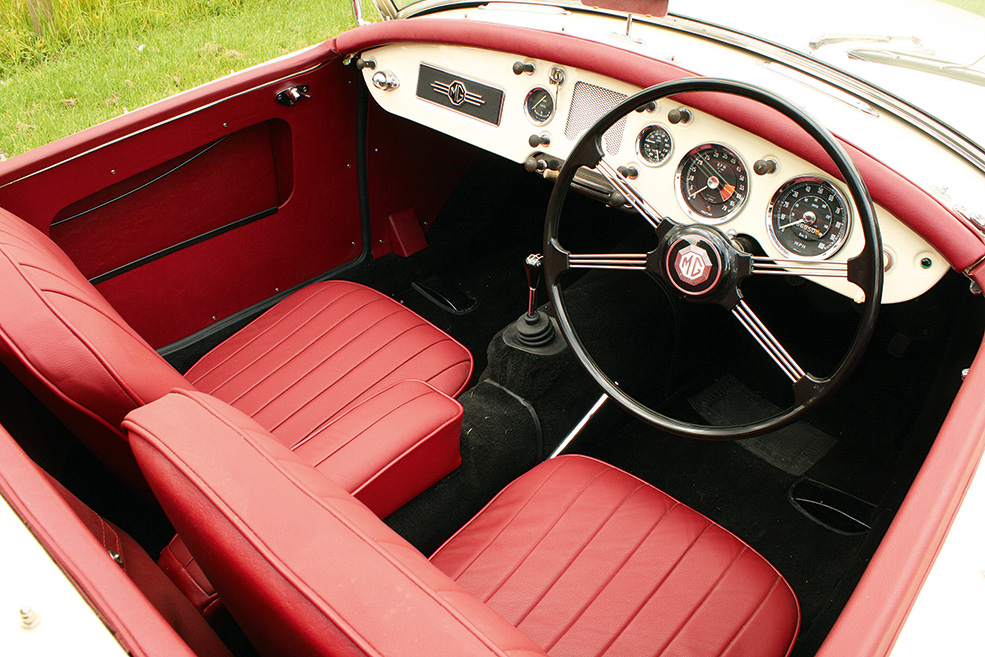 Perhaps the weakest link on the MGA's drivetrain is the original gearbox. This has no synchromesh on first and so that can suffer from unsympathetic or careless owners forcing it in while on the move. There is also a big gap between first and second, and the second gear synchro is often worn. Replacing the original 'box with a more modern five-speed unit is generally considered a plus. Options here include a reconditioned Ford Type 9 from the likes of Frontline (c£2000 plus fitting) or a brand new Mazda box from Vitesse-Global (£2900 plus fitting).
A poor interior should not be a deal breaker, as trim is freely available and not expensive. Just be sure to add up everything you think you will need and negotiate a suitable discount. Even a LHD car should not put you off if the price is right – converting it to RHD is not exactly rocket science and a full kit of all the parts you will need from a specialist such as Brown & Gammons or NTG will cost under £1000. James Horner at Common Lane Restorations (to whom we are grateful for his help and advice with this feature – Tel: 01977 677927) reckons that on a car that has been taken apart before (and so has fixings that have not been rusting together for 70 years), they estimate 10-12 hours to do the conversion.
Whichever way you look at it, a good MGA costs the kind of money that most of us have to scrimp and save to gather together, so the million dollar question is: 'Is it all worth it?' If you want a car to polish and display at local events, then you'll struggle to find better than an MGA because it would take a particularly curmudgeonly individual to claim they didn't like the way it looks. Fortunately, that is not the end of an MGA's charms. If you want to experience all that was best about 1950s sports car motoring but with a little more comfort and practicality than a T-Type, then this is the car for you. The driving position is still what we might call classic (for which read legs out straight and steering wheel closer to your chest than anything built in the last 50 years), but the ride is surprisingly comfortable, the steering very direct and an MGA has a turn of speed that will put a smile on your face without necessarily adding points to your license. Best of all, it manages to straddle this divide between ancient and modern with consummate ease; anybody unfamiliar with classic cars will soon find they can adjust to an MGA – once, that is, they have figured out how to operate the fly-off handbrake!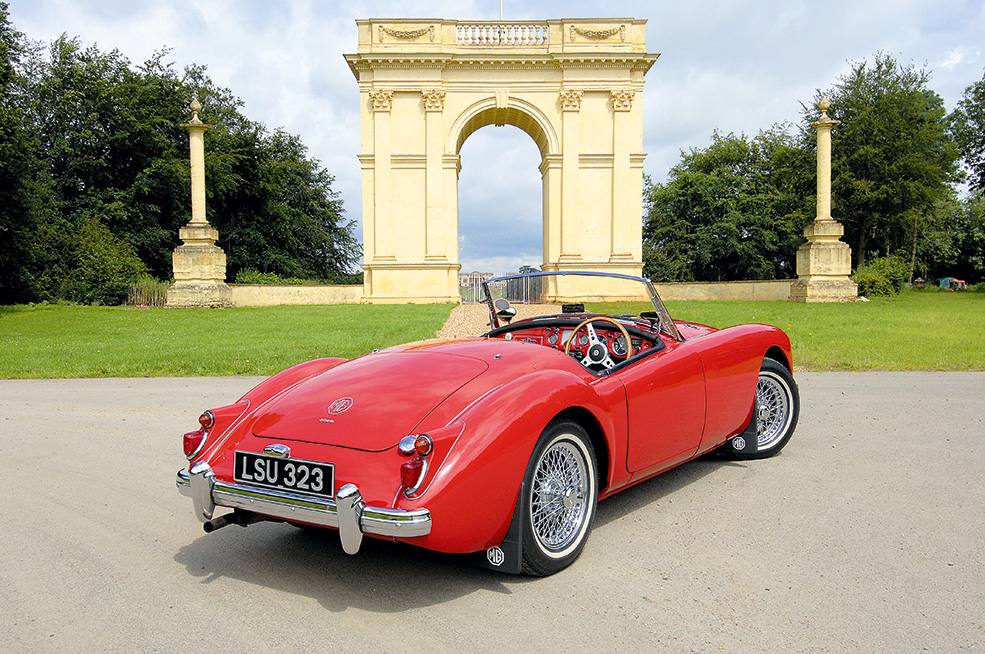 WHAT TO PAY?
As ever, we are not claiming you can buy a concours car or one that has been professionally restored from end to end for our budget of £20,000. However, with some patient searching, careful haggling and a small amount of luck you should be able to find a Condition 1 Coupé in either 1500 or 1600 guise within budget. Roadsters cost a little more, so you may have to compromise slightly on quality. For example, 1500 Roadsters range from £14,000 in Condition 2 to £22,000 in Condition 1, while 1600s can add a couple of grand to those prices. As for a Twin Cam – if you have to ask, then you can't afford one.