For many, the Mercedes-Benz W123 series is the ultimate classic Merc – and with good reason. Here's how to buy a great example
When Mercedes launched the new 200-280 series (Code name W123) in 1976, it seemed to be more of the same. Mercedes had produced a solidly built, over-engineered, safe saloon and coupe; it was much the same as Mercedes' previous Stroke Eight, albeit with a wealth of improvements.
The Mercedes-Benz W123 has earned itself a reputation as one of the few truly bulletproof classics, having found favour throughout its life in many developing countries and challenging environments. Four diesel options were available, along with four petrol options – the top 280 model was also available with fuel injection.
Mercedes debuted the W123 coupe (or C123, to Mercedes diehard fans) in 1977, available as a 230C, 280C, 280CE and 300CD – although the British market only received petrol options. It's worth mentioning the Crayford St Tropez too, a convertible based on the coupe and built in Britain. Launched in 1978, just 12 were made.
The Mercedes-Benz W123 estate (S123) launched in 1978, offered with the 2.3-, 2.5-, 2.8- and 2.4-litre diesel engines as the 230T, 250T, 280TE and 240TD. The estate proved to be an excellent load-lugger, beloved of the middle classes several years after its replacement. Today it makes for one of the best family classics around.
In 1979 a limousine derivative of the W123 was launched, adding an extra row of seats to bring the total to eight. Intended for commercial work rather than prestige use, many clients operated their examples as airport taxis or funeral cars. In the UK most limousines were based on the 250 model but 240D and 300D limousines were also available.
A facelift in 1980 brought rectangular halogen headlamps previously only fitted to coupe and 280E models to the whole W123 range. Rustproofing was stepped up with wheel arch liners as standard and revised gear ratios improved economy. ABS became optional, the 230C and 230T left production and the 200T and 300TD were launched.
Revisions in 1982 mean the last Mercedes-Benz W123 models are the best of the bunch. A five-speed manual option replaced the original four-speed, along with standard power steering across the range. The 250T was dropped and new seats meant better legroom in the back.
In 1985, the new Mercedes W124 was launched. Styled as a larger sibling to the 190E, and with many components shared with the smaller model, many argue that the W124 had lost that special something which older Mercedes had.
An incredible 2.7 million Mercedes-Benz W123 models were produced over a nine-year period. Around 2.37 million saloons, 200,000 estates and fewer than 100,000 coupes were produced. The rest were specialist examples like limousines and chassis for ambulances – but these are vanishingly rare.
Most sought-after on the classic market is the coupe – far costlier than the saloon when new, it is accordingly more expensive on the classic market. Restoration costs tend not to be cheap either, making it a classic to buy on condition rather than spec.
Collectors' favourites regardless of body are the 280 models – the four cylinder and diesel models are less collectable, and few are drawn to the 250 even as a usable classic. The 230E is arguably the sensible choice – powerful and economical, reliable, and more affordable than the 280. Later cars are more desirable as they take advantage of myriad updates introduced over the years.
Bodywork
The Mercedes-Benz W123 left the factory with outstanding paint and – post-1980 – rust protection by the standards of the day. That is not to say that they're immune from rust, however.
Check the wheel arches, especially at the front, and leading edges of the wings. Spare wheel wells and jacking points are also common MoT failures, while if the battery tray is allowed to rust away the rot can get into the bulkhead – an issue that means costly repairs or curtains for the whole car.
Estate tailgates rust out, as do fuel tanks – the latter is no longer available, so secondhand or bespoke parts are the only option.
Bumpers can also corrode – and beware that the 280E shares its rear one with the coupe and not the other saloons, so ensure the right one is fitted. Sunroofs can cause issues where the drain tubes rust out – a common cause of damp footwells, while the sunroof tray itself can rot and eventually seize the roof in place. Neither of these jobs is cheap to fix.
Saloon and coupe models are prone to rusting out underneath the parcel shelf at the rear, which can be seen from outside by rust bubbles around the rear window or the pillar trim finishers on saloons. Rear window rubbers are often the cause, deteriorating, letting water in, and then deteriorating unseen. If it's visible outside then there is certainly work to do: this is a structural area and the shell is compromised unless a repair is carried out to a professional standard. Be very wary of cars with damage or corrosion in this area.
Panels are available – pattern items are rarely as good but Mercedes will still supply original panels. If you're on a budget though, pattern parts may be the answer, as original panels are not cheap.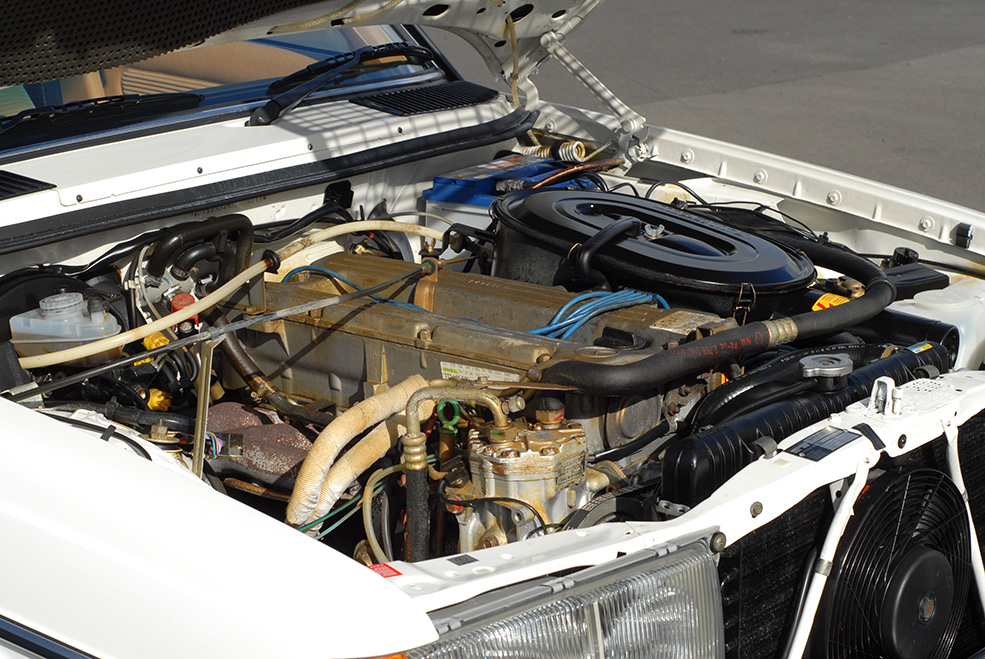 Engine
The M115 and M102 four-cylinder engines are all-but-bombproof when services properly, as are the M123 and M110 six cylinder units fitted to the 250 and 280 models respectively.
The M115 – named because the cam cover was aluminium – was a development of the M121 which could trace its way back to the 190 Ponton models. Simple yet over-engineered in the best Mercedes traditions, it will run forever with regular oil changes. It's a non-crossflow unit with the distributor mounted on the other side of the block, and the camshaft and tappet arrangement (fingers) was clearly copied by Ford for the Pinto units – the cam runs in three bearings.
The later M102 is also an iron block SOHC – but crossflow, with a new camshaft and rocker design to enable a hemispheric combustion chamber. Equally long lived, these can be more difficult to work on in 230 form owing to the extent of the fuel injection system. This in itself is reliable but can hinder access.
The M110 engine was a development of the M130 – first seen in the W115 and W116 models, it was a DOHC development of the older engine with revised bore and stroke, and seen in UK-market W123s solely in fuel injected form with Bosch K-Jetronic. Not known for many faults, the oil pump and head gasket should nonetheless be checked. Like the four-cylinders, this is an engine that will last forever if need be.
The M123-engined 250 was largely redundant following the launch of the 230E. Slower than the 230E and thirstier than the 280E, the engine was a single overhead cam development of the elderly M180. Fine as a toy, in period it became undesirable owing to its poor characteristics for regular use – but is another engine that will last for as long as it is maintained.
The two four-cylinder diesels and the single five-pot diesel seen in 200D, 240D and 300D models respectively are engines that will last to half a million miles with basic maintenance, and should pose few issues in service.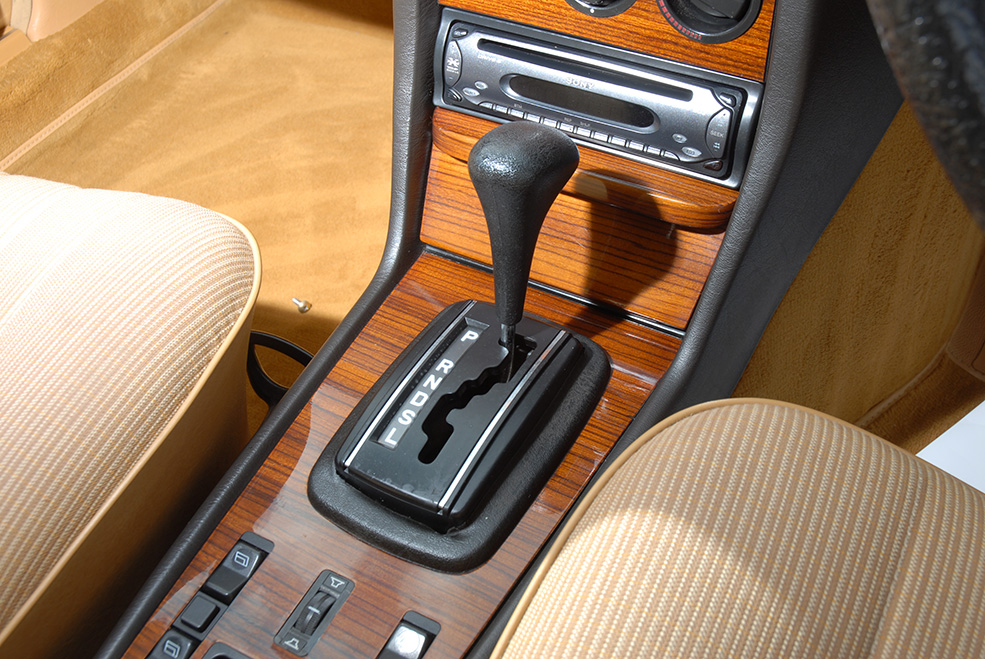 Transmission
All Mercedes-Benz W123 manual gearboxes are built to last – though they're not the nicest in the world to use, with notchy and stiff action feeling rather too agricultural for a car of this class. The automatic 722.1 gearbox is far better – a gearbox of Mercedes design which again poses no concerns in practice. This gearbox starts in second as a matter of course, but engages first under kickdown or when L is selected. With four gears, it should behave as a three speed except under load.
Differentials are known to be solid, but keep an eye on the driveshaft seals just to be safe.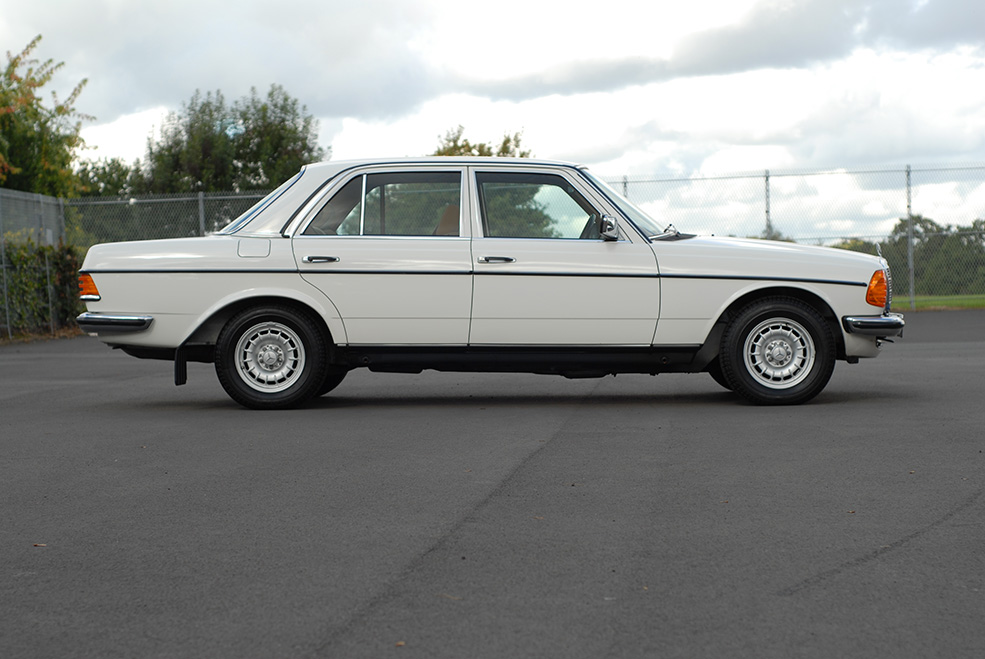 Suspension
Chances are that most examples of the Mercedes-Benz W123 will need re-bushing now, which can be an expensive and time-consuming job. Estates featured self-levelling suspension by Boge Nivomat; when these fail it can be expensive to rectify as Nivomats can be hard to source and are not cheap.
Cars with power steering – most until 1982, all from then on – shouldn't feel loose, nor should those without. Make sure there's no play in the steering – and also that the box isn't too tight. Over-tightened steering boxes can wear more quickly, and often the original issue was more likely to have been the far cheaper steering damper arm.
Rear trailing arms can rot out, and to repair them means fully dismantling the rear. As a special tool is needed for rear wheel bearings, this is a specialist job and we wouldn't advise you to try it at home.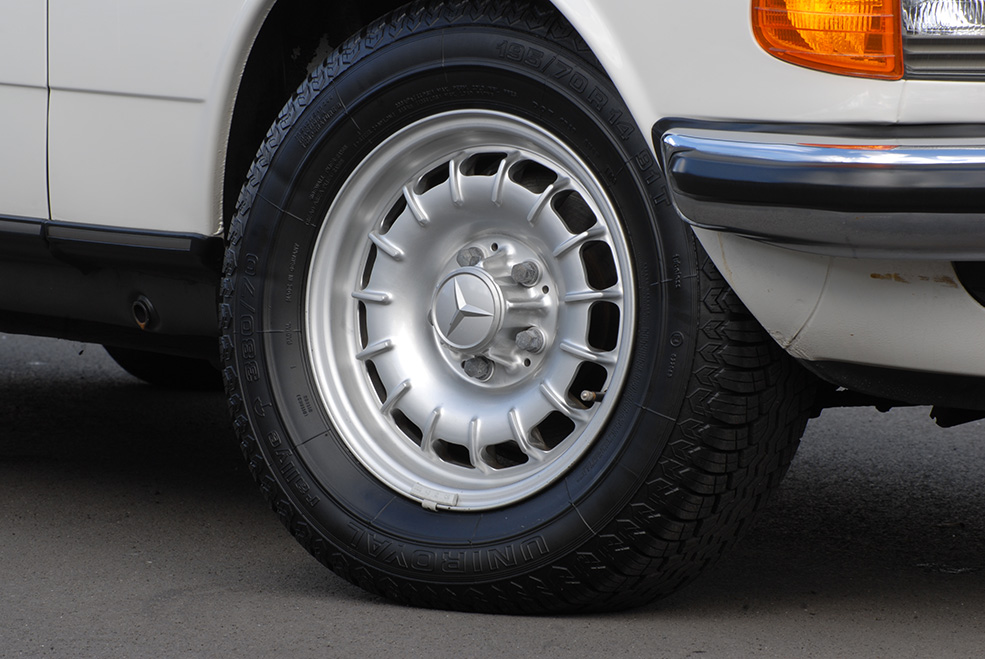 Brakes
Servo-assisted discs all round mean that by the standards of the 1970s and 1980s the Mercedes-Benz W123 stops really rather well. It's a well-engineered system, too, with little really to go wrong. Calipers can seize – this would give a soft pedal and a lack of real braking effort. It's not the end of the world as they can be rebuilt with relative ease. Master cylinders can also fail, but these are not expensive or difficult to replace. Apart from this it's simply a case of checking the brake fluid has been renewed every two years or so, to ensure there's no water or air in the system.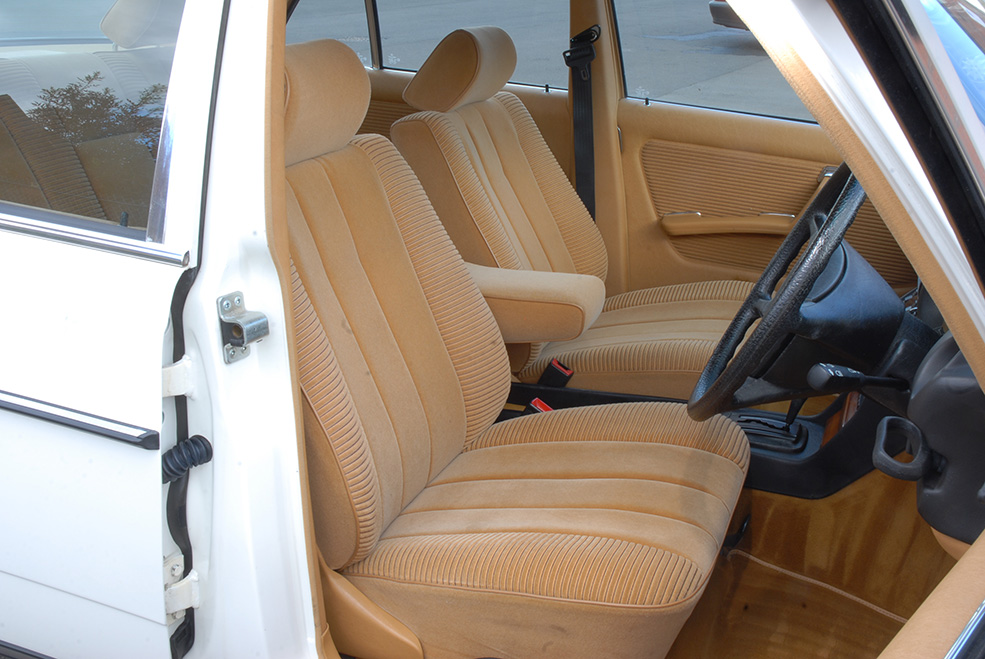 Interior
If you're looking at a Mercedes-Benz W123, the interior has to be one of the biggest things to check in terms of condition. There were five different types of interior trim available – MB Tex, leather, cloth, half cloth and velour.
In addition, there were several colour combinations available, and finding a good condition interior to match your original is going to be difficult unless you have a relatively common trim. Velour and half-cloth will be the most difficult to source, especially in some of the Series 1 interior colour schemes as early interiors are especially scarce. Head linings don't tend to sag, being trimmed the old fashioned way rather than with material glued to a substrate.
Check the carpets and floorpans for any sign of water ingress; this is a sign that the front windscreen seal has failed and while it's a replaceable item, ensuring that your pride and joy is dry afterwards is not going to be an easy job.
Also check the condition of the front seats – both the standard ones and the lowered ones offered as an option in the Coupe. They're of a complex sprung design rather than relying on foam for support, but they can collapse – most notably on the outer edge of the driver's seat base. These can be costly to repair, and while breakers sometimes have good seats on offer they're unsurprisingly rare – your best bet is to find a specialist who can rebuild it for you.
Toys tend to be reliable. Most were fairly Spartan, but electric windows and sunroof are often fitted, as is a single electric mirror, occasionally air conditioning, and often central locking. Air con can of course leak, and many will still be running R12 rather than R134a; drop in gases are available. The central locking – and the front seat locks for coupes – is vacuum operated, and any damage to the system can see it fail. Make sure you check this before you buy the car – as the implications for the front seats in a coupe can make this an MoT failure point.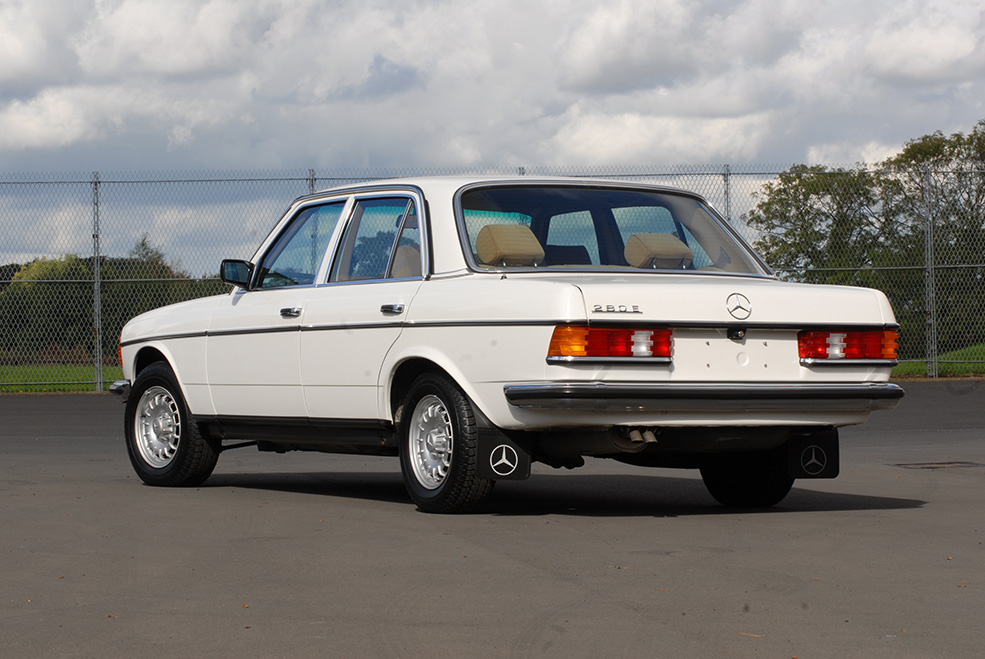 Mercedes-Benz W123: our verdict
Many argue that the Mercedes-Benz W123 is the last truly traditional Mercedes and the end of an era, with the quality of its successors suffering – there is very little that breaks on a well-kept W123.
Joining a club such as the Mercedes-Benz Club is wise, as it can not only help advise as to specialists but be a valuable source of information for the DIY enthusiasts too.
Choose a 230E for comfort, performance and reliability, although there are always those who believe that a Mercedes should have six-cylinder. If this is the case, look no further than the excellent range-topping 280E.
Carburetted cars are slower and thirstier, and it's rare for anything to go wrong on the Bosch fuel injection system. If you're seeking style or an investment, the coupe is undoubtedly the model to choose – whereas an estate makes a more than capable family classic.