The first-generation Mazda RX-7 was one of the brand's most successful rotary-engined models. Here's our guide to buying a great example today
Words: Paul Guinness  Images: Mazda
When a car company describes its latest model as 'unique', there's usually a touch of poetic licence involved. But for the new Mazda RX-7 of 1978, the description was justifiable: this was the only rotary-engined sports car on the market, with a specification that made conventionally powered rivals like the Porsche 924 seem technologically dull by comparison.
Mazda had been producing Wankel-style rotary powerplants since 1961, but this latest 105bhp twin-rotor unit was completely new, giving the RX-7 decent enough performance (117mph flat out, 0-60 in 9.9 seconds) to match its svelte looks. Available in the USA as a two-seater and in other markets as a 2+2, the RX-7 proved to be a hit, with more than  570,000 sold worldwide during its seven-year run.
The RX-7's MacPherson strut front suspension and live rear axle set-up was pretty conventional, but endowed the RX-7 with fine handling and roadholding, aided by almost 50/50 weight distribution thanks to the engine being mounted well back. UK-spec cars came with disc brakes front and rear and a five-speed manual gearbox, but some markets were given rear drums and a four-speed gearbox, with automatic transmission optional in the USA – something to bear in mind if the car you're thinking of buying isn't an official import.
UK-spec cars gained some welcome extra power (115bhp) in 1981 via the latest 12A version of the rotary powerplant, pushing top speed to 125mph and knocking 0.4 seconds off the 0-60mph dash. Most exciting, however, were the 540 cars converted to Turbo spec by UK-based Elford, each one pumping out 165bhp and featuring prominent spoilers and side skirts for a more aggressive look.
On today's classic market, the first-generaton RX-7 (often known by its 'SA22C' or 'FB' designations for early and late-model examples respectively) is a temptingly priced alternative to more mainstream coupes. Here's what needs checking before you take the plunge.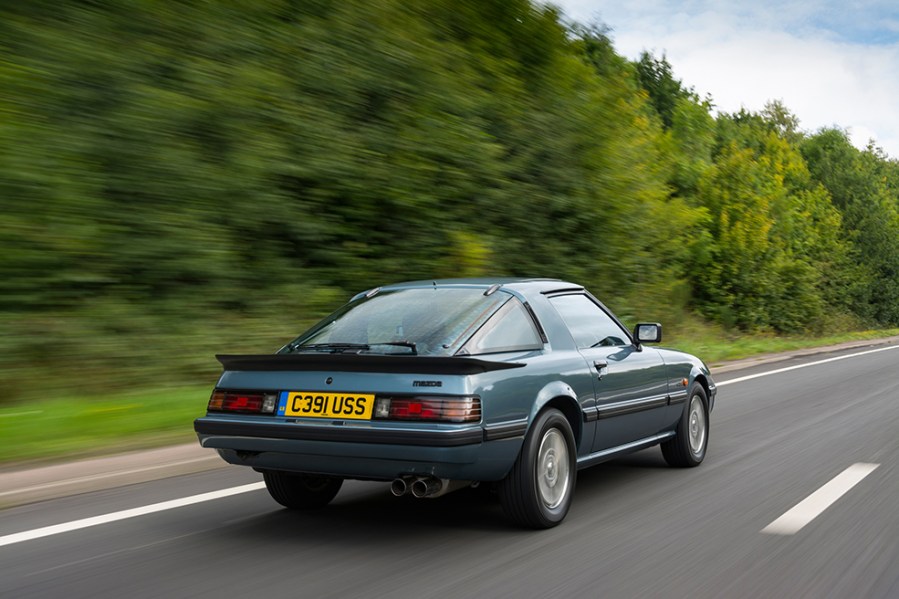 Bodywork
Very few Japanese cars launched in the late 1970s are notably rust-resistant, so don't expect an RX-7 that's seen plenty of action to be free of issues. These cars can – and will – rust even when well looked after, so be extra vigilant when examining any example you spot for sale.
Wheelarches were traditionally the first area to show signs of rot, followed by the sills (inner and outer), floorpan and rear suspension mounts. The inner wings, windscreen surround and footwells are other key rust spots, and it pays to make sure the metal beneath the back seat is solid, as well as the boot floor. The bottom of each door can also rust from the inside, so check carefully for bubbling paintwork and signs of filler.
Replacement panels are very rare in the UK, which makes any car requiring bodywork restoration a tricky prospect, despite the RX-7's monocoque bodyshell being no more complex in design than its rivals of the time. Make sure you're capable of shaping your own metalwork or you have deep enough pockets to pay a professional before you take on any project. You're unlikely to come across a first-generation RX-7 that hasn't had some bodywork repairs in the past, so make sure you're happy with the standard of the work, particularly if you suspect it's a recent restoration.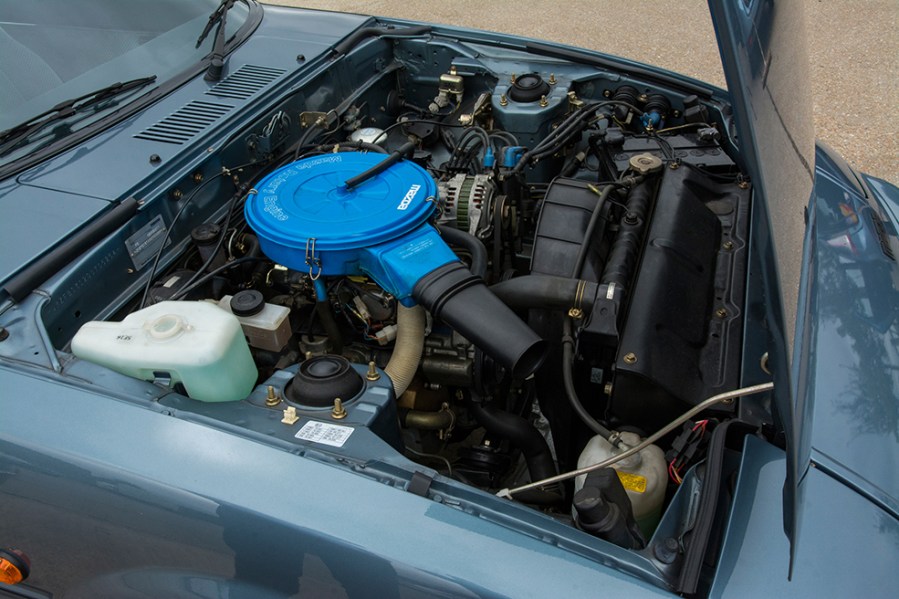 Engine and transmission
A rotary engine works in a completely different way to a conventional piston engine. For the latter, the same volume of space (the cylinder) alternately does four different jobs: intake, compression, combustion and exhaust. But while a rotary engine does the same four jobs, each one happens in its own part of the housing. It's almost like having a dedicated cylinder for each of the four jobs, with the piston moving continually from one to the next.
With a rotary engine, the pressure of combustion is contained in a chamber formed by part of the housing and sealed in by one face of the triangular rotor, which is what the engine uses instead of pistons. The rotor follows a path which keeps each of the three peaks of the rotor in contact with the housing, therefore creating three separate volumes of gas. It might sound complex, but the principle of a rotary engine is remarkably straightforward.
It's important that you buy an RX-7 with as comprehensive a history as possible, as these engines require an oil change every 3000 miles. When inspecting any example for sale, check for white exhaust smoke on start-up – a sure sign that worn oil control rings are letting coolant in where it shouldn't be. Also look for oil leaks from the relevant pipework and oil cooler connections, and make sure there are no signs of overheating.
Even if all seems well, you might want to invest in a compression check, as anything much below 75psi points to major expense ahead. The front and rear crankshaft seals can also leak oil; sorting this requires an engine strip, at which point the rotor tip seals can be checked. Most of the parts required for engine work are inexpensive but it's a labour-intensive process, with full engine rebuilds via a specialist costing £3500–4000 on average.
The five-speed transmission fitted to UK-spec RX-7s should feel slick. It's a reliable unit, but make sure you keep an ear out for crunching gears, most likely caused by worn synchromesh. A clutch can last up to 100,000 miles, but you should still check for signs of any slip.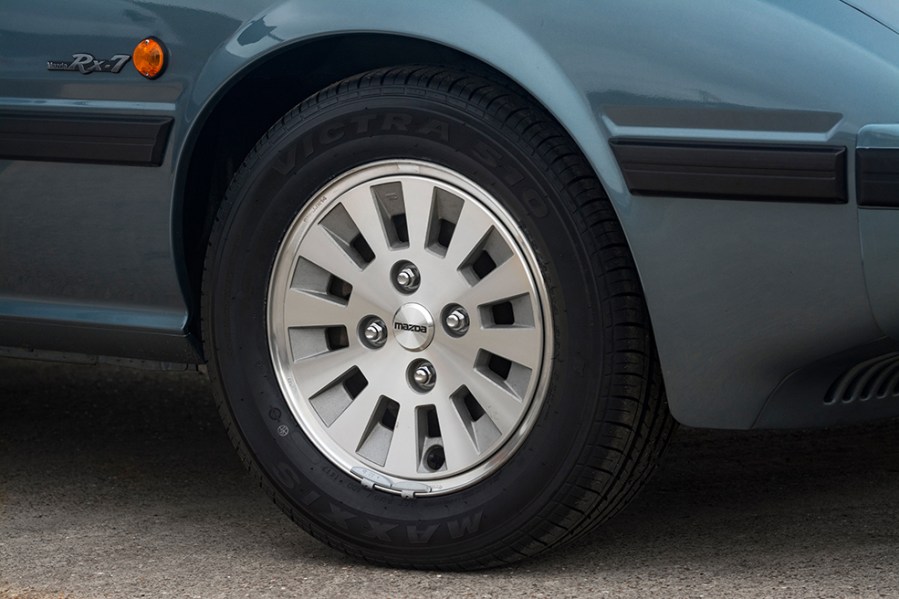 Suspension, steering and brakes
There's nothing complicated about the RX-7's running gear, which is great news for anyone planning their own maintenance. Parts availability is reasonable too, thanks to the UK having a handful of independent specialists in rotary-engined Mazdas – and you might even be pleasantly surprised by some of the current parts prices, particularly when it comes to service items. Essex Rotary, for example, sells a complete rear four-link control arm polybush kit for around £129, dampers from just £85 each, and refurbished brake calipers from £295 each. Even a BC Racing complete coilover kit – the ultimate when it comes to uprating your RX-7's handling – comes in at less than £1050.
When checking over an RX-7, worn lower balljoints can be an issue but standard-spec replacements are readily available, as are the polybush kits mentioned earlier – an upgrade that's well worth considering. RX-7 steering was by recirculating ball rather than rack-and-pinion, so it's not the most precise of its time; it's possible to adjust out excess play, although some owners overtighten the steering and cause further problems.
The all-disc set-up of UK-spec cars is as straightforward as it sounds, but you should still check for the usual signs of worn or warped discs, excessively worn pads, fluid leaks and so on.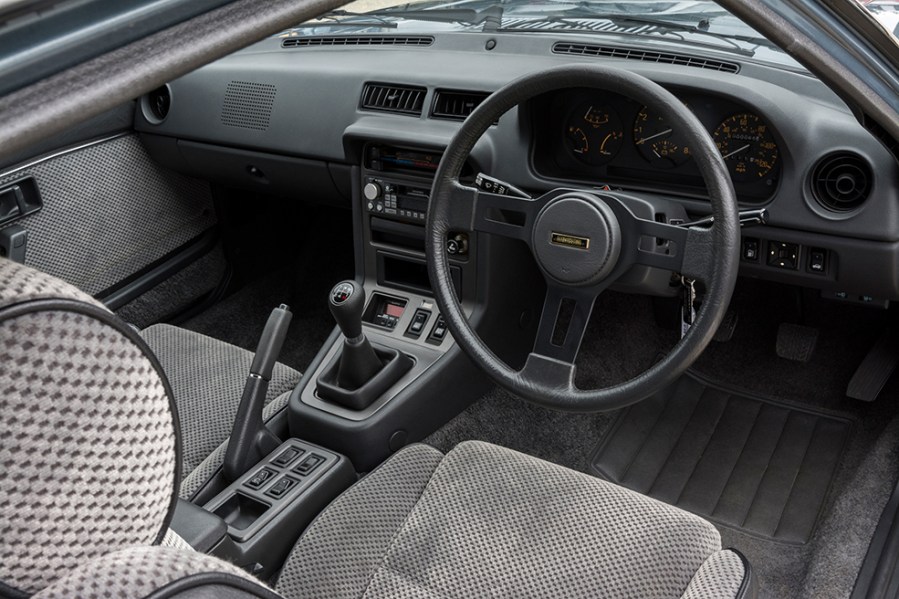 Interior, trim and electrics
The interior of any RX-7 you buy should ideally be in excellent condition, as new-old-stock trim is predictably rare. In fact, it's pretty much extinct, so check carefully the condition of the seats – particularly the outer side bolsters of the fronts, which can wear through on any car that's seen plenty of action. Leather was an extra-cost option in the UK and is seen as a desirable bonus, but the chances of finding a car for sale with this aren't great.
If the upholstery is worn, the only practical option is to have your existing seats retrimmed – but professional services like this don't come cheap, so do your sums carefully before agreeing to buy an RX-7 in need of interior work. You might need to have the seats re-padded as well, as they can collapse on high-mileage RX-7s. Make sure the overall condition inside the car is in line with the claimed mileage, particularly if the service history isn't all there.
Unlike many of its contemporaries, an RX-7's dashboard will rarely crack (you might want to walk away if the one you're inspecting has). Check that all the switches and dials work as it's not unknown for electric window switches, rear wipers and others to burn out.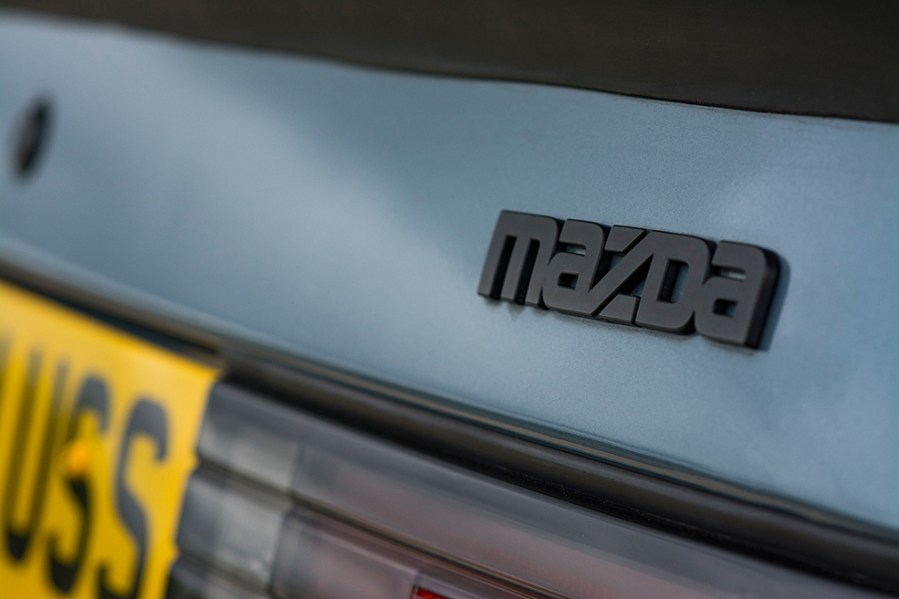 Mazda RX-7 Mk1 (FB): our verdict
The late 1970s and early '80s saw a plethora of desirable coupes launched in the UK, but none of them offered the same kind of headline-grabbing powerplant as the super-smooth, high-revving, rotary-engined RX-7. In fact, so eager to rev was the RX-7, Mazda had to fit a warning buzzer for when the tachometer hit 7000rpm. Some other coupes were more powerful, some were quicker, but none offered that USP of rotary-engined smoothness.
Of course, one of the car's biggest attributes was also the thing that deterred many buyers… and still does. It's not unusual to hear talk of rotary unreliability, as well as claims that these engines go 'bang' at relatively low mileages. However, the rotary fitted to the RX-7 is arguably one of the best you'll find – and with proper maintenance, regular oil changes and a caring owner, it's not unusual to see a car with a six-figure mileage that still on its original powerplant (albeit with a likely rebuild).
History is key, of course, and the canny RX-7 buyer will reject any car that fails to come with comprehensive paperwork showing 3000-mile oil changes throughout its life. Buy the best that your budget will stretch to and not only will you get to enjoy one of the smoothest engines of all time, you'll also benefit from one of the best-looking coupes of its era.
At its launch, the RX-7 cost around 30 per cent more than the most expensive 3.0-litre Capri, and wasn't far off entry-level Porsche territory in terms of pricing – but these days it offers fine value for money. The dearest RX-7 to sell at a UK auction within the last year appears to be a superb 1985 example, which achieved £17,500 at a WB & Sons sale. We've found a couple of cars for sale with dealers at a similar level, including one benefiting from a full engine rebuild – with the all-important new seals – 5000 miles ago.
Two other auction cars in what appeared to be decent condition found new homes in 2023 for around the £10,500 mark, while between £10,000 and £12,000 seems to be the going rate for an excellent (but obviously not concours-quality) car in a private sale. Projects start at around the £3000 mark, with running cars requiring work available from as little as £5000 – but do you really want to undertake major work on a rotary-engined classic? Better instead to find the extra money at the outset, we'd say.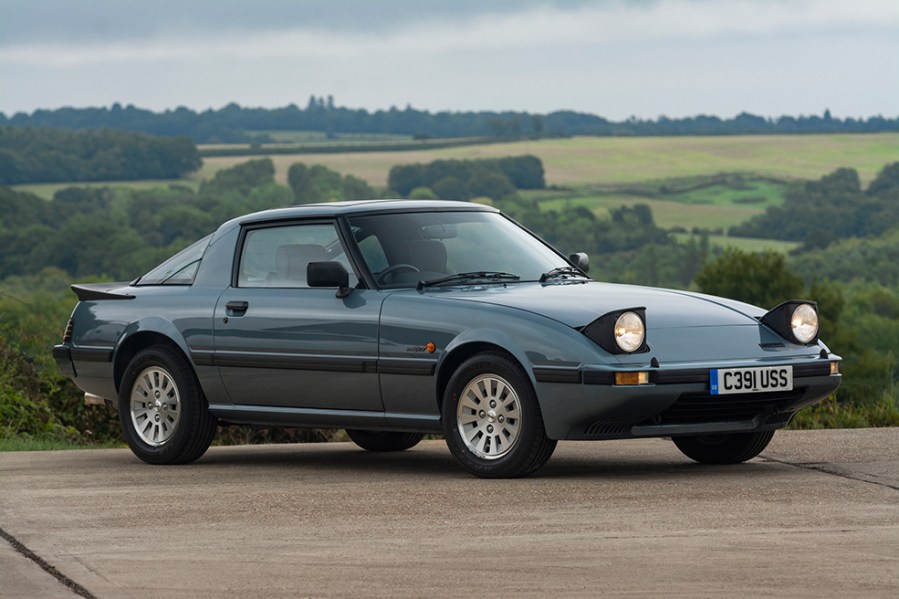 Mazda RX-7 Mk1 timeline
1978
First-generation 'SA22C' RX-7 enters production in March
1978
Goes on sale in the UK by the end of the year
1979
UK-based Elford launches its own RX-7 Turbo – over 500 are built
1980
Front and rear tail lights and front bumper and spoiler redesigned
1981
Rear-end restyle arrives, referred to as Series II or 'FB'
1982
Improved engine with greater fuel efficiency announced
1983
Official Turbo version goes on sale in Japan
1983
New 13B 1.3-litre engine introduced for Series III Mk1
1986
Original RX-7 is replaced by the 'FC', also known as the Series IV or Mk2