In a time before SUVs and people carriers, the family saloon reigned supreme. Here are our favourite 1950s four-door gems
Words: Sam Skelton
Britain in the 1950s was a somewhat conservative place. The baby boom children hadn't yet become adults, and the automotive sector was still targeted at a traditional market. Wood and leather were the order of the day in larger and more upmarket cars, as was staid design. But that doesn't mean that these cars should be overlooked – for the traits that made them capable family cars in that period also endear them today as family-friendly classics.
They don't have to be the last word in driver involvement – their quality is their most enduring quality, and their ability to transport us to a forgotten age. But which of the myriad choices makes the best family classic today? We've selected nine of our favourite big British saloons of the 1950s – some predictable, some more unusual – something for all tastes.
Rover P4
Talk about upmarket 1950s British cars and the topic will almost inevitably turn to the Rover P4 before the first sentence is finished. And with good reason. While it originated in the previous decade, the 'Auntie' Rover – so named because it had all the homely and welcoming qualities of a favourite maiden aunt – is inextricably linked to the 1950s as the decade it survived in full. And while other cars on this list may shout their status, the Rover is more discreet – hiding technical innovation behind quality trimmings and disguising its initial modernity through traditional facelifts.
From the staid 60 with its Land Rover derived four-cylinder engine to the 2.6-litre 110, there are P4s to suit all pockets. All offer a driving experience ahead of their time – they feel like very good 1960s car, rather than something that emerged from the shadow following the Second World War.
The biggest problem you'll find when looking to buy a P4 is corrosion, though water ingress can lead to rotten wood and leather inside – this can all be mended, but trim work is rarely cheap. Mechanically they're simple, and the clubs ensure that most parts you're likely to need can be sourced.
Riley RM
The Riley RM series also emerged during the days following the Second World War – launched in 1945 and produced in various guides until 1955. We're going to be focusing on the four saloon models – the RMA and RMB made until 1952, the RME produced from 1952 to 1955, and the RMF, built for just two production years between 1952 and 1953. Inspired by the pre-war Kestrels, these cars were sporting saloons in the 1.5- litre (RMA and RME) and 2.5-litre (RMB and RMF) classes.
With surprisingly good handling for their era, timeless style, and an enthusiastic owners' club, the RM series make excellent family-use classics. But beware – they're a body-on-frame construction, and the frame used is wooden, as was the style for many cars of this era. The wood can rot, so it's worth taking someone who knows RMs with you when you go to look at a potential purchase. Check the A post in particular, by getting your head up into the arch and looking from underneath, and that the draught excluder and door striker are securely attached. Any damage will show here. Also, check the doors hang properly, and that there's nothing nasty where the rear wings join the body.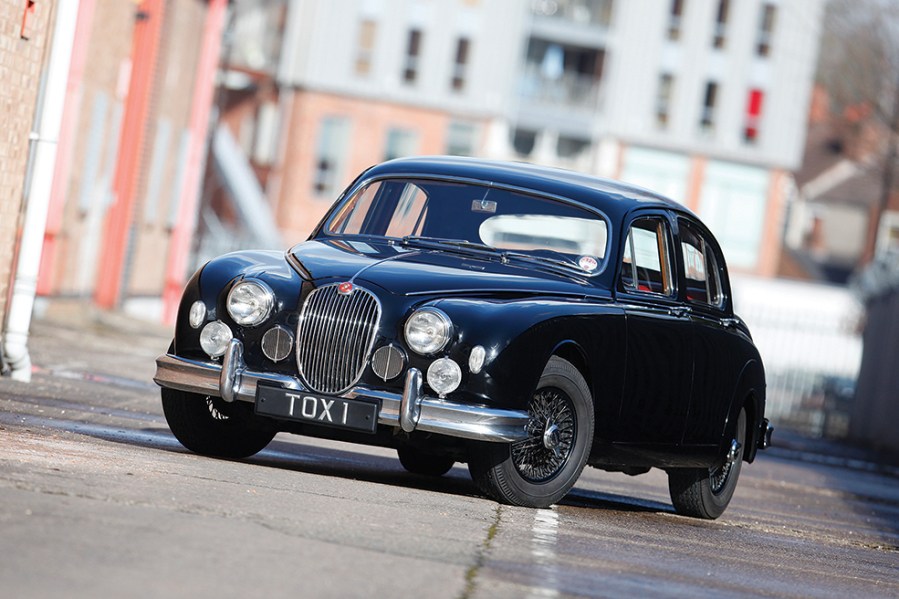 Jaguar MkI
A Jaguar is an obvious choice for someone after a bit of Fifties flash – and the MkI is the natural first port of call. Jaguar's first small saloon since the postwar 1.5-litre, the Mk1 was intended as a bridge between the MkVIIM and the XK range– a sporting option for the family man and an entry-level model in the Jaguar range for those perhaps more used to Rovers and Humbers. It was expected to be the volume seller – and kick-started a line which wouldn't be extinguished until the end of 240 production in 1969, via the MKII and S Type.
Launched as a 2.4-litre and soon offered with the larger 3.4-litre engine too, the Mk1 was an unashamed sports saloon. They're more agile than the Mk2, though the narrow rear track can lead to extreme oversteer if you try to be too clever. Modern tyres help, but it's better to acclimatise to the car slowly.
They're excellent value now compared with their successor, too – and, dare we say it – more attractive to boot. As with the Mk2, you should check thoroughly for corrosion. The floorpan, rear suspension mounts and bulkhead are common rot spots and should be checked thoroughly.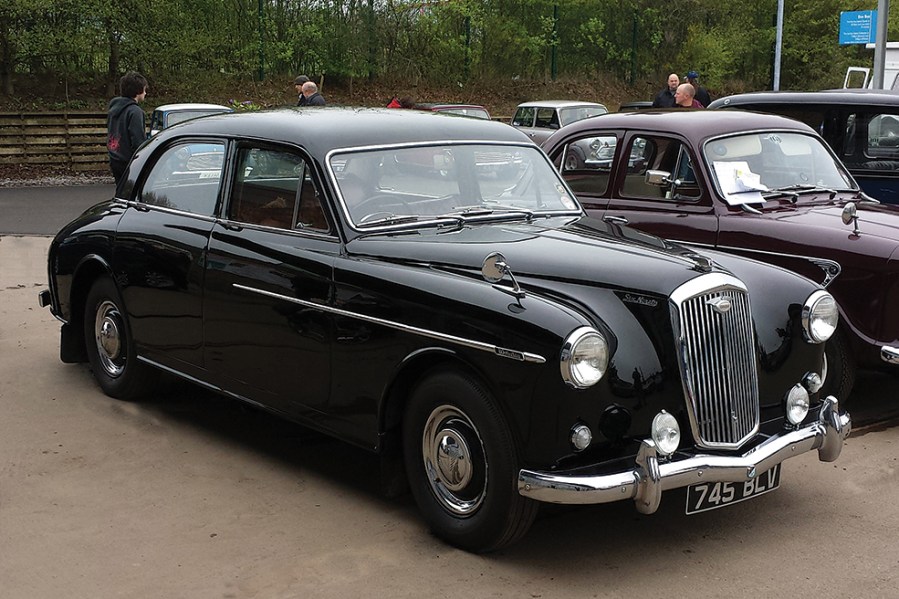 Wolseley 6/90
Following Britain's greatest police car was going to be no mean achievement, and when the Wolseley 6/90 was launched it was to a world expecting greatness. Effectively, it was a six-cylinder variation of the Riley Pathfinder, which had replaced the RMF in 1953. The latest diamond-badged car offered an almost Italianate body styled by Gerald Palmer and was fitted with the same big four as had powered the outgoing RM model. As for for the Wolseley, its "six" was from the same C-Series family featured in the Austin Westminster. It would also be used in the Pathfinder's replacement – the Riley 2.6.
While the 6/90 shocked Wolseley stalwarts with its grey Formica dashboard, the rest was pretty traditional. A four-speed column shift manual was standard at first, though a floor-mounted shift would be made available on subsequent Series 2 and 3 cars, along with a return to a full walnut dash. Its leather-trimmed seats were comfortable, and nothing spoke of authority like the illuminated grille badge.
As with all the cars on our list, check for corrosion – typically in the sills, floors and door bottoms, though panels can pose an issue. Only the tub, front doors and bootlid are directly shared with the equivalent Riley models, so be careful when buying replacements to ensure that they're Wolseley specific.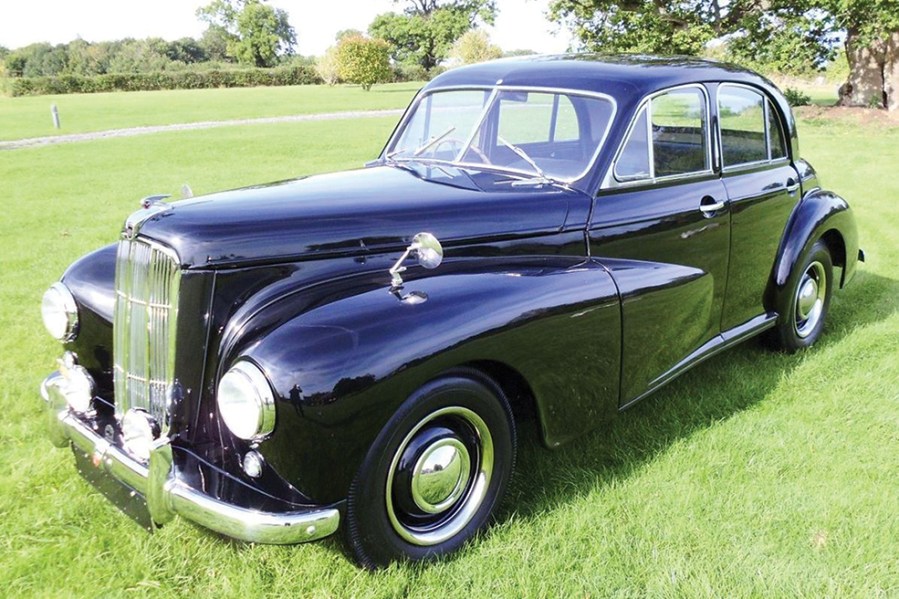 Morris Six
Many would be more familiar with the Morris Six's upmarket sibling, the Wolseley 6/80. For years, it became entrenched in the public psyche as the archetypal police car, and no 'Scotland Yard' B-movie film was complete without the ever-present 6/80 full of stout officers. But while the Wolseley was popular with the boys in blue, it cost about 15% more when new than the Morris – no reasonable family man could justify the additional spend when the Morris was in all honesty just as capable, despite its vinyl seats and painted dashboard. You could even have leather like the Wolseley – and a heater – if you bought a late Deluxe model.
Far fewer Morrises were sold than Wolseleys, making it a head-turner even at Nuffield group events. Check that the engine has been fitted with Stellite-coated exhaust valves, as the original-spec valves have been known to burn out. Check also that the suspension has been kept well-greased, like the Minor, front trunnions can pose issues if they've been neglected over time – and the Six's suspension supports a far greater weight than that of the smaller car.
Body panels and some trim can be hard to find – while shared mostly with the Oxford, that doesn't mean that such items are plentiful today. The Cambridge-Oxford Owners' Club is your best bet.
Vauxhall Velox
If the pin-up look appeals to you and Grease is in your top ten films of all time, we can understand why a Vauxhall Velox might be your upmarket 1950s saloon car of choice.
Metallic paint was a big deal in the first half of that decade, and when coupled to the flashy chrome grille, made the E-Series Vauxhall Velox look like a product of another world. In truth, the styling was pure Detroit, and the lazy 2.3-litre six-cylinder engine backed up the Stateside impression. No mere Zephyr driver could hope to compete with the glitz. And it was advanced for its era – that shell was of monocoque construction and engineered for solidity – while rust can take hold in the door bottoms and wings, it's only really structural areas like the sills and bulkheads that need a thorough inspection.
Mechanically much is shared with the subsequent PA and PB series cars or, regarding the early E series, with the outgoing LIP Velox. Trim can be hard to source but easy enough to replicate. There are few more practical ways to enjoy Americana on an English scale.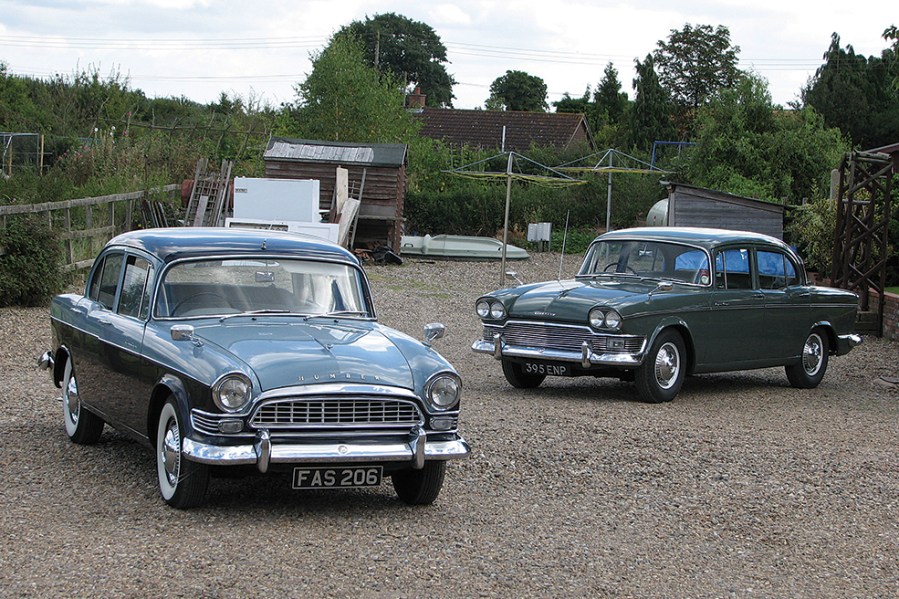 Humber Super Snipe
With American inspired styling, the Rootes Group's big Humber range of the late 1950s took clear inspiration from the work being done by lower-end rivals such as Ford and Vauxhall. The new Super Snipe looked straight out of Detroit by 1958 – while smaller than the outgoing model, it clearly resembled the 1955 Chevrolet models.
It was also significantly more spacious, faster and more economical than its predecessor, owing to a 2.6-litre (2.9-litre from the Series 2 onwards) inline-six replacing the outgoing 4.1-litre unit. This engine was an Armstrong Siddeley design and related to the unit fitted to the Sapphire 346. The body was to be shared with the four-cylinder Hawk models, and from the Series 3 of 1960 was the first British design to be fitted with quad headlamps.
Welded seams are all prone to corrosion, as are the sills and floorpans. Rootes used multiple pressings in areas of stress to ensure strength, and when water finds its way between the pressings these areas can rot from the inside out. Chassis outriggers can rot badly, as can front and rear wing edges. Mechanically, differentials can pose difficulties – up to the Series 4, they're shared with the Hawk and can't handle the increased torque without excessive crown and pinion wear.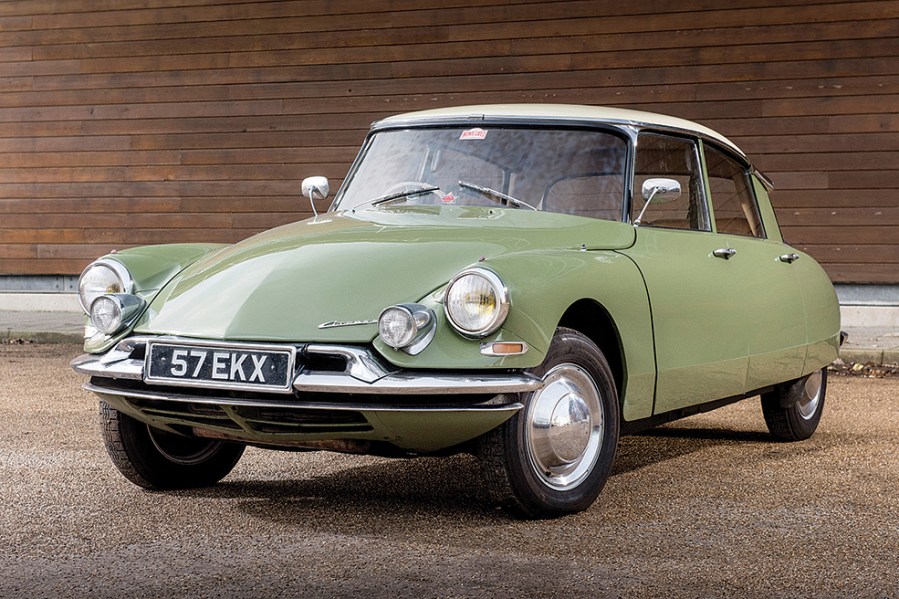 Citroën ID
An oddball Brit here, in that many readers might consider it to be somewhat more French. But British IDs made in Slough had enough differences over and above the basic model to consider them a separate model for this list. And the UK ID did compete with cars like the Rover P4 and the Humber Hawk, despite its lower power output. The somewhat incongruous walnut dash and leather trim were just two things that separated the British Citroën ID from its more Spartan French cousin. Citroën GB also added full hubcaps from the DS and chromed niceties to ensure that the ID driver in Britain felt they were getting value for money.
Not that it mattered. The fact remained that only Francophiles and engineers took the ID to their hearts in 1950s Britain, many choosing to stick to more conservative Rovers, Humbers and big Wolseleys. Slough-built IDs are hard to find today, and command a considerable premium if you can find them.
Don't worry too much about the hydraulics – it's basic plumbing, and the most important check is whether it's been converted to run on the later LHM fluid. If not, that could be worthwhile purely for the sake of availability. Be more concerned about corrosion – check everywhere possible for rust.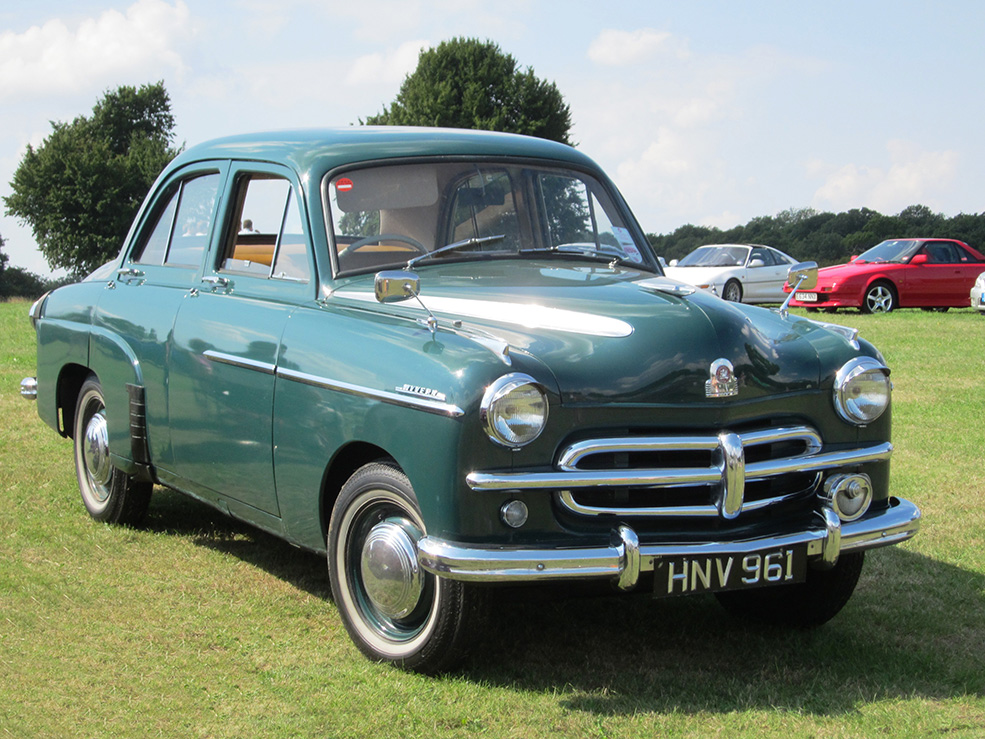 Vauxhall Wyvern E
Regard the E Series Wyvern (along with the contemporary Velox and Crestas) as Americana scaled down to fit British roads and you won't go far wrong. Realising a 1949 Chevrolet Deluxe would be too large and thirsty for our tastes, designer David Jones adapted its bulbous glamour to fit, instantly dating its predecessor, the 'sit-up-and-beg' Wyvern L Series (otherwise known as 1948's most forgotten new model). That the new car carried over its engine and nothing else tells you much about how seismic a shift Vauxhall intended the E Series to be.
One of the firm's first monocoques, Wyvern Es were horribly rust prone. So few survived from a small production run, spares are now cruelly scarce. A lack of performance was its only real bugbear, despite a larger 1507cc engine arriving in 1952.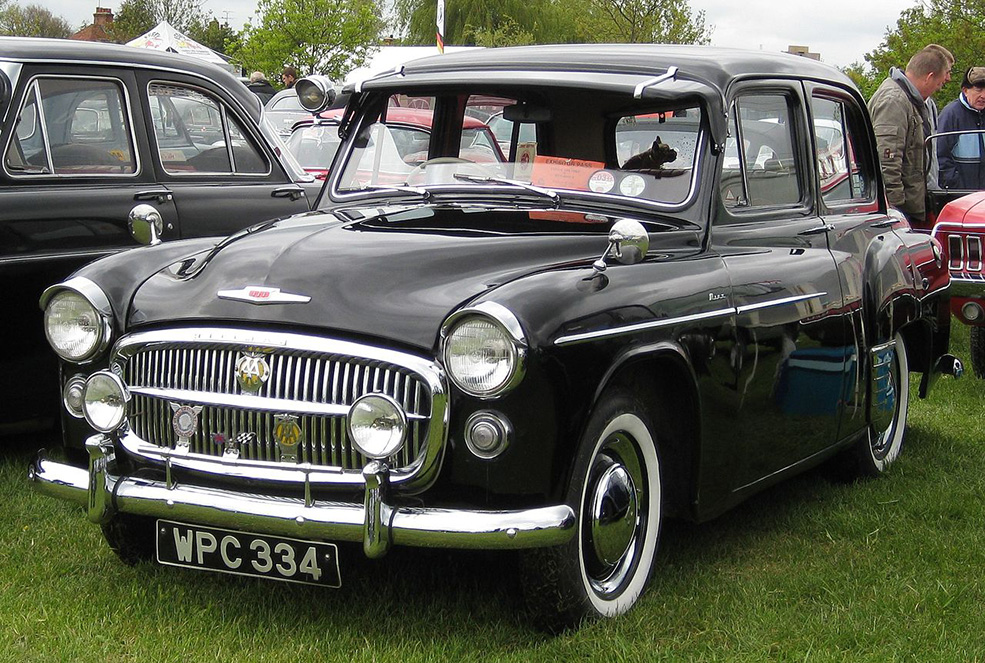 Hillman Minx V–VIII
Having existed since 1931, the Minx nameplate prevailed well into the 60s. Like Vauxhall, Hillman's immediate post-war Minxes were little more than hasty rehashes; it would take until 1948 for the model's outward appearance to match contemporary expectations.
As the Minx MkIII went toe to toe with the Wyvern L Series, Rootes offered buyers more body styles than Luton towards the end of that year with saloon, estate and convertible options made available.
By 1951, the Minx V offered glitz equal to that of the Wyvern E; power, from a 1.3-litre bored out sidevalve engine, broadly matched that of the Vauxhall.
Mark VI Minxes had a new hardtop coupe – the Californian – to lure customers into showrooms, and by 1954, Minx MkVIIIs had a new overhead-valve engine which would go on to star in the bold new 'Audax' series of Minx models.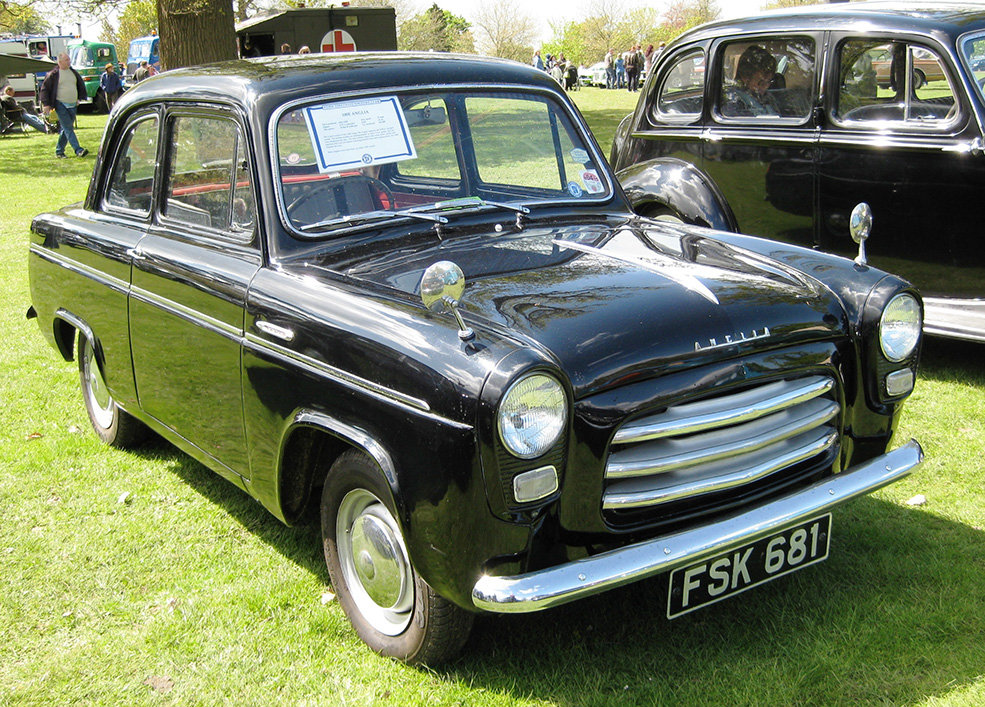 Ford Anglia 100E
Ford's best-selling Anglia arrived to the 1950s family car party later than Vauxhall or Hillman – but wasted little time in catching up. With two and four-door Anglia and Prefect models, along with Escort and Squire estates available in the range, there was little that was frivolous about the Anglia 100E, but it did the job in a ruthlessly efficient and affordable manner, thanks largely to its stalwart 1172cc sidevalve engine beloved of kit car and Special builders.
While Vauxhall and Rootes looked to the US for styling inspiration, it was to Germany that the 100E aspired; with the Taunus P1 in mind, the family resemblance to the similarly attired Consul was clear. A 1957 facelift brought a larger rear window and other aesthetic improvements; by 1959, however, the Elwood Engel influenced 105E – Harry Potter jibes aplenty – was ready.