An English-built Citroën ID19 meets English wine as we enter a slightly bizarre parallel universe on a very civilised road test
Words: Sam Skelton
Bread. Cheese. Flamboyant clothing. Philosophy. Vineyards. Wine. The Citroën DS. If it sounds like I'm describing the average Boursin advert, you'd be forgiven for thinking so. After all, everything I've listed above is stereotypically French, and the combination of them all as per the photographs is one of the most comprehensive suggestions of Francophilia it's possible to make, yes?
Mais non. Because I'm in the English Midlands, not the Ardennes. And the car I'm driving was made in Berkshire. This scene is therefore as English as fish and chips on Whitby sea front, while a beefeater waving a St George Flag whistles God Save The Queen.
57EKX is a Slough-built Citroën ID19 – markedly different inside and out from the equivalent car produced in Paris. A redesigned front number plate plinth, Citroën badge to the bonnet, conventional parking brake and Lucas rear lights were obvious changes, but it was to the lower-spec ID model that Citroën made the greatest changes. In France, this was a pared-down DS, but in Britain its pricing put it alongside Humbers and Rovers and thus the trim had to reflect that.
The Slough ID therefore got DS hubcaps, leather seats, and a somewhat incongruous wooden dash in the style of the previous Slough Tractions. And this very overt British take on the theme is why my dream drive in a DS is technically not in a DS – but in the ID which shared its shell and elements of its drivetrain. I want my experience not to be French…
First registered in April 1961, this ID19 was bought back and re-registered by Citroën at six months old as a press and publicity vehicle – used by one of the Slough directors in between photo calls. Citroën sold the car in 1963 to its third owner, who sold it in 1965 to its fourth – a man who kept the car for over twenty years. Entered into the 1991 Monte Carlo Rally, it was subsequently bought by noted Citroën expert Malcolm Bobbitt, and kept by him until 2012. Now firmly back in the hands of Citroën UK, albeit in Coventry, the car is used for press and publicity centred around the new DS Automobiles brand.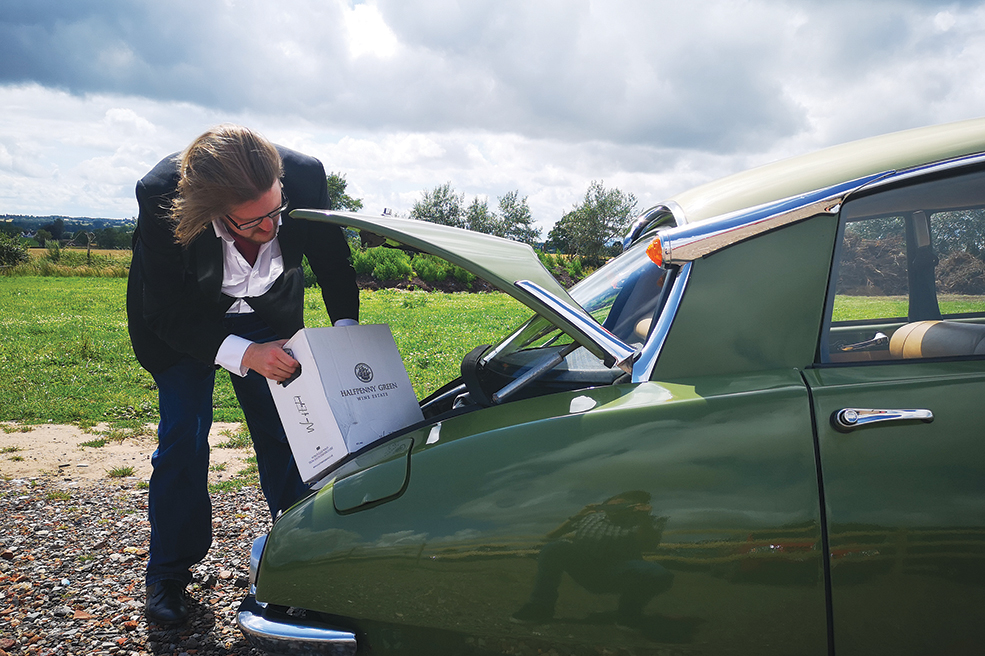 And today it's in my care, as I do something I've wanted to do for some time. Away from the car world, I'm a bit of a wine enthusiast. I like exploring the flavours, the scents, the sights involved with wine, and I've had several arguments with my friends over the validity of English wine. I believe that English wine is up and coming – that while we're by no means a prominent wine producing nation, we're a lot better than the man on the street believes and a good English wine can rival the best in the world.
Many scoff at this – and they scoff too when I point out that Champagne houses including Taittinger are buying land for expansion in the south of England. The terroir of the Downs and of Kent is similar to that in the Champagne region, and English sparkling wine is one of the big things in the wine world right now.
Okay, I know. It sounds like I'm not so much driving the car today as indulging in the lifestyle that it offers. But fundamentally, very few of us buy a classic car solely because of the way it handles or its performance. That's what modern cars are for. With a classic we're buying a passport to a slightly rose tinted lifestyle – taking a trip back in time whether it's to our own misspent youth or to an era we wish we'd been a part of. People buy an ID19 in part for its technical brilliance and in part because it conjures up a resolutely Francophile image. In driving a British D – and sampling British wine – we're having some fun with that stereotype. And what are classics about if not fun?
This ID19 is certainly fun – sprightlier than its 1.9 litre 66bhp engine would have you believe, with gears that are broadly well chosen. Some hills, however, highlight the one major issue with the driving experience – that the gap between second and third is perhaps a little too big. It's almost as if it needs an additional gear between the two to avoid labouring the engine and bogging down. But that rarely proves an issue – in town and on open country lanes alike the ID19 invites a natural insouciance from behind the wheel, the column change mounted upside down on the left hand side of a column that was evidently inverted to suit contemporary British mores.
Once in fourth the ID19 feels less like a car, more like a low zeppelin. The choppiness of the surface rarely flusters it – it's like the car is floating just above the surface. Which, technically, it is – the oleopneumatic suspension cushions the car on a bed of oil and compressed nitrogen, not the mere normality of steel springs. Whether mid bend or at speed there's little to fluster it this side of a hump-back bridge – the longer you spend with it the more you understand why it's the perfect choice for the Monte Carlo Rally as well as its casinos.
We're heading to the Halfpenny Green Vineyard in Bobbington, Staffordshire. Founded thirty years ago by Martin Vickers and now jointly run by him and his son Clive, Halfpenny Green now comprises nearly thirty acres of vineyards and produces up to 60,000 bottles of its own wine a year. Its bottling plant is also used by other British vineyards on a contracted basis. The south facing slopes feature free draining soil, excellent for vines – and Halfpenny Green grows sixteen types of grape including the popular wine bases Chardonnay and Pinot Noir. Like most English vineyards, it tends to focus on white and sparkling wines, but there are a couple of reds among the more popular varieties sold.
No country in the world is as renowned for sparkling wines as France – and especially its Champagne region. The fact that Champagne has become a byword for sparkling wine in general despite an AOC restriction limiting the title to wines produced within the region tells you all you need to know. And yet Champagne houses have been buying English property – when you taste Halfpenny Green's Brut sparkling wine of 2016 you can understand why. It uses Chardonnay, Pinot Noir and Seyval Blanc grapes, blended and produced using the Champagne method. Dry and slightly acid, it retains an aroma of yellow apples, lemon zest and caramel which translates to flavours of lemon meringue, apples, and a buttery biscuit base line.
This was just one of five wines we tried on the day – the bold brambly Rondo red and the crisp, orange-zesty Mercia were special highlights – but the shining star of the day was without doubt the Brut sparkling. My wallet objected to a decision I made later, but my tastebuds will be thanking me for weeks. As will my other senses – because the English Citroën is as undeniably pleasant as the English sparkling wine. You expect the experience to be very French, and yet you come away from both feeling pride in the British twist that both have imposed upon their relative experiences.
There is, however, a problem with driving a classic car to a vineyard to indulge in a journey through English wine. Someone always has to drive home – and if you've been sampling, it probably shouldn't be you. That's the other reason I wanted to bring an ID19; as countless Parisians know, it made the ideal taxi for the inebriated, with space and serenity aplenty. I brought Classics World's Joe Miller with me to take the photographs for this piece – another Citroën fancier, he took the helm en route back while I settled into a renewed appreciation of the finest suspension in the world…