The Ford Cortina Mk1 & Mk2 have long been seen as stylish, usable classics – and with values tailing off, now's your chance to own one
Words: Dan Williamson
Ford introduced the conventionally engineered Cortina in September 1962 as a medium-sized machine that could compete on costs with BMC's Mini. To save cash, it stuck with a traditional rear-wheel drive three-box layout, adding tail fins and peace symbol-like back lights to form an effortlessly stylish design.
At first named the Consul Cortina and available with just one engine (1198cc), the range of two- and four-door saloons grew to include a 1498cc version, plus the sporty GT with Cosworth-tuned 78bhp powerplant and the glorious Lotus Cortina, raced to legendary status by the likes of Jim Clark – naturally not included within this buying guide.
Keen pricing helped the Cortina to top the sales charts, with 1,013,391 assembled worldwide in just four years. But Ford couldn't afford to be complacent; a new fascia came in 1963, followed by Aeroflow ventilation in autumn 1964.
A second-generation Cortina arrived in October 1966, with a smart (albeit anonymous) reskin, wider track and 1298cc powerplant alongside the previous 1.5-litre models. From September 1967, both were replaced by Ford's new 1.3- or 1.6-litre Crossflow, giving rise to the dramatic Cortina 1600E executive express. Meanwhile, the Lotus had been continued into Mk2 form as a less-specialised package. After a midlife revamp in 1968, the Mk2 Cortina continued to sell relentlessly, with 1,024,869 built by the time it was replaced by the Mk3 in October 1970.
Today, as Blue Oval fashions favour sporting Escorts, the first two generations of Cortina remain much-loved and increasingly affordable classics. Here's what to look for.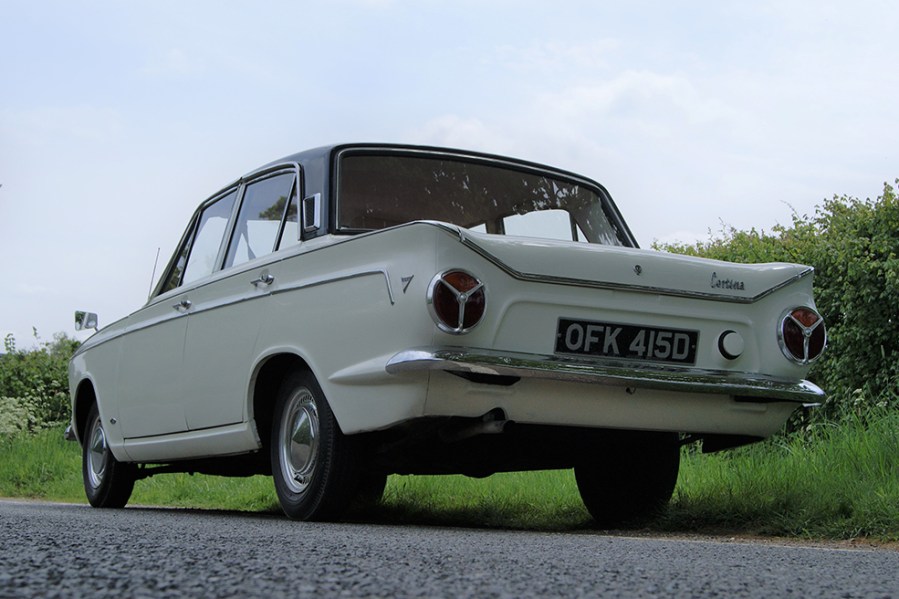 Bodywork
Rot is the Cortina's eternal enemy, and serious structural corrosion – along with the price of panels – can make a base-model Mk1 or Mk2 uneconomical to repair. Rust can be anywhere, but it's most important to check the inner wings and strut tops, bulkhead, scuttle panel, A-pillars, sills, jacking points, floorpan, rear chassis rails, spring hangers, spare wheel well and boot floor – all of which can be tricky to repair. If you're inspecting a Mk1 GT or a 1600E, ensure the factory-welded radius rod brackets are present under the rear floor. A 1600E should also feature Lotus-type strengthening plates and metal dashboard panel.
Examine the front valance, bonnet, wings, doors, rear wheelarches and bootlid/tailgate, bearing in mind replacement panels – whether secondhand or reproduction – can cost four-figure sums. Indeed, base-model and left-hand drive Cortinas are still being chopped up by specialists to provide cuts for the restoration of other cars.
Brightwork – grilles, bumpers and aluminium trim – can be tricky or impossible to source, although some pieces have been remade in stainless. Most of the lighting is available as new or reproduction, but 1600E driving lamps are rare, and beware of Mk1 front indicators that suffer due to their alloy housings. Earthing problems are frequent throughout, so pay attention to the condition of the wiring; only post-1968 Cortinas were equipped with a fusebox, meaning it's vital to ensure the loom is fit for use.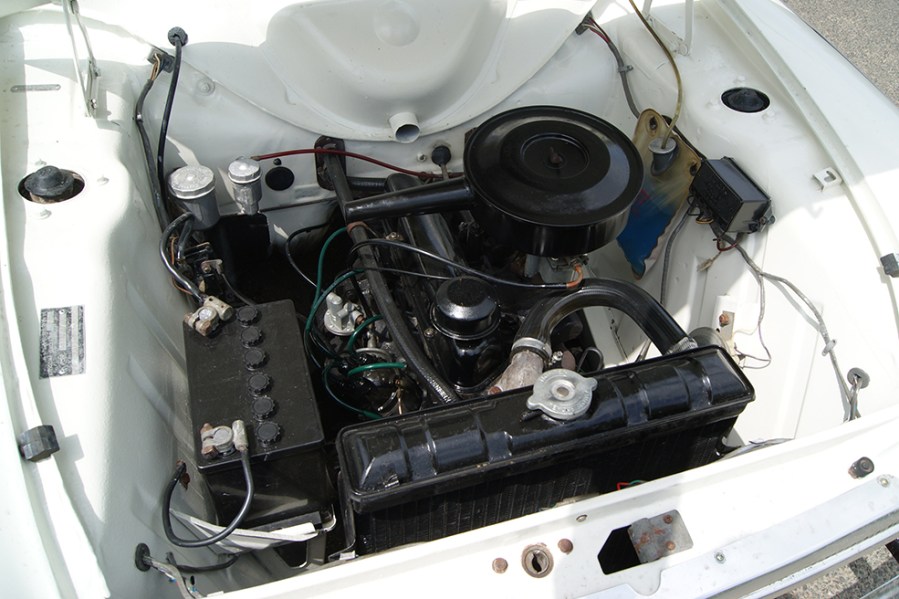 Engine and transmission
Mk1 Cortinas and early Mk2s were fitted with the pre-Crossflow Kent in 1198cc, 1298cc or 1498cc form – a harsh engine with a tendency to expire quickly. Unless very low-mileage, expect it to have been rebuilt or replaced at least once before. Mk2s from September 1967 featured the Kent Crossflow in 1298cc or 1599cc guise – an improvement but still unlikely to exceed 60,000-70,000 miles without a rebuild.
The smaller pre-Crossflow unit is especially prone to worn crankshaft bearings but all powerplants are susceptible; listen for rumbling from the bottom end. Knocking could come from piston slap, so look for blue smoke from the exhaust, which is typical of tired pistons/rings/cylinder bores. Beware of breathing from the oil filler cap or dipstick, usually pointing to excessive wear but potentially simply a blocked breather. Similarly, a whiff of smoke at start-up suggests valve stem oil seals, which are inexpensive to replace. Expect to hear rattling from the timing chain; it's generally nothing to worry about unless particularly severe, in which case it could slice through the alloy cover and empty the sump. A loud clacking could suggest a scored camshaft or broken follower, requiring engine removal. Otherwise, refreshing the oil and adjusting the valve clearances should help a healthy engine.
Oil leaks (notably from the rocker cover) are common, and it's wise to look for coolant loss from rusted core plugs. Poor running often points to a basic problem with the carburettor or ignition system, but bear in mind a Crossflow will plod on indefinitely in a sorry state of disrepair. Although it was once cheap to recondition a Cortina engine or throw in a secondhand scrapyard-find motor, that's no longer the case – you're now looking at a four-figure sum to perform a DIY rebuild.
Although a three-speed automatic gearbox was optional, most Mk1 and Mk2 Cortinas had a four-speed manual gearbox – in early cars a three-rail version, or in later Mk2s a single-rail Type 3 with a slicker shift. Listen for rumbling, pointing to worn bearings, and check for crunching when changing gear, meaning the synchromesh is tired.
A worn three-rail gearbox will jump out of gear on the overrun, so watch out for the owner holding the lever in position when driving; the cause could be a simple problem with the selector fork, or a more serious issue with the synchro hubs or baulk rings, requiring a rebuild. A Type 3 is more likely to be leaking oil from the back seal or have its gear lever rattling and coming loose – common and easy to fix.
Whining from the transmission is quite normal but beware of growling from the differential (tired bearings) and look out for leaks from the rear axle. Propshaft vibrations typically result from worn universal joints, which can eventually damage the gearbox.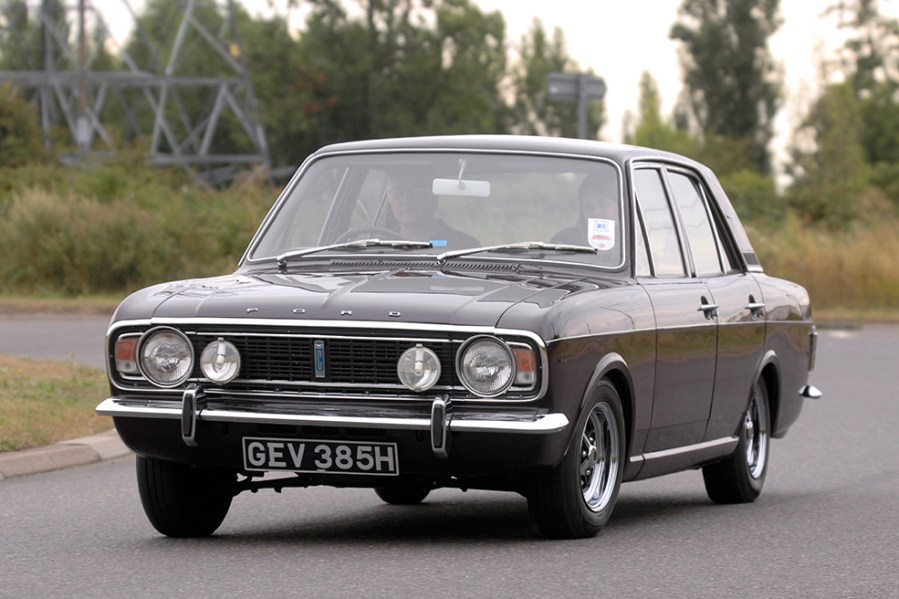 Suspension, steering and brakes
Vague steering is common – typically due to a tired steering box that may need adjustment (Ford recommended every 12,000 miles) but is probably down to worn nylon idler bushes. Play in the steering may also result from perished rubber steering links, wear in the steering arms or corrosion around the mountings.
Knocking from the front points to worn strut top mounts (on later Mk2s the bonded mounts are obsolete and very expensive, so most replace with aftermarket roller tops), while poor handling may mean the coil springs are broken or the shock absorbers are tired; check for the car sitting unevenly. The rear leaf springs tend to sag and rust, and the dampers leak. Replacements are readily available.
Although some early Mk1s were equipped with drum brakes all round, most surviving Cortinas have discs up front. Most issues are simple: rusty discs, seized calipers, sticking/leaking wheel cylinders and broken handbrake cables.
The rear drums need regular adjustment, and the self-adjusting cogs are prone to failure. The umbrella handbrake mechanism of many models can also be troublesome. The biggest problem you'll face is finding drums for larger-engined Cortinas, which are almost impossible to source. Even the shoes are tricky to find, and often poor quality.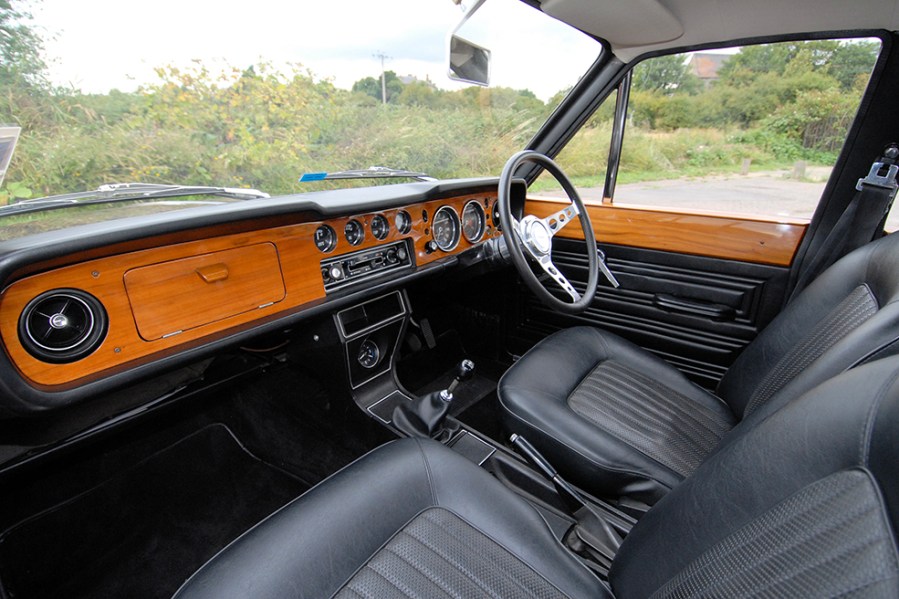 Interior and electrics
Poor survival rates – and multiple colour choices – mean lesser-model Cortinas are trickier to restore than plush equivalents due to poor availability of trim. It's thus essential to ensure the car you're buying has an excellent interior. Seats collapse, vinyl upholstery may be torn, and door cards could be damaged. Carpets tend to be threadbare, and headlinings droop.
Thankfully, most of the vinyl can be repaired, and many items – such as mats, parcel shelves, door rubbers and seat covers – have been reproduced, albeit at a cost. Beware of a cracked dashboard top or damaged steering wheel. On sporting models, broken/missing trim – such as centre consoles and gauges – can be pricey due to being suitable for a Lotus Cortina. The wooden cappings found in 1600Es tend to be tarnished or cracked, but specialist restoration is the solution. Mk1 indicator stalks are tricky to source, so expect to pay the price.
Ford Cortina Mk1 & Mk2: our verdict
The Cortina was the model that kept Britain's family car buyers and sales reps on the road in vast numbers, with even the most basic versions offering a pleasing (albeit not dynamic) driving style, no-nonsense engineering and excellent value for money. The Mk1 and Mk2 models no longer provide that advantage of affordability, however, thanks to soaring demand – and ever-increasing asking prices – of classic Fords.
Fans of the Cortina will argue that it's worth it, of course, with the car's easy ownership experience and simple maintenance adding to its overall appeal. Whichever generation from the first two appeals to you the most, you'll struggle to find a contemporary saloon (or estate) that makes much more sense – although you could arguably find one that now offers better value for money.
Surprisingly for a classic Ford, Cortina Mk1 and Mk2 prices have taken a hit over the last 12 months. Sporting models have seen the highest drops, with 10 per cent knocked off – a lot when you're talking about a tidy £60,000 Mk1 Lotus.
Lesser-models start at £1500 for a basket case, £4000 upwards for something worth restoring, and £10,000 in excellent condition. A similar Mk1 GT or 1600E is upwards of £20,000. Two-door Cortinas cost typically 25 per cent more than a four-door, although a left-hand drive import is around half the price of its UK equivalent – which makes conversion quite tempting.
Bear in mind restoration costs of a 1.3 Super are the same as a 1600E, so factor it in to any asking price. Factory-original and concours cars are still in strong demand, so prices can sometimes double, depending on desirability.