A slice of sturdy British luxury powered by one of the all-time great engines, the Rover P5 makes a fantastic classic cruiser today. Here's how to buy one
Words: Sam Skelton
Rover missed its intended mark with the P5. Intended as a replacement for the Rover P4 range at first, it emerged as a larger, more stately car than its predecessor, with none of the forward thinking that had become a hallmark of new Rovers. But while the Rover P6 served, in time, as an ample replacement for the four-cylinder P4s, the Rover P5's position at the top of the tree cemented the company's reputation for undeniably British, crafted transport. The Studebaker influence of the earlier P4 was still there, albeit evolved into a shape which was unseen in Detroit. Oft-cited as one of the last 'real Rover', the Rover P5's influence was felt long after it ceased production.
As the brand's first attempt at a monocoque design, the Rover P5 was inevitably over-engineered, and heavy to boot. This meant that the P4's 2.6-litre six wasn't enough – it had to be expanded to 3.0 litres and 115bhp for the new car. It retained Rover's customary overhead inlet and side exhaust valves, which led to the engine's informal OISE name.
Launched as a four-door saloon with five seats, the Mk2 of 1962 introduced a new body-style to the range. Still with four doors, the lower and more rakish roofline justified the "Coupe" name in the same manner as today's Mercedes CLS and VW Passat CC models. The Mk2 was an improvement on 1961's Mk1A, dropping the standard wind deflectors and increasing power to 134bhp (or 129bhp with the automatic gearbox).
Three years later, the Mk3 brought the interior we all associate with the Rover P5, with individual rear seats in place of the bench making the car more comfortable for four. A chrome side strip was also fitted, as with the later P5B which came along in 1967. This car, developing a whole 50bhp more than the outgoing six cylinder and shaving some four seconds from the 0-60 time, was the first Rover to be fitted with the ex-Buick V8. In deference to the customers who felt that the old six didn't have enough power for the size of car, Rover had bought the rights to the V8 from GM. Launched in 1967, it was the model which continued until the demise of the P5 in 1973. These cars ditched the steel wheels for chromed Rostyles, and owing to the torque generated were offered with an automatic gearbox only.
The Rover P5 was favoured by the rich and influential; Her Majesty Queen Elizabeth II was a repeat Rover P5 customer, owning a pair of dark green saloons – which, it was said, became her favourite cars. Not only that but the government approved so much that it stockpiled late examples for the government fleet pool, which lasted well into the 1980s. A total of 69,141 Rover P5s were built over a fifteen year period.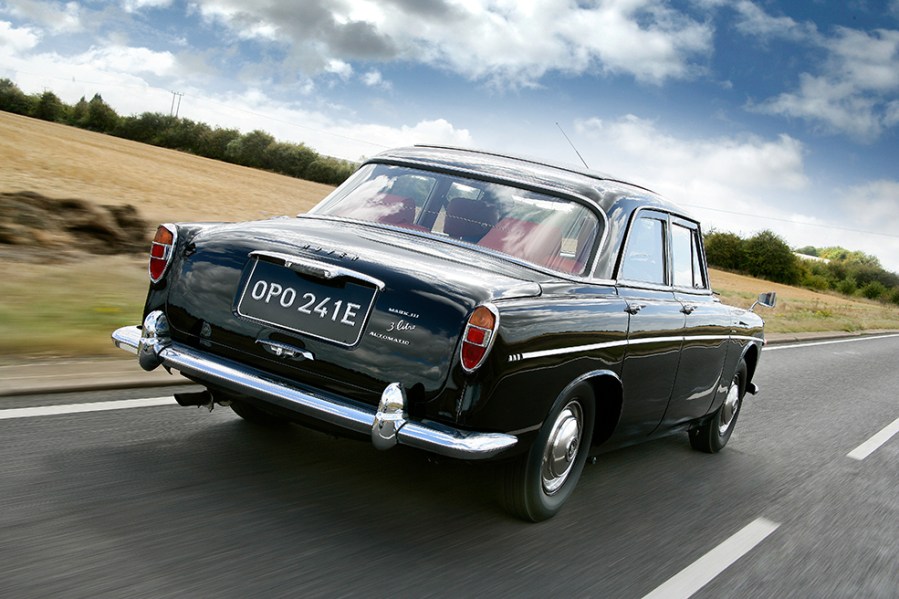 Bodywork
The Rover P5's exterior sills are structural, as are the inner sills – so check as much as you can here. On the V8 cars these should be painted black, but some restored cars could be body coloured. Rear valances rot and the double skin makes them hard to repair properly, while inner rear wings and battery trays are difficult to repair well. Inspect these areas closely for signs of repairs, and check to see that they're strong if so.
Make sure you look closely to see if the doors have dropped, as this could indicate far worse corrosion in the shell which could have gone unchecked. Inner front wings are water traps and rot out for fun, as is the base of the A-post where it meets the sill. The latter is a really nasty repair spot, so we'd walk from cars with corrosion here. It's worth noting that uneven panel gaps around the bonnet shouldn't be cause for concern, as bonnets can deform over time. It's a sign of age rather than anything nasty.
Chromed Rostyles as fitted to the Rover P5B can be expensive to refurbish, so make sure there are no kerbing marks and that there's an absence of pitting or corrosion.
Engine and transmission
Just two engines were used in the Rover P5 range – the six-cylinder carried over from the P4, in 3.0-litre guise, and the V8 bought from Buick for the P5B. The six-cylinder is an overhead inlet, side exhaust design, known as the OISE. It's a 3.0-litre in the P5, up from 2.6 in the P4 and Land Rover, to reflect the additional size and weight of the car. It should be very smooth, so be worried if it isn't. A little oil use is fine, as is lowish oil pressure at tickover, as long as it rises under load. Early cars were positive earth, later cars negative – as a rule, the cars which have alternators will be negative earth and cars with dynamos should be positive, but it pays to check.
Check that the automatic choke still works on post 1969 cars – start from cold, let it warm up, turn it off and restart it. If the warm start is troublesome, odds are it's the automatic choke. Many of these cars have been fitted with manual chokes, but originality is more desirable. Remember too that these cars were designed for five star fuel so will need to have the ignition retarded from any handbook settings. This will be car specific – if you don't know what you're doing pay someone who does.
V8s need the right coolant mixture, with at least 50 per cent antifreeze required to prevent corrosion in the waterways. Check that this has been done, and if unsure budget for a coolant flush. If it sounds tappetty from cold don't worry as long as it quietens down.
Rover P5Bs came with a mechanical fuel pump in place of the earlier electric unit. They have been known to be converted to electric fuel pumps, but unless yours is giving trouble it's an unnecessary mod.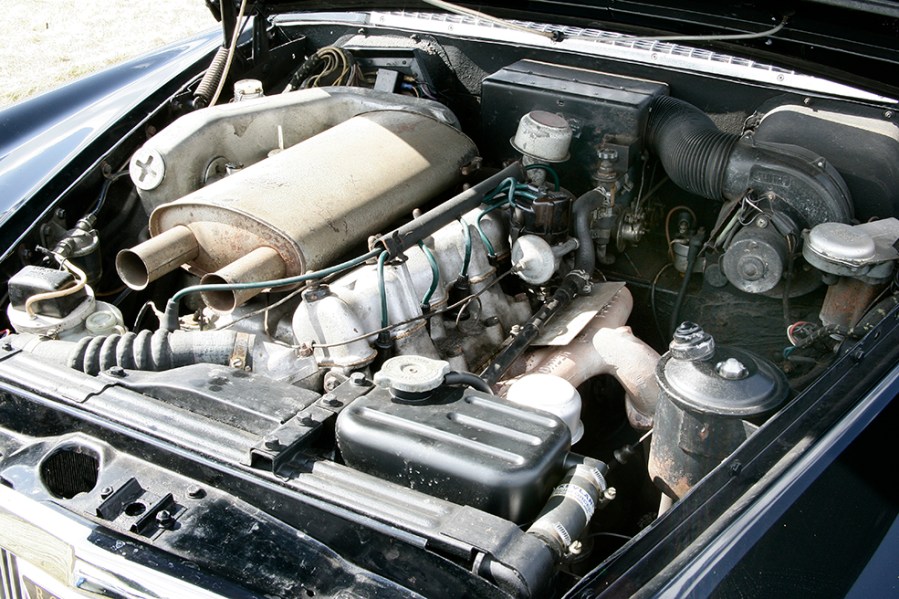 Whether the four speed manual or the Borg Warner automatic, all gearboxes should be smooth in action. The manual was only available on the six-cylinder, so don't waste your time searching for manual V8s. In the autos, check the colour of the automatic transmission fluid; it should be a strong vibrant red like cherryade, and any browning could indicate either that it's been in there too long or the box is in need of attention. If the ATF is black, walk away as quickly as you can and don't look back. It's typically a sign that the gearbox will need an expensive rebuild.
If there's a clonk from the rear as you come to a stop, don't panic – it might not be a dying differential. It could equally be a badly adjusted kickdown cable. You only need to worry about the diff if the clonking can be heard when engaging a gear as well.
Suspension, steering and brakes
Most examples of the Rover P5 were fitted with power steering, including all P5B models. If it feels over-assisted don't worry, P5s are supposed to be light. But the boxes are prone to leaking, and while they can be reconditioned it's a job better left to a specialist. If it feels heavy or dead, odds are that the steering box is over-tight to try and cure play, and this will mean a rebuild is necessary. There should be a small amount of play, but it should never feel sloppy. Better to try a few, work out how it should feel, and then find one that does.
Sharp ridges can be felt even through perfect suspension but overall a Rover P5 should ride well. It's possible to source every single bush, but given the quantity a full suspension refresh could be costly and take time. We'd recommend finding a car with good suspension to begin with, so beware of cars that a bit too ponderous on the road.
Most P5s will have front discs, with the exception of some very early cars which had drums all round. There's little of note here, it's a single circuit system with servo assistance and rebuild parts are available. Bank on around £50 each for discs, the same for a set of pads, and around £40 for rear shoes. A recent fluid change is desirable, and checking this will also give you an excellent insight into the overall level of maintenance the car has received. As these cars are now all MoT exempt, it's possible that routine servicing has been overlooked.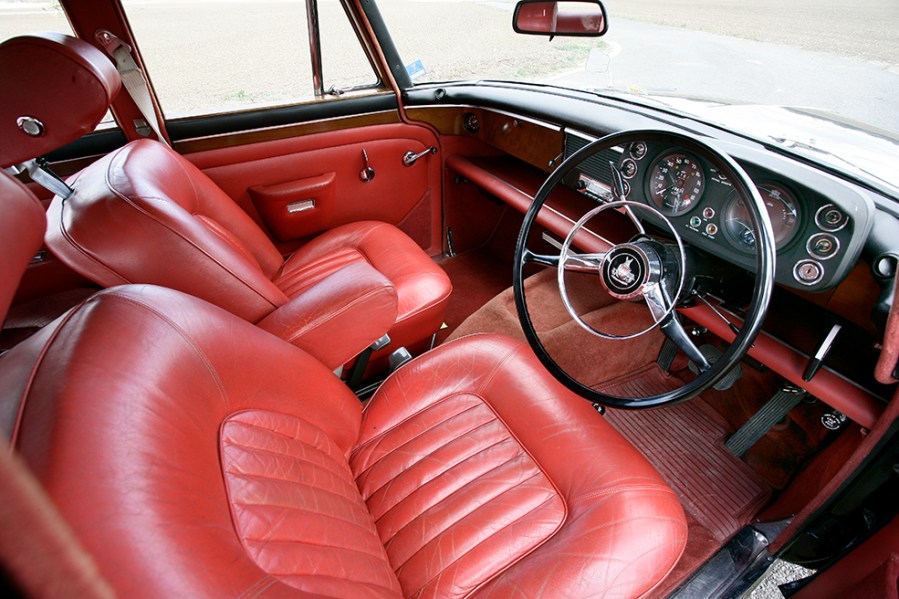 Interior and trim
While the cost of a retrim is prohibitive, the fact that it's all leather means that any competent trimmer ought to be able to revive a tired interior. It'll not look or smell quite right, though, so we'd advise finding a car with a good, original interior. The leather should shine courtesy of the polishing it's had from decades of trousers, and while you can retain that with a re-Connollising or recolouring it's difficult with fresh leather.
The wood is African Cherry, also used in very early P6s. Any decent cabinet maker should be able to reproduce this for you, though again it'll be at a cost. It shouldn't put you off a good car, but it should be a factor in your decision making.
Items such as door handles can still be found, as can gauges and other minor trim. There are plenty of carpet sets available new and used. If you want something special, again a decent trimmer will be able to reproduce a carpet set in any fabric you choose. We'd advise the best interior you can find, solely on the basis that repair is an expensive pastime. It can be done, and obviously bodywork trumps trim in terms of importance, but making do here could cost you in the long run.
Rover P5: our verdict
The Rover P5 is the ultimate establishment classic, as famous in government circles as the Beast and Charles De Gaulle's Citroen DS presidential limousine. And the qualities which made the P5 such a great official car make it an excellent classic today. Whether you're single or have a family, there's more than enough space for people and luggage, and the interior ambience is like very few other cars – superior even to Rolls-Royce. Underneath it all there are two great engines – either the six-cylinder or the ubiquitous Rover V8 – and with two beautiful bodies there are P5s to suit all tastes.
Values of P5s, never cheap, are still rising. And that means there's never going to be a better time to buy one. With plenty of club support, plenty of admirers, and a strong spares community, it's one of the most practical large saloons of the 1960s to own today.