The ultimate expression of 1960s middle England, the Rover P5 makes a compelling classic buy. Here's what you need to know before buying one. 
Launched in 1958, the Rover P5 had originally been intended to replace the long-running P4 range. But as time passed during the development process, the car had grown into the next market segment – it emerged as a larger and more prestigious car than its forebear. Retaining the same mild Studebaker influence as the P4 but evolving it in an almost patrician and unmistakably English manner, the P5 is said by many to be the last true Rover in the old school.
It was Rover's first monocoque, which naturally meant it was heavy and over-engineered. This necessitated an enlarged version of the P4's IOE engine – now a 3.0-litre, it developed 115bhp when the car was launched.
The P5 was available as a four-door, five-seat saloon – though for 1962, the MkII model was joined by a new four-door Coupe. This car had a roofline lowered by 2.5 inches and a more rakish glasshouse but otherwise was identical to the standard saloon. The MkII model had been launched earlier in 1962 – it built upon 1961's MkIA, dropping the glass wind deflectors from the doors and with a useful increase in power.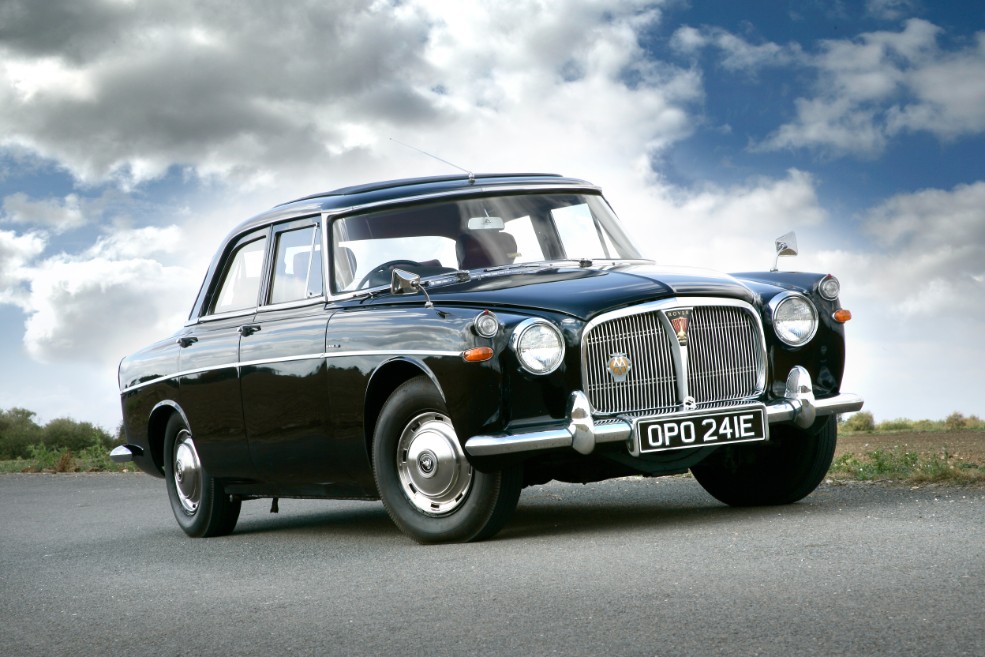 Later in the P5's production run, the 1965 MkIII built on the P5's successful formula with a mild interior restyle – a pair of individual rear seats rather than a traditional bench made the car more comfortable for four than before. Externally, MkIII badges and a chrome side-strip denoted the new car, which was usurped in 1967 by what many regard as the archetypal P5.
The Rover P5B enjoys the distinction of being the first Rover ever to be fitted with the now-eponymous former Buick V8 – a sop to those who argued that the old IOE six just didn't have the power needed to haul such a heavy car about. The V8 appeared fairly late in the P5's life; launched in 1967, it saw the model through to the end of production in 1973.
When they were new, P5s were favoured by the very highest echelons of society; the Queen enjoyed her P5s and they were so beloved by government that a batch of late cars were retained and used for several years following the model's withdrawal. Following her election victory in 1979, Margaret Thatcher swept her iron hairdo into Downing Street in the back of a P5 saloon. A total of 69141 were built – with solid examples selling for £8,000-10,000 and the very best available for under £15,000, now seems to be the right time to buy before they appreciate much further.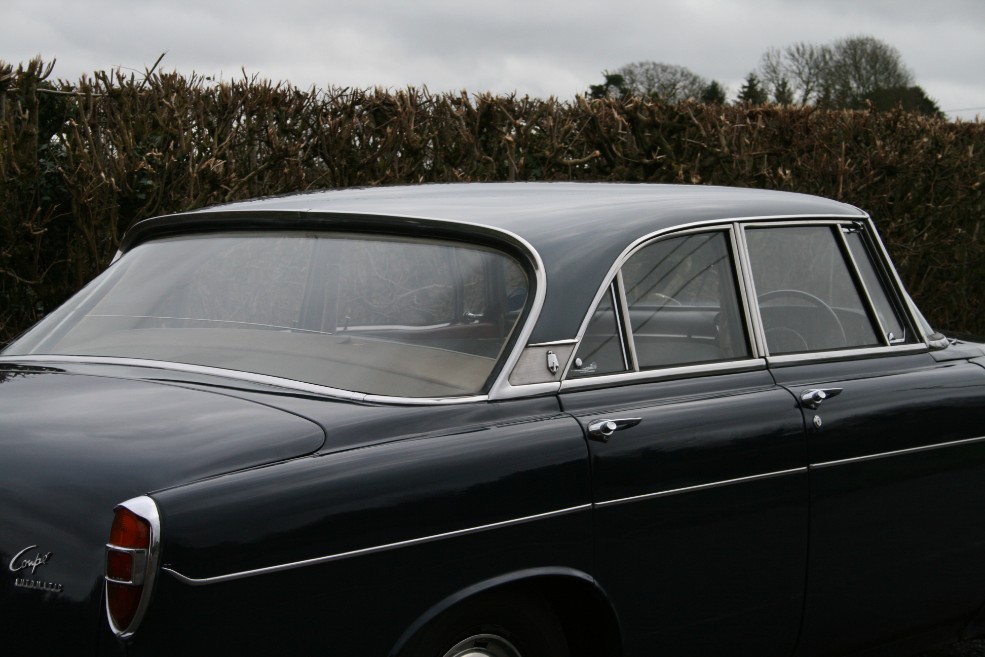 BODYWORK
Bonnets can deform, so don't be alarmed by uneven panel gaps here. Chances are there's nothing wrong with the car apart from age. Door and boot gaps, however, should be even – regard with suspicion if they aren't. Check for dropping doors, as these could be a sign of poor rust repairs to the shell. Inner front wings can collect water and rot, likewise the base of the A-post where it meets the sill. This is not a nice place to repair – we'd walk from a car with issues here.
Sills can be a pain – not only are exterior sills structural, but it's worth getting under the car and checking as much of the inner sill as you can too. On the P5B, the sills are painted black – something poor restorations may have lost. Inner rear wings and the battery tray can be equally iffy to repair when in poor condition so, again, check thoroughly. The rear valance is double-skinned and prone to corrosion – not a cheap repair, and many have been bodged in the past.
Chromed Rostyle wheels can be expensive to refurbish, so check the condition thoroughly and ensure there are no kerbing marks or similar around the rims.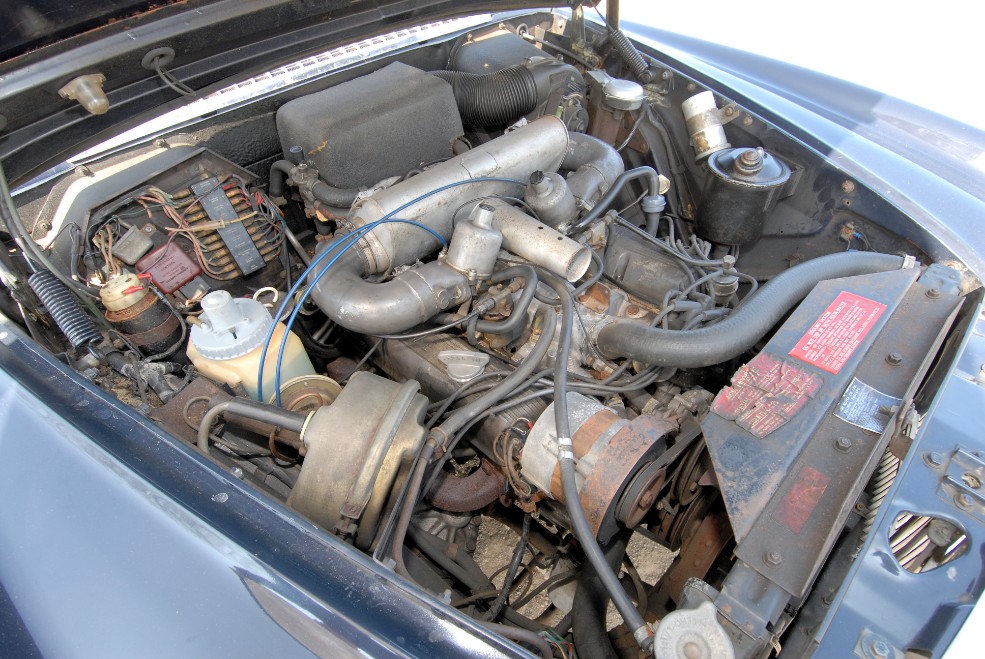 ENGINE
All P5s used variants of just two engines; Rover's six cylinder and the ex-Buick V8.
The six cylinder was also used in the P4 and the Land Rover and is of an overhead-inlet, side-exhaust design. In the P5 range it displaces three litres, a change made to account for the extra size of the car. It should be very smooth – roughness indicates something is very wrong. Don't worry if it uses a little oil, or if oil pressure seems low at tickover – it's more important that it rises under load.
V8s are sensitive to the correct coolant – plenty of antifreeze is needed here to prevent corrosion within the waterways. They can also sound tappetty from cold – it's not an issue if it quietens down as the oil pressure stabilises, it's just something the V8 engine does. From 1969 V8s were fitted with an automatic enrichment device – effectively an autochoke. Check this works if it's still fitted – start from cold, let it warm up for a minute or two, then turn off and restart. If it has trouble, the AED is defective. Many of these cars have retrospectively been refitted with manual choke conversions. The V8 was designed to run on 5-star petrol; retard the ignition from the factory setup to get it to run right, though differing levels of wear mean that the exact amount is engine-dependent. A competent garage should be able to sort this if you can't.
It's important to note that early P5s were positive earth, where later cars were negative earth. Typically the presence of a dynamo indicates a positive earth car.
TRANSMISSION
All gearboxes should be smooth – whether the four-speed manual fitted to some six cylinder cars or the Borg-Warner automatics fitted to the majority (and all V8s). Typically, these gearboxes are reliable in service so you shouldn't encounter too many issues. Check the colour of the ATF – it should be bright red, not reddish brown. Any discolouration is bad news, and could indicate the need for a rebuild.
Badly adjusted kickdown cables can lead to clonking from the rear as coming to a stop – it can sound like a dying diff, but that isn't always the case. If there's no clonking engaging gears, your diff will probably be OK.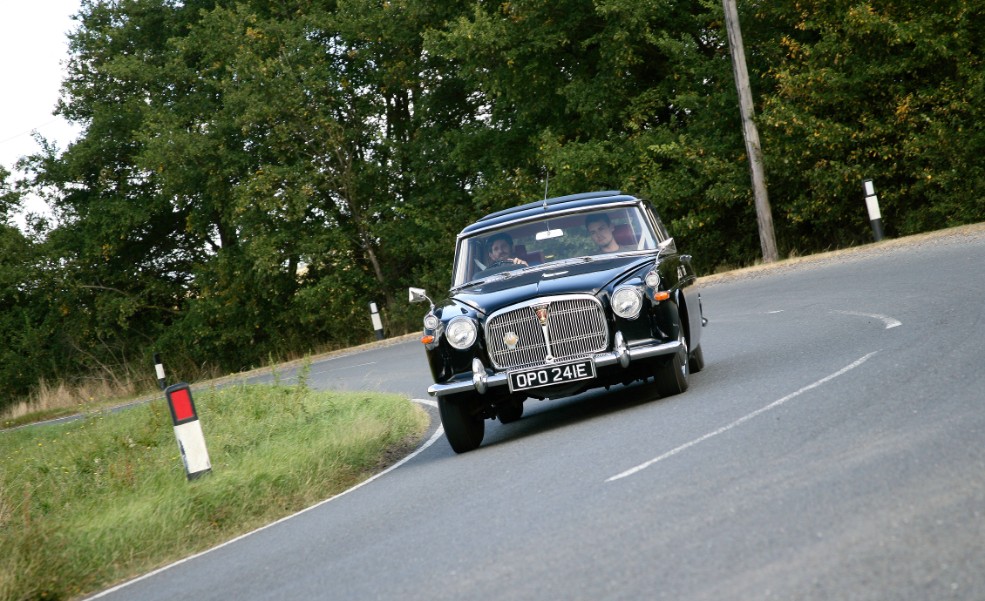 SUSPENSION
Rover P5s should ride like the proverbial magic carpet, though sharp ridges can be felt through the car even with perfect suspension. It's possible to source each and every one of the myriad suspension bushes in the car, though it should be noted that there are rather a lot – it can be time consuming and expensive to rebuild the suspension system to as-new condition.
Most P5s were fitted with power steering – including all the V8s. It's a very light system, almost to the point of feeling disconnected. However, that's perfectly normal. The boxes are prone to leaks, and rebuilds aren't always easy. You can have the box reconditioned, or a specialist will be able to recondition it for you. Heavy steering or dead feeling steering will indicate that the box has been overtightened in the past to try to cure slack, but the only true solution is to have the box rebuilt.
The steering is by recirculating ball and while it's a reliable setup, it can and does get sloppy with age. Make sure the box  isn't overtightened to compensate – there should be a small amount of play in the system and it shouldn't feel resistant. Equally, while a system showing slop is better than an overtightened box, you would be better off finding one with a good, well-adjusted steering box.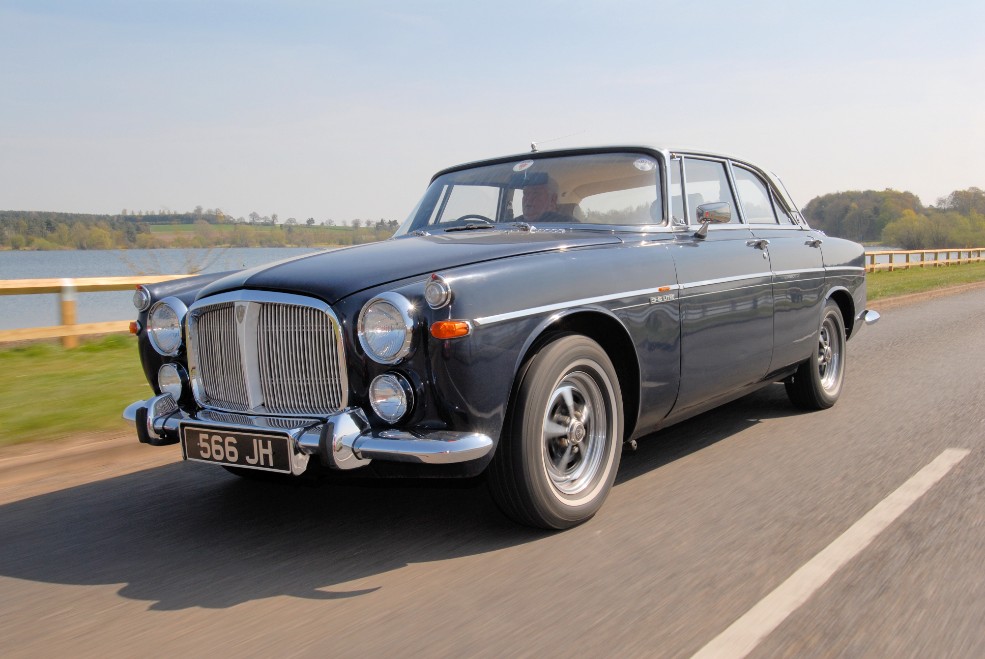 BRAKES
While some early cars will use drums all round, the majority of P5s you find for sale will have front disc brakes. It's a fairly conventional single-circuit servo'd system with few issues to report. Parts are still widely available, and relatively inexpensive – we found discs for £51 each, pads for £56 per set, and rear shoes for £35
INTERIOR
All cars were finished in leather – while this means that retrimming a poor car won't be an issue, it should be noted that the cost can easily outweigh the value of an average car. There's also the issue that retrims never quite look or smell right, and the smell is a large part of the appeal of a classic like the P5. A good P5 interior should look and smell like that of a well cared-for library; the wood and leather smells intermingling, light wear to the shining leather seats, and those big soft armchairs providing all the comfort you could possibly need. Better to recolour or 're-Connollise' existing seats than to retrim where possible.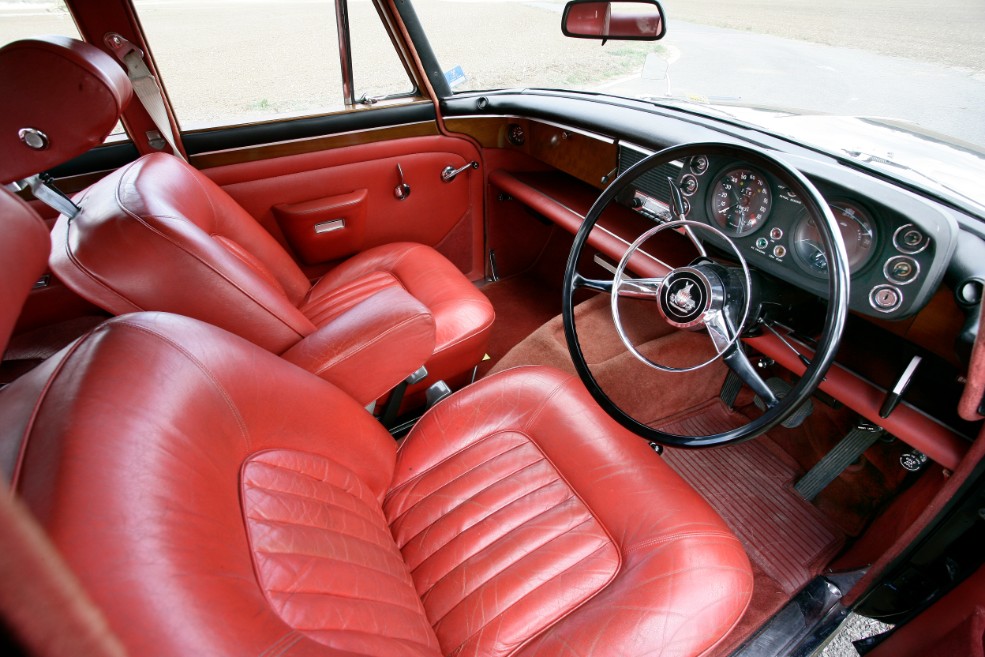 The wood is African Cherry – and again, any reasonably good furniture restorer should be able to resolve any issues with cracking lacquer. Don't let iffy wood put you off an otherwise excellent example.
Small metal items such as the door handles are still relatively easy to source through specialists and breakers, and are relatively inexpensive. Carpets can often wear, but replacements are available – and any competent trimmer should be able to make a custom set if you have any special requirements. Instruments and gauges aren't hard to source either. As long as what you have is mostly complete and in good condition, you shouldn't have any real issues inside.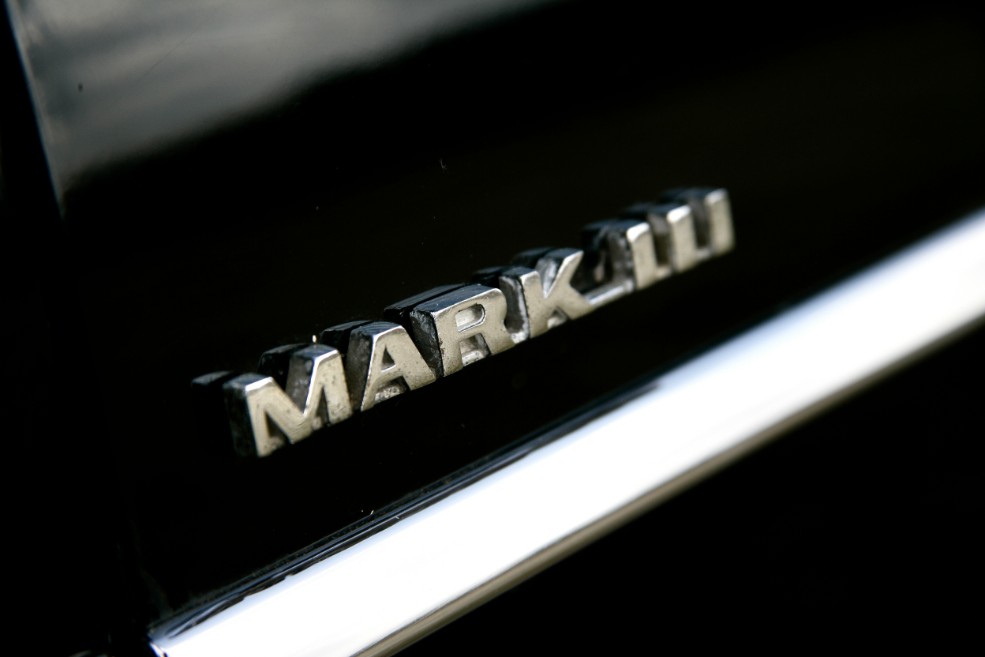 VERDICT
With so many P5s cannibalised by the banger racing community, or having succumbed to rust in that complex monocoque shell, or even used as V8 engine donors, chances are that the majority of survivors will be good examples. Exercise care when buying, and it could be a very wise investment.
In terms of bodystyles, the Coupe's the one the market prefers – and thus is the more valuable model. This means that the saloon range can often yield interesting bargains. The market also favours V8s over six cylinder, auto over manual, and among the six pots the newer the car the more desirable it is. Power steering adds value.
Biggest bargain would thus seem to be a manual MkI with no power steering – but this will be hard to sell in the future. They're also colour sensitive – for strong resale, we'd advise a dark colour such as dark blue or dark green – white and light greys emphasise the car's bulk.
However, we'd look to invest in the nicest P5B Coupe we could afford. Ideally a dark colour with a beige leather interior and plenty of history. A car like that will give plenty of enjoyment, and be the likeliest to appreciate over time. Get one with good bodywork and a good interior -mechanical issues are by far the easiest maladies to correct.