Each of these automotive legend is celebrating its 50th birthday this year. Needless to say, 1973 was a vintage year for classics
Words: Simon Jackson
Austin Allegro
When it comes to hard acts to follow, the Austin Allegro probably qualifies for some sympathy. The replacement for the bestselling ADO16 series arrived in May 1973, and its unconventional styling and early reliability problems didn't get things off to the best of starts. Its nickname 'All-Aggro' was unkind, yet depressingly accurate for too many buyers. Now though, five decades later, many enthusiasts are able to look back with fondness, overlooking the Allegro's faults and enjoying it as a classic icon with a cult following.
Work on the Allegro, codenamed ADO67, did not begin in earnest until 1968, coinciding with the creation of British Leyland. It was already late in the lifecycle of its much-loved 1100/1300 predecessor, and so there was no further time to lose. Harris Mann and Paul Hughes penned separate designs, with (ex-Ford designer) Mann's more stylish option chosen for further exploration. However, compromises were immediately required as the Allegro's design was forced to incorporate existing drivetrain packages and components from the British Leyland parts-bin. Fundamental changes to the shape of the car would certainly spoil Mann's original vision.
The Allegro employed Hydragas suspension and two engine types: the familiar A-Series and the new E-Series, the latter in 1485cc and 1748cc capacities and linked to five-speed gearboxes. Perhaps the most controversial design aspect, however, was (of all things) the steering wheel. Late into development, the now infamous Quartic wheel was added and ended up a feature of early production cars – a throwback to the genesis of the ill-fated Rover P8 project.
The Allegro's launch followed a somewhat cold reception for the Maxi, and coincided with a slump in ADO16 sales. The fact that Ford's Mk3 Cortina wasn't faring much better bolstered British Leyland's hopes for Allegro success, but this was not fully realised. Initial road tests were not as harsh as you might assume; after all, the Allegro still offered good value for money and there was a model to suit most tastes, thanks to a wide range of trim and powertrain choices. But sales remained stubbornly below expectations, and even the arrival of a three-door estate version a year later did little to change things.
Issues identified pretty early on instigated a facelift as early as 1975, providing an opportunity to offer upgraded levels of equipment and to tweak the ride quality, even if there weren't the resources available to do much about the car's controversial styling. Then in 1979 came the Allegro 3, which featured revised trim inside and out as well as improvements to the driving experience. This was arguably the car the Allegro should have been from the outset, but perhaps the damage had already been done; sales were on a downward trend.
BL even experimented with a sporty limited edition  in 1979 via the Allegro Equipe, essentially a two-door 1750HL with bells, whistles and stripes. It wasn't a bad car, and in the years since these have become the most collectable Allegros of all, with just 4000 built in total.
The butt of many a joke in period, the Allegro came in for some serious criticism during the 1970s and '80s, but it did evolve into a car that could be taken seriously. Today it enjoys a loyal following, offering buyers value for money while proving to be a genuine break from the conventional classics.
As with most British cars of the era, rust is the biggest problem these days. Prospective purchasers should check all of the key areas for rot, including the front wings, sills, doors and wheelarches. While 'chassis' rot should also be of major concern, the rest of the car is, perhaps surprisingly, relatively trouble-free. Engines are robust, while the biggest worry for the Hydragas suspension system is the well documented 'sagging'. Interiors don't hold up especially well, so you can expect worn and saggy seats, while the condition of the wood and leather on well-trimmed Vanden Plas 1500 versions could make or break a sale.
Prices for decent survivors have been on the rise over the last few years, and yet the Allegro still represents great value. Budget between £2500 and £3500 for a roadworthy car, while £5000 secures a very good example; for an immaculate Equipe or Vanden Plas, however, you'll inevitably be looking at considerably more.
Reliant Robin
November 1973 saw the arrival of the Reliant Robin, finally replacing the Regal 3/30. It was the work of Tom Karen of Ogle Design, the name behind the Bond Bug, Reliant Scimitar and Raleigh Chopper bicycle. Powered by Reliant's familiar water-cooled four-cylinder engine (now in 750cc, 32bhp guise), the lightweight three-wheeler used the tried and tested formula of a glassfibre body mated to a steel chassis. Ex-Cooper, Lotus and BRM man John Crosthwaite led the engineering side – and so despite what popular culture might have you believe, the Robin was a perfectly balanced, well-engineered affair.
Buyers could choose between a mix of models at launch; Standard, Super, Estate and Van. Updates arrived in 1975, the most significant being the adoption of a more powerful (40bhp) 850cc engine, increasing its top speed to (a frankly terrifying) 80mph-plus.
The Robin gained instant popularity upon its debut and orders flowed in, aided in part by the 1970s fuel crisis, but also by its quirky nature; this loveable creation won over many fans. It continued in production until 1981 when it was replaced by the Reliant Rialto, designed by IAD in Worthing. Despite its predecessors and successors offering essentially the same recipe, it is the Robin Mk1 that has since gathered cult status.
A restyled Mk2 Robin emerged in 1989, reviving the name and offered in tandem with the Rialto for a time, while a third version came a decade later. That final facelift was the work of chief designer at Reliant, Andy Plumb, but it was short-lived; production ceased in 2000.
Few classics can rival the economical charm afforded by the Robin Mk1, and values have soared in recent years. You should expect to pay upwards of £2000 for a survivor that's complete but needing some work, while an immaculate example can change hands for £5000 or more. Still, for a hand-built model that oozes charm and entertainment value, produced by one of Britain's most successful specialist car manufacturers, that's surely a small price to pay?
BMW 2002 Turbo
At a time when the German government had imposed car-free Sundays and an autobahn speed limit of 62mph, BMW launched its 2002 Turbo, a true performance car capable of reaching almost 130mph. Europe's first turbocharged production road car, in many ways its engine was a forerunner to modern internal combustion mills; it is not an exaggeration to call this car a game-changer.
At its heart sat BMW's four-cylinder M10 engine, a motor we'd already seen in the 2002 ti and tii. This time, with its Kühnle, Kopp and Kausch (KKK) turbocharger, it produced 170bhp and took things to the next level. Casual observers were left in little doubt about what they were looking at: press cars wore '2002' written on one side reverse script, with 'turbo' on the other. It sent a message to the driver ahead… and to the world.
The suspension was equally performance orientated, with the front end featuring MacPherson struts with coil springs and anti-roll bars, while the rear was taken care of by a semi-trailing link axle. Small, 13-inch wheels sat at each corner, tucked inside wider wings; and yet despite the extra adornments, this was a lightweight car.
The 2002 Turbo quickly became famous for massive turbo-lag. The blower suddenly cut in at 4000rpm and the rush of extra power caught more than a few drivers out, making early cars scarce as a result. In total, just 1672 were sold before production ended in June 1975.
Finding a genuine example today is not an easy task, and so rather than offering tips on what you should be looking for, it's more a case of buying whatever you can find. Prices are often six figures these days. Condition obviously plays an important part, but the scarcity of these iconic BMWs means that most have not seen a road in anger, let alone a racetrack, in quite some time. As German car magazine, Auto Bild, said: "18,720 Mark [around £8000] for the fastest BMW sounds like a typing error but was the actual purchase price in 1973." Regrettably, for the car that predates BMW M, that is no longer the going rate.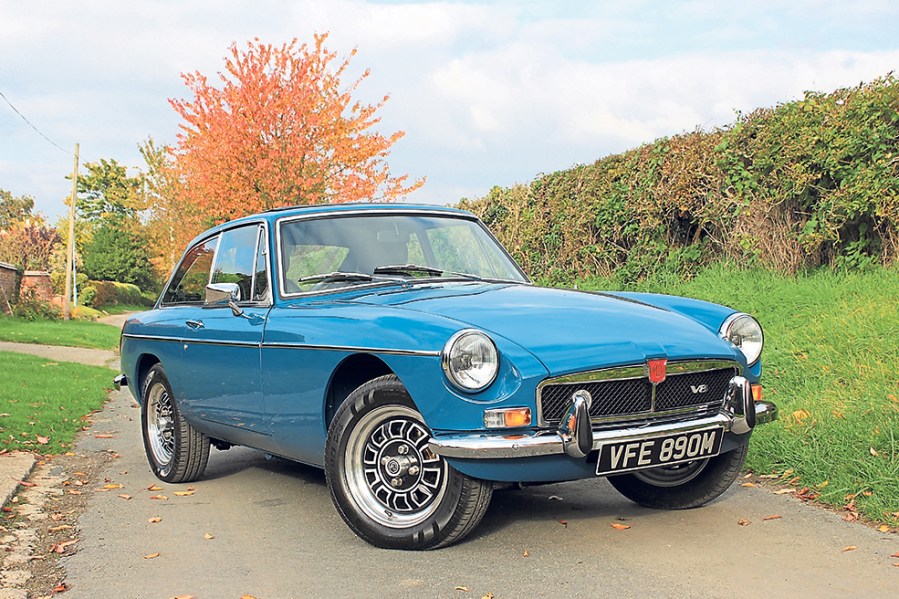 MGB GT V8
The MGB GT had been around for a full eight years by the time the official V8 version arrived in 1973. Inspiration for the 3.5-litre version came from engineer and entrepreneur, Ken Costello, a man who enjoyed shoehorning V8 engines into small sports cars, giving him a reputation as the British Carroll Shelby. So, when Costello dropped a Rover V8 into an MGB, British Leyland heard about it and invited him over for a cup of tea. The engine was a natural fit and the end result was a production version; the MGB GT V8 was born.
The most exciting MGB fixed-head coupe arrived as a chrome-bumper model in 1973, becoming (like the rest of the range) a rubber-bumper affair in late 1974. It's estimated that around two-thirds of production cars wore chrome bumpers. Which version you opt for now is, of course, down to personal preference, as well as budget and availability.
If you've already read about the other cars launched in 1973, you'll recall that the world was in the midst of an oil crisis, meaning the timing was far from perfect. Despite the powerful engine proving surprisingly efficient, delivering fuel economy akin to a far smaller engine, the model was discontinued in 1976 – one of many big-engined cars canned due to the issues in the Middle East. Just 2591 official V8s were built, although classic car folklore has it that a higher number of conversions have since been carried out.
The condition of the bodywork is of vital importance when it comes to buying an MGB GT V8, as the original steel monocoque came in for minimal rustproofing when new. Although new British Motor Heritage shells are available, you'd be financially better off avoiding the undertaking of a rebody project. The reality is that few factory V8s will have survived without restoration.
The V8 engine is under-stressed, although regular oil changes are essential and so history is very important. While factory cars are desirable, Costello's early conversions remain sought-after. Prices for factory cars in decent order start from £20,000 upwards, with chrome-bumper examples usually in highest demand.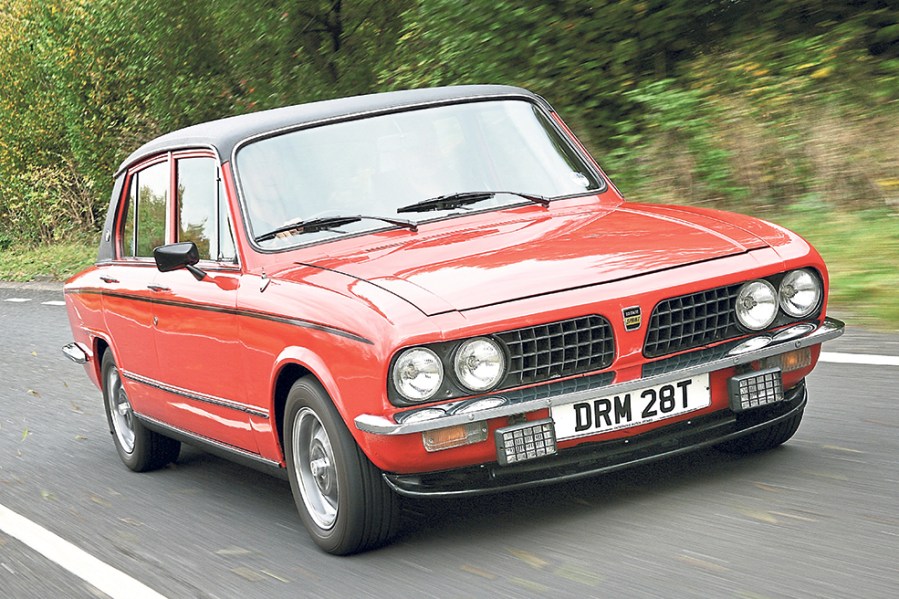 Triumph Dolomite Sprint
How could we mention 1973 without noting the arrival of the Triumph Dolomite Sprint? Triumph had launched the regular Dolomite in 1972, complete with 1850cc power – a range that would later be expanded downwards via 1.3- and 1.5-litre versions. But British Leyland knew there was potential for a sporting flagship version, hence the Dolomite Sprint of 50 years ago.
The engine was enlarged to 2.0 litres, fitted with a new design of 16-valve aluminium head (the first of its kind on a mass-produced saloon), and tuned to deliver 127bhp. It was an ingenious idea credited to Triumph's new technical chief, Spen King, and Harry Mundy. To tame the increased power came a Stag-derived manual gearbox with overdrive (or a three-speed Borg Warner automatic), mated to an uprated live axle with coil-sprung suspension all round.
It was a formidable package, which turned the Dolomite into a serious performance offering – one capable of taking on the likes of Ford's Escort RS2000, BMW's 2002 Tii and (in later years) VW's Golf GTI. The Sprint became a sought-after model, and by the time production ended in 1980, Triumph had built 22,941 of them.
Still revered to this day, the Dolomite Sprint remains an excellent option for those in search of a classic with decent power and B-road ability. The 2.0-litre 16-valve engine that made it so famous does require careful maintenance as it can be susceptible to overheating, so do ensure the cylinder head isn't warped and that the cooling system is in good working order. Also, watch for rust around the front bulkhead and A-pillars, check the 'chassis' (including the subframe mounting points), and look carefully around the wheelarches, door bottoms and boot floor. Cars with a vinyl roof can be hiding corrosion beneath, so buyer beware. A manual Dolomite Sprint is the most rewarding to drive, and is therefore the most sought-after now.
An immaculate example will set you back as much as £20,000, while roadworthy cars in decent condition trade hands for between £6000 and £12,000. But when you consider how much it costs to become the owner of an equivalent Ford Escort, that's a bargain.