As manufacturers continue sharing designs in increasing numbers, we recall some of the most memorable examples of badge engineering
Words: Paul Guinness
Badge engineering has been a fact of motoring life for as long as any of us can remember, but it seems particularly prevalent right now. With new-car development costs at an all-time high, particularly with the rush towards electrification, increasing numbers of manufacturers see design sharing as a way of saving costs as well as expanding their model ranges. It's why you can now buy a Toyota RAV4 badged as a Suzuki Across, and it's why the 2022 Mazda 2 Hybrid is a rebadged Toyota Yaris.
Then, of course, there are countless examples of different marques within the same corporate group sharing designs, hence the soon-to-be-discontinued VW Up being pretty much identical to the SEAT Mii and Skoda Citigo. It's a fine tradition dating back to the early post-war years, with the 1952 creation of the British Motor Corporation (BMC) in particular seeing a plethora of badge-engineered models filling innumerable niches in the market.
When done well, badge engineering can be a win-win. It enables manufacturers to save money, it offers consumers some extra choice, and it often means an extended career for an otherwise under-threat marque. So, let's take a look at some of the best – and worst – examples of badge engineering.
Bentley T Series
The success of the Bentley S-series – a badge-engineered version of the Rolls-Royce Silver Cloud – inevitably meant that a winged-B version of the next-generation range would be available. Where the old S1 to S3 had sold well by Bentley standards, however, the T-series of 1965 – announced alongside its sister model, the Rolls-Royce Silver Shadow – would remain very much a niche purchase.
The arrival of the new T-Series meant major change for Bentley, as this was its first model to feature monocoque construction in place of a separate chassis, not to mention up-to-the-minute good looks, independent self-levelling suspension and disc brakes all round. The familiar 6230cc V8 was enlarged to 6750cc by 1970, giving the T-series improved performance to match its superlative ride, smooth GM400 transmission and opulent feel. Other upgrades arrived later, culminating in the new Bentley T2 of 1977 – complete with front spoiler, rack and pinion steering, uprated suspension and an improved interior.
The subsequent Mulsanne of 1980 was little more than a badge-engineered Silver Spirit, although at least the arrival of turbocharging – and particularly the Turbo R – saw Bentley becoming more of a marque in its own right by the mid-1980s. The poor old T-series, however, was forever overshadowed (excuse the pun) by the Silver Shadow, with a mere 2280 sold between 1965 and 1980, compared with almost 28,000 examples of the Rolls-Royce.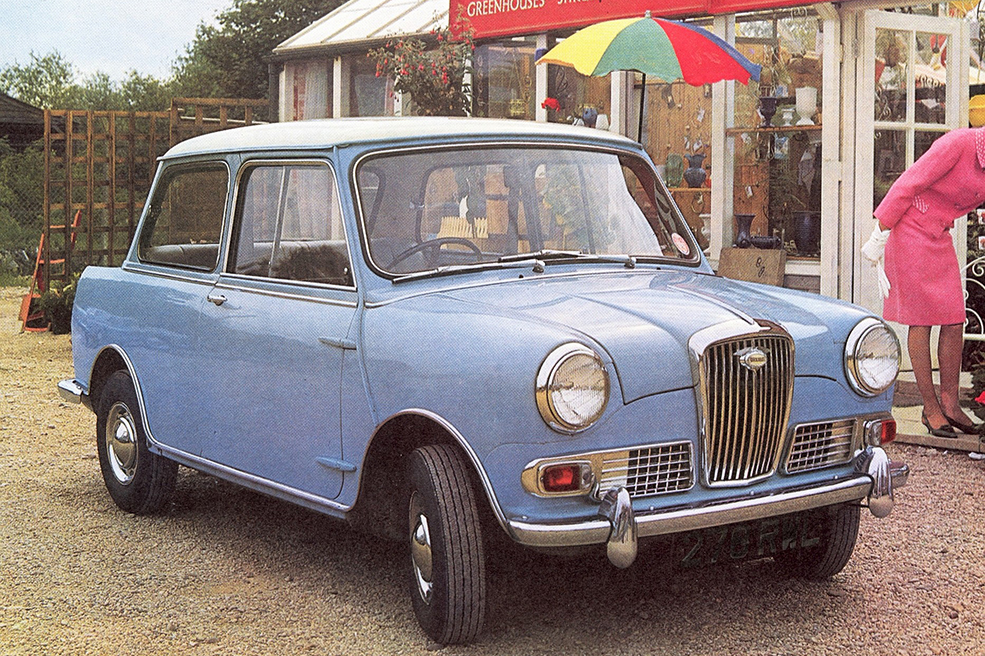 Riley Elf and Wolseley Hornet
The Mini was no stranger to badge engineering from day one, launching in 1959 as the new Austin Seven and Morris Mini-Minor. But two years later came the ultimate non-sporting versions of the Mini, this time featuring sheet metal changes and a choice of Riley or Wolseley badging. Based around the standard Mini's structure, each boasted a proper protruding boot and miniature tail fins, as well as a brand new front panel and bonnet to house the traditional Riley or Wolseley upright radiator grille. Inside too, things took a move upmarket thanks to a veneered wooden dashboard and improved trim throughout.
MkI versions of both the Elf and Hornet used the Mini's standard 848cc A-Series engine, upgraded to 998cc with the announcement of the MkII models in 1963. Three years later came the MkIII, complete with wind-up windows, improved ventilation and a few other niceties, before both models finally disappeared from the price lists in 1969 – coinciding with the death of Riley as a marque.
These were exclusive little cars, with 30,912 Riley Elfs and just 28,455 Wolseley Hornets rolling off the line during their eight years on sale. By Mini standards, of course, those numbers are tiny – but both cars should still be judged a success in terms of badge engineering ingenuity.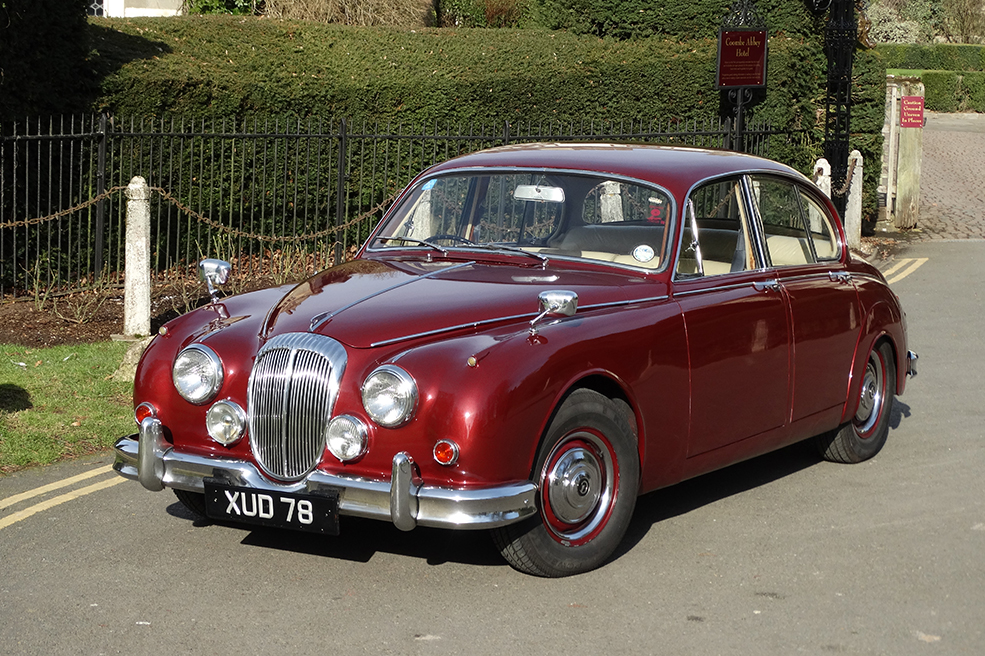 Daimler 2½ Litre V8
Jaguar's 1960 acquisition of the Daimler marque brought many gradual changes, with what had previously been a manufacturer of upmarket saloons and limousines – with royal approval, no less – being gradually transformed into a badge engineering exercise. By the time the Jaguar XJ6 came along in 1968, Daimlers were little more than rebadged Jaguars featuring extra on-board luxury but no mechanical or sheet metal changes.
The first example of Daimler badge engineering, however, came via the handsome saloon shown here, a model unmistakeably related to the Jaguar Mk2 but unusually featuring V8 power – the same 2548cc Daimler unit that could be found in the SP250 'Dart' sportster.
Initially known as the Daimler 2½ Litre V8 (a name that was changed to V8 250 by 1967), the end product was hugely pleasing, with effortless performance thanks to an output of 140bhp at 5800rpm. Top speed was more than 120mph, with 0-60 in around ten seconds. And yet the driving style was one of serenity and refinement rather than pretensions of sportiness, aided by the standard-fit Borg-Warner automatic transmission.
During its seven-year career, 17,620 examples of this V8 Daimler saloon were produced. And these days it's still overshadowed by the more ubiquitous and also more sought-after Jaguar Mk2, making any well-preserved Daimler 2½ Litre seem excellent value by comparison.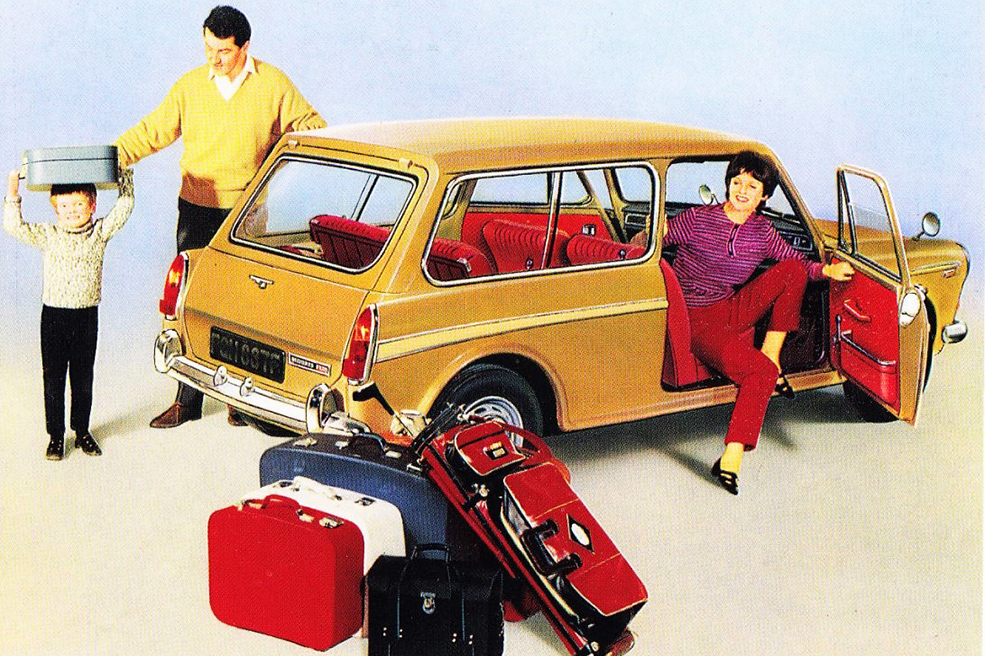 BMC 1100 and 1300
BMC was Britain's most prolific manufacturer of badge-engineered cars from the late 1950s, when essentially the same design would carry numerous different identities. The most successful, however, was the company's new front-wheel drive saloon – codenamed ADO16 – that made its debut in August 1962 as the Morris 1100. The range became Britain's bestseller of the 1960s, attracting well over two million customers during its twelve-year run and achieving a peak UK market share of 14.3 per cent in 1965.
One of the reasons for ADO16's success was its sheer variety, with the MG 1100 arriving soon after the Morris version. The Austin 1100 was launched in September 1963, followed by the flagship Vanden Plas Princess. The Wolseley 1100 and Riley Kestrel versions came along in 1965, while the following year brought the Austin Countryman and Morris Traveller estates. Finally, those ADO16 buyers who craved more power were delighted by the arrival of the 1300 range in 1967, employing the latest 1275cc A-series engine that was at its sportiest in Austin or Morris 1300GT guise.
With a transversely-mounted engine driving the front wheels, ADO16 offered impressive internal space as well as a class-leading ride thanks to its all-new Hydrolastic suspension – a system that would go on to feature in numerous other BMC and British Leyland ranges. It was, however, for its badge engineering success that this innovative range is arguably best remembered.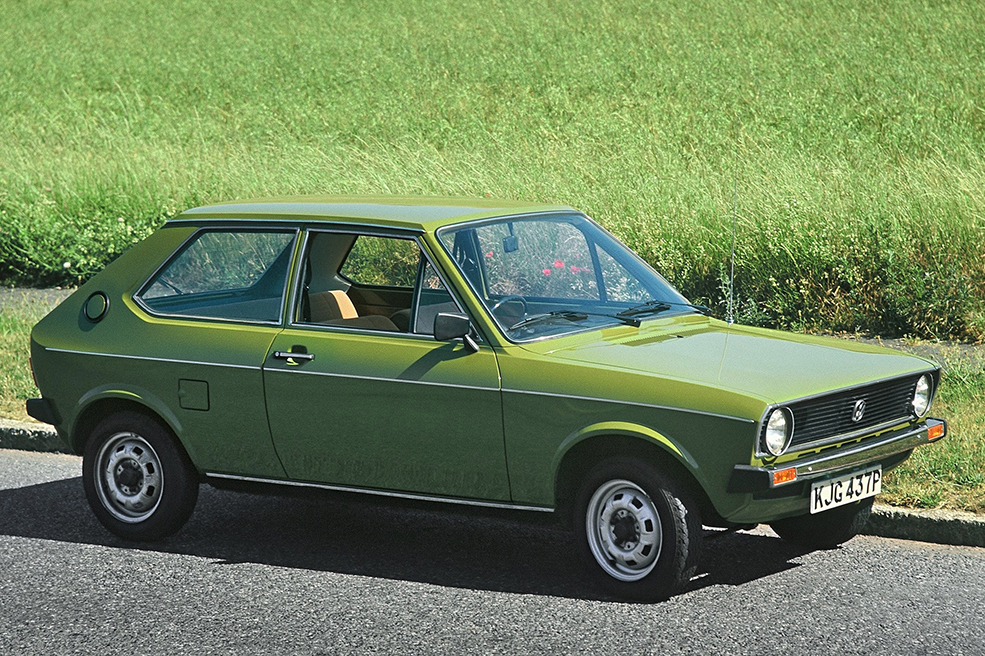 Volkswagen Polo Mk1
By the 1970s and 80s, Volkswagen and Audi were increasingly intertwined thanks to the cost-saving benefits of platform sharing. Each VW may have looked different from its more upmarket Audi cousin, but beneath the skin was a plethora of shared components and platform commonality. The new Volkswagen Polo of 1975, however, was rather different. In fact, this was one of the VW Group's most blatant examples of badge engineering, thanks to the Polo being little more than a rebadged Audi 50.
The Audi 50 had launched in 1974, creating Germany's first entrant into the rapidly expanding supermini market and available with a choice of 1.1- or 1.3-litre power. Built at the old NSU factory in Neckarsulm, this smallest Audi was sold throughout much of mainland Europe but never officially made it to the UK.
As soon as the more affordable Polo appeared in European showrooms, it began to outsell its Audi sibling. There were plans to update the 50, giving it a front-end restyle to link it more strongly with the larger 80 and 100 saloons, but this never came to fruition. Instead, the decision was made to cease production as early as 1978, by which time the 50 had attracted almost 181,000 buyers. Audi wouldn't offer a small car again until the A2 of 1999, a radically different concept thanks to its bespoke all-aluminium construction.
Triumph Acclaim
While the Austin Metro of October 1980 finally gave BL a new class-leading model, the company needed to maintain momentum – and with the Maestro and Montego not due until 1983 and '84 respectively, urgent action was needed. Fortunately though, BL had its agreement with Honda (formalised in 1978) to fall back on, the result being the October '81 launch of the Dolomite-replacing Triumph Acclaim.
In reality, the Acclaim was little more than a badge-engineered, British-built Honda Ballade – the first Japanese car to be manufactured within what was then the EEC. Under the skin it was pure Honda, even down to its super-smooth 1335cc engine, but at least that guaranteed some kind of reliability. In fact, the Acclaim turned out to be one of the best built, most durable products ever to come out of a BL factory.
This neatly styled four-door saloon was well-equipped for its time too, with the top-of-the-range CD version being positively luxurious compared with its Ford and Vauxhall rivals. Four trim levels were available in all, with the HL, HLS and CD being joined in 1982 by the new L – a model aimed predominantly at the fleet market. Production ceased in the summer of 1984, with the Acclaim selling around 133,000 examples in all – paving the way for even greater collaborative success with Honda throughout the late '80s and into the 1990s.
Rover 200 R8
Although the first Rover 200 of 1984 – codenamed SD3 – was also badge-engineered, it was with the subsequent R8 range of late 1989 that the company's collaboration with Honda arguably reached its pinnacle. Launched as the 200 hatchback, the R8 was all but identical to the new Honda Concerto in external appearance but went on to spawn a much wider range of derivatives.
The latest Rover 200 was also significant for debuting the all-new K-Series engine, a highly-praised unit that endowed the newcomer with class-leading levels of refinement. The K-Series would go on to power subsequent generations of Rovers and MGs through to the collapse of what was then known as MG Rover in 2005.
The British motoring press loved the R8, praising its build quality and the fact that it boasted a more upmarket image than its main rivals. What Car? magazine gave its 1990 Car of the Year crown to the 200, and other publications were equally gushing in their praise. The best-selling hatchback version of the R8 was joined by a 'booted' four-door saloon – badged as the Rover 400 – in 1990, while less mainstream additions included the 200 Coupe, 200 Cabriolet and 400 Tourer.
The R8 might not have been the first badge-engineered Rover but it was one of the most successful, proving to be the marque's bestseller right through to its replacement in 1995.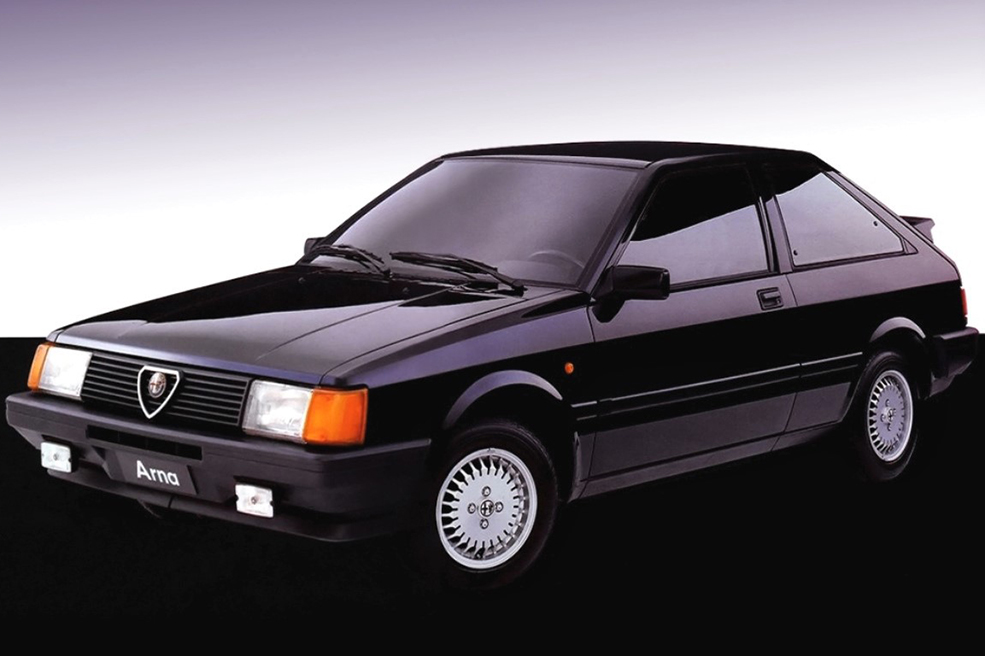 Alfa Romeo Arna
October 1980 saw the formation of Alfa Romeo Nissan Autoveicoli, bringing together two very different car manufacturers. As Alfa Romeo was known for its charismatic models with a performance twist, and Nissan enjoyed success with a range of dull but worthy designs, it was an intriguing combination. But could it work? Would we see Nissan learning how to inject some charisma into its models, as well as teaching Alfa all about reliability and precise build quality in the process? Well, no.
In fact, the only models to come from the new set-up were the Alfa Romeo Arna and Nissan Cherry Europe, each of which combined the fourth-generation Cherry's boxy hatchback bodyshell with Alfa's ex-Alfasud flat-four 'boxer' engine. Both models went on sale in 1983, with Alfa seeing the Arna as a way of boosting its small-car output, while Nissan saw the Cherry Europe as a way of bypassing import restrictions on Japanese cars thanks to it being assembled in Italy.
Neither model appealed to large numbers of buyers, though. Alfas Romeo fans didn't want a car that looked exactly like a Nissan Cherry, while Nissan buyers who demanded reliability opted for the Japanese-built version of the Cherry instead of the Alfa-engined Italian one. In the end, just 53,000 examples of the Arna and 27,900 of the Cherry Europe had been sold by the time production ground to a halt in 1987.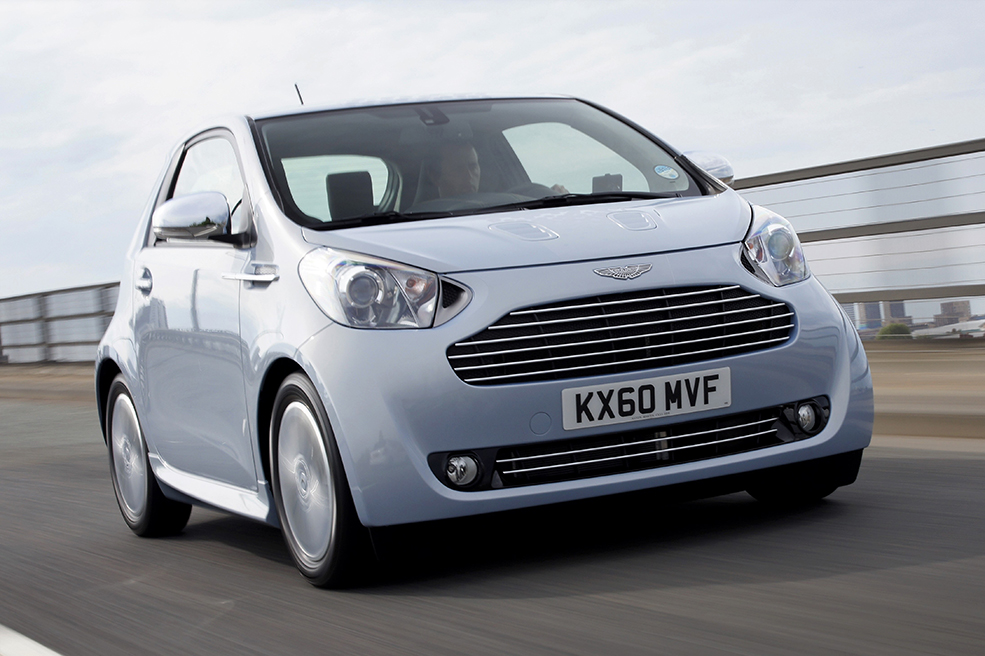 Aston Martin Cygnet
When Aston Martin announced that its Cygnet city car would be going into production in 2011, it described the newcomer as a product of the company's "unrivalled experience in craft, technology and design". So, absolutely no mention of the Toyota iQ then?
In many ways the Cygnet made sense, its addition to the range helping to drive down Aston Martin's average CO2 emissions and therefore comply with forthcoming EU legislation. And it was a car that followed the great tradition of ultra-luxurious city runabouts like the Wood & Pickett Minis of the 1960s and the Tickford Metro of the 80s. On the other hand, pretending that a luxuriously trimmed Toyota iQ was a car worthy of the Aston Martin badge was perhaps a stretch too far.
The Cygnet was luxurious… but with a list price starting at £30,000 (around the same as a Range Rover Evoque), it needed to be. What began as a standard 1.3-litre iQ was stripped and resprayed to Aston Martin standards, while the interior featured the same kind of leather and Alcantara that you'd find in a DB9. Then there was the traditional Aston Martin grille up front, complemented by (rather unnecessary) bonnet vents.
The Cygnet ceased production in 2013 (after UK sales of around 150 units), when its lack of appeal was summed up by motoring writer Andrew Frankel: "Looking at it brought to mind those poor children in the US whose ghastly parents think that slathering them in make-up and entering them into beauty pageants is somehow consistent with them growing up into well-adjusted adults". Strangely though, the limited-run Cygnet is now in demand, with low-mileage cars changing hands for up to £35,000.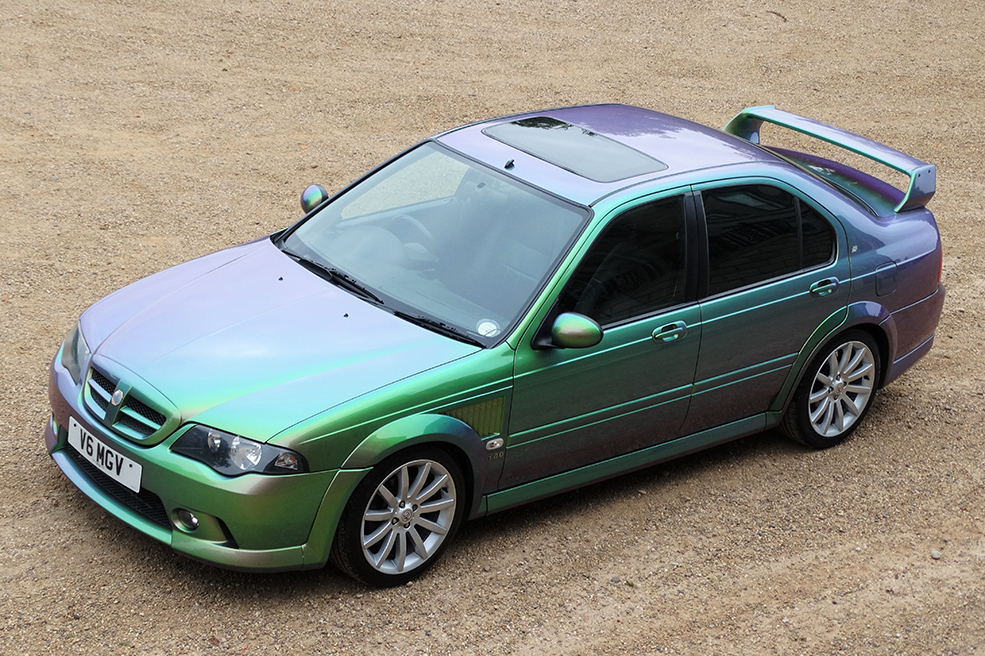 MG ZR, ZS and ZT
One of the cleverest examples of badge engineering in the 21st century came via this trio of Longbridge-built saloons and hatches, launched in 2001 – just a year after the Phoenix Consortium acquired what was left of Rover Group from BMW, relaunching the company as MG Rover. The only MG in production at that point was the ever-popular MGF roadster, but MG Rover bosses saw potential in the brand. Indeed, the arrival of the 'Z-cars' revolutionised the MG range, taking relatively unexciting Rovers and transforming them into sporty offerings aimed at a much younger buyer.
These latest MGs were derived from the existing Rover 25, 45 and 75, yet they managed to look dramatically different thanks to their MG grilles, spoilers and, of course, a fantastic choice of vivid colours; stylist Peter Stevens had done a glorious job of ensuring each one had real MG presence. And what lay under the bonnet of each new 'Z' was also interesting, as here was an extensive range of drivers' cars that managed to cover an impressively large proportion of the hot hatch and performance saloon sectors – from the (102bhp) ZR 105 at just £9995 through to the (188bhp) ZT+ 190 at £21,095. Helping to bridge the gap between the smallest and the largest of the Z-cars, meanwhile, was the ZS – the only model to be offered with a choice of five-door hatchback or four-door saloon body styles.
All three members of the 'Z' family sold strongly, with the ZR being the UK's best-selling hot hatch early on in its career. Without this rejuvenation of the MG marque, MG Rover would have struggled to last as long as it did. In the end, however, the company collapsed in April 2005, taking with it a trio of competitive MGs that now enjoy a loyal following on the modern-classic scene.