The Bentley Arnage was a long-lived model that helped to take Bentley into a new era. Here's how to buy one
Words: Paul Guinness
Creating a replacement for the long-running range of Bentleys that began life in 1980 as the Mulsanne was never going to be an easy task. This was the line-up that had revitalised Bentley from the mid-Eighties onwards, taking it from a largely overlooked badge-engineered version of a Rolls-Royce to a high-performance marque in its own right. The 1985-on Turbo R had transformed Bentley's fortunes, and therefore its eventual successor had to build on that success.
The newcomer also had to be substantially different from its Rolls-Royce equivalent, with Bentley's rediscovered lust for power ensuring it appealed to a very different type of buyer. In the end, of course, the new Bentley Arnage and Rolls-Royce Silver Seraph of 1998 shared essentially the same bodyshells (following the trend of their predecessors), with their radiator grilles and bonnet pressings being the only major bodywork differences. But it was under those bonnets where the contrasts were greatest, despite both cars featuring BMW-supplied powerplants – a 5.4-litre V12 in the case of the Rolls-Royce, while the Bentley sported a 4.4-litre twin-turbo V8.
This was the first time that Rolls-Royce Motors had bought engines in from an outside supplier, a decision that met with raised eyebrows from many traditionalists; and yet it was a clever move, with the refinement of the V12 ideally suiting the Rolls-Royce, while the allure of a turbocharged V8 was perfect for the performance-hungry Bentley fan. Unfortunately though, major changes at Crewe were about to affect the future direction of each marque.
Eighteen years after Vickers Group acquired Rolls-Royce Motors in 1980, the company struck a deal with Germany's Volkswagen, who paid £430m for the Crewe factory and all rights to the Spirit of Ecstasy, plus the shape of the Rolls-Royce radiator grille. However, in a separate deal, BMW paid £40m to licence the Rolls-Royce name and logo – which meant that VW was effectively unable to build a new Rolls-Royce. After lengthy negotiations between the two German companies, it was agreed that Volkswagen would continue to produce existing Rolls-Royces until the end of 2002, with all rights to Rolls-Royce then switching to BMW in January 2003, leaving Volkswagen with Bentley.
During those tense corporate discussions, Volkswagen feared that BMW might cease the crucial supply of engines, and therefore drew up plans to safeguard Bentley by reintroducing the former British-built V8 from the old Turbo R – launching what became known as the Arnage Red Label in October 1999. The BMW-powered version continued in production for a few more months, albeit now badged as the Arnage Green Label and sharing the newly strengthened bodyshell dictated by the extra weight of the Red Label's 6.75-litre powerplant.
Although the Silver Seraph had just a four-year career, the Arnage went on to be a long-lived model, with VW-owned Bentley investing in improvements and upgrades throughout – and these days it offers excellent value for money (by Bentley standards).
Bentley carried out numerous improvements throughout the Arnage's eleven-year career, adding extra models along the way. The extended-wheelbase Arnage RL (measuring 9.8 inches more than the standard model) arrived in 2001, bringing with it a thorough reworking of the L-series V8 – now featuring Bosch engine management and twin Garrett T3 turbochargers in place of the single T4. The Arnage R (to replace the Red Label) and more powerful Arnage T arrived in 2002, employing the same updated engine but with the T tuned to produce 450bhp (making it the most powerful Bentley of its time) to the R's 399bhp.
Further changes came in 2007, when the turbochargers were again replaced (this time with low-inertia Mitsubishi units) and six-speed ZF automatic transmission was introduced. The engine's cubic capacity also marginally increased (up from 6749 to 6761cc), pushing Arnage R and T outputs to 454 and 493bhp respectively. Limited edition models also came along at various points during the Arnage's career, including the Le Mans (of which 153 were built) of 2001, the Diamond Series of 2006, and the Final Series of 2008 – with 150 promised by Bentley to mark the end of Arnage production early the following year.
Bodywork
The obvious advantage of buying a modern-classic Bentley rather than an older example is its relative lack of rust issues, although this doesn't mean the Arnage is guaranteed to be corrosion-free. After all, the oldest cars are now 22 years old, and not all of them will have been cherished in more recent times. It's not unknown for an older Arnage in particular to suffer from rust around the sills and rear wheelarches, as well as in the rear suspension mount areas. Such issues will normally only affect early models, but you still need to be vigilant when giving any a check-over. Watch out for signs of bubbling paintwork, and be suspicious if you spy any relatively fresh-looking paint in localised areas.
Check all outer panels for any signs of rippling, and make sure that they line up perfectly – with neat shut lines and no 'proud' areas. These were the first monocoque Bentley saloons to have their bodyshells built in-house at Crewe rather than produced by an outside supplier; they were inevitably built to a high standard, which means that any issues two decades later are likely to be down to subsequent repair work. Replacement panels aren't cheap but they are at least available, with Flying Spares selling brand new front wings for around £1196 each, while replacement outer sills are priced at almost £489 each. The same company also carries stocks of used parts (mechanical, trim and bodywork) from Arnages it has dismantled, so it's worth calling to see what's available.
The fairly tall and blunt front ends of the Arnage can lead to damage from road debris, so be on the lookout for signs of stone chips and damage to the (expensive to replace) radiator grille. And check all four corners for bumper scrapes or signs of respraying, as the sheer bulk of the Arnage makes it vulnerable to damage. You should also carefully examine each of the alloy wheels for signs of peeling lacquer or damage caused by kerbside parking.
Engine and transmission
Whichever member of the Arnage family you're buying, make sure it comes with a full and detailed service history showing maintenance via main dealers and/or reputable marque specialists. Low-priced cars that lack evidence of on-time servicing are almost certain to be a false economy and will be more difficult to sell on at a later date. Naturally, you'll want to maintain your car's service history, so make sure you can afford the running costs of an Arnage before you take the plunge. Independent specialist Shadow Motor Cars offers menu-style maintenance costs, starting at £490 for a basic one-year service on a 6.75-litre model and rising to just shy of £2000 for a major six-year, 60,000-mile service.
The BMW-supplied V8 used in the earliest Arnage models is a reliable and robust unit, though as with any turbocharged model (twin-turbo in this instance) you need to ensure that the turbos themselves are in a healthy state. The earliest Arnage produced 349bhp when new, but relies on those twin turbochargers for its impressive performance. It lacks the ultimate torque of the traditional Rolls-Royce V8, with 420lb.ft. available at 2500rpm compared with the 612lb.ft. (at just 2150rpm) offered by the subsequent Red Label. Given the short production run of the BMW-engined model, the vast majority of the Arnages you see for sale today will be powered by Bentley's long-running V8, reintroduced by the firm for the 2000 model year.
This classic powerplant underwent major changes during the life of the Arnage, to such an extent that virtually nothing is interchangeable between a Red Label's engine and a later model. Whichever version of that Bentley V8 is in your Arnage, it will be capable of covering high mileages with ease, although early examples in particular have had head gasket issues, as John Tupper, managing director of marque specialist IntroCar, explains: "A big problem with the 6.75-litre V8 is that the head gaskets tend to fail at between 60,000 and 80,000 miles. A lot has to come out of the engine bay to do the job, and so you'll be looking at £4500-5000 in total. If you're looking at one, ask whether this work has been carried out."
Internal corrosion is rare, although it's not unknown for overheating to be caused by snapped fan belts or leaking hoses. Make sure you listen out for 'knocking' pistons, a sign that the engine has previously overheated.
Whichever ZF automatic gearbox (five or six-speed) is fitted, it should again be trouble-free when maintained well. Carry out the usual checks, making sure that it doesn't jump out of gear, that the changes up and down the box are fast and smooth, and that the kickdown facility works perfectly during mid-range acceleration.
Suspension, steering and brakes
As with any car weighing the best part of two and a half tonnes, the suspension and brakes of the Bentley Arnage have a tough time – and on high-mileage cars, that can mean they're rather tired. Check for any undue clonks and knocks from the adaptive suspension, and make sure the car doesn't 'wallow' excessively when cornering. The Arnage came with firmer suspension settings than its Silver Seraph cousin, ensuring it was more of a driver's car, and it should still feel reassuringly taut when worked hard.
If the car you're testing feels as though it's rolling and pitching when cornering at speed, you can assume there are problems with the suspension, the steering or both. The brakes have to work hard to bring such a hefty car to a halt, so check the state of the discs and pads to ensure you're not faced with an immediate bill – as a set of front discs and pads will set you back more than £500, plus the cost of labour. Aside from normal wear, make sure the discs aren't corroded or warped, the latter being obvious via steering judder when braking from motorway speeds.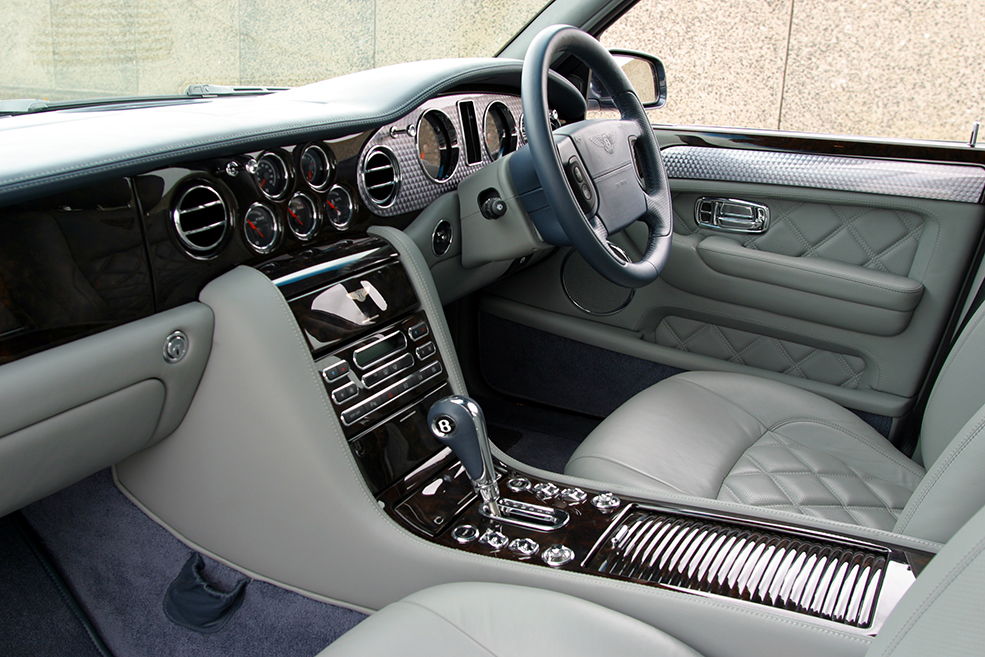 Interior and trim
Although the interiors of these cars are up to traditional Bentley standards (aside from some disappointing ex-BMW plastic switches, of course), this doesn't mean they're immune from wear and tear – and that's when seriously large bills can arise. Make sure that the high-grade leather used throughout is free of major damage, with no cracks or splits to spoil the overall condition. The appearance of creases can be improved dramatically via a leather renovation kit, but anything more severe will need the attention of a professional.
The same goes for the wood veneer used throughout, which should be in excellent condition and showing no signs of cracks in the lacquer or delamination; and you should carefully check the condition of the carpets (including in the boot), as wear isn't unknown on high-mileage examples. You also need to examine the headlining for damage and signs of sagging, as again this will be a horribly expensive job to have carried out by a professional.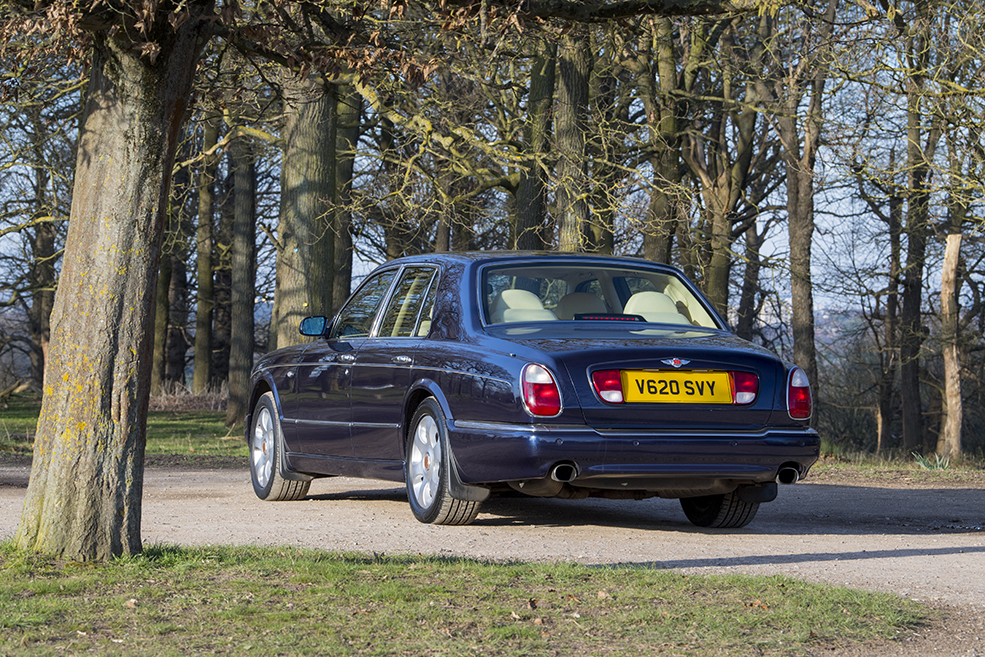 Bentley Arnage: our verdict
The Bentley Arnage is an interesting modern classic, not least thanks to its various iterations and convoluted backstory.
There's an argument for opting for the twin-turbo BMW-powered original, as this is an engine with a reputation for high-mileage reliability; but for many marque fans, a Bentley isn't a proper Bentley unless it's got the old British-built V8 under the bonnet.
Whichever you go for, that all-important Bentley refinement and performance are offered in spades. Just be sure to brace your wallet for running-costs impact!