American classics have always enjoyed a keen following among a dedicated band of UK enthusiasts. We pick some favourites.
Unless you're a diehard enthusiast of the breed, a keen interest in American classics on this side of the pond will probably have been sparked by the inclusion of a significant model in a blockbuster movie or a long-running TV series.
Instantly recognisable examples that spring to mind are Steve McQueen's Tarmac-scorching Mustang 390 GT in Bullitt, the Ford Gran Torino that stared in Starsky and Hutch or the barnstorming Dodge Charger that was almost permanently airborne as the General Lee in every episode of The Dukes of Hazzard.
These popular classic muscle cars are just the tip of a huge iceberg of US-built metal that has caught our attention over the years and the list of cars produced in America and imported to these shores seems almost endless.
We've profiled what we consider to be some of the most popular postwar muscle cars, luxury chrome-laden saloons and convertibles that arrived on these shores from the good old US of A between 1950 and 1980.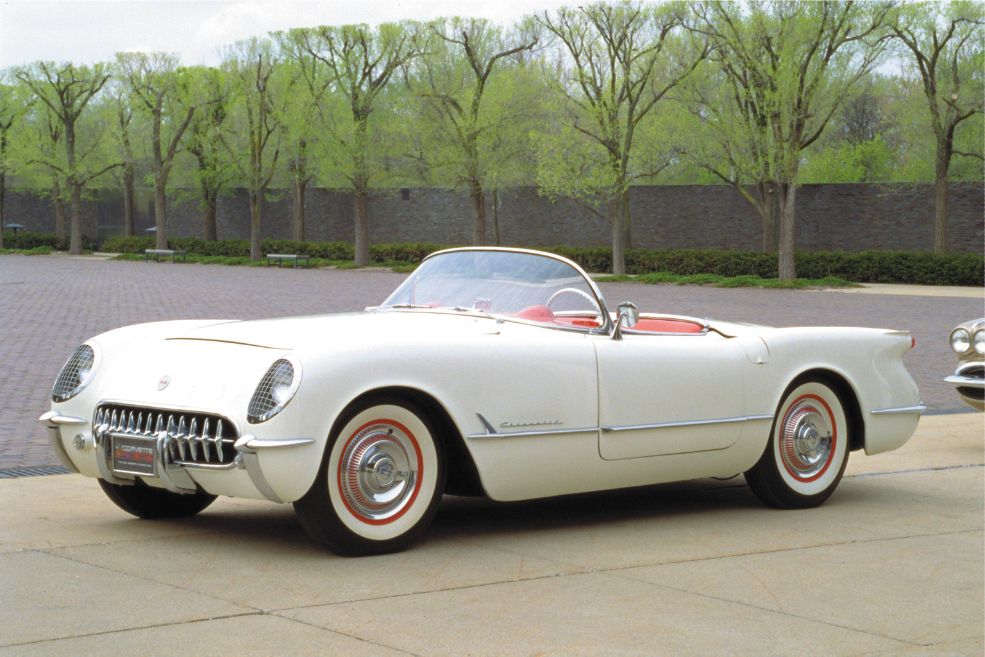 Chevrolet Corvette
First introduced in 1953 as a show car for the New York motor show, the Corvette generated a huge amount of interest and a production version went on sale late that year. Designated the C1, power for the Corvette came from a 3861cc inline six-cylinder engine driving a live rear axle through a two-speed automatic transmission. Offered only as a convertible, the C1's bodywork was made of glass fibre mounted on a sturdy ladder frame chassis.
Although the result was more of a cruiser than a road racer, optional V8 power from 1955 improved the Corvette's appeal and the zero to 60mph figure was reduced by an impressive 1.5 seconds. The C1 received a facelift in 1956 and again in 1958. The car was totally redesigned for the 1961 model year with a 'ducktail' style rear end.
A completely redesigned second generation C2 Corvette was introduced in 1963 and the new range now included the Sting Ray coupe with its distinctive split rear window. All-round independent suspension dramatically improved the Corvette's ride quality but the split rear window only lasted a year, as did the car's non-functioning bonnet vents.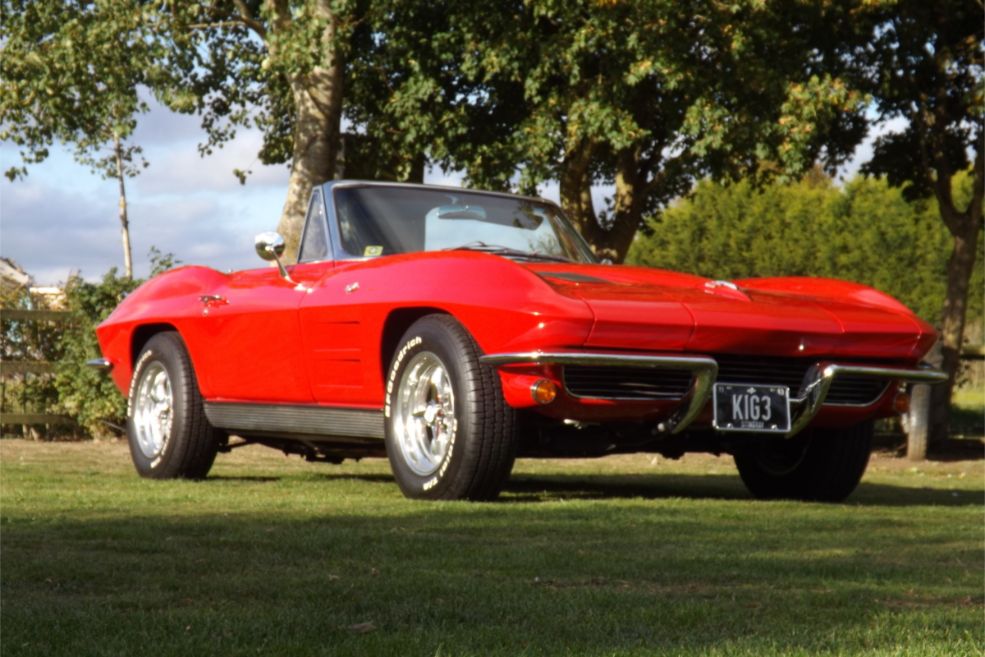 For the 1965 model year, the C2 was available with 6.9-litre V8, all round disc brakes and optional side exhausts. Power was boosted to 7.0 litres the following year and the covers came off the third generation C3 Corvette in 1968. Although the body and interior were all new, the C3's engine and chassis components had been carried over. Coupe versions now featured a T-top roof with removable panels, while the convertible could be ordered with a removable hardtop.
Revisions in the early 1970s included plastic bumpers and a restyle in 1978 gave the Corvette a new lease of life and various special editions made use of an impressive line-up of engine and transmission options. Production carried on until 1982 when the C3 eventually gave way to the very different looking C4 Corvette.
Buying them
Expect the usual issues associated with a glass fibre bodied car including blistering, surface crazing and delamination. Repairs can be difficult and expensive to carry out and the Corvette's separate chassis can corrode badly, especially around the outriggers and suspension mounts. Rust can also attack the metal frame around the passenger compartment.
The extensive range of engines and gearboxes used in these cars were also found in a variety of different models, which means the spares situation through specialist outlets is reasonably good.
No surprises with the suspension set up other than checking for free play in all the ball joints and swivels. Check for leaking power steering racks and pumps and damaged pipework.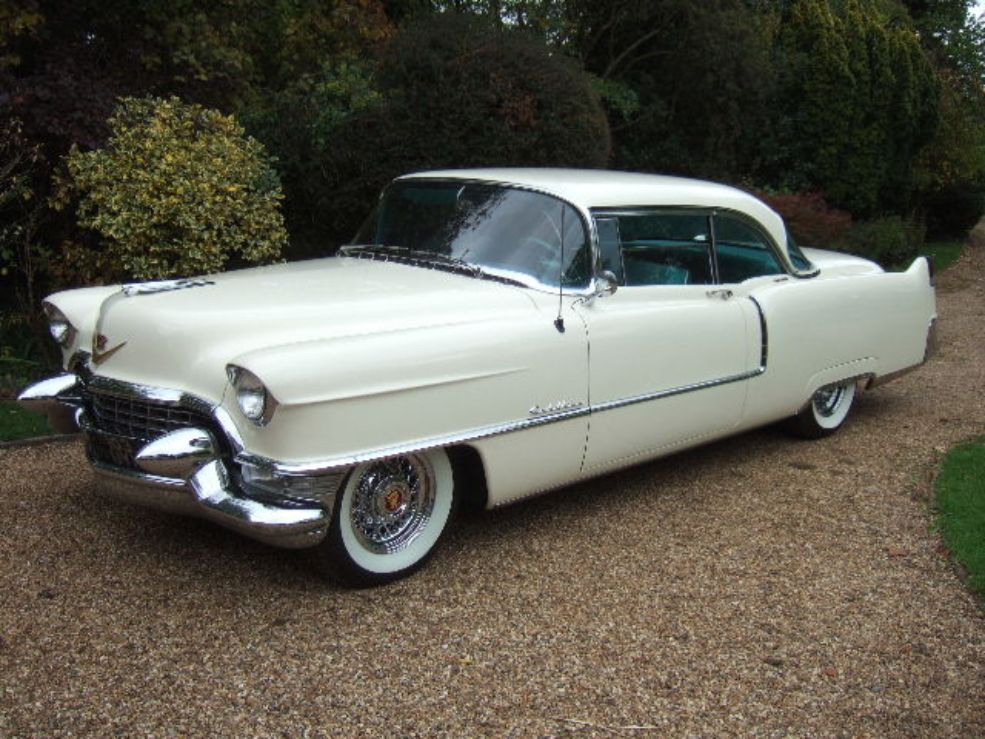 Cadillac Coupe de Ville
Produced over five generations between 1949 and our target year of 1980, the first Cadillac to wear the coveted Coupe de Ville script was based on the Cadillac Series 61. Probably the most flamboyant Coupe de Ville was the Series 6200 introduced in 1959. This model is remembered for its huge rear fins, bullet-like tail lamps and huge chrome front grilles with a 6.4 litre V8 driving the rear wheels through an automatic gearbox.
For the 1960 model year, the De Ville's styling was smoothed out and was now slightly restrained. A restyled and reengineered De Ville appeared on the scene in 1961 and a mild facelift the following year introduced a flatter and less intricate front grille, while larger bumper end pieces now housed the direction indicators. It was all change again in 1965 when the de Ville was redesigned again, losing the tailfins and gaining stacked headlights.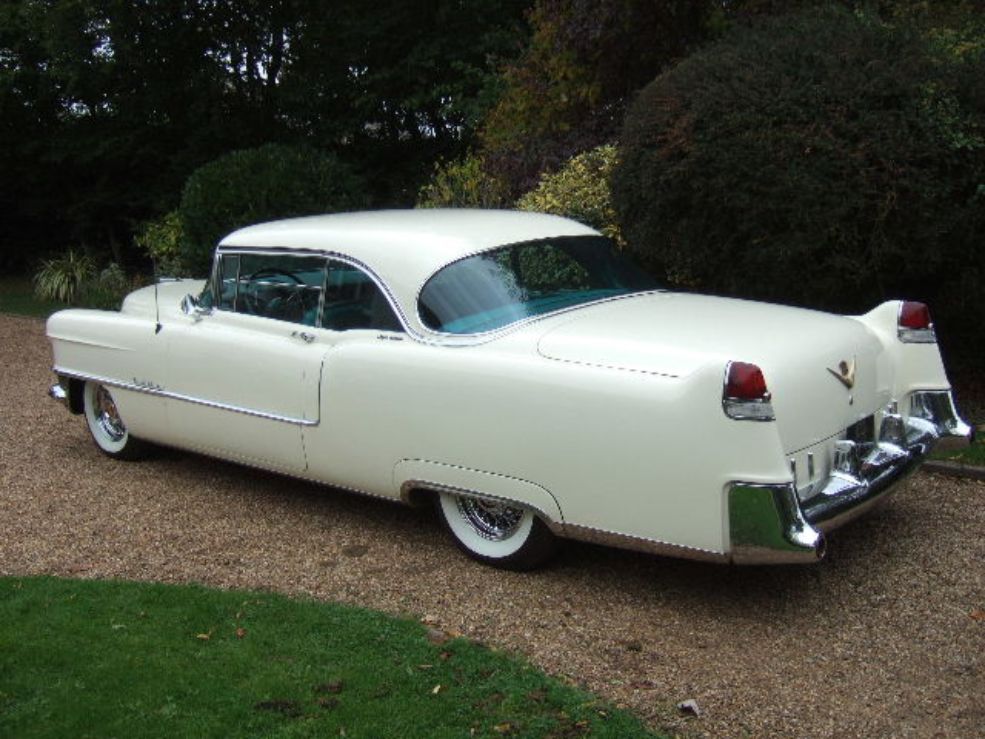 In 1967 the Coupe de Ville was extensively redesigned and now featured a lower roofline, as well as redefined rear wings and new frontal aspect. A refresh for the following model year resulted with the Coup de Ville's rear quarters extended and front restyled to match the equally gaudily trimmed Eldorado.
A heavily redesigned fourth generation Coupe de Ville arrived in 1971 featuring quad headlamps arranged in pairs. Rather muted rear fins were still a Coup de Ville feature. Fuel injection became a standard fit on the Coupe de Ville's 210hp V8 engine and in 1977 the downsized fifth generation of this chrome laden luxury coupe came on stream.
Buying them
Corrosion will be the major deal breaker with these cars. This is because the bodywork is very complex and has a lot of mud traps, so check all the usual areas very carefully for signs of corrosion or any badly carried out repairs. Any pieces of missing or damaged chrome trim on these cars will be difficult and expensive to locate or repair, so make sure it's all in good condition.
A variety of different capacity engines were fitted to the Coupe de Ville and big, lazy V8 fitted to these cars that have been maintained properly should be able to rack up an interstellar mileage before requiring any serious attention.
Parts supply to revive an ailing Coupe de Ville is reasonable, with a lot of UK and US specialists able to supply parts for these cars.
Ford Mustang
Although Ford had unveiled the Thunderbird in 1955 to go head-to-head with the Corvette, it was the 1964 Mustang that became the Blue Oval's most successful launch since the introduction of the prewar Model A and today the Mustang is in its sixth generation and still selling strongly.
The first-generation Mustang was based on the platform of a 1964 Ford Falcon and the car's long bonnet and short, stubby boot defined the term 'Pony Car' as a special breed of American muscle cars.
Mechanical underpinnings came from the Ford Falcon and Fairlane and the Mustang was powered by a 2786cc inline six driving the rear wheels through a three-speed manual gearbox. Power output was rated at 99bhp at 4400rpm and drum brakes provided the Mustang's stopping power. A 4.9-litre V8 option was offered in 1968 and the following year a selection of performance packages included the Mach 1, Boss 302 and Boss 429.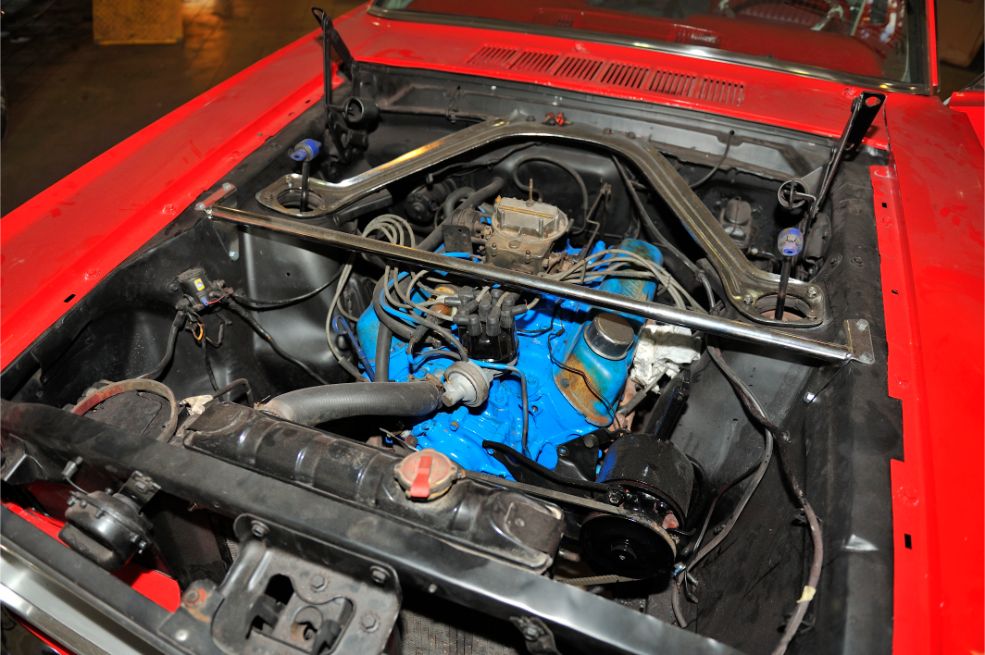 The revised second-generation Mustang was unbridled for the 1974 model year, slightly smaller with economy now the order of the day. The engines for the revised 'Stang included a 2.4 litre inline-four and the 2.8 litre V6 Cologne. V8 power returned in 1975 in the shape of a 4.9-litre unit, although this engine was only available with auto transmission.
Body styles available for the Mustang included a coupe or convertible configuration and a luxury Ghia-badged version featuring smaller rear side windows and a thickly padded vinyl roof topped off the range.
Performance models included Mach 1 (1974-8) and the Cobra (1976-8), while the Stallion package was available in 1976 and the limited edition King Cobra in 1978.
In 1977/78 , the popular hatchback Mustang was available with a T-top roof option and in 1979 Ford introduced the much improved third generation Mustang based on the larger Fox platform that had been developed for the Ford Fairmont and Mercury Zephyr.
Buying them
The good news is that almost all the panels to restore a Mustang can be purchased from specialist suppliers here in the UK. These cars rust in all the usual places and on restored cars areas such as under the carpets should be checked carefully for any poorly carried out repairs.
If matching numbers are an essential part of owning a classic Mustang, check the paperwork carefully to see if the car still has its original engine, as a previous owner may have fitted a more powerful unit from a later model. If this is the case, make sure the brakes and steering have been upgraded to cope with the extra power.
Parts supply is excellent as most of the steering and suspension parts on these cars were used on other Fords of the period.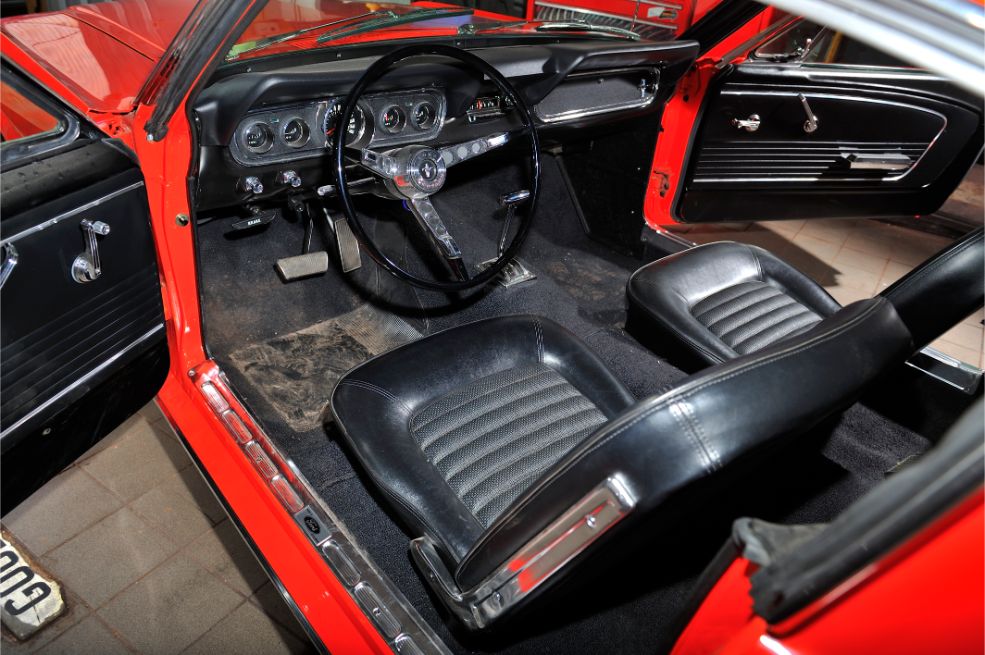 Values
Corvette: As well as the early examples with a live rear axle, the most expensive Corvettes tend to be the ones produced between 1963 and 1967 and an exceptional C2 Corvette will cost its new owner up to £65,000. The later C3 variants are a lot more affordable and a decent looking 1970s Corvette can be landed for £15,000 to £18,000. Sound examples requiring a bit of work start around £9500 but beware of cheaper projects. Any bodywork repairs on down-at-heel Corvettes really will require the attention of a specialist repairer.
Cadillac Coupe de Ville: It's the early cars where the big money is when it comes to the Coupe de Ville and a smart early 1950 example will cost anywhere between £20,000 and £30,000. A well-preserved example built during the 1970s will cost on average half the top amount of an early car and a sound project could be tracked down for under ten grand.
Ford Mustang: It's not unusual to see excellent 1960s Mustangs changing hands for close to £40,000. Around half that amount seems a reasonable price to pay for a decent early example but special editions, such as the Boss 302 or Mach 1 will change hands at whatever a buyer is willing to pay.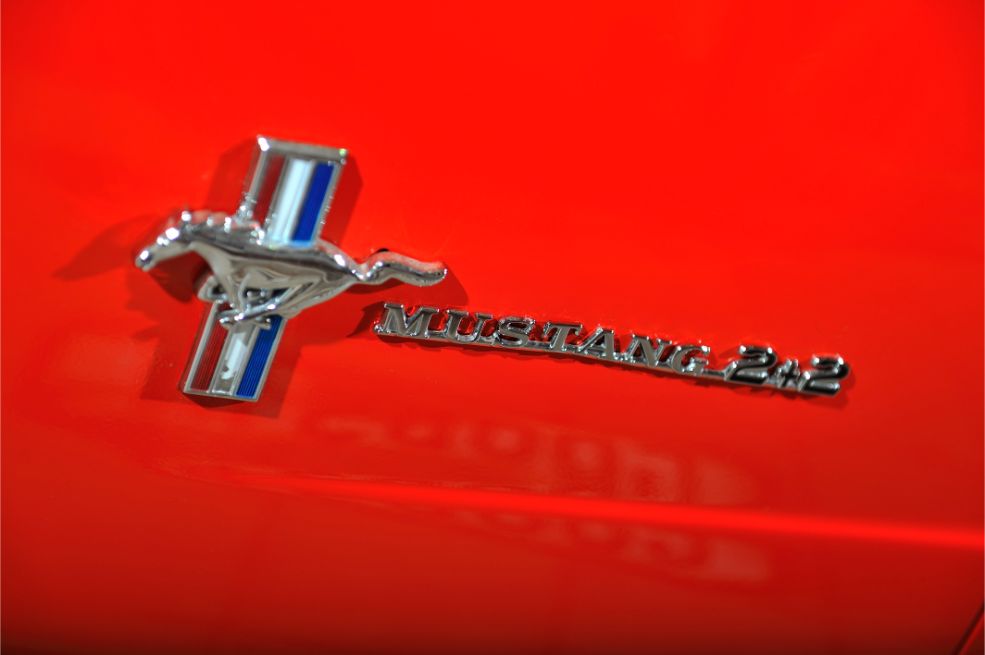 Verdict
Love 'em or loathe 'em, it's hard to ignore the impact a big American classic makes when it turns up at a local show. Sourcing a good one that fits a particular budget can be hard work but the good news when it comes to obtaining spares for these cars, there's a relatively good number of specialists in this country dealing with new and used spares for American cars and US located specialists are only a mouse click away on the internet.
If you fancy getting behind the wheel of a US classic, our advice would be to join a relative club first and get to know what makes the model you want to buy tick. That way you'll understand the car and approach the sale fully aware of what to look for. Following this simple rule and you'll hopefully end up owning something big, flash and interesting that probably won't fit into your garage!