Paul Bussey road tests and reviews the 1965 Ford Mustang…
The Ford Mustang is one of the great American motoring icons, one of which will long be remembered as being the fastest selling car of all time. The first generation Ford Mustang (which was ostensibly based on the Ford Falcon) was one of the most defining cars of its era. This sporting two-door coupe (the originator of the 'Ponycar' concept), with its long bonnet and short boot, was styled by Gale Halderman, David Ash and Joe Oros, with Ford Vice President Lee Iacocca, being generally recognised as the Father of the Mustang.
Introduced in April 1964 and initially offered as a hardtop coupe or a convertible, more than 22,000 orders were placed on the first day it became available. Some 600,000 Mustangs sold in 1966 alone and more than a million had been sold before the model's second birthday. While the base model sold for $2,372, it was the fabulous range of 70 tempting options available that was so desirable. You could truly personalise your car and have all manner of extra goodies installed. The first generation Mustangs remain the most pure in form. Later models became larger, heavier and not so sleek. Interestingly, the Mustang is the only car ever to win a Tiffany Award for Excellence in American Design.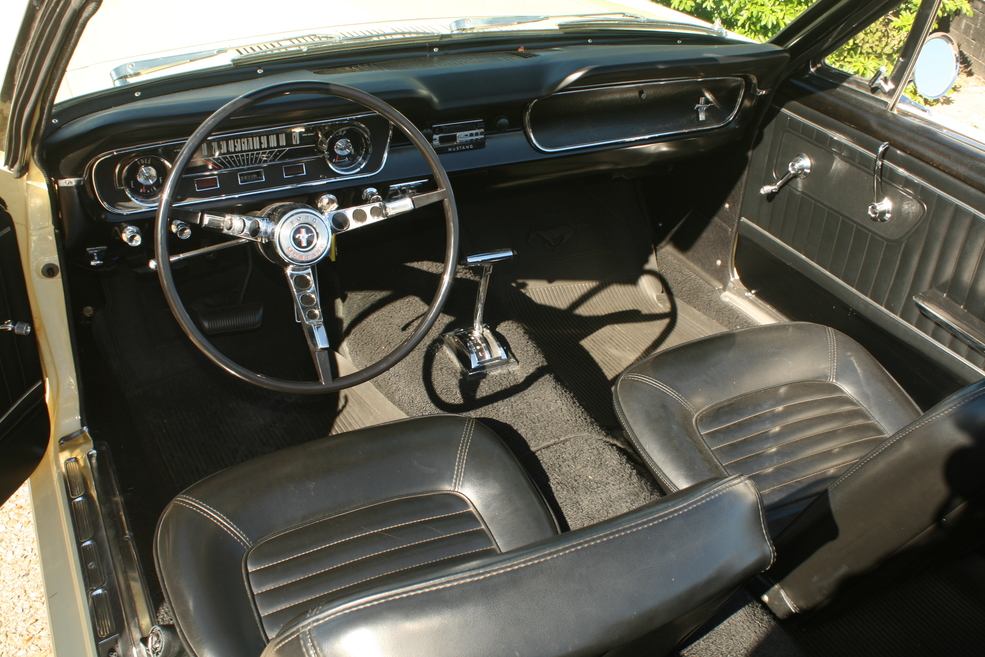 Exterior and Interior
The Mustang we're testing is a lovely convertible model, a 'dealer special order' by Courtesy Motors of Charlotte, North Carolina, USA, on February 24, 1965, where it remained for most of its life. Perfect panel alignment on Mustangs was never its strongest attribute and our car is about average. However, it underwent a total frame-up restoration in the late 1980s and remains in excellent condition all round. The Springtime Yellow paintwork is most attractive and well presented. There are one or two minor blemishes, but nothing to worry about and the underside is exceptionally clean, especially the front wings, which have been treated to an anti-chip stoneguard. All brightwork is in very good order; the car sits on chrome wheels shod with Goodyear Decathlon 195-75/R14 tyres with plenty of tread remaining. The soft top is also in a very good serviceable condition.
Turning our attention now to the Mustang's interior, the dashboard crashpad has almost certainly been replaced and does indeed look new, with no cracks, scratches or fading whatsoever. The dashboard instrumentation is also in excellent condition, as is the steering wheel, door cards, carpets and seats. There is one small fly in the ointment, as on the left hand panel of the driver's seat squab the stitching is coming undone. Other than that, the interior is very well presented.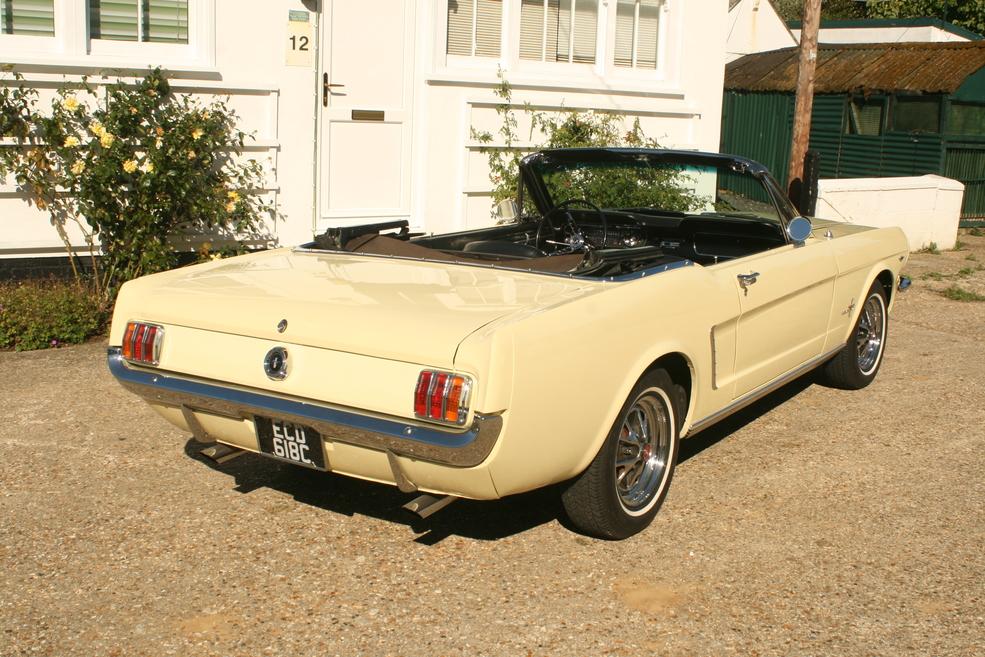 Test Drive
It's a delightfully sunny and warm early autumn afternoon and with the soft top fully retracted away, we set off to enjoy the test drive. Straight away we find that the steering is just right, not too light and not too heavy. This is because the car has been fitted with a modern power steering unit. We did note a hint of scuttle shake through the steering column on poor road surfaces, but in general the steering set-up is just fine. Powered by a 289cu V8, this Mustang offers a good performance. We floor the accelerator on a straight section of road and the car sprints away with ease. With drum brakes all round, the brake pedal does require a fairly positive shove for maximum effect, but they work very well. Driven on a regular basis and covering long distances, many Mustang owners have opted to fit a front disc brake conversion kit, but for occasional use, the set-up on this car is perfectly adequate. Gear changes from the automatic transmission are silky smooth. At first you don't think it's working properly, as you can hardly feel the shifts and it was only when driving really slowly that we felt the gears changing. The softish suspension can be a little wallowy at times, especially when you're hustling the car around sharp corners, but it's not all about trying to wring the living daylights out of it! Driving this Mustang is all about cruising along, soft top down, taking it easy, left arm resting atop the door and enjoying the whole experience.
Verdict
If you're looking for a first generation Mustang convertible in excellent unmolested condition and driving extremely well, you've found it right here! It has had much work completed recently, including new front brake pipes and brake overhaul, wheel bearings, wheel cylinders, radiator and front suspension bushes. The axle has also been overhauled and fitted with new bearings and the fuel tank looks newish, too. The car also features H4 halogen headlamps and LED amber rear lights/indicators.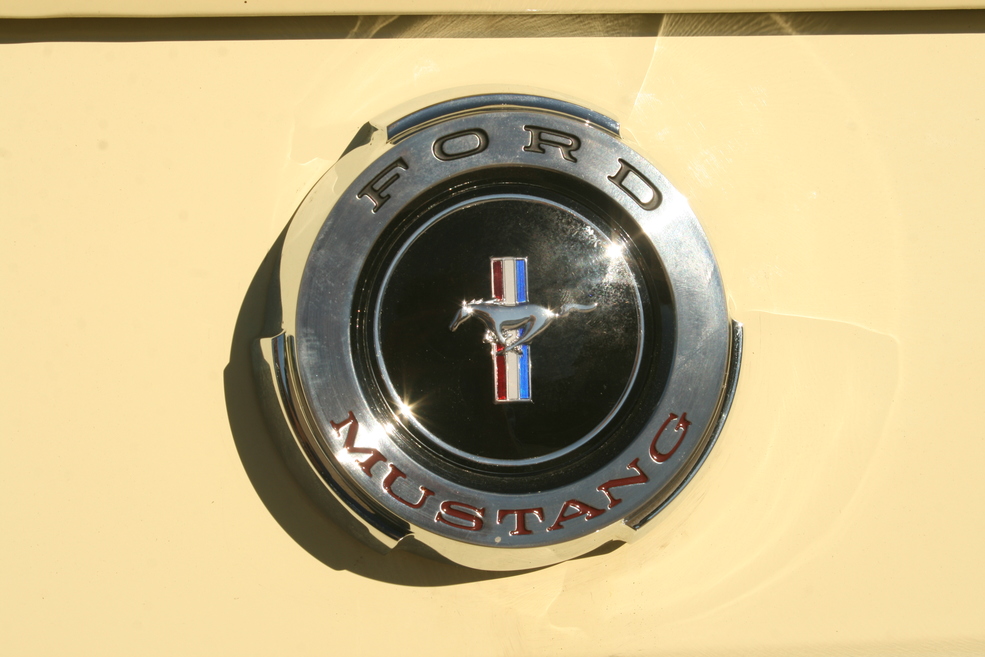 Tech Spec
Engine: 4727cc, 289cu in V8
Power: 210bhp@4400rpm
Top Speed: 117mph
0-60mph: 8.8secs
Economy: 21mpg
Gearbox: Three-speed automatic