Classics World's Paul Bussey test drives and reviews the 1966 Ford Mustang 289cu in V8 Coupe…
The Ford Mustang is one of America's most iconic cars, which also had the notoriety of being one of the fastest selling cars of all time and nowadays remains highly reverred. Its styling, courtesy of Gale Halderman, David Ash and Joe Oros, with its long bonnet and short boot, became the originator and bench mark of the 'Pony Car' concept. Much of the first generation Mustang running gear, was based upon the tried and tested Ford Falcon and the car was initially powered by a 170cu in straight-six and a 260cu in V8, prior to the enduring 289cu in V8, which was offered from 1964. The Mustang was available with coupe or convertible bodywork, but it was the huge range of options that was so desirable, allowing buyers to completely personalise their car. Ford Vice President Lee Iacocca, was definitely onto a winner with the Mustang!
Our tested Mustang coupe represents a first generation car in its purest styling form. It's also powered by the desirable 289cu in V8, which is coupled to Ford's Three-speed Cruise-O-Matic three-speed automatic transmission. The car was imported to the UK by an American serviceman in 1969 and the low mileage is reputed to be original and there are plenty of old MOT certificates to substanciate.
A previous owner has incorporated a GT350 appearance package, which includes the bonnet bulge, side dummy rear air scoops, exhausts exiting through the rear valance and the Torque Thrust alloy wheels, which remain an incredibly popular aftermarket fitment. All these things add up to giving the car an overall slightly more racy look! The bodywork is all pretty straight and the Silver Blue Iris paintwork, with a white stripe that has been painted on, is certainly very appealing. There is the odd blemish here and there, but overall the paintwork is tidy enough, as is the chrome.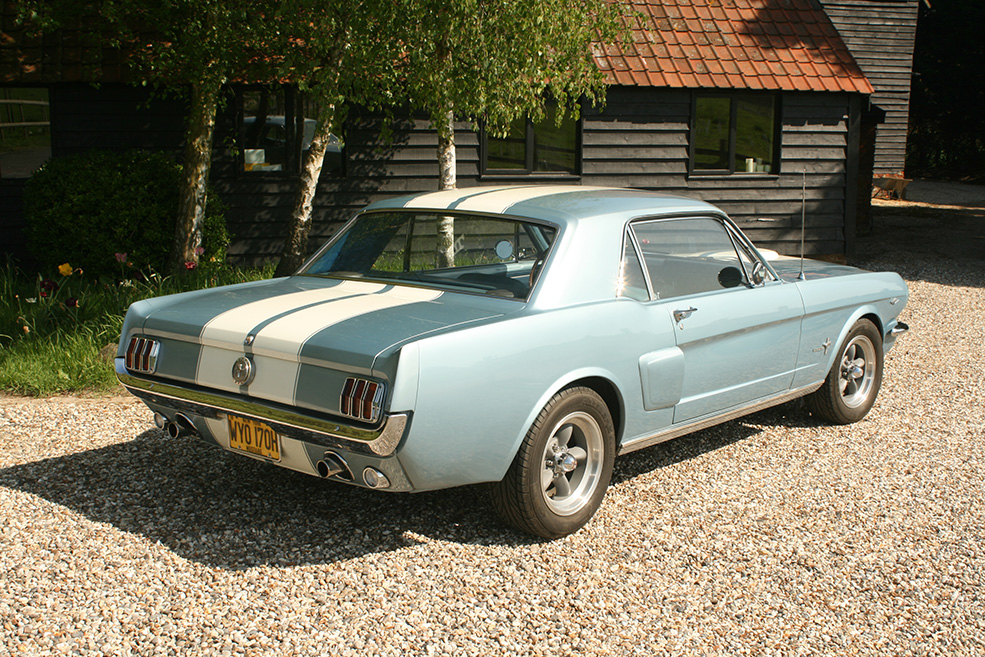 The Mustang's interior is virtually untouched from new, with the light blue trim in exceptionally well preserved condition, as is the white headlining. Just the only sign of any wear and tear is to the carpets and even then they still remain very serviceable and don't really require replacement. The driver's footwell has an additional non standard section of carpet fitted. The boot is well trimmed with the correct pattern floor mat and houses a steel spare
The 289cu in V8 starts on the button and settles into a nice steady idle. We select Drive and pull away. The seating position and dashboard ergonomics have all been very well thought out. All instrument gauges are perfectly readable. It's a blisteringly hot day and we have the windows wound down, which we find to be the perfect height, for resting your arm on top, as we leisurely cruise along. The 289cu in V8 is still fitted with the original specification two-barrel carburettor, which provides a lively enough performance, if not electrifying!
What is very evident is that delightful mellifluous exhaust note burble, which is accentuated through the stainless steel system. The front disc brakes on this car have also been upgraded with four-pot calipers for enhanced braking action and they work very well. Taking corners and negotiating roundabouts is a cinch, thanks to the very light power assisted steering. Indeed, the term 'user friendly' immediately springs to mind, when describing what this car is like to drive. We did detect a slight squeak from the rear of the car and this is reckoned to be from the exhaust system, which needs a very slight adjustment. This Mustang did drive extremely well, with the engine showing good oil pressure
Verdict
If you're thinking about entering the wonderful world of American car ownership, this Mustang would fit the bill perfectly and perhaps equally important, it should fit into your garage okay, without any problems at all. The same couldn't be said for a great many other Yank tanks! Replacement parts availability is excellent and this car has recently been fitted with a replacement alternator, which cost a mere £79. Although the engine and bay are fairly tidy and presentable, further cosmetic detailing is always time well spent.
Just about the only thing that doesn't currently work, is the radio/cassette player. It's a car that has retained a great degree of originality, GT350 appearance and upgraded front brakes excepting and one that hasn't been detrimentally mullered or messed with, which is becoming increasingly rare nowadays. The prices of these first generation Mustangs are only going to increase, purchase one now, while you can still afford it!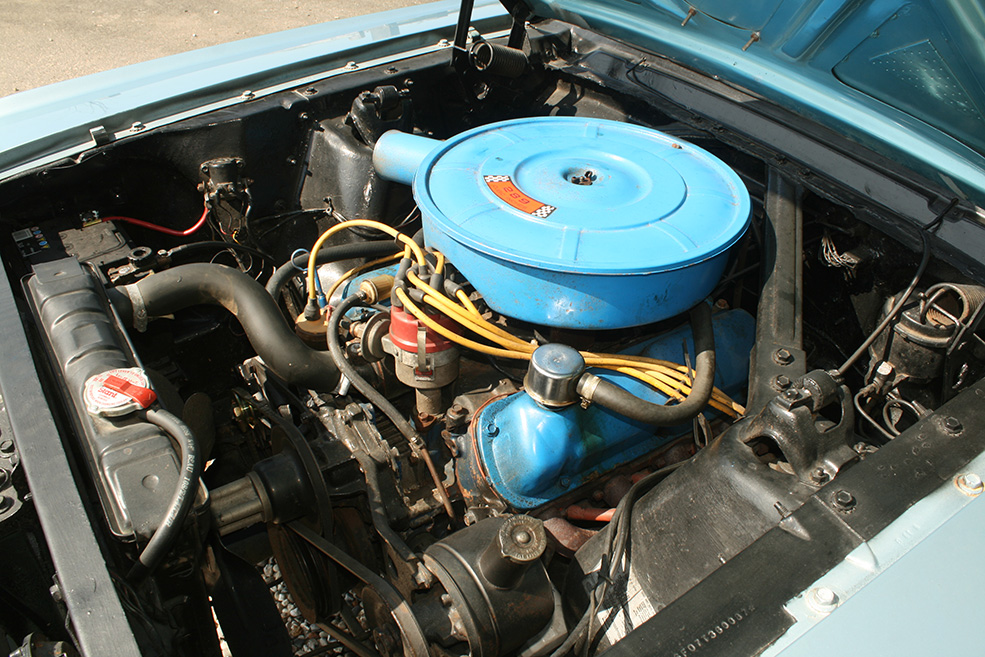 Tech Spec
Engine: 289cu in V8
Power: 200bhp@4400rpm
Torque : 282lb ft@2400rpm
Top Speed: 114mph
0-60mph: 9.7mph
Economy: 19.6mpg
Gearbox: 3-speed automatic