Every manufacturer was in on the 90s cool coupes trend, stylish two-doors in abundance. But nearly three decades on, which are worth investing in?
Toyota Celica GT-Four ST205 (1994-1999)
The Toyota Celica was a decent coupe, with nimble chassis and Supra-esque styling. Homologating its rallying efforts, however, Toyota turned it up; the GT-Four ST205 produced 239bhp from a turbocharged 2.0 litre, viscous-coupling 4WD getting it to the ground. Rally-inspired bodykit completed a hot Celica package that could top 153mph, journalists adoring its sharp handling. Sadly, the GT-Four was quality at cost – £29,000 was £4500 more than its Escort Cosworth contemporary, without the blue collar appeal in Britain.
The 90s insurance crisis made the turbo Japanese coupe expensive to insure and values plummeted; by the year 2000, a GT-Four could be picked up for around £10,000-£12,000, many falling into the modifying community. The '90s styling fell out of favour and even the tidiest examples could be had for just £5000 by the mid-noughties, stark contrast to the appreciating Escort. The financial crisis made a thirsty coupe undesirable and GT-Fours were valued at under £2000, scarcely more than more regular Celicas. A recent surge in Japanese performance car values has seen prices rise; with the rough and badly-modified examples now deceased, only the best remain and a tidy, stock ST205 will be £7000-£12,000. With numbers thinning and popularity growing, a stock GT-Four could be a shrewd investment.
Vauxhall Calibra (1989-1997)
Hoping to replicate the Manta's popularity, Vauxhall/Opel released the Calibra in 1989. Sticking to the ethos of coupes of old, the Calibra shared running gear with its Cavalier and Vectra saloon contemporaries. The initially front-driven 2.0 litre Calibra was priced competitively, marginally undercutting Volkswagen's Corrado. The later V6 model offered more power and a sweet soundtrack, but priced at £20,200, was now pricier than the Corrado VR6.
The sleek Calibra sold a respectable 240,000 units, but its underwhelming handling and mediocre badge meant prices began to drop. The V6 was more desirable, but within a decade, a 2.0i would be £4000-£5000, the V6 commanding only 10-15% more. As Vauxhall shifted its focus to hot hatchbacks that were faster and more practical, the Calibra's values kept tumbling. By 2008, a 2.0 could be had for under £1000 and the pricey to run coupe didn't benefit from a financial crisis. Values have done little climbing in the past decade, more glamourous German coupes taking the limelight. The Calibra remains cheap, £1500-£2000 buys a tidy 2.0 or V6. Whilst values are low, a similar trend befell the now collectible Manta…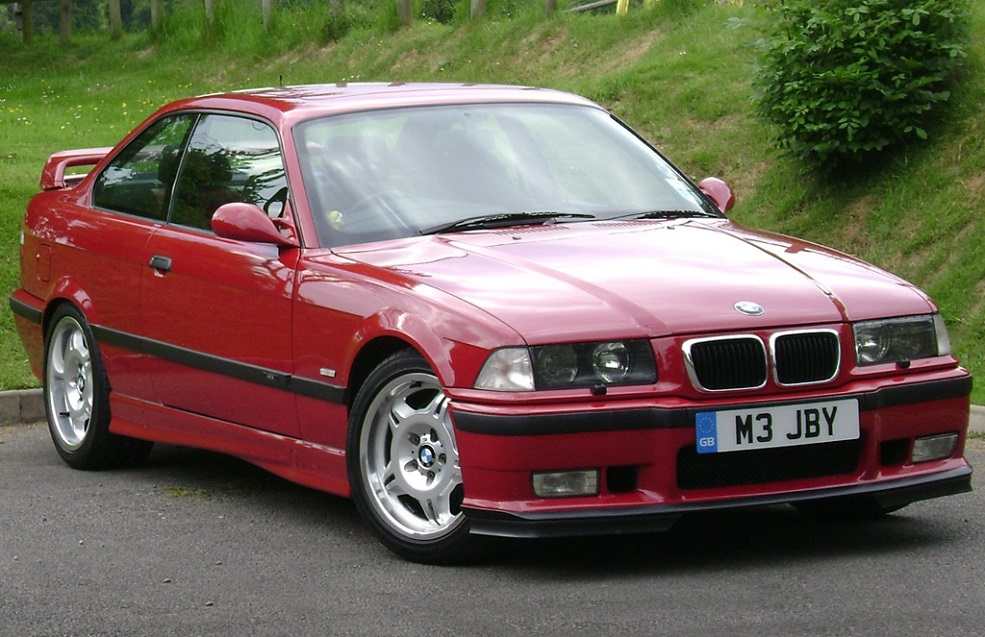 BMW E36 M3 (1992-1999)
Following the success of the E30 M3, 1992 saw BMW offer the same badge on the E36 generation 3-Series. Sporting 3.0 litre straight-six, leather-lined and tech-laden cabin, the new M3 was a more capable tourer. Journalists praised the E36 M3's handsome styling, sharp handling and punchy six-pot, only bettered in 1995's 3.2 Evo variant. Initially a coupe only, the cabriolet and saloon came later. The jack-of-all-trades E36 M3 was a definitive performance car of its era, but priced as such at £32,000, more than Porsche's 968 ClubSport.
Of the 70,000 E36 M3s sold, 46,000 were coupes and values held strongly. Until 2000's E46 successor, E36 M3s held as much as two thirds of their value. The E46 refined the formula and subsequent generations added yet more performance and technology, pushing the E36 into the shade. Prices kept dropping, £10,000 becoming realistic and many fell into the hands of those who couldn't afford the upkeep, maintenance suffering. A thirsty premium coupe didn't fare well in the 2008 financial crisis and E36 M3s could be picked up for £3000 upwards. With the market recovered and many abused M3s now rotten or used for track cars, the survivors are enthusiast-owned and tidy. Now a respected modern classic, decent E36 M3s are £14,000-£16,000, the coupe commanding around 10% over other variants. The best are £25,000, however.