British sports cars are a staple class in the world of classics and are available to suit most budgets. We take a look at three cars from different price points.
Austin-Healey 3000 (1959-1967)
The four-pot Healey 100 had proven a popular larger alternative to the Sprite in the Austin-Healey line-up, but the addition of a meaty six-pot in the Healey 3000 truly cemented its reputation as a burly roadster. Less dainty than Jaguar's later E-Type, the 'Big Healey' was just as much GT as sporting drop-top and without the Jaguar's exotic image to justify its £2000 price tag, the Healey came out at a far more reasonable £1200.
Subsequent tweaks kept the 3000 current and by the 1970s, you could still expect to pay 70 per cent of their original price. Sadly, more modern offerings from Jaguar and Triumph and the MkIV being the last Healey model meant the 3000 wasn't as sought-after and prices tumbled. Despite being hugely dated by the 1990s, the Big Healey was now a fondly-remembered classic that would cost you £15,000-£20,000 for a decent example, more than some E-Types. The 3000 never lost its high-end image and while it couldn't touch upper Jaguar figures, the 2000s saw prices climb up and over £30,000. Post financial crisis, all '60s classics prices have gone skyward, the Healey no exception. The superstar E-Type is over £80,000 for the best now and with many turning to the comparable Healey, you'll need £50,000-£60,000 for the best early cars.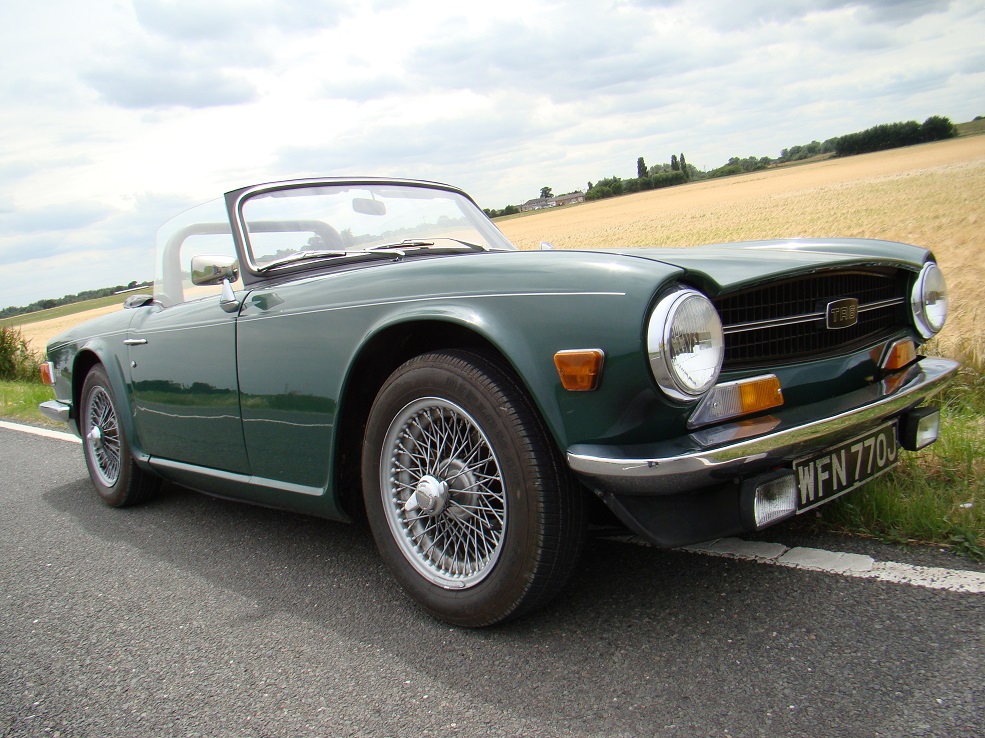 Triumph TR6 (1968-1976)
Many argue the Karmann-styled TR6 as being completely different to its TR5 predecessor, but in reality, the later car is simply a top-and-tail redesign of the former. Not that many complain – the TR5 was a sweet-driving sports car and the more butch styling of the TR6 meant it looked like it drove. The meaty six-pot gave it the go to challenge the Healey 3000 and its £1536 price tag created a dilemma for prospective buyers.
Being viewed as less classically beautiful than previous Triumph sports cars, the TR6 languished as a less desirable, less valuable car for some time. As recently as the early 2000s, prices between the divisive TR6 and more dated TR4/5 were almost identical. Like for like, both cars could be bought for £7000-£9000. In recent years, however, enthusiasts have taken notice of the TR6's arguably more modern styling and that initial underdog factor has a certain appeal. The financial crisis of a decade ago meant you could still nab a TR6 for under £10,000, but not anymore. With the last six-pot TR carving its niche, an original RHD car will set you back £22,000+, but even repatriated US-spec cars command £15,000-£17,000.
MGB 'rubber bumper' (1975-1980)
We all know the MGB – the aspirational sports car was a staple within years of release. We can't say anything about the dreaded post-1975 rubber bumper changes that hasn't been said. The more awkward bumpers and raised ride height turned the B from dainty to disastrous in the eyes of many, but at £2500, it remained decent value compared to its rivals.
For most of its life, the later MGBs have been seen as inferior and worth substantially less than chrome-bumpered cars accordingly. With the MGB a widely-respected classic by the 21st century, a like-for-like chrome car could command £10,000, double that of a rubber bumper car by the year 2000. So unpopular are the larger bumpers that kits exist to convert rubber MGBs to the chrome bumpers and suspension of an earlier car. A converted later car is worth somewhere between a rubber bumper and original chrome car. With chrome-bumper values soaring and the rubber-bumpered cars now respected as a '70s-look classic in their own right, figures are climbing. From £5000-£6000 for the best rubber-bumpered MGB a decade ago, you can expect to pay £10,000 today, around what a chrome car was worth ten years ago. After years of neglect, the rubber-bumpered MGB is coming of age.