With a new James Bond film due out this year, are any of the past Bond cars worth investing in? We check out some of the market values. 
Lotus Esprit S1 (1976-1978)
The Esprit shocked the world – a Lotus, meaning flawless handling and lightweight, yet performance to challenge contemporary Porsches. Its striking wedge shape meant it looked as exotic as a Maserati and made the perfect car for Bond to thrash down mountain roads…or under water, when the Esprit transformed into a submarine in The Spy Who Loved Me. Lotus' hand-built practices meant their cars were rarely cheap, however, and the Esprit, at £8500, was pricier than Ferrari's 308 GT4. Their Bond appearance generated interest however, and unsurprisingly many were sold in white 007 spec.
Subsequent revisions added turbochargers and a V8, leaving the initial 2-litre S1 less desirable and whilst prices slipped by around 20% a decade on, their low-volume production and sheer brilliance even in early guise kept them desirable. By the '90s, the Esprit had entered its fourth-generation and the earlier cars were seen as limp-of-wrist by comparison, prices down to around £5000. The difficulty of repairing fibreglass bodywork, iffy reliability and quality has subdued Esprit prices for some years, £6000-£8000 buying an S1 a decade ago. Numbers severely thinned, however, and their James Bond image has seen a rapid resurgence in prices. With many priced out of DB5s, they turn to the Lotus – an S1 Esprit in Bond spec can command £50,000, more than a new Elise.
Aston Martin V8 Volante (1978-1989)
When Timothy Dalton took over as Bond, it was time for another Aston, this time a V8 Volante. The successor to the DBS used by Bond in On Her Majesty's Secret Service, the V8 Volante was something of a muscle car, with a burbly soundtrack and relaxed personality. Its handsome looks modernised the DBS and in Volante guise, made for the perfect exotic cruiser, not to mention gadget-laden Bond run-around. Such exotica costs, however, with the V8 Volante running a cool £33,000, over double that of a 450SL.
But the Aston held value extremely well and by the 1990s, early Volantes still commanded £75,000-£90,000, representing impressively low depreciation. The '90s Virage successor provided a modernisation of the formula but the V8's Bond image arguably helped it retain much of its value into the 2000s, prices scarcely dropping below £50,000. The financial crisis dropped values to circa-£40,000, but the market recovered and like the Esprit, the V8 Volante remained a cheaper entry to a Bond car than a DB5. Today, prices are soaring and you'll need £150,000-£200,000 to bag one. That said, DB5s were similar money a decade ago and look where they've gone…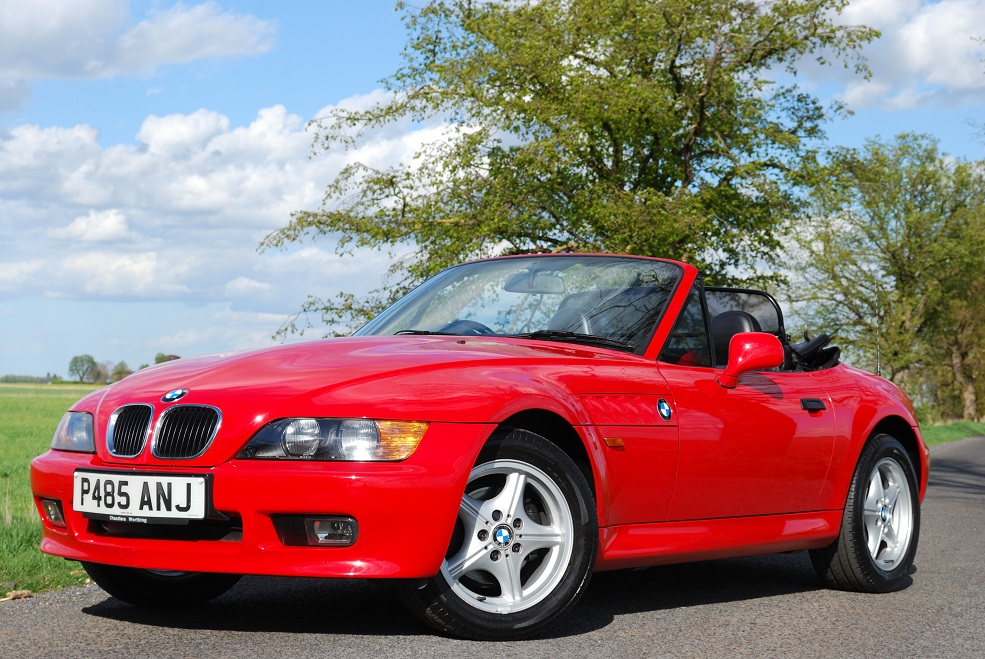 BMW Z3 (1995-2002)
The Brosnan era of James Bond brought with it a slew of BMWs. The Z3 was brand new when it featured in Goldeneye and was stylish, yet the right side of conventional compared to the radical Z1. The Z3 sported 50/50 weight distribution, but the initially lone engine option of a 1.9-litre four was underwhelming. With similar dimensions, intent and performance to Mazda's MX-5, the Z3's price of £21,500 was almost 20% over, but buyers were enticed by the premium badge. Despite its short and underwhelming appearance in Goldeneye, sales picked up following the Bond film's release.
Within five years, a Z3 would be £13,000-£16,000, the Audi TT and Porsche Boxster seen as more exciting. The later Z4 dropped prices further, to sub-£10,000 by the mid-2000s. Prices seemed to hold at £3500-£5500 for some time, owing to their more premium look and feel than the similar MX-5. These days, however, Z4s, TTs and Boxsters are cheap enough to make the Z3 less appealing. Most desirable are the 2.8 manual and monstrous Z3M, commanding £3000-£5000 and £15,000-£30,000 respectively. Earlier cars are around £1200, but interestingly, a blue 1.9 with tan leather – the Goldeneye spec – commands around 20% extra. Even the least iconic appearance in a Bond film earns a premium.