While some classic British execs have a price tag to match, others don't… for now. We check out the bargain 50s and 60s executive cars. 
AUSTIN WESTMINSTER
Austin first introduced a larger and more powerful version of the Cambridge in 1954 badged as the A90 Westminster. Power was provided by a straight six C-Series power unit driving the rear wheels through a four-speed gearbox and over the years the A90 morphed into the 1958 launched and smartly kitted out A105 Vanden Plas. Tracking down a sound A90 or A105 today could be challenging, as roadworthy examples are scarce, so expect to pay between £9000 to £11,500 for a well-presented survivor.
In 1959 the Cambridge range received big facelift overseen by the Italian automotive styling house Pininfarina. The all new A99 Westminster was powered by a 2912cc straight six fitted with twin SU carburettors and a three-speed plus overdrive gearbox. Optional extras included a three-speed Borg Warner automatic gearbox, and the new Westminster's power assisted Lockheed braking system now featured discs up front.
When compared to the competition, the A99 was keenly priced at £1148. For top luxury and a little more money, a special A99 was trimmed by Vanden Plas and badged as the Princess Three-litre. These are particularly prized today and command a premium. This luxury four-door saloon was later marketed under the Vanden Plas moniker and featured a burr walnut dashboard and door cappings, leather seat facings and high-quality carpets.
The later £1994 Vanden Plas Princess R came equipped with a 4.0 litre all-alloy engine produced by Rolls-Royce and is enjoying a special appreciation today. You'll need about £12,000 for one, and a shade under that amount will net a very smart looking dual tone body coloured Austin A110.
HUMBER HAWK/SUPER SNIPE/IMPERIAL
A marque once associated with Royalty until Rolls-Royce snatched the crown, Humber introduced the third-generation side-valve 1944cc powered Hawk and Super Snipe II along with the 4086cc equipped Pullman, Imperial and stately sized Limousine shortly after the end of World War Two. Tracking down a decent early Hawk or Super Snipe of this vintage will be challenging, but while £11,000 to £12,500 should be enough to purchase the best examples available on the market today, expect to pay more for a first-class seven-seat body-on-frame constructed Limousine. These 1940s and 1950s models have been on the rise over the last decade, appreciating as much as £4000 on their price at the beginning of 2010.
The introduction of a brand new unitary constructed Hawk in 1957 ushered in a totally new and more modern looking body style. The new Humber was joined a year later by an all new six-cylinder Super Snipe while both were available as either a four-door saloon or a five-door estate. Overdrive was offered as an optional extra across the range and towards the end of the decade Rootes released the Series 1A Hawk and Series 2 Super Snipe. While unitary constructed models may be more plentiful today, prices have lately caught up to the earlier cars. Expect to pay between £9000 to £12,000 for the very best and £8000 to £5500 for an example in need of light restoration.
The luxuriously equipped Series 3 Super Snipe came on the scene in 1960 (identified by its quad headlight set up) and was joined a short while later by the Hawk IV featuring a revised suspension set-up with a rear anti-roll bar to help improve roadholding. In 1965 Rootes introduced the Series 5 Super Snipe along with the prestige Imperial. The final version of the Super Snipe bowed out in 1967 and when reviewing current prices, it's the Imperial that obviously takes the crown. Nice examples will change hands for around £12,500 plus, while a decent late model Hawk and Super Snipe can cost anywhere between £8500 and £11,500. Imperials look set to be promising investments, while prices for late Hawks and Super Snipes seem to be plateauing for now.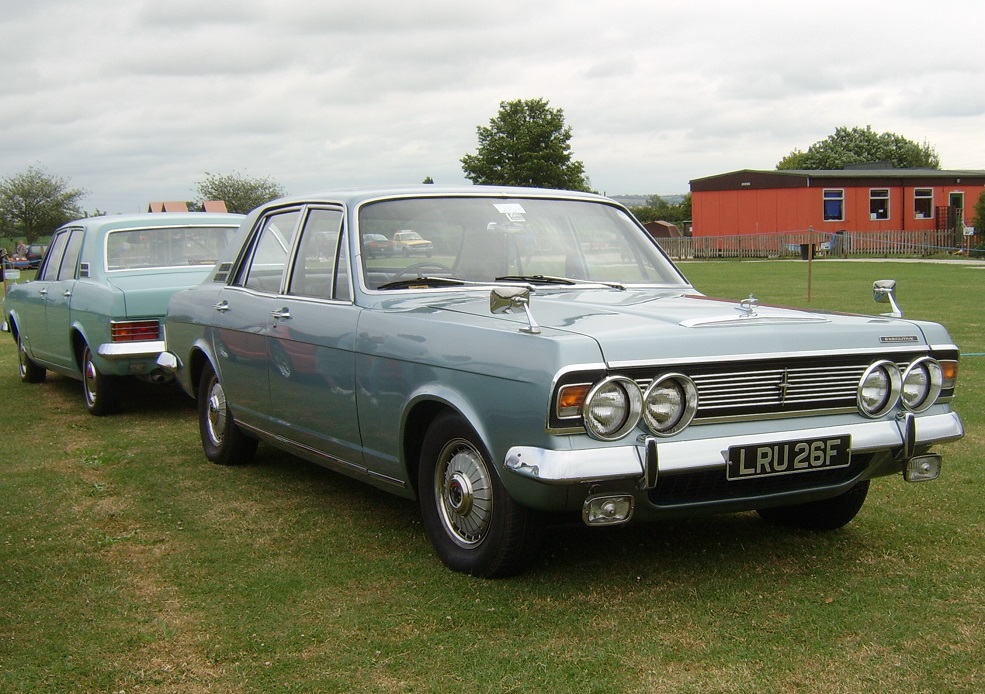 FORD ZODIAC EXECUTIVE
Although considered a wild card when it comes to executive saloons, the Mk3 Zodiac deserves a brief mention as it featured a slightly different body style to its two siblings that included a pair of opening rear quarter lights and a narrower C-pillar that gave the roof a sharper profile at the rear. A redesigned dash layout was another identifying feature as well as its more potent 109bhp 2553cc inline six.
Ford boosted the appeal of the Mk3 Zodiac in 1965 with the introduction of a luxury edition with all the options thrown in. It was badged as the Executive. It was all change again a year later when Ford took the covers off the bigger and bolder looking Mk4 Z car range and again it was the quad headlight equipped Zodiac that led the pack. Power for the new Zodiac was provided courtesy of a 2994cc V6 driving an independently sprung rear axle through a four-speed gearbox and the Executive badged models again came with all the trimmings. Today, the big money is on the uber rare Mk3 Executive. £8500 to £11,000 should be enough to land a decent example, while a decent Mk4 Executive with its 'gun sight' adorned billiard table sized bonnet should cost around £1000 less. While many were made, many were lost – not least to banger racing – and the nostalgia for these posh Fords is only getting stronger.