The first car to be produced at Toyota's Burnaston plant, the Carina E has stood the test of time by being underwhelming. Allow us to explain
First opinions can be vital when deciding whether you like something or not. With that in mind, set your eyes on the Carina E for the first time and you might feel a little underwhelmed. It's not the prettiest car in the world, put it that way. It may also bring back memories of jumping in the back of a cab during the 90s as plenty of Carinas were used an minicabs.
Despite being the first model to be produced at Toyota's Burnaston production site, early cars were actually built in Japan. It wasn't until December 1992 that Carina Es were built on these shores; early cars were imported to meet the May 1992 launch date.
We're talking here primarily about the sixth-generation Carina E, which was introduced as either a four-door saloon or five-door liftback in XLi, GLi and new GTi grades (diesel versions were known as XL models). Both bodystyles were significantly bigger than their predecessors with a 55mm longer wheelbase, 5mm extra width, 90mm longer length and 40mm more height. Those measurements also translated into what Toyota claimed was a class-leading interior that was appreciably larger in every dimension and could seat five adults in comfort. Despite these increases, its low, sharp nose, steeply raked windscreen, smooth body lines and pinched rear end endowed Carina E with a lower Cd 0.30 drag co-efficient.
Five engine options were available from launch: two 1.6-litre petrol units, two 2.0-litre petrol units and one 72bhp 2.0-litre diesel. The majority of 1.6 engines were 106bhp 4A-FE lean burn versions, while those paired to an automatic gearbox used the slightly more powerful 'stoichiometric' unit with 114bhp.
Most 2.0-litre cars used the latest 133bhp development of the 3S-FE engine found in the Toyota MR2, the previous generation Carina II Executive and the rare GTi model had the most powerful option – the new 155bhp 3S-GE engine also seen in the Toyota Celica GT and MR2 GT. Later in the GTi's life, large-scale changes to this engine increased the output to 173bhp.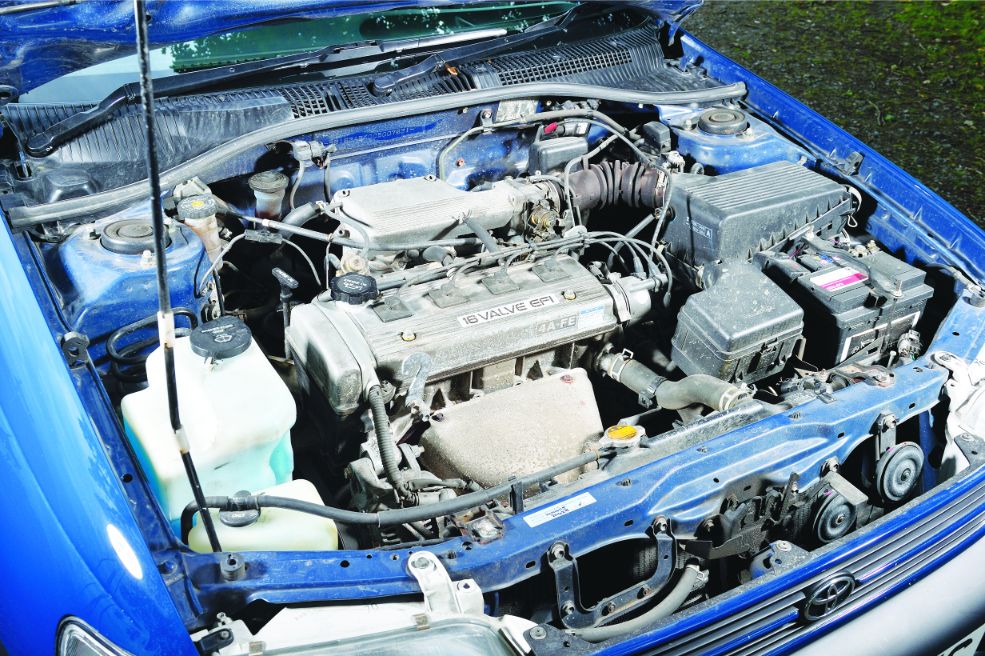 The lean burn engines worked by minimising the amount of fuel injected under partial throttle, or beneath 87mph and maximising economy. If you use maximum throttle or travel above 87mph it acts as a regular injected engine.
Just before Burnaston started producing four-door cars (five-door models were built in Britain from December 1993), Toyota extended the Carina E range to 14 cars with the introduction of a new entry-level Xi grade. A new estate model joined the ranks in April 1993, increasing derivatives to 17, and in December 1994, soon after the 100,000th Carina E rolled off the production line in Burnaston, the estate also switched to being made in Britain.
This made the Carina E the only upper-medium sector vehicle to offer British-built saloon, liftback and estate models, while Toyota was also the only manufacturer to build lean-burn petrol engines in the UK. That uniqueness was reinforced when a new 1.8-litre lean-burn engine and GS trim grade was introduced to the range in 1995.
The Carina E, then, may have looked bland but it served its purpose tremendously well; in fact, this very car almost single-handedly kick-started a wave of acceptance for Japanese family vehicles. Above all else it had the added bonus of being blindingly reliable. Couple that with a relatively low asking price of £10,695 when new for the entry-level Xi and it was something of a bargain.
At the time, the fleet market was dominated by Cavaliers and Sierras, the Carina E offered itself as an alternative, helping to open up the UK market to Japanese cars, especially now as the vehicles were being built here in Burnaston. Even the model name was introduced to help warm it to both the UK and Europe; the E denoting that the Carina had been subjected to and passed European tests.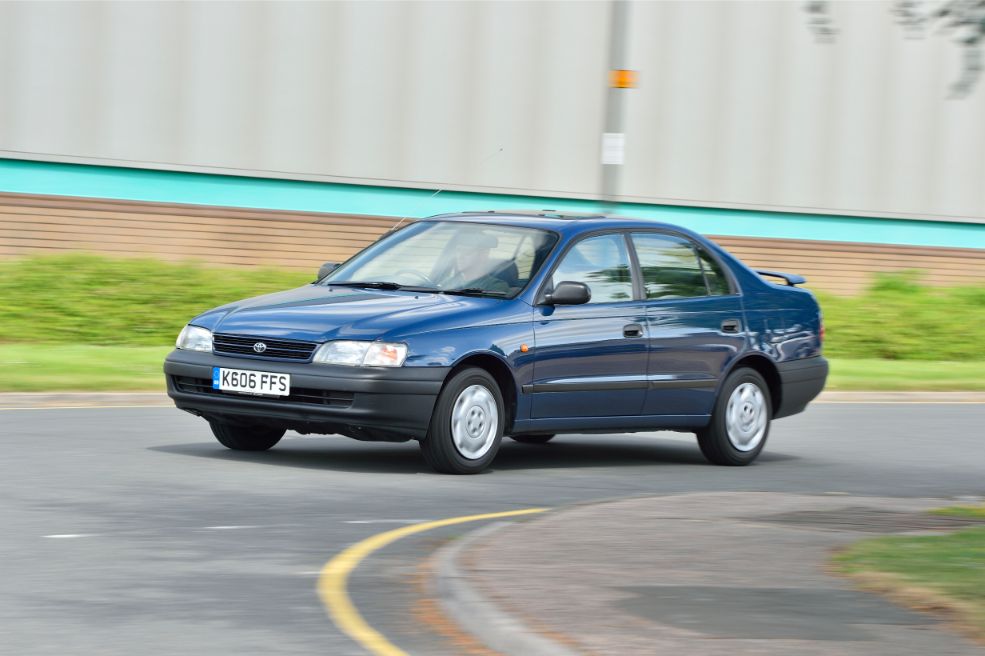 Jumping into the Carina E after previously driving a Toyota AE86 with a modified exhaust was something of a culture shock. On the one hand you have a car with almost god-like status amongst Japanese car enthusiasts with sporting muscle fibres stitched throughout its entire body; the Carina, on the other hand, is quiet, comfy, ordinary, boring some might say. Boring is no bad thing though, this car served a purpose: carry its occupants, usually families, in comfort and reliability, but do so on a budget. You can't argue that the Carina hit its targets, but what's it actually like to drive?
We have driven arguably one of the best examples of a Carina E left on the road, courtesy of Toyota's fabulous heritage collection. We implore anyone who can do so (currently under invitation only, unfortunately) visit the site, there are some hidden gems behind the closed doors.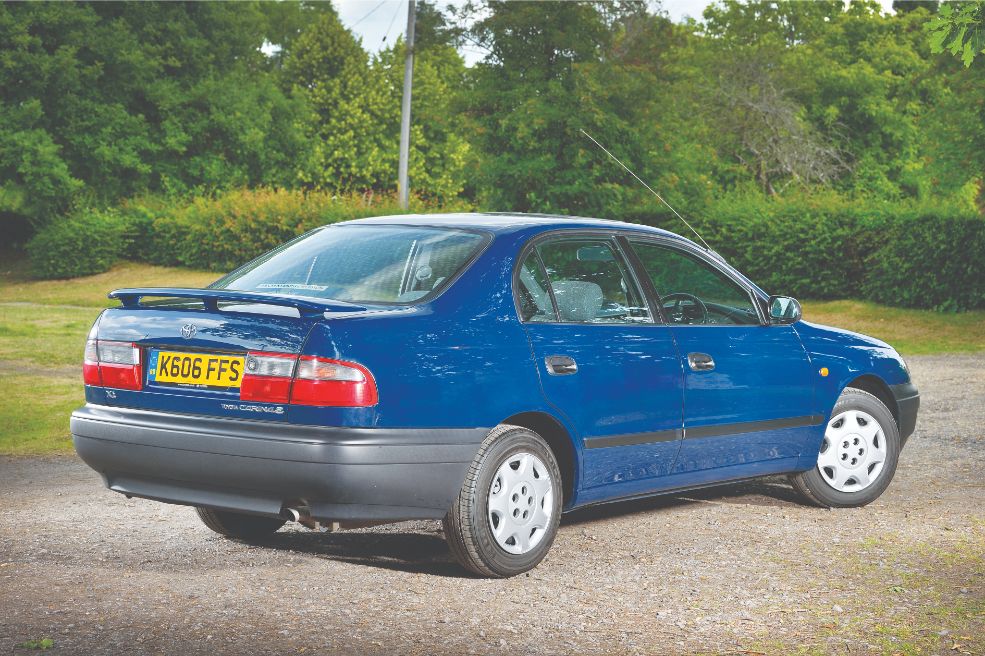 This example had covered just over 20,000 miles when Toyota bought it from Edinburgh in 2015; with only one previous owner, the parking blemishes that were then present have since been repaired giving it an almost-new look.
Jump inside and you'll initially be a bit underwhelmed. It's a typical Japanese affair inside, cheap plastics in use to bring down overall costs, fabric seats that were all the age during the 80s/early 90s and a revvy engine that did its best to provide power but fell somewhat short of those coming from Germany, for example. That being said, look closer and you'll start to pick out the little details that made it stand out from the crowd; those details included electric windows, power steering and electric adjustments for the wing mirrors.
I was pleasantly surprised by the Carina. I'm not going to pretend its on the same level as the AE86 when pressing on, but it felt as if it could keep up on the straights. Its boat-like handling left little to be desired in truth, but the level of comfort because of the soft suspension is something you don't get anymore. Today, even your base models come with stiffer suspension to help with handling. You feel it's a car you could quite easily drive up and down the motorway all day and still be relaxed when you arrived at your destination.
It floats over our poor-conditioned roads with ease and with chunky sidewalls on offer on the tyres, you won't be worried about getting a flat from impact, either. That does mean that any level of exuberant driving is met with handfuls of understeer and excruciating squealing from the tyres.
It's quite literally a turn-key car, no hidden commands or weird things to know before you get behind the wheel. The five-speed manual is easy to negotiate, and the clutch is light, even the steering is very light for easy parking when you've arrived. The engine on this model, a humble 1.6-litre with a 0-60mph time of over 11 seconds, is brilliantly quiet even when searching for some performance. It's difficult to knock the Carina when you take into account what is was intended for.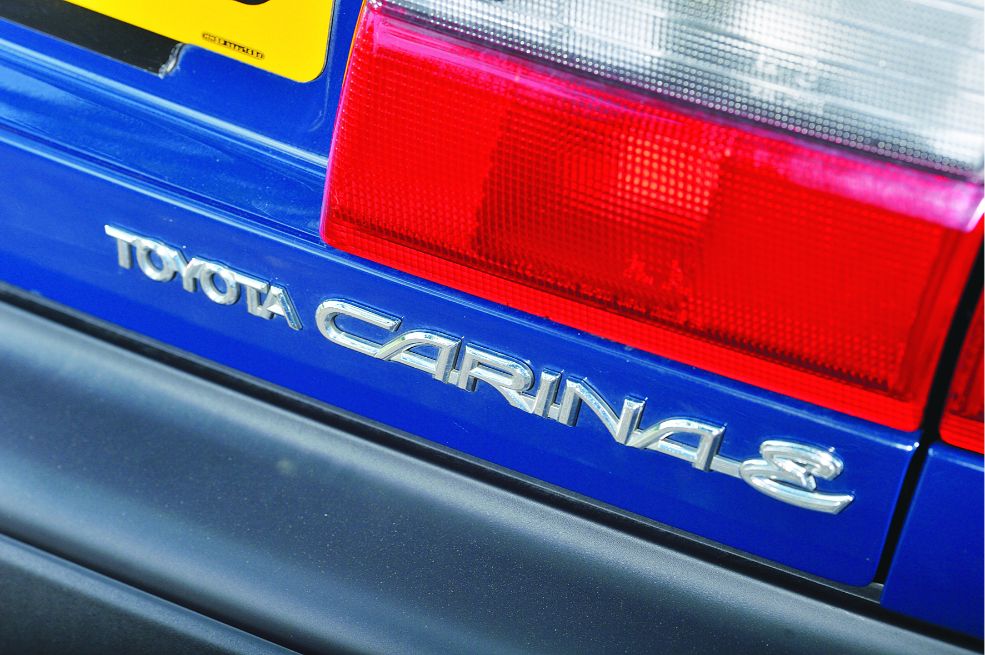 Toyota Carina E: our verdict
While we now sit almost 27 years on since Toyota's manufacturing plant opened in the UK, we're now talking about its longevity. With Brexit creating a number of currently unsolvable questions, Toyota in the UK is another of those questions. Its counterparts in the form of Nissan and Honda are slowing down production, with Honda pulling out of the UK altogether.
It's almost ironic that we're talking about the first car which left the Burnaston site here as a classic, but that's exactly what the Carina E is. We're still hopeful that Toyota continues its operations here in the UK but if the worse was to happen, the Carina might just gain the respect that it so deserves.
Yes, it's boring and uninvolving but try and name a car that did a better job of providing unsung family transport at a bargain price with utmost reliability during that era and you may only point to the Mondeo. Others tried, but never had the same robustness about it, which is evident in its years hurling drunk passengers about cities every weekend.
On a final note, over coffee I had a chat with a couple of the engineers at Toyota's heritage site as well as the press officer tasked with looking after the cars and truth be told, all of them were rather fond of the humble Carina, even going as far to say that it was a favourite amongst the team. Perhaps it's the history that helps swing that decision, or perhaps it's the seemingly ordinary driving experience that makes it so extraordinary.  In short, though, the Carina won me over.