Craig Cheetham accidentally buys a Proton and recalls the hype when the brand first appeared – but what was all the fuss about?
A few weeks ago, I got a text off a mate asking if I knew of any cheap diesel cars for sale as he was starting a new job and needed something more frugal.
Like me, he's a serial compulsive car buyer and had found himself – as I so often do – in a position where he owned several cars, not one of which suited his immediate needs.
I knew straight away where this was going. When a fellow uncontrollable shed purchaser gets in touch to say he's looking to buy a new motor, what he really means is he wants to meet up in a darkened car park and swap car keys and V5s around in shame, under dim fluorescent lighting. So it's no surprise that just two weeks later we found ourselves on the forecourt of my local garage filling out paperwork for a pair of cars that, realistically, only a handful of people could love.
Half an hour later, John was heading back up the A1(M) at the wheel of a Rover 45 Turbo Diesel (you may have heard him start it up) and I was cruising the mean streets of the southern Fens in a Proton 1.5MPi that was registered at roughly the same time as I was sitting my GCSEs.
To say it brought back a few memories was an understatement. I'd never owned nor driven a proper 'boxy' Proton before, nor had I ever forgiven the Malaysian manufacturer for changing the car's name before importing it to the UK – after all, who in their right mind wouldn't want to own a Proton 1.5 'Megavalve'? Indeed, if I keep it then job number one on my to-do list is to source the relevant badge, which sounds like the perfect excuse for a week in Kuala Lumpur.
But I digress. The memories that this car stirred in me were ones I'd largely forgotten and that I was delighted to recall – something that is part of the constant fun of old car ownership.
I was 12 when Proton first started importing cars to the UK, and while they were almost identical (apart from the rust) to my neighbour's B-reg Mitsubishi Lancer, the appeal of an entirely new car brand was hard to ignore.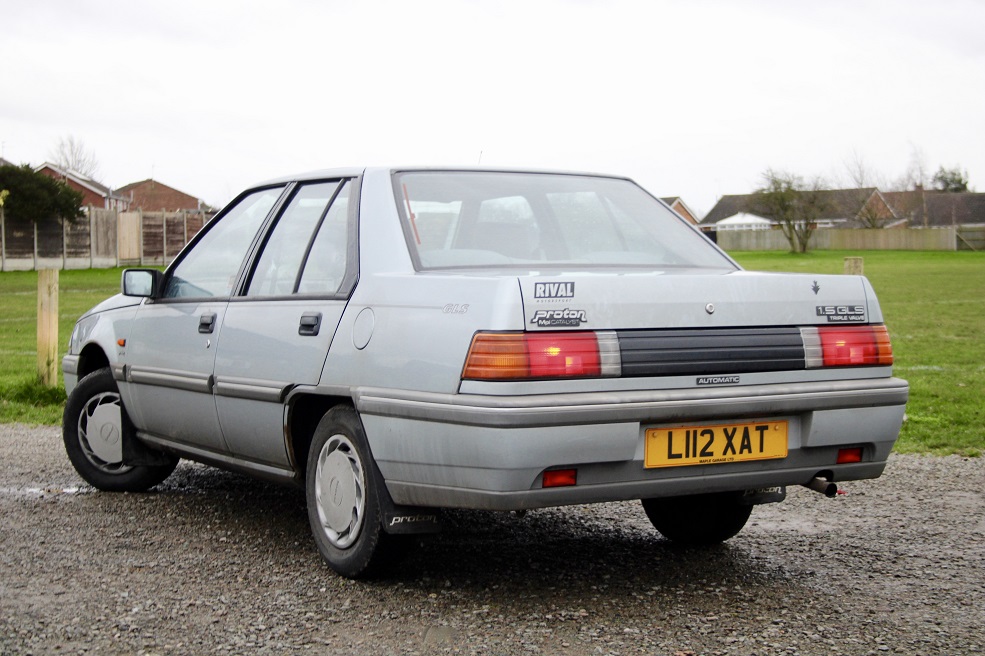 I first saw a Proton on Easter Weekend of the 1988/9 football season, parked in the centre circle of Edgeley Park – the home ground of Stockport County FC, where I spent many a happy Saturday with my father. The local Proton dealership, Premier Motors, had become one of the club's main sponsors and was giving a car away for £1 a ticket. That car, a gold 1.3 GE Aeroback (sadly not a Megavalve), was won in the half-time raffle by my dad's mate Ged, and just two weeks later we were driven to the match in the back of a car that I had seen for the first time on the pitch a fortnight earlier. As a car mad kid, being one of the first people in the country to experience a Proton was genuinely quite exciting and gave me a rather pointless soft-spot for them. Enough, in fact, for me to be one of a handful of people to have a Proton on my car ownership 'one day…' list ever since.
So, what's it like? Well, as you'd expect, it feels a bit cheap and cheerless and is somewhat lacking in the styling department. That said, the interior is gloriously weird, with bizarre rotunda switches for both the lights and the wipers, a single column stalk, a chunky but hideous single-spoke steering wheel and a weird shelf sticking out of the dashboard that's roughly the same size as the one we have over our kitchen radiator. It's an ergonomic nightmare, but also a joy to behold in the way that only an old car dashboard can be.
It's pretty miserable to drive, too. Mine's the 1.5 GLSi which is about as posh as a Proton got, but that's not to say it's at all luxurious. It has power steering and it once had a radio (now just a gaping chasm in the dash), but apart from that there's not much else.
Yet it's pleasant enough if you can forgive the auto gearbox, which is about as indecisive as a Commons Brexit vote. It does, however, deliver smooth and surprisingly peppy performance from its Megavalve engine.
More importantly, I can now tick yet another car off my bucket list. Try saying that about a Pagani Zonda…