The debate surrounding electric classic cars rages on as the modern car market continues its relentless shift to EVs
Few would argue that steps need to be taken to protect the environment, and for the automotive industry, electric vehicles are currently leading the charge. It's only new ICE cars that are being banned rather than existing ones, but it has encouraged discussion on how the historic vehicle movement will survive in the long term. There's a lot at stake: the historic vehicle sector contributes £7.2m annually to the UK and employs 34,000 people.
For some, a converted classic is deemed to have lost its historic status. Last year international organisation FIVA said that classics converted to electric power didn't comply with its definition of a historic vehicle, with our own FBHVC subsequently adopting the same stance.
And yet, an industry dedicated to electric classics is fast gathering pace in the UK and beyond, and has found many advocates. Some firms, such as AC Cars with its electric Cobras and RBW with its MGB Roadster are sold as new cars with all new parts. Others take an existing classic and replace its drivetrain with an electric one. At the more affordable end of the scale, that means cars like London Electric Cars' brilliantly simple electric Morris Minor, which retains its original gearbox and uses second-hand parts from a Nissan Leaf – in most cases conversions of this ilk can be achieved for under £20,000. That couldn't be described as cheap, but Lunaz's recently announced electric classic Range Rover starts at £294,000 including VAT.
Like Lunaz's previous classic Rolls-Royce EV conversions, it will undoubtedly be beautifully finished but that's well out of reach for regular enthusiasts, especially given a tidy three-door Range Rover can be had for a tenth of the price. However, the firm says that the global demand for such vehicles means it is doubling its workforce and expanding its production facility.
Of course, there are arguments in favour of such conversions. The industry surrounding them will also be contributing to the UK's coffers, and for companies like Lunaz, attracting significant sums from overseas. The manufacturing footprint of a conversion is much smaller than a new mainstream EV, and as the technology moves forward, it's likely to get more accessible and cheaper. The second-hand market for EV parts to repurpose is also likely to increase as more modern EVs are broken.
There's the ownership experience to think about too. There's also the potential for improved reliability and cheaper running costs, as well as greater usability – many conversions are designed to be reversible, but people who have driven them are impressed enough to question why you'd ever do so.
But most central to the argument is that conversions are a very good way of ensuring that iconic vehicles remain on our roads for as long as possible. Indeed, that's the view of Lunaz founder David Lorenz, who believes there will still be 2bn fossil-fuelled vehicles on the planet by 2030. "Our approach answers the urgent need to extend the life of these vehicles for future generations," he says.
Any green intentions are certainly noble, but whether EV conversions become mainstream in the historic vehicle sector surely depends on what happens to the freedoms classics cars currently enjoy. Part of the appeal of a pure electric vehicle is that they are exempt from vehicle tax and UK low emission zones. However, historic vehicles are exempt from such charges on a rolling 40-year basis in any case, so you'd need to convert a younger vehicle to see any benefit. And while battery electric cars are exempt from the London Congestion Charge, this is only due to last until 2025.
The FBHVC has already said it will lobby to ensure the ban on new vehicles does not extend to restrictions on the use of pre-existing vehicles powered by fossil fuels, and for the protection of fossil fuel supplies long into the future to service historic vehicles. Time is on its side too, as it simply wouldn't be possible to produce cars fast enough to make petrol and diesel cars "redundant" by 2030 unless something drastically changes. New hybrids are set to still be on sale until 2035, so you'd expect petrol to still be available to cater for them for at least five years after that date.
What's more, FBHVC figures reveal that historic vehicles only cover an average of 1200 miles a year, which means all the historic vehicles on UK roads account for less than 0.2 per cent of the total miles driven each year – tiny in the grand scheme of things. Debates also continue over how green our electricity really is, as well as concerns over charging infrastructure, especially in rural areas.
So it looks like there's no need to panic about the future of your fossil-fuelled classic just yet. Electric conversions can certainly impress, but their cost means you need to be suitably affluent to be an early adopter, especially at the more expensive end of the market. While we applaud anything that can keep historic vehicles on the road, it may be worth sitting it out for a bit longer before throwing the jerry cans in the bin.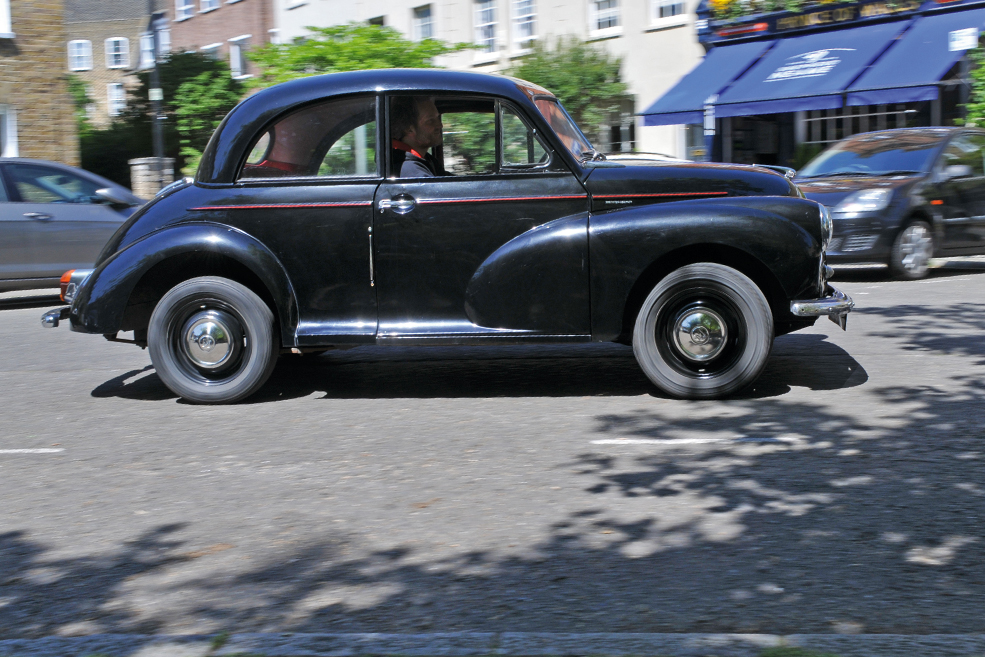 Classics World opinion
Jeff Ruggles, Markets Editor
"I'm certainly not against the idea of an electric classic, but current conversion prices are too rich for me and it would have to be a DIY job. A friend is currently converting a Mini to a EV with a Mitsubishi Outlander rear motor, which I find fascinating. To me it's not far removed from fitting a modern engine like a Honda VTEC, and I've had plenty of fun with those! That said, I'll most likely plump for a zero-emission car to cover most of my miles and keep my classics fossil fuelled for the foreseeable."
Paul Wager, Group Editor
"I've sampled plenty of electric converted classics and although the top-end cars impress with their engineering and driveability, they often use so many new parts –including bodyshells – that they can't really be regarded as a classic. My favourite remains London Electric Classic Cars' 1953 Morris Minor which retained all the charm of the original car but with added convenience and ULEZ-friendly running costs. Rather than try and turn the Moggy into a performance car, used Nissan Leaf parts were easily accommodated without butchering the original car and it still felt very much like a '50s Minor."