Under appreciated in the UK, classic Peugeot's medium and large saloons make for excellent (and affordable) family classics. Is now the time to buy?
PEUGEOT 404 (1960-1975)
Rugged, slow and reliable, the 404 saloon bore more than a resemblance to the contemporary British Motor Corporation ADO 9 range; Pininfarina, working to similar briefs, produced two series of rear-wheel drive cars known for their staying power.
That the 404 spawned a beautiful and expensive coupe and cabriolet is of no consequence to this week's Market Trends – the affordable 404s are the saloons, followed by the pick ups and estates beloved of the African continent; their quad-sprung live axle rear-suspension meant that carrying capacities were impressive, and ride comfort assured. The 404 began a long-held Peugeot policy that lasted well into the Nineties – of building shock absorbers in-house – which allowed its engineers to achieve a ride/handling balance second only to Jaguar in conventional terms.
Canted engines were also brought in during the 404's career; inclining the model's 1.6-litre four pot over by 45 degrees allowed for a lower bonnet line than its British forebear. Mechanical Kugelfischer fuel injection, first introduced on the 1962 Pininfarina cabriolet, added to the 404's mechanical refinement, and a year later, the De Luxe saloons got in on the action.
Right-hand drive 404s are few and far between nowadays – many got exported for taxi work. Via websites Car and Classic (and Classic Driver), we found five 404s (three saloons, one pick up project and one seven seat estate) ranging from £3200 to £15,302; reckon on between £3 to 6k for the very best saloons, that and more for a good pick up, and five figure sums for good estate cars.
PEUGEOT 604 (1975-1985)
Peugeot's last rear-wheel drive executive car was fit for French president Valéry Giscard d'Estaing; indeed, so complete was its engineering, the 604 was dubbed 'the French Mercedes' by critics.
Imposing Pininfarina three-box styling and 2.6-litre PRV V6 power kept it competitive, but despite a well-regarded diesel option, sales remained slow outside France.
The 604 was nowhere near as versatile as the smaller 404 and 504; it began life as a four-door saloon and a four-door saloon it stayed, although coachbuilder Heuliez did produce a series of stretched 604 limousines.
Despite rivalling Jaguar's XJ6 Series 2 and 3 in the ride and handling stakes, and besting the Coventry car on fit and finish, there were few takers for Peugeot's flagship in the UK. Even then, the creeping influence of German marques was on the rise. The 604 disappeared from UK pricelists around 1983/4, but stumbled on until 1985 in its homeland.
Unless you can persuade the owners of the handful of remaining 604s left in the country to part with their cars, you're heading overseas to bag a 604, most probably in left-hand-drive. A 2014 advert for a 1975 V6 listed a UK 604 at £4995; heading to Classic Driver, we found three other 604s, one a turbodiesel, for the currency converted equivalent of £5275, £5538 and £6945 respectively.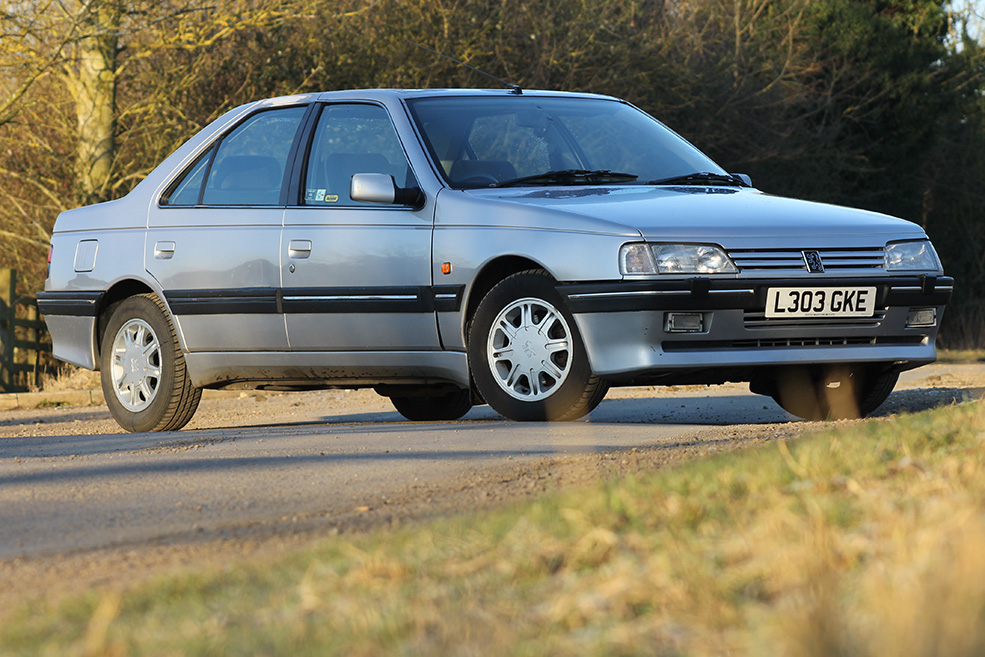 PEUGEOT 405 (1988-1997)
European Car of The Year Award winner upon its launch in 1988, the 405 was proudly built in Britain off the back of a vibrant marketing campaign which appropriated Berlin's 'Take My Breath Away' for its own purposes. Now celebrating its 30th anniversary, the 405 is slowly moving out of its banger phase and into the hands of modern classic car enthusiasts.
Although the high-performance Multi Injection 16 (Mi16) variants are now attracting the highest asking prices, lesser 405s are still attainable. Despite having left our shores in 1997, Iran's Iran-Khodro still builds the 405 as the Peugeot Pars, even offering a pick-up version for those suitably inclined.
Sub £1000 405s are easily attainable in saloon or estate form – in fact, the late racing driver Richard Attwood's 405 estate sold a few years ago at auction for just £550.
Asking price watchdog The Market watched 122 405s sell between December 2014 and March 2018, posting a price range of between £1500 and 3800 for the cleanest saloons and estates.
It seems collectors are taking interest in the most luxurious 'cooking' 405s, if recent eBay activity is to be believed. Good condition models of the STI (petrol) / STdT (XU diesel) and Executive – the fastest and best-equipped 405s outside the Mi16/Le Mans are fetching decent sums; last month, a 1994 STI was bid up to £3500. The 405's time may well have come: if you want one, don't get caught napping.