Beautiful, powerful and huge fun to drive, the TVR Griffith is the perfect tonic to more expensive sports car alternatives
Words: Craig Cheetham
When TVR pulled the wraps off its new Griffith at the 1990 British Motor Show, the collective intake of breath from the world's motoring media was entirely genuine. The Blackpool-based manufacturer had spent the past decade or so bolting bits of extra plastic onto a series of Seventies-inspired wedge-shaped sports cars in a bid to keep its hand-built roadsters look at least vaguely up to date, but the Griffith was something entirely different.
It was an organically beautiful car, pretty from every angle as if someone had taken an early Jaguar E-type roadster and updated it all round. It's probably no coincidence, then, that the Griffith and the Jaguar XK8 have a very similar front profile even if the Jaguar arrived half a decade later.
In 1990, there was nothing that looked quite like the Griffith, and from its tiny stand in the corner of Hall 4 of the NEC, TVR generated more column inches than the Renault Clio and almost as many as the new Ford Escort – which was Britain's bestseller at the time.
Styled by TVR boss Peter Wheeler and his engineering director John Ravenscroft, the slippery Griffith combined effective aerodynamics with simple, uncluttered but unmistakably elegant styling. It matched its looks with the right kind of performance too, being equipped with a 4-litre Rover-derived V8 that produced 240bhp. With 0-60mph in 4.9 seconds and a top speed of 170mph it wasn't a car that was all mouth and no trousers, while in handling terms it was pure TVR. That means crude, but not in an unenjoyable way – more like a latter-day AC Cobra. You need to be a confident (and skilled) driver to enjoy one to its fullest extent.
From day one, there was a waiting list, which cleared only ten years later as the Griffith neared the end of its life-cycle.
The arrival of a 280bhp 4.3-litre derivative in 1992, engineered from the Rover V8 by TVR's own team, brought with it even better performance figures, but at still less than half of the price of a Porsche 911. Enough of a saving to make you put up with some of the Griffith's cruder elements, such as its upturned Vauxhall Cavalier tail-lamps and hand-finished (but hardly exquisite) cabin.
In 1993, the 500 model was added to the range and the Griffith finally received the incredible power that its shape so deserved, courtesy of a TVR-engineered 340bhp 5.0-litre version of the venerable V8. Zero to 60mph took 4.1 seconds, but it was the in-gear acceleration that made this car so appealing. That, and the noise from the exhausts.
This was enough to keep the Griffith in production until 2001 alongside newer and more sophisticated models (though sophistication is always relative in TVR terms). It was one of the best-selling TVRs of all time and was capped off with a run of 100 Special Edition cars. They have a commemorative plaque in the glovebox, and different rear lights and door mirrors.
Bodywork
Given the TVR Griffith's fibreglass bodywork, external corrosion isn't an issue – but this also means the Griffith can be a deceptive car. First, check for any accident damage, as cracks or warps in the GRP body panels aren't ever going to be an easy fix. This is specialist repair territory and you'll need a fibreglass specialist to make it look anything close to right.
If the body is good on top, then the most important checks are underneath and don't be lured in by a pretty outer body. The Griffith's chassis is made of mild steel and can corrode quite badly, especially around the outriggers, but you need to inspect everywhere. The powder coat finish can let water in to rot the steel box section unnoticed.
Most cars will have had remedial work or a new chassis by now, but insist on having it checked and seeing receipts for work if the vendor says it has been done. Outrigger replacement can run to £1000 a side.
Engine and transmission
The good news with the Griffith is that the engines are derived from the humble Rover V8, so they're simple to service and rebuild. There are a few anomalies, however: the 4.3-litre models are larger than standard capacity thanks to TVR's 'Big Valve' conversion and some elements of the valve-gear are unique to the model.
Oil pressure should be 10-15psi at idle and 30psi when driving. Anything lower and you've probably got bore wear which will ultimately lead to a bottom end rebuild. Also, ensure the thermostatically-operated fan cuts in when the engine reaches 90 degrees. If it doesn't, the engine may have overheated, or there could just be a problem with the sensor connections.
Leaks from rocker cover gaskets and sump are common and easily cured – or easily lived with – but usually just renewing the rocker gaskets cures the problem, and it's a cheap job.
A common modification recommended by specialists and owners' clubs is stainless steel radiators, which regulate temperature more easily inside the TVR's cramped engine bay. Uprated camshafts for higher compression are also common, as is a Range Rover starter motor conversion, which adds a bit more firepower.
Transmissions are tough, especially on early models which use the Rover/Land Rover LT77 unit that's designed to manage high loads of torque. Later cars have a Borg Warner T5 unit, which is also relatively trouble free and has a shorter throw, but can exhibit synchromesh wear.
The limited-slip differential is long-lived, but listen for any whining or grumbling. The Griffith started life with a GKN diff and swapped to a Salisbury unit in 1994, with a Quaife LSD.
Interior and trim
As they were all hand-finished in the factory, TVRS have bespoke cabins and the quality can vary from one car to the next. The most common issue you'll find is a worn driver's seat bolster, although this will usually be easy enough to get sorted with the attentions of a skilled trimmer.
Check for dampness in the carpets, which can be down to a number of things: a leaky door seal, leaky roof seal or water ingress through the bulkhead are all common. After all, it's a TVR.
Inoperative dials aren't unusual, most likely due to a bad earth rather than a broken gauge or sometimes corroded contacts on the dash circuit board. Most of the electrical architecture is run via a Lucas loom taken from the 3.9EFi Range Rover, and stashed in a box behind the glovebox. It's a jumble of wiring and fault-tracing can be a frustrating process.
The fabric hood is in two parts, with the targa-style upper section stowing in the boot. The original cover for this is a sign of a caring owner, though the majority of owners never even use the roof at all.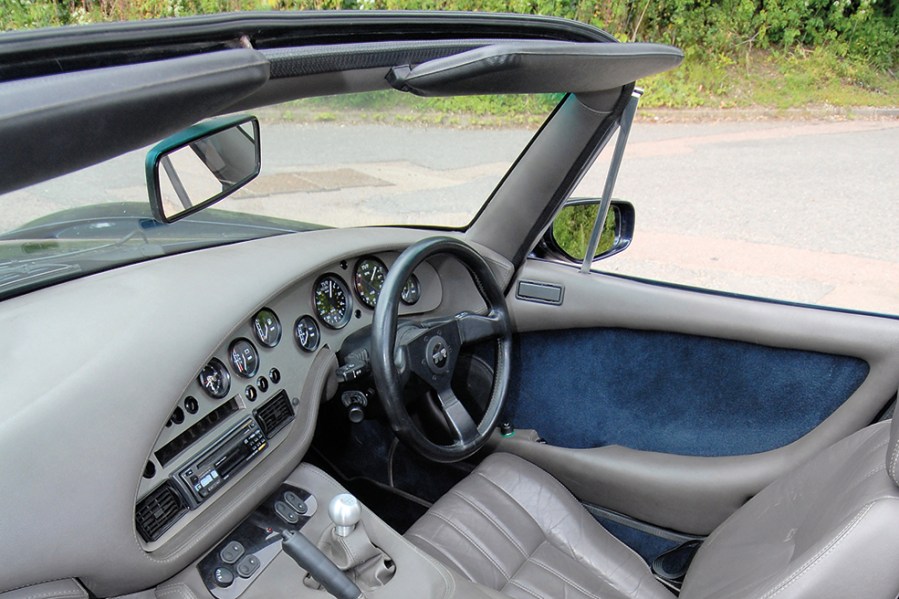 Suspension, steering and brakes
The suspension set-up on the Griffith is effective, but also pretty straightforward so there are no major concerns for the buyer. The most common wear points are the rear suspension bushes and anti-roll bar drop links, so listen for clunks from the rear of the car and the front corners respectively. Repairs are straightforward with most TVR specialists carrying spares.
Worn bushes will usually show up through twitchy handling and vague steering feel. Front ball joints are also a known issue. Early cars used Koni shock absorbers, while later models changed to Bilstein, but both work well and are easy to replace. Also look for uneven tyre wear or feel for shudders through the steering wheel as indicators of worn suspension. Rust can affect the front wishbones, so check for this. New ones are simple to fit as it's a bolt-on job.
Also, remember that earlier cars didn't have power steering. It arrived in 1995, though quite a few earlier cars have had it retrofitted as it makes the Griffith much easier to live with. Brakes are either 240mm and 260mm discs, and both work well and are straightforward to maintain.
TVR Griffith: our verdict
You can get into Griffith ownership from around £15,000 upwards, although for a decent car you'll need to budget £18,500 upwards. Meaning that now, as then, you're still talking a fraction of Porsche 911 money for a car that's both rarer and arguably more exhilarating.
The anomaly here is the really early 4.0-litre models. From 1992/3 on they're the £15,000 poor relations, but a launch year car has pedigree that puts it in much higher regard. A 1991 car will be worth £20,000 plus for that reason alone.
Whichever you choose, the Griffith stands as one of the most desirable classic TVRs thanks to its combination of raucous engine, simple good looks and incredible driving experience. Prepare the credit card for some fuel bills and get ready for some serious thrills!