The Triumph Stag is a cornerstone of the classic car hobby that's popular for good reason. Here's what you need to know
Launched in 1970, the Triumph Stag was a happy accident more than a deliberate piece of product planning. A true successor to the original Triumph Roadster, its development was beset by niggles and its production affected by poor quality control. A four-seater, the Stag occupies a rare market niche where the whole family can enjoy an open British grand tourer.
And were it not for the Meadows Frisky microcar, the Stag may never have happened. You see, the Frisky was the brainchild of Captain Raymond Flower, who held the Nuffield franchise in Egypt. He envisaged a small and economical car which would provide motoring for all, but with scant interest in Egypt he brought the idea to Britain. Meadows bit, and a number of Friskies were built in two distinct body styles. The design had been created by young Italian stylist Giovanni Michelotti, and when Flowers pitched his concept of a larger GT to Triumph, again Michelotti was his intended designer. Harry Webster was so impressed with the Michelotti "Dream Car" that he assigned all future styling work to the Italian on the spot.
The Stag was the result of Michelotti's need for a 1965 Turin Motor Show star. A request was made to Webster for a used Triumph 2000 upon which to base it. Triumph agreed, on the proviso that if they liked the results they could have first rights. It was never shown at the Turin Motor Show as intended, as Triumph instantly whipped away the prototype to begin production.
Originally a full convertible, it was found to be too structurally weak. And so one of the greatest PR exercises of all time was carried out – that which was in fact bracing to hold the car together was sold to punters as a roll over bar to protect occupants in case of the car going all upside down. Fact was, it wasn't strong enough to act as a roll cage – but it did the job of holding the door frames square under acceleration!
There are broadly three Stags to choose from – all distinguished by trim changes rather than any serious mechanical upgrades. The original Mk1 has steel wheels with Ro-style trims, is fully colour coded and has no coach-lines. The Mk2 Stag of 1973 brought a black rear panel, clearer gauges, a coach-line and those GKN alloy wheels for which the Stag is well known. New seats and a revised hood were fitted, along with a slightly smaller steering wheel. In 1975 this was revised again – still called the Mk2, it lost the black rear panel and gained aluminium sill trims. Production ceased in 1977 with 25,939 produced – a fraction of the target, largely owing to the American market's distaste for the Stag's unreliability.
When new, a Stag owner would have been pretty well-off, though the task of keeping one in fine fettle could have been bankrupting if care wasn't taken. These days, ownership is simple and inexpensive, and prices have finally started the upward swing which has been forecasted for the last two decades. Buying now would be clever.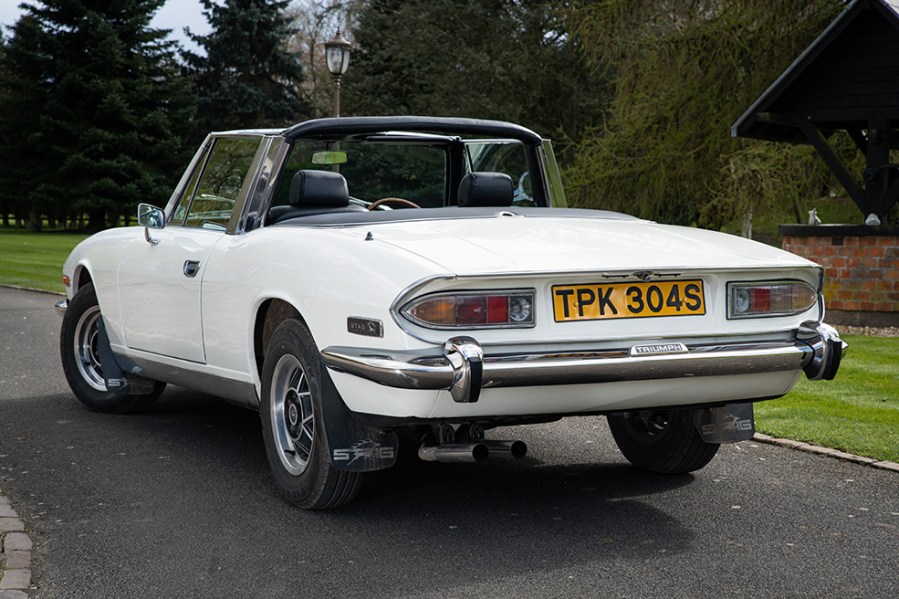 Bodywork
As with so many 70s British classics, your chief enemies with a Stag will be rust and past repairs. The sill covers on late cars can hide several nasties and are riveted on at the factory – conscientious owners will have replaced the rivets with screws in order to be able to remove, wax protect and regularly inspect, but don't count on being able to remove them to check the condition. Rather, check the A-posts thoroughly, including behind the carpet if you can. These are also known weak spots and vital for the strength of the shell. Repair needn't be expensive, but it does need to be factored in.
Check the floorpans too, especially at the front edge where they can catch water from the front wheels and corrode if you aren't careful. The boot floor can be another trouble spot if not looked after, and the windscreen pillars can rust through trapped water in the windscreen seal.
We would also check the condition of the hood thoroughly – both the mechanism and the cover. Slight leaks can be cured with replacement seal kits or some Fabsil tent sealant, but a bent frame won't be cheap to repair. A new hood cover can cost up to £960, while a frame is over £1000 on an exchange basis.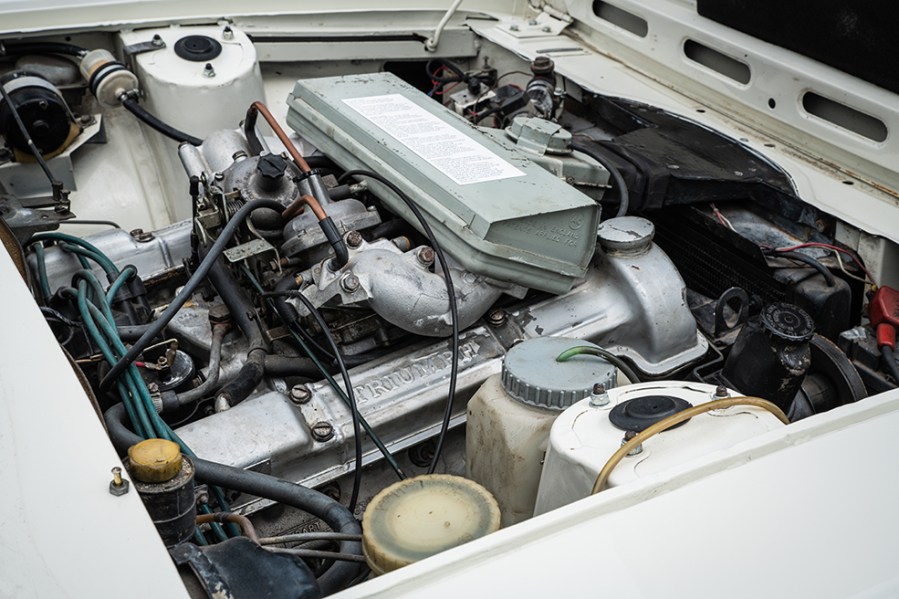 Engine and transmission
The Stag was only ever offered as standard with one engine, a three-litre V8 derived from the same programme as the slant-four, involving two blocks mounted to a common crankcase. Originally meant to be 2.5 litres and injected, the injection's reliability and emissions, and smaller output's lack of torque led to revisions to 3-litre and twin Strombergs. The design of the engine was brilliant on paper, revvy, eager and relatively economical, it should have been a winner. But poor quality control and production decisions led to an expansion tank mounted below the heads, a simplex timing chain which can wear, and omissions in the service schedule including the need for an annual coolant flush. The number that were inadequately cleaned out during the casting process didn't help.
The engine soon earned the car the nickname of the Triumph Snag, and many were converted during the 1980s to run the Ford Essex V6 and the Rover V8. Neither of these conversions really suits the nature of the car, and both will drastically devalue an otherwise good Stag – up to 50%.
Nowadays, scores of specialists have cured the Stag's ills – from uprated radiators and expansion tanks to full strip-downs and rebuilds – and with regular 3000-mile oil and filter changes, a Stag should be no less reliable than any of its contemporaries. With that said, it's still important to check the service file for evidence of repair work, and a car with an uprated cooling system should be worth around 10% more than a standard car. Don't worry if it's not the original V8 – by now, many of these cars have had an engine change even if it's for another Stag engine.
There were two standard transmissions available for this car from Triumph – a four speed manual derived from the TR range and a Borg-Warner three speed automatic (early models used the Type 35, later the Type 65). Manuals were available with optional overdrive, standardised for the Mk2. Manual gearboxes offer better cruising rpm and economy, but can be clunky in use. Automatics suit the character of the car, but they rev high at speed and enjoy a drink. Of these options, a manual overdrive car is preferred.
However, many have since been converted to four speed automatic using a Tate and Lewis conversion kit. This uses the ZF 4HP22 from Jaguar XJ and XJ-S models – the result is an automatic with the gear ratios, roughly, of a manual overdrive car. Not a cheap conversion, and one which tends to hold its value for used Stags – but you'll be glad you spent the extra.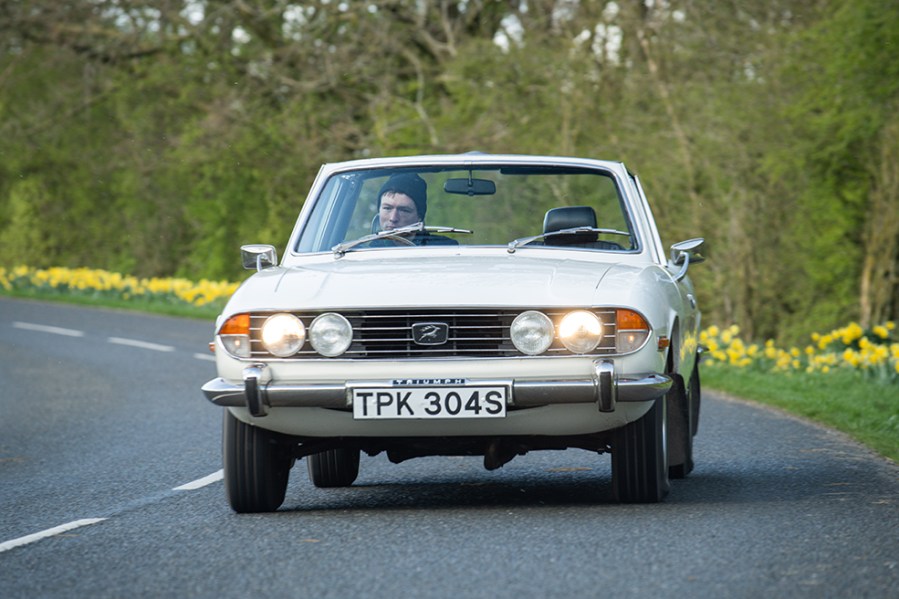 Suspension, steering and brakes
Stags should ride well – no worse than the 2500 saloon upon which they're based. And everything is available to make the Stag ride and handle like it should – not only to original spec, but lowering springs, polybush kits, the lot. Whatever you want from your Stag can be made to happen – though cars that have been left standard are usually most desirable.
Stags all left the factory with power steering. Steering racks can wear and introduce a wobble to the wheel that feels almost like wheel balance issues at first. However, plenty of companies can refurbish them and fitment isn't difficult. And check that it's not been fitted with van tyres to combat the difficulties of sourcing tyres the correct size. Ideally, the best tyre for the job Is still the Michelin XAS, available from classic tyre specialists in the original late model size of 175HR14. However, if these are too much of a stretch to your budget, 195/65/14 modern car tyres are far safer than van tyres, whose stiff sidewalls and tread patterns offer less grip than you'd want.
Stags left the factory with servo assisted front discs and rear drums. It's a simple system that should pose no issues in service, and parts are still widely available to maintain it. It can be relatively inexpensive to stop your Stag safely – we found discs for £39 each, pads for £17 per set, and rear shoes for £25. Plenty of uprated options are available and increase the desirability of a Stag on offer.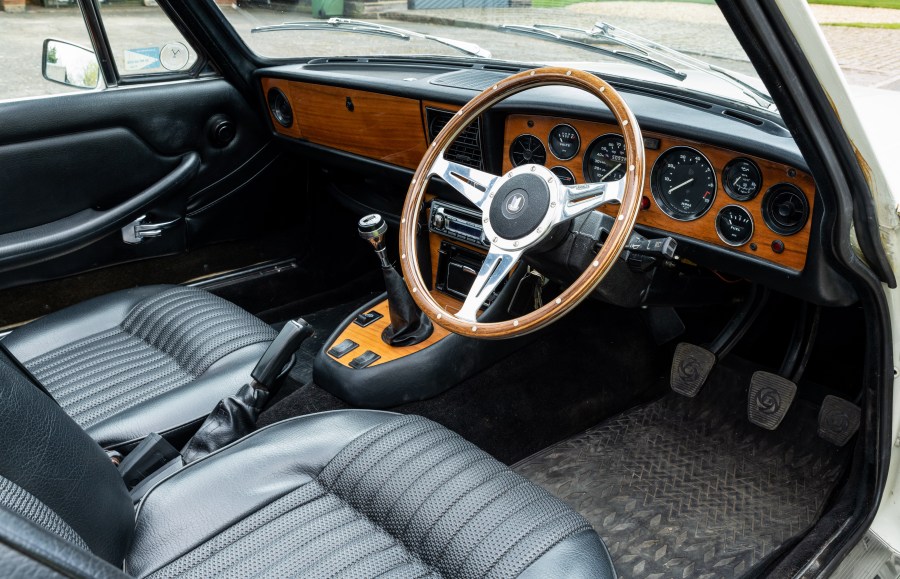 Interior and trim
Contrary to popular opinion, the Triumph Stag interior was only ever finished in vinyl from the factory. While some magazines had seats in their press cars reupholstered in the nylon from the saloon – and any owners will have done too – Triumph felt that the expanded knit pattern vinyl was more likely to be effective against the uncomfortable truth of a British summer should the heavens open. Vinyl seat covers for Mk1 and Mk2 seats are still widely available new, as are kits to renew the foam.
Leather seat covers are a popular if non-standard upgrade, and many of the Stags you will see for sale are so trimmed. This isn't undesirable but shouldn't command a price increase. Moreover, more modern seats such as those from the Rover 200 Coupe or Jaguar XJ-S may even devalue your prospective purchase through their lack of originality.
Check that the wood hasn't cracked, nor the veneer lifted. Kits are available, but at a price. And make sure all the symbols on stalks etc are visible. New heater surround bezels in particular are no longer available, and good ones are prized. Electric window switches can gum up and the protective coating can wear leading to UV damage, but at over £45 each for new ones many owners would prefer to refurbish damaged originals.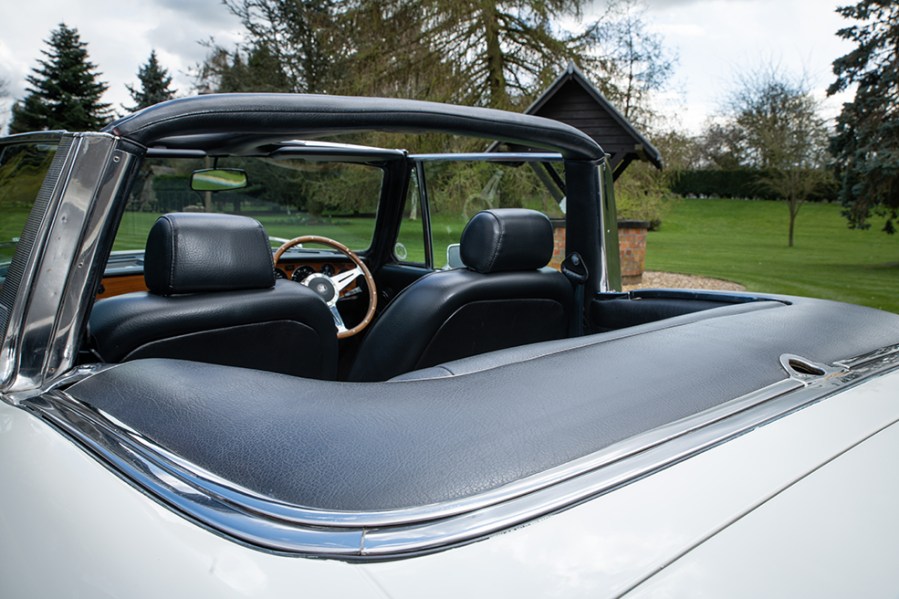 Triumph Stag: our verdict
With so many Stags out there to choose from, it's best not to get hung up on any particular example. We would struggle to picture a part of the country in which there are fewer than three or four for sale at any given moment, so buy on condition and be prepared to walk away.
Stags only ever came in one body style. Whether you choose to have a hard top or not depends in part on whether you want to use it in winter, in part on whether you like the looks and in part on whether you have anywhere to store it. The most valuable Stags still have Stag V8s – Ford V6s and Rover V8s devalue the model. Manual overdrive cars are popular but the box isn't the best – they're worth more than Borg Warner automatics, but cars retrofitted with the ZF four speed automatic remain the most valuable and desirable for regular use.
Stags are colour sensitive; those 70s hues such as Magenta and Topaz might appear amusing but they're typically harder to shift than traditional British Racing Green, Carmine Red and White cars. The best compromises are Russet Brown and Mimosa Yellow if you want colours that are of their time yet retain an element of class.
If we were buying, we'd choose something in a good strong solid like red or green, with the ZF automatic gearbox and the original Triumph engine, and we'd get one with the best body we could get. That's the sort of Stag that will bring the highest return upon your investment in years to come.