The Rolls-Royce Silver Spirit is the cheapest entry point to the brand but also an appreciating asset. Here's how to grab a good one
Words: Sam Skelton
Launched in 1980, the Rolls-Royce Silver Spirit was effectively a continuation of the previous Silver Shadow. While the Shadow has captured the hearts and minds of the classic car cognoscenti and good examples are still difficult to buy  on a budget, the Silver Spirit offers virtually the same experience on a far more feasible budget for the majority of enthusiasts. From 1980 to 1998 the entire Rolls-Royce and Bentley range was derived from the SZ – or Silver Spirit base, and this model was technically responsible for the rejuvenation of the Bentley brand as well as the continuation of Rolls-Royce until a new, BMW-led era.
Under the skin, the majority of the early Silver Spirit was Silver Shadow – up to and including the majority of the interior architecture. The drivetrain was the same too – the 6.75 litre V8 and three speed GM400 gearbox came from the outgoing model, though in later cars fuel injection and four speeds became de rigeur.
The factory only ever built four door SZs, though external coachbuilders like Jankel produced two door saloons and dropheads. Later Corniches, though externally continuing the Silver Shadow line, owed far more to the contemporary Spirt beneath the skin. Bentley branded variants were offered throughout the life of the Silver Spirit – ranging from the mild Mulsanne to the thunderous Turbo R, Bentley production was initially lower than Rolls-Royce but by the 1990s Bentleys were selling in significantly stronger numbers.
The Silver Spirit range was upgraded constantly throughout its 18 year lifespan, starting in 1987 with the fitment of fuel injection. Two years later the Silver Spirit II was launched, featuring Active Ride technology and a minor facelift. Zytec fuel injection and a four speed gearbox followed for the Spirit III, and the Spirit IV of 1996 was facelifted with a revised grille, new bumpers and further interior revisions.
In 1998 Rolls-Royce unveiled its new Silver Seraph, developed in conjunction with BMW and powered by a 5.4-litre derivative of BMW's V12 engine. This marked the end of the independent Rolls Royce, and of a line begun in 1965 with the Silver Shadow.
Silver Spirits suffer from the same budget conscious former keepers as Silver Shadows always have, and it's easy to buy a poor example in need of more than a little TLC. The market hasn't yet awoken to the delights of the Silver Spirt, and soo many are still being neglected as part of the wedding trade, or run by those who don't understand that a cheap Rolls-Royce still has Rolls-Royce bills. While solid examples are starting to appreciate, our recent feature on cheap Rolls-Royces shows that it's still possible to get hold of a cheap Spirit. But if you want to spend less than £12,000 on a Spirit, you still need to tread carefully.
Bodywork
Rolls-Royces rust just like any other car – and as there's more metal, it follows that there's more metal to corrode. Key points to check are the sills and the rear spring pans, both of which are structural points which can trap water. Ensure that both are in good condition – welding work isn't the end of the world if it's done to a high standard.
Good paint is vital to the resale potential of a good Rolls-Royce – especially white, where many would think it had seen wedding service. A poor quality paint job will always show up, and given how pricey good paint can be we would certainly treat this as a negotiating point. Ideally, you don't want a paint job that looks too new and shiny either – something lustrous, aged and deep would be ideal.
Trim is in good condition, with thick gauge steel used for panels and the metal sections of the bumpers alike. The bonnet, bootlid and doors are aluminium, so check for electrolytic corrosion around their mountings. A little scratched paint can soon get out of hand. And with so much available from specialists such as Introcar and Flying Spares, there should be no issue in restoring a rough Silver Spirit – except that the Rolls-Royce badge means it could cost more than the same work on an equivalent Ford Escort.
Expect filler in the arches and flanks of a cheap car – say, under £7500 – but less so in anything above that. It's worth taking a magnet, though remember that this won't highlight any issues in any of the softer aluminium panels anyway. Filler does have its place and we're not against its use if it's well executed, but you need to know the standard of the job done. Likewise welding in the past shouldn't put you off the right car if it's done to a good standard.
Engine and transmission
Rolls-Royce's L series V8 powered all Silver Spirits, though there were differences depending upon the model year. It's a pushrod V8 with wedge-shaped combustion chambers, initially rumoured to be a licence-built American design but actually developed in-house by Crewe. It's still in production today – in modified form – in the Bentley Mulsanne, making it the longest production run of any engine still in use.
Initially, this was identical to the engine found in the late Shadows, replete with a pair of SU carburettors. In 1987 EFi was fitted, a Bosch KE-Jetronic derived system which replaced carburettors throughout the RR range. In 1993 this was again upgraded to a Zytec engine management system, which offered greater performance and economy. However, the Zytec cars appear to be more prone to head gasket failure.
Tappets can wear – replacements done using General Motors items were once OK, but the quality has dropped in recent years and we wouldn't advocate you fit GM tappets any more. Specialists now advise the use of the correct items sourced from Bentley, but they're £1500 a set. Rolls-Royce engine blocks can corrode, and a full rebuild involves stripping it back to the point where the liners are removed. It won't be a cheap business. DIY servicing is viable, but the right bills will make it amore desirable and more saleable car further down the line.
Early cars used the same GM Turbo Hydramatic 400 as the late Silver Shadows – though this was replaced in 1992 with the newer, four speed, GM 4L80E as seen in the Aston Martin DB7 and the Jaguar XJR. While the arlier box is longer-lived, neither should present any major issues in service and any competent automatic gearbox specialist should be able to rebuild it if a rebuild is necessary.
Reddish brown ATF is bad news, and could mean a rebuild is just around the corner. Bright red, cherryade-style ATF is what you want to see.
Check the condition of the diff by repeatedly shifting from R to D and back. Any clonking is bad news, though a little initial take-up is unsurprising given the amount of torque.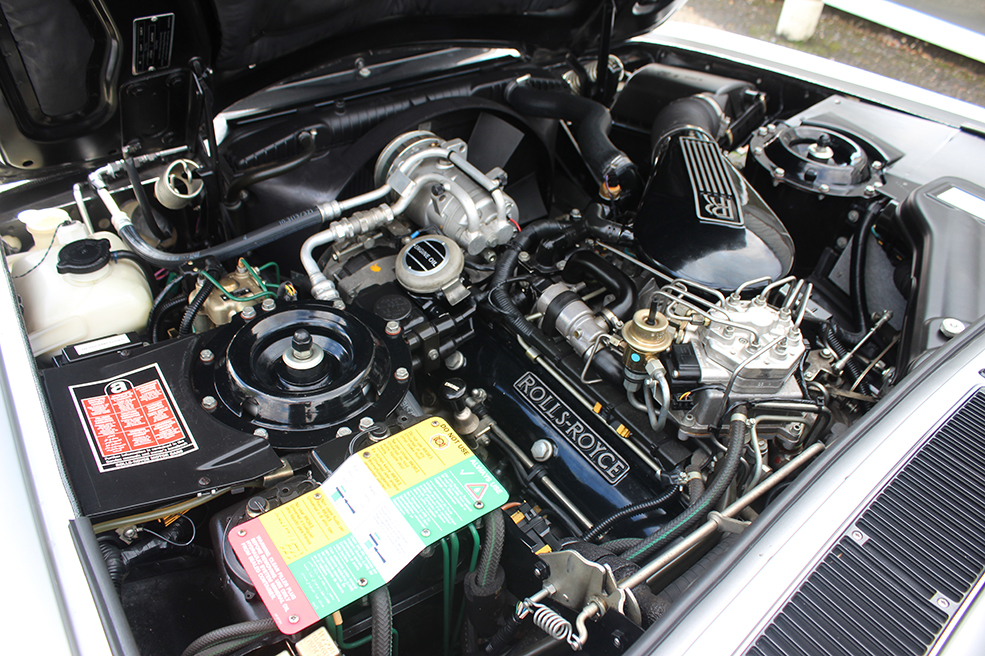 Suspension, steering and brakes
Don't for a second assume that a bouncy ride is par for the course with a Silver Spirit. Many are like this, but it's the result of the spheres on the rear suspension having lost pressure. This system is not unlike the Citroen system (indeed, it's licenced from the French manufacturer), and any good Citroen specialist should be able to replace the spheres quickly and cheaply. It's £300 per side to have the front balljoints sorted – knocking isn't the end of the world, but with that in mind, it should be taken as a sign you need to haggle hard.
We'd be more likely to take cars seriously if on the correct Avon Turbosteel tyres. Many rub tyres intended for 4x4s as they're cheaper and the only real alternative in the right size. This is a sign of skimping, and we'd not want to pay strong money for a car which has had corners cut.
The brakes on the Silver Spirit are similar to those on the Shadow; a triple circuit system using similar high pressure hydraulics to the Citroen range. A full system rebuild will leave no change from £3000, so we'd want to see evidence of recent brake work in the service history. Again, if a car's been laid up and there's no sign of brake attention, treat it as a negotiating point.
Owing to their high pressure nature, don't ignore a fluid weel. It could get serious rather more quickly than you expect. Likewise don't ignore a knock under braking, as it's a sign the hydraulic pump may be on the way out.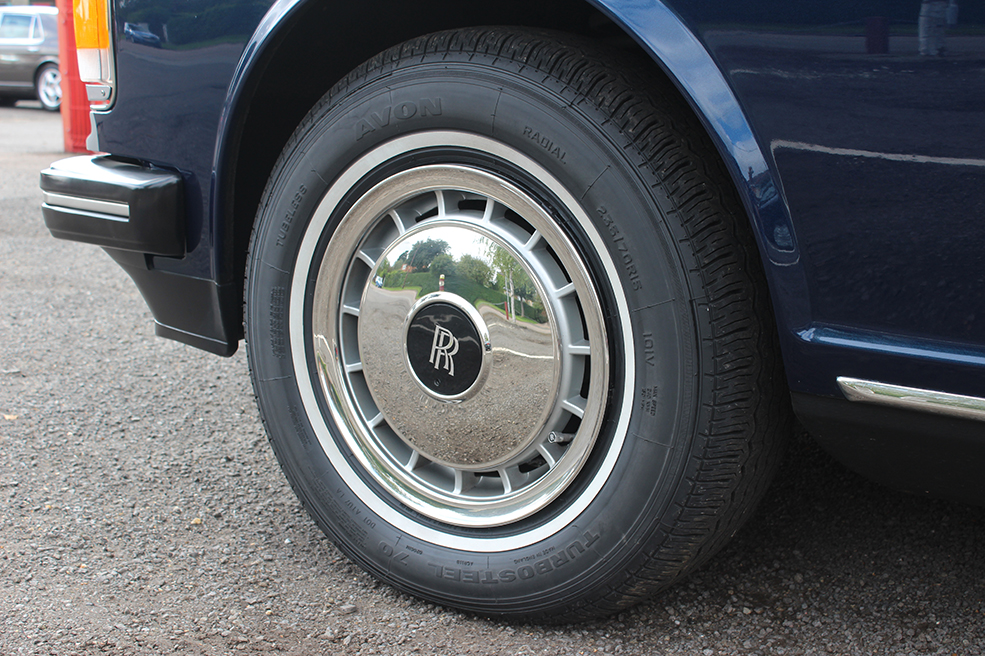 Interior and trim
As with its predecessor, many Silver Spirits left Crewe with leather trim – not hard to replace if you know a friendly trimmer, and with plenty of cars in scrapyards it's not hard to buy replacement trim if you're on too tight a budget to account for a brand new retrim. Paces such as Flying Spares can always help with good trim and good wood, though it's better to buy a car with a good interior if possible.
Beware cars with flaky wood – the lacquer tends to lift owing to excess moisture in the cabin. Typically, this is the result of a leak – check the screen frames in particular, as well as the door seals and the bulkhead. The better the wood, the less likely your prospective purchase is to have damp issues in the cabin.
It's not hard to find new carpets, though the prices can vary drastically. As a rule, expect the cheaper sets to be sub par in terms of quality and not befitting for a car of this class, though we wouldn't be surprised to find cheap new carpets in an inexpensive car, fitted by an owner trying to improve the sales potential. Likewise wedding hire cars might get cheap carpets to improve their appearances for photos.
Smaller items of trim such as switches and handles are shared with the Shadow, and are thus easily available through specialists such as Introcar and Flying Spares.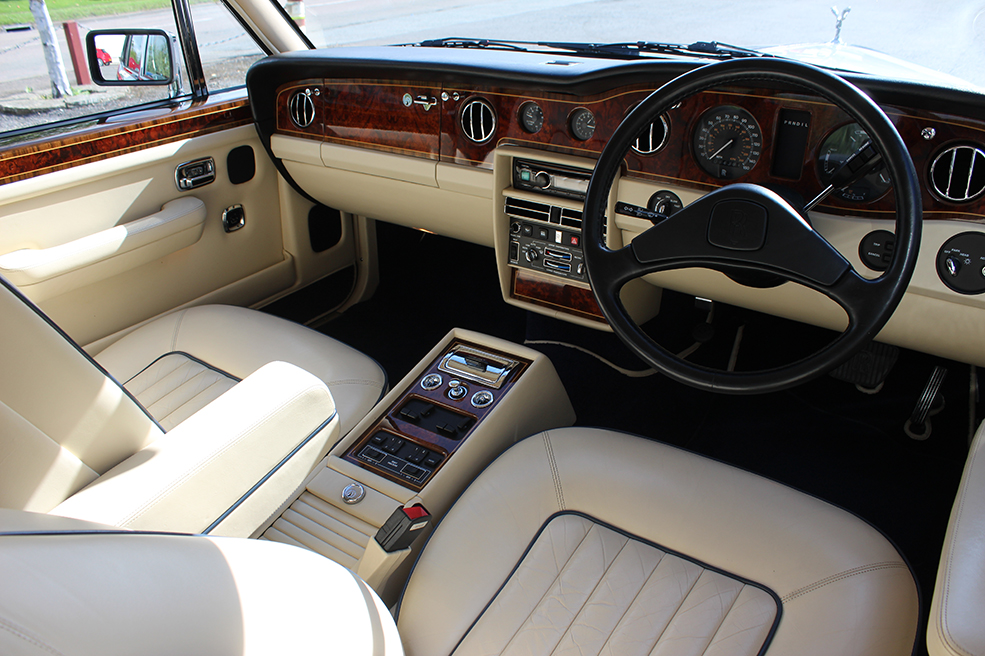 Rolls-Royce Silver Spirit: our verdict
Yes, you can still buy Silver Spirits for pocket change – but these aren't necessarily the examples you want to chase. A lot of them will be full of filler, or rotten when you look at the underside. But as little as £12,000 could get you a really nice example, while £8000 gets something usable in need of improvement. Yes, they exist below £5000; No, you don't want one.
The least desirable are the carburetted cars, but that means this is where the real bargains can be found. They're more reliable in service too, with less to go wrong including the Active Ride system and the Zytec EFi of the later cars. Most desirable are the late cars, though it should be noted that alongside the higher purchase price will come higher maintenance bills. Early cars are worth about 25% less than later models, on average.
We'd want to be paying £8000-12000 for a nice Silver Spirit I or II, and £15,000-20,000 for the best IIIs and IVs. Kept in good condition and maintained by specialists, and they will be better than high interest bank accounts as a means of investing your hard earned cash.