Arguably the brand's most important model to date, the Rolls-Royce Silver Shadow still represents excellent value. Here's what you need to know before buying
Launched in 1965, the Rolls-Royce Silver Shadow represented a sea change in the way Rolls-Royce approached car production, and reflected a gradual change in the type of people who bought them. Spawning everything the Crewe marque created until its purchase by BMW, the Shadow left its mark on over 30 years of Rolls-Royce and Bentley history. Its replacement, the Spirit, has yet to capture the hearts and minds of classic car enthusiasts in quite the same way.
The Silver Shadow was Rolls Royce's first monocoque, using experience garnered from the initial Tibet project. It was destined to use the same engine and gearbox as the outgoing Silver Cloud, which meant a V8 of 6.2-litres coupled to a four-speed automatic gearbox.
Available from the factory initially only as a four-door saloon, some coachbuilders such as James Young took the opportunity to develop two door derivatives. Rolls-Royce's in-house coachbuilder Mulliner Park Ward was swift to respond with a two door Silver Shadow of its own, later rebranded the Corniche. This was accompanied by a drophead convertible.
Unsurprisingly, the Silver Shadow family followed in the footsteps of the Silver Cloud by offering Bentley branded versions. These cars, identical barring the radiator grille, badges, and bonnet, retailed for £5375 in 1965 – £50 less than the Rolls Royce. Initially called the Bentley T and subsequently known as the T1, production numbers were significantly lower than for the equivalent Rolls-Royce.
In 1970 the engine was replaced with a larger 6.75-litre derivative, the dashboard was redesigned and a three-speed automatic replaced the earlier four-speed. These cars offered greater power and torque, necessitating the stronger albeit fewer-geared new 'box. The Silver Shadow two-door MPW cars were rebranded Corniche in 1971 – minor trim changes and a more powerful engine justifying a higher price, and saving the company from bankruptcy.
By 1977, the Shadow was looking a little old hat. Rolls-Royce invested time and money into a thorough redevelopment; the floorpan of which would continue into the Shadow's replacement. Externally, the new Shadow II and T2 models gained a chin spoiler, rubber bumpers and shallower grilles. Under the surface, new components included a rack and pinion steering system and a thoroughly revised interior. These were enough to revitalize the Shadow and keep it fresh until the new Silver Spirit arrived in 1981.
The Shadow suffered from overproduction, and its fall from grace was harder than that of any prior Royce. Many have been run on a budget, and buying one can be fraught with risks. 40,991 were built, and while solid examples are starting to appreciate, our recent feature on cheap Rolls-Royces shows that it's still possible to get hold of a cheap Shadow.
Bodywork
A Rolls-Royce doesn't rust. It simply fails to maintain structural integrity. Now we've got the wisecrack out of the way, the Shadow was Rolls-Royce's first monocoque and there were a number of unintended rust traps. The other thing to consider is that a Shadow is a car like any other – there's just more of it than most. That also means there's more to corrode.
Paint is crucial – flat paint can ruin a nice example, especially if it's white. Be wary of anything too new though, it might be hiding low quality repairs. A good, deep, lustrous paint job that doesn't look suspiciously new is what you want to see.
Exterior trim tends to be fairly durable – thick gauge steel for bumpers and well-built trim, plated with high quality chrome. It's all available from specialist breakers too, in case you have any issues with it – you should have no problem restoring a shabby car to its former glory, though it's important to note that everything is more expensive than it would be for a more mainstream car purely by dint of the relative rarity of parts for hand-built cars.
It's entirely possible that the arches will be full of filler on a cheap Shadow, so take your magnet with you. If you're spending strong money, you shouldn't be finding filler in the same quantities as in a £7000 car – though as long as it's well-done and not hiding rust it shouldn't be the end of the world. We wouldn't be scared of cars that have had welding as long as it's a good standard. Check especially at the front of the sills and around the rear spring perches – while not as prone as the later cars, these are known trouble spots on the Shadow body.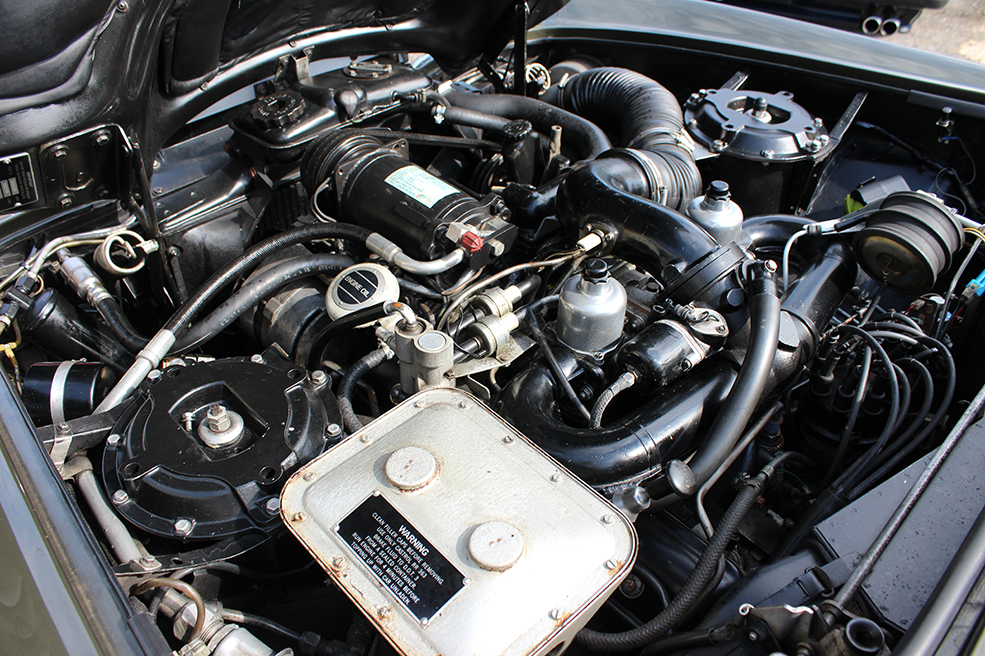 Engine and transmission
Rolls-Royce's L-Series V8 powered all Silver Shadows, though there were differences depending upon the model year. It's a pushrod V8 with wedge-shaped combustion chambers, initially rumoured to be a licence-built American design but actually developed in-house by Crewe. It's still in production today – in modified form – in the Bentley Mulsanne, making it the longest production run of any engine still in use.
Up to the 1970 model year the engine was the same as that in the outgoing Cloud, 6230cc, with twin carburettors. While Rolls Royce never stated power outputs for road use (preferring the term "adequate" initially as a means of restraint and then as an excuse as rivals swiftly overtook their peak power output), the engine was also sold for marine use and rated at 220-240bhp.
Later models used the larger 6750cc derivative originally developed for the Phantom VI, again with twin carburettors. Power output remained similar, though torque was notably improved.
Rolls-Royce engine blocks can corrode, and a full rebuild involved stripping it back to the point where the liners are removed. It won't be a cheap business. Tappets wear – don't be surprised to find bills for GM sets from yesteryear, but the quality has dropped. Specialists now advocate the use of the correct items sourced from Bentley, but they're £1500 a set. DIY servicing is viable, but the right bills will make it amore desirable and more saleable car further down the line.
All models used General Motors-sourced automatic gearboxes – initially the GM Hydramatic, later the three-speed GM Turbo Hydramatic 400. Both boxes are reliable in service, and have been used in so many applications that just about any competent automatic gearbox specialist will be able to rebuild them if needed.
Check the colour of the ATF – it should be bright red, not reddish brown. Any discolouration is bad news, and could indicate the need for a rebuild. Also check the condition of the diff by repeatedly shifting from R to D and back. Any clonking is bad news, though a little initial take-up is unsurprising given the amount of torque.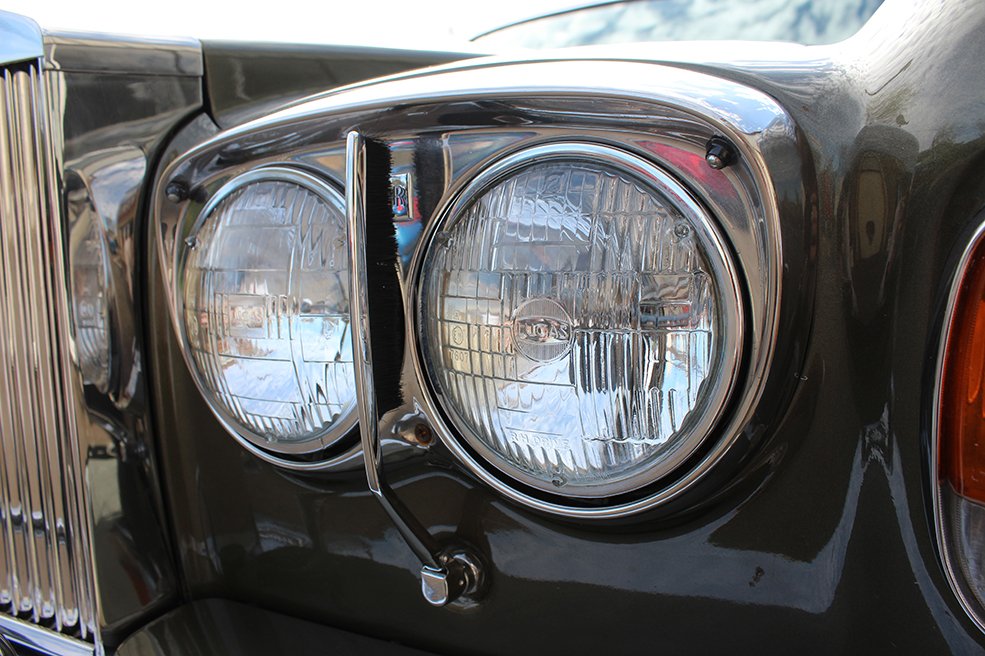 Suspension, steering and brakes
The ride should be near faultless, but there are plenty of things that can affect the ride quality of your Rolls-Royce. Front ball joints can knock – it's not a rare issue, but budget £300 a side to have it sorted properly. Rear suspension spheres can pose problems too, if your car feels hard at the back then this is probably why. They're of a design licensed from Citroen, which means that any Citroen specialist can rectify the issue if you haven't got a Rolls-Royce specialist nearby. While it can be a DIY job (source your spheres from Sphere Shop at half the price), we'd recommend you leave it to a specialist if you haven't done it before.
Cars riding on original spec Avon tyres should be valued slightly more highly – simply put, if an owner is prepared to spend out on the right rubber, there's less chance of corners having been cut than there is on a car with the cheapest available option.
Silver Shadow brakes are a complicated triple-circuit setup derived from a Citroen setup – they're complicated, and we'd want to see recent brake service work in the history file. If there's an issue and you need a braking system rebuild, expect no change from £3000.  Ignore weeping fluid at your peril – they're high pressure using a system licenced from Citroen, and a weep could easily become a flood more quickly than you might expect. Knocking under braking suggests that the hydraulic pump's getting tired, so negotiate accordingly.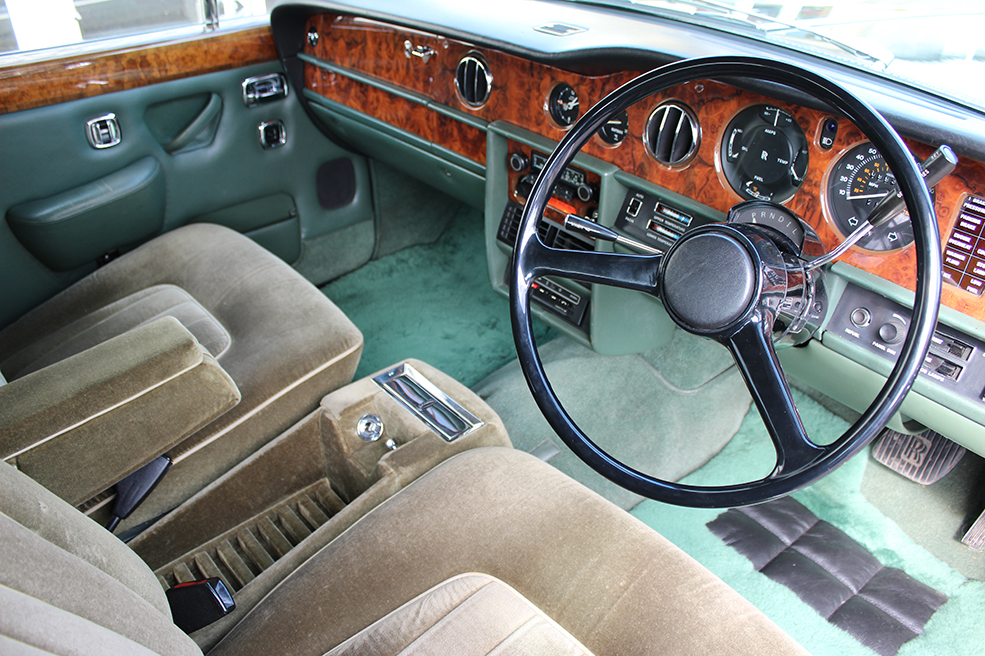 Interior and trim
The majority of Silver Shadows left the factory with leather trim, which means that they're relatively easy to get retrimmed if your car of choice has a tired interior. But given that retrimming a Silver Shadow is far from cheap, we'd advise you to find a car with a good interior or to make use of specialist breakers such as Flying Spares to get hold of secondhand trim.
Likewise the wood – it's easier to get a car with good wood than to spend out on refurbishment. This has an added benefit. Silver Shadows can let in damp – this takes its toll on veneers as you'd expect. A car with good wood is less likely to suffer from water ingress, and this should be used as a barometer for the overall condition of the car.
Carpets are freely available, though expect the price to reflect he quality. We certainly wouldn't want to be fitting a cheap carpet set, it will both look and feel horrifically out of place in such surroundings.
Smaller items of trim such as switches and handles are shared with the later Silver Spirit, and are thus easily available through specialists such as Introcar and Flying Spares.
Rolls-Royce Silver Shadow: our verdict
Silver Shadows were overproduced, but the attrition rate is such that the majority of survivors now are good examples. That doesn't mean you shouldn't buy with care, though. It's still possible to find cars full of filler, or pretty on top but nasty underneath. But get hold of a good one and values are rising considerably.
We'd avoid the coach-built models and stick to the standard saloons – these are more common, and better value. Early 6.2-litre cars attract a 10-15 per cent premium, while the value difference between a later Shadow I and a Shadow II depends upon who you ask.
From an ownership perspective the Shadow II is a better and more enjoyable bet – we'd look to spend a good chunk on the very best Shadow II we could find. Keep it in good condition and have it maintained by a local specialist, and it's an infinitely better bet than keeping money in the bank.