Sales success, or otherwise, relies on getting the right car to market at the right time. These models didn't quite manage it but some have redeemed themselves since
Words: Ian Cushway
You've probably heard the old chestnut; "What's the secret of telling the perfect joke?" the answer, "timing", following swiftly in the same sentence. Okay, it's no side-splitter but there's a relevance here. You see, the gag's likely to get the same reaction these ill-fated or ill-timed cars got when they were aired for the first time – a shrug of the shoulders, a mild titter, perhaps, but more commonly an overriding sense of disappointment.
This all seems quite topical right now because 2022 marks the 50th anniversary of probably one of the most underwhelmingly-received cars of all time, the Jensen-Healey. This was a car which from its name alone promised much but delivered so little. Here's its story, along with tales of other equally luckless cars which failed to sparkle as their manufacturers had intended.
Triumph Stag
Triumph's had lofty ambitions for its Stag by promising a unique mix of luxury and sporting sophistication in an affordable GT package. As one advert prompted, "You get true sports car handling with real saloon car comfort." And as it was to be priced at significantly less than its more exotic European rivals, the omens looked good.
What's more, the timing couldn't have been more perfect; Michelotti already had a suitable blank canvas at his disposal in the shape of the Triumph 2000 when plans were first hatched in 1964, so the new car would be well placed to profit from the burgeoning demand for sports cars in the mid- to late '60s.
Sadly, it wasn't to be. Indecision over whether to use one of Triumph's existing engines or develop a new one, what size and form the chosen V8 would take, a late quandary over whether to use the V8 from supposed corporate bedfellow Rover and the formation of British Leyland all lead to delay after delay and consequently the Stag had already missed the boat when it made its Earls Court debut in 1970. By then, of course, the floodgates had opened for imports from the Land of the Rising Sun and as a credible alternative the Triumph suddenly didn't look quite as attractive. In short, an opportunity had been squandered.
Late to the party as it was, it still had plenty going for it – not least the fact that it was still ahead of its time in many respects. It looked good, was reasonably swift and reassuringly comfortable and there was also the lure of that intoxicating V8 soundtrack.
Indeed, the press here were smitten. That is until engine issues raised their ugly head, and with the British motoring industry in turmoil at the time, the delay in releasing fixes was enough to blot the car's copybook for good. With irritated early owners choosing to sell instead of soldiering on to find a proper diagnosis, the Stag was disparaging named the 'Snag' by many.
A further blow was delivered by the Americans; it was never liked across the pond which combined with unreliability lead to it being listed in Time magazine's Top 50 Worst Cars of All Time list. With the door firmly shut on lucrative US sales it was only a matter of time before the plug was pulled, in 1977 to be precise, after a production run of just 25,877.
That said, in the last 20 years or so the Stag's undergone a phoenix-like rebirth. While rust can and still will be an issue, it doesn't seem to have rusted as badly as other cars from this era, so the survival rate is good. Moreover, specialists have all sorts of solutions for the cooling issues. Granted, that V8 is still a little fragile, so head gaskets can still be a worry, and you need to watch for timing chain rattle (they need changing every 25,000 miles) but otherwise it's a wonderfully rewarding car to drive and own. Half decent examples start at £12,000, while the best regularly change hands for £20,000.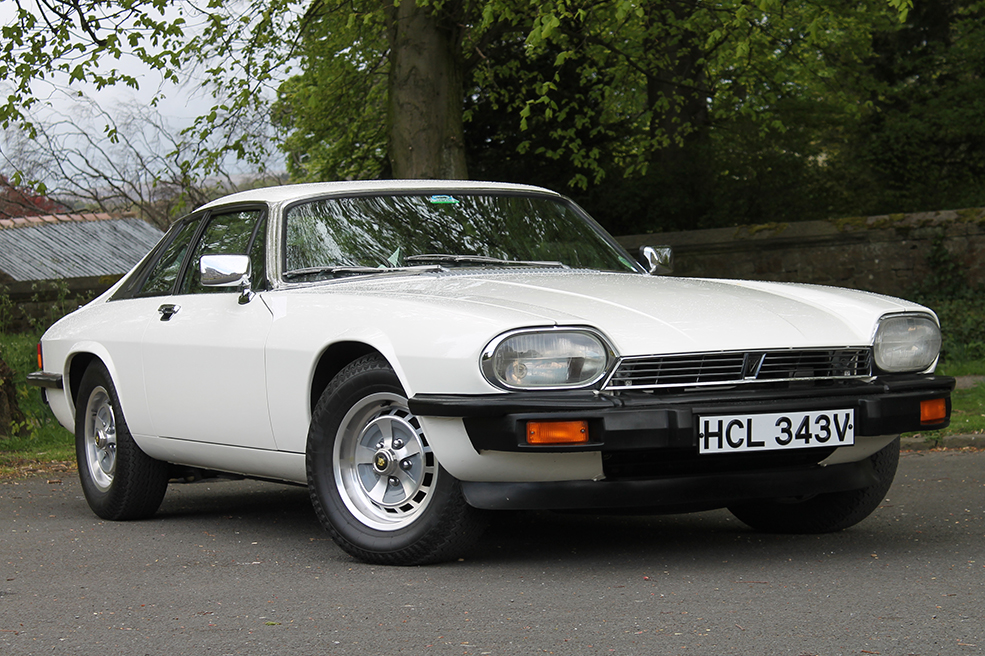 Jaguar XJS
The timing just wasn't right for the XJS in 1975. With the firm's showcase V12 under the bonnet, it arrived when manufacturers and potential buyers alike were becoming more interested in mpg than mph. A car that struggled to exceed mid-teens miles per gallon just didn't seem appropriate at a time when fuel prices had reached record highs.
But that was just the start. Critics bemoaned its slab flanks, black rubber bumpers, plastic dials with yellow needles and the absence of a traditional grille, chrome and walnut. Moreover, it was expensive yet had none of the E-type's flair which didn't bode well because this was the car everyone compared it to. The flying rear buttresses, cramped interior, utterly hopeless early reliability record, lack of proper rust proofing, shabby interior, iffy electrics and poor build didn't go down well, either. To make matters worse, Jaguar was desperately short of funds at the time to address any of these issues, the only concession in its first six years being to swap the BorgWarner Model 12 auto 'box for the smoother and lighter GM Hydramatic.
Even US sales failed to take off as hoped, held back no doubt by the fact that there wasn't a full convertible.
Yet, reluctant to throw in the towel and call it a day the car was allowed to evolve, got progressively better and against all odds, it survived for another 21 years.
The big breakthrough, besides the launch of a fully topless model in 1988, was the arrival of the six-cylinder models, starting with the 3.6 AJ6 in 1983 and followed by the robust 4.0-litre AJ16 in early 1994. Through various facelifts and general improvements, the XJS eventually ended up being the car it should have been at the start.
Six-pot cars change hands for under £10,000 still, though late convertibles can easily fetch three times this.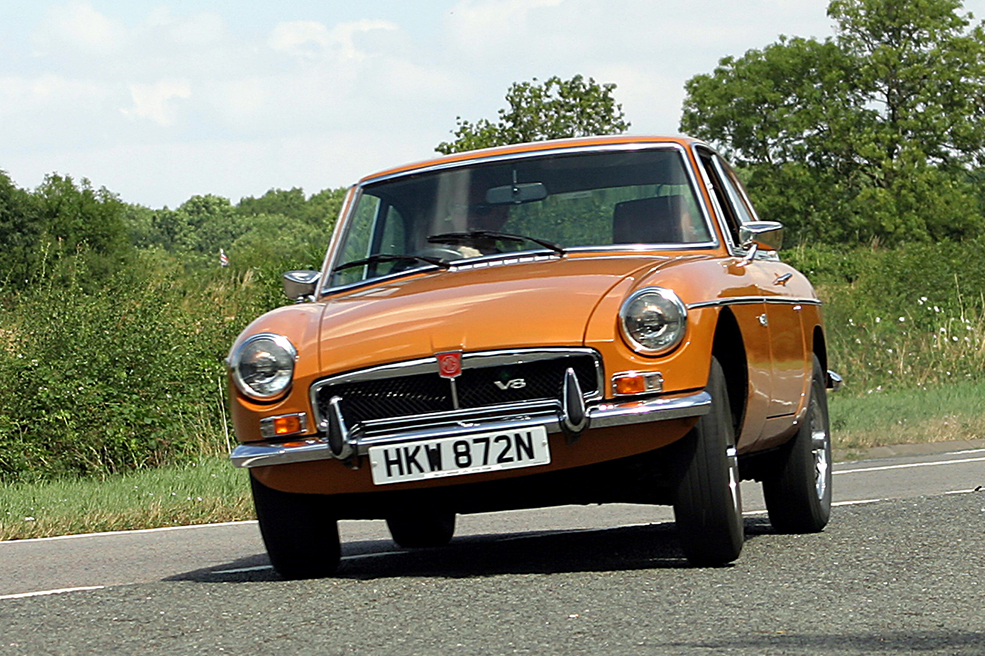 MGB GT V8
Race engineer Ken Costello did it first, using an Oldsmobile V8 to add more beans to the MGB before coming to an arrangement with BL for a supply Rover's Buick-derived engine and subsequently converting roughly 200 cars (most of which were GTs) at his Farnborough base between 1972-'74.
British Leyland obviously thought he'd got something and from 1973 started producing its own V8, in GT guise only, using a low compression lump from its Range Rover. The only visual difference was its distinctive Dunlop D4 alloy wheels, tinted windows and subtle V8 badging – oh, and the fact that it sat a little lower. With shallower air cleaners and a new manifold arrangement, in contrast to Costello's affair, there was no need for a bulge in the bonnet.
Beefier brakes were fitted to cope with the extra grunt and stiffer springs, reportedly the same ones as on Police MGBs, ensured it handled well. In any case, the light alloy V8 weighed little more than the four-cylinder Series B and crucially was lighter also than Healey's straight six from the Austin 3-litre saloon that powered the nose heavy MGC.
Indeed, the resulting car made a decent fist of outperforming its 1.8 sibling in most respects, achieving the 0-60mph dash in 7.8 seconds and going on to a top speed of 127mph. Moreover, power delivery was silky smooth with bags of useful low down torque which made it much nicer to drive.
So what went wrong? Well, sadly the V8 didn't comply with strict US emissions regulations at the time so couldn't be sold in the States and despite straddling the chrome/rubber bumper period, production ceased after a measly 2591 had been made.
Their loss being our gain, rarity has resulted in rocketing prices which means even the less sought after post-'74 MGB GT V8 will be £20,000 with chrome bumpered cars commonly advertised at £25,000-£30,000. If spending this money just make sure it's a proper factory car, not a DIY conversion.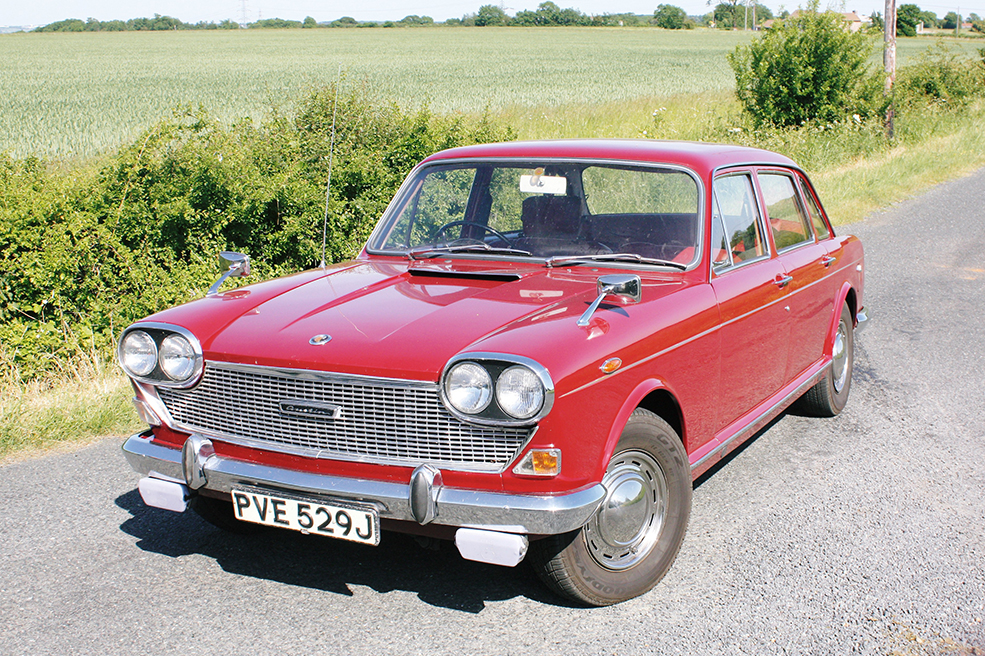 Austin Maxi & Austin 3-Litre
Forget the Allegro for a moment because the Austin Maxi and Austin 3-Litre put it into obscurity as far as sheer underachievement is concerned.
When Austin chose to gentrify its 'Landcrab' and create a modern-day replacement for its antiquated A110 Westminster in order to compete in the luxury car sector, the solution was obvious. They'd use the same tooling as the 1800 to save time and money, add an extra set of lamps to add road presence and introduce a 2912cc seven-bearing six-cylinder engine (an extensive reworking of the Westminster's C-Series unit) driving the rear wheels, to give it extra refinement. Hydrolastic rear dampers, power assisted steering and the offer of automatic transmission completed the makeover.
Sadly, the shortcuts didn't pay off. It looked horrible, had zero image and the interior appeared low-rent and cramped. Worst of all, performance was feeble because despite producing 124bhp, it struggled to top the ton and guzzled petrol while trying. It was hardly the car Austin envisaged would rival Rover's P6 or Ford's cumbersome but comfortable and generously equipped Zephyr.
Unsurprisingly it was an ill-fated flop, with under a thousand being made between 1967-'71. Today, despite its scarcity, prices stall at £3000-£4000.
The Maxi, sadly, followed a similar path. With a production span that ran from 1969-81, it looked good on paper – especially as it was Britain's first proper hatchback – but was flawed when it came to build, driver appeal and charisma. Or lack of it, more like.
Even the fact that it had a new overhead cam 1485cc engine and five gears failed to attract buyers in the numbers British Leyland anticipated.
Suffice to say, today the 1750 version – particularly in twin-carb HL or HLS guise which offered 93bhp – makes a reasonable everyday classic. As a rough guide on values, a '72 1750 sold at a Matthewsons auction last December for £3171.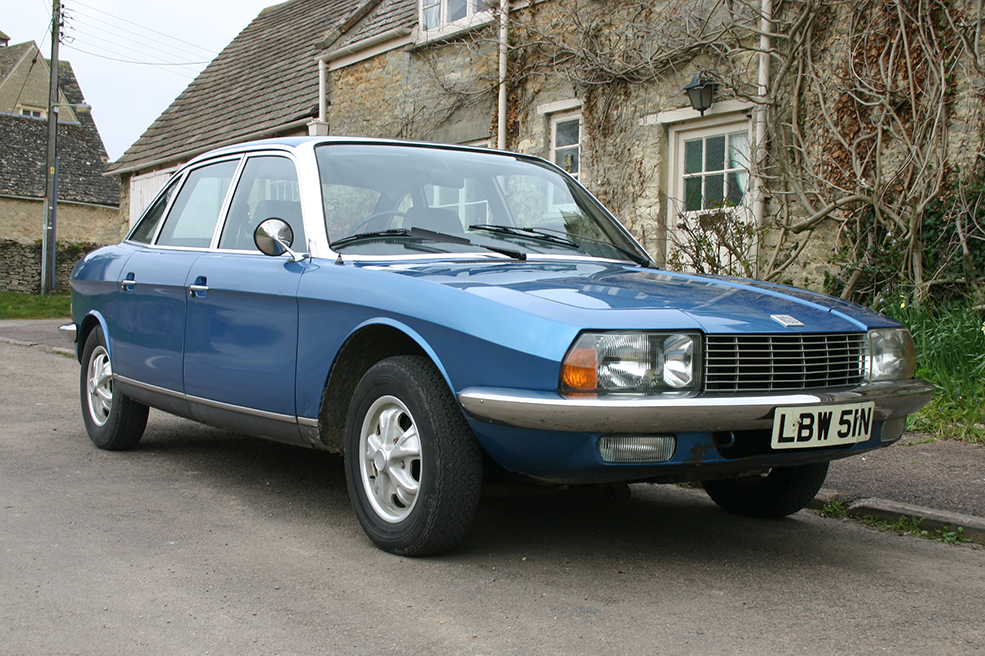 NSU RO80
It's strange to think Felix Wankel, inventor of the Wankel engine, never got to drive the massively advanced and beautifully styled NSU Ro80. Poor eyesight meant he never actually held a licence. Yet his pioneering engine design for the iconic '60s creation led to it becoming a motoring icon. Alas, not for its sales success but for its sheer innovation and technical audacity. Indeed, its Wankel engine wasn't the Ro80's only interesting feature; it bucked the trend with front wheel drive, had a new type of semi-auto transmission, independent suspension, ATE Dunlop disc brakes all round and even the luxury of ZF rack and pinion power steering.
Like the other cars here, it must have made so much sense on paper. After all, with fewer moving parts the compact rotary engine could not only operate at much higher revs, but because there was no oscillating movement, it would also be smoother than a conventional piston-based engine. But there was just one problem – it was too expensive.
Well, not quite the only one as it turns out. That ground-breaking engine was dreadfully thirsty, too, and mechanical issues soon emerged; the rotor tips began wearing prematurely and by 30,000 miles, most engines needed a full rebuild. NSU tried to sort the problem, but the car's reputation had already been ruined.
Sunk by warranty claims, when Audi showed an interest and offered to bail them out the firm was effectively taken over.  Incredibly, the newly merged company still had a dogged faith in the Ro80 and production lasted until 1977, although it was only available as a 'special order' after 1975. A total of 37,204 were produced.
So few come up for sale that it's difficult to get an accurate gauge on prices, but expect to spend in the region of £15,000 on a reasonable example and half this for a project.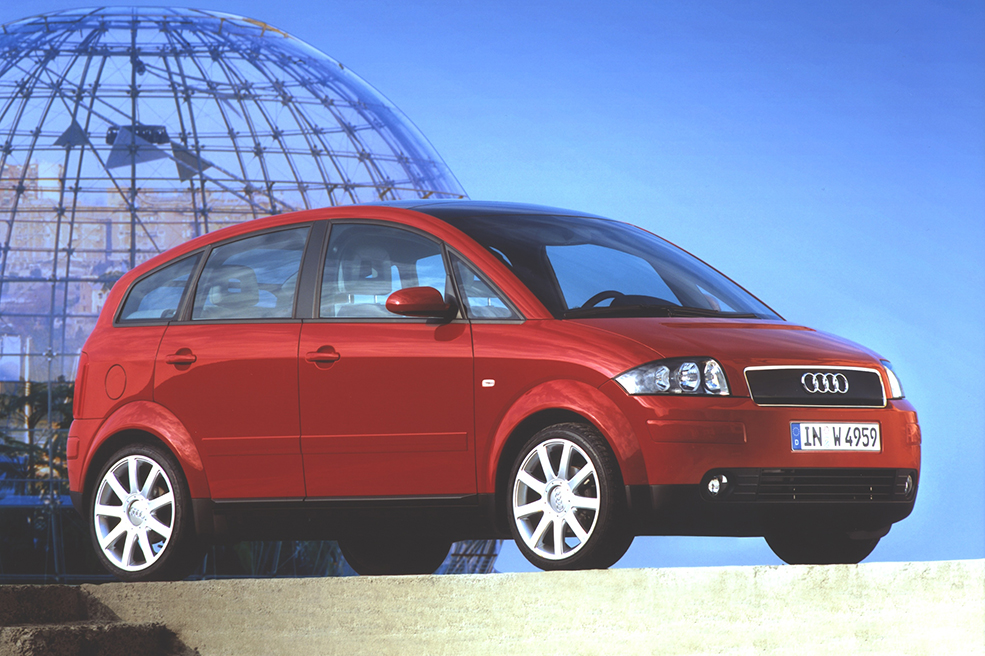 Audi A2
Based on an earlier concept, the forward-thinking A2 broke cover in late 1999 and went on sale here in 2000. Clever and classy, its elegant yet accommodating high roofline, big glass area and the fact that it was an Audi served to tempt buyers who might have otherwise bought a more mundane Polo, Punto or Peugeot 206. The fact that most were supplied as gadget-laden SE models proved the icing on the cake for many.
Three engine options were offered: the 75bhp 1.4 MPi, the punchy three-cylinder 1.4 TDi and the more sporty 110bhp direct petrol injection 1.6 FSi (from 2002). All three are rapid and incredibly frugal thanks to the Audi's lightweight aluminium spaceframe and body panels. Indeed, one of Audi's sales claims was that it could take four adults from Stuttgart to Milan on one tank of fuel.
Such innovation came at a price when new and even entry models retailed at £15,000. And that's why it never sold in big numbers.
There was a question mark also over the A2's VAG PQ24 platform with its alloy spaceframe and mix of alloy and plastic, deformable body panels. Critics blamed this for the A2's high insurance costs – if damaged in an accident, cars are often written off. The front wings, for example, are made of a deformable composite plastic and if they crack you have to replace the whole wing along with its liner which is a difficult job. The rear arches can be replaced separately. Composite bonnets can warp as well, and these are £150 secondhand while used doors are £60 in case there's been an impact.
The good news is that two decades on massive depreciation has meant prices have plummeted to a more realistic £1000 starting price with sought after TDi models kicking off at £2000. Beware though, because however tempting, the lean burn 1.6 FSI is the troublemaker in the engine line-up; it's a pretty high-tech unit that features ECU actuated tumble intake flaps which can clog and stick which means having to replace the manifold. Incidentally, the A2's now got a strong fan base, a dedicated club and some good specialists.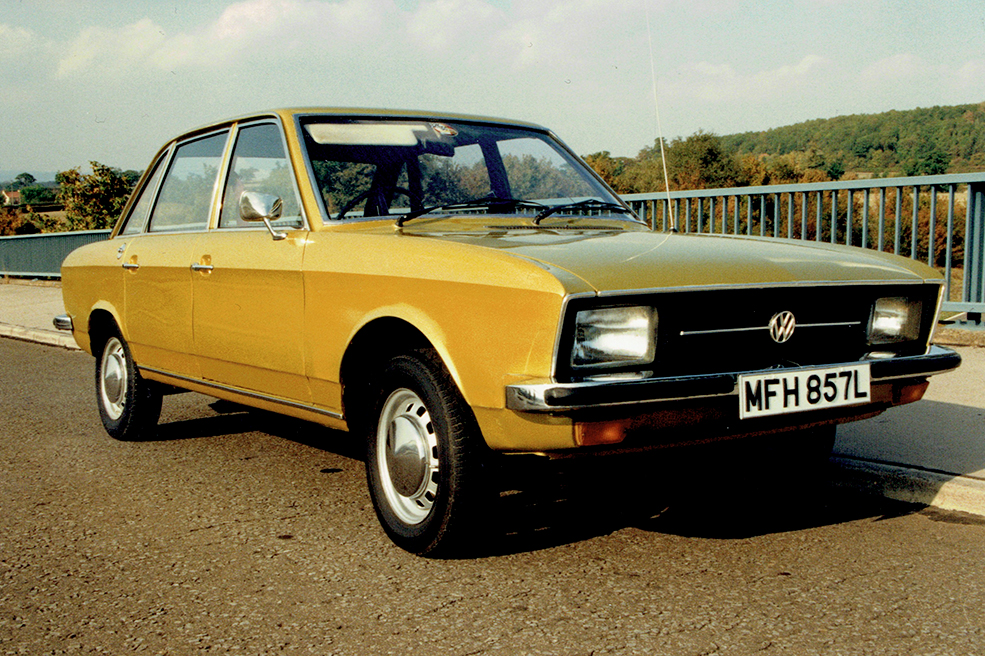 Volkswagen K70
Given it broke from tradition and formed the basis for all subsequent VWs – cars that would ultimately place the Wolfsburg firm in a position of automotive world domination – it's incredible the K70 didn't do better than it did.
You can't blame the press because despite its anonymous styling, they generally liked it. And technically, with its front-wheel drive, all-independent suspension, front disc brakes and sophisticated crash protection, it impressed in most respects.
So, what went wrong? Once again, rubbish timing. Volkswagen were doggedly hanging on to its air-cooled past and indeed the firm's 411 family offering shared a showroom with it at launch in 1970 which confused potential buyers. That said, it was sister company Audi that landed the final blow. The success of its new 80 model in 1972, and the fact that it provided the perfect platform for the Wolfsburg firm's exciting new Passat, finally pushed the K70 into obscurity in early 1975 after just 210,127 had rolled off the production line.
As a niche car, few survivors exist and when they do come up for sale, they don't fetch much. It seems the water-cooled VW fraternity aren't really interested, so prices range between £3000-£5000.