Can you really buy an interesting, usable classic for just £500? We set three Classic Car Buyer staffers the challenge.
It was an idea born out of one of those idle office discussions: we all know you can buy a perfectly serviceable car for a few hundred pounds… but can you really get something genuinely interesting? And if so, then can it really be regarded as a classic?
Like many readers, we've spent enough hours trawling the bottom of the eBay and Autotrader barrels to know that a sum of £500 opens the door to a world of intriguing automotive projects… but in reality they're just that: projects. To make things interesting, we raised the bar a little higher: any purchase must have at last two month's MoT, be no newer than 2003 and be capable of making the journey from our Peterborough offices to the Peter James Insurance Bromley Pageant of Motoring in June.
Clutching their £500, Ruggles, Skelton and Wager set off on their quest. How did they fare?
Paul Wager – Group Editor
On the scale of things you wouldn't advise readers to do, buying a 20-year-old Alfa Romeo in the dark for cash from a complete stranger in a Fenland farmyard ranks pretty highly. On the other hand, it wasn't my money and said farmer seemed honest enough. It would all work out OK… wouldn't it?
My cheap car challenge began with the idea of a Range Rover P38a, but when I went to knock on the door, the example which had been for sale on a local driveway for a while had suddenly disappeared… as had the Plan B Jeep Grand Cherokee a mate in the local pub was offering. At this point I revised my aims along rather more sensible lines. Having spent many years immersed in old BMWs courtesy of a stint spent editing a BMW magazine, I felt going with what you know might be the best route and duly looked for a 3-Series of either E36 or E46 persuasion. The problem was though, the £500 budget would only stretch to a four-cylinder car and the 316i and 318i models are almost too sensible – perhaps the kind of thing you buy with your own cash, rather than £500 which has fallen in your lap. I also discounted the Jaguar X-Type, considering I'd already been there and done that with our recently departed project car.
I then swung the other way, likely candidates including a suspiciously cheap Volvo C70 convertible and an Alfa 156 Sportwagon. I even test-drove the Alfa, which was the five-pot diesel and went like stink (literally) courtesy of an aggressive remap but tempted though I was, there was one more car to see: the 1999 Alfa GTV Twin Spark advertised by our friendly farmer.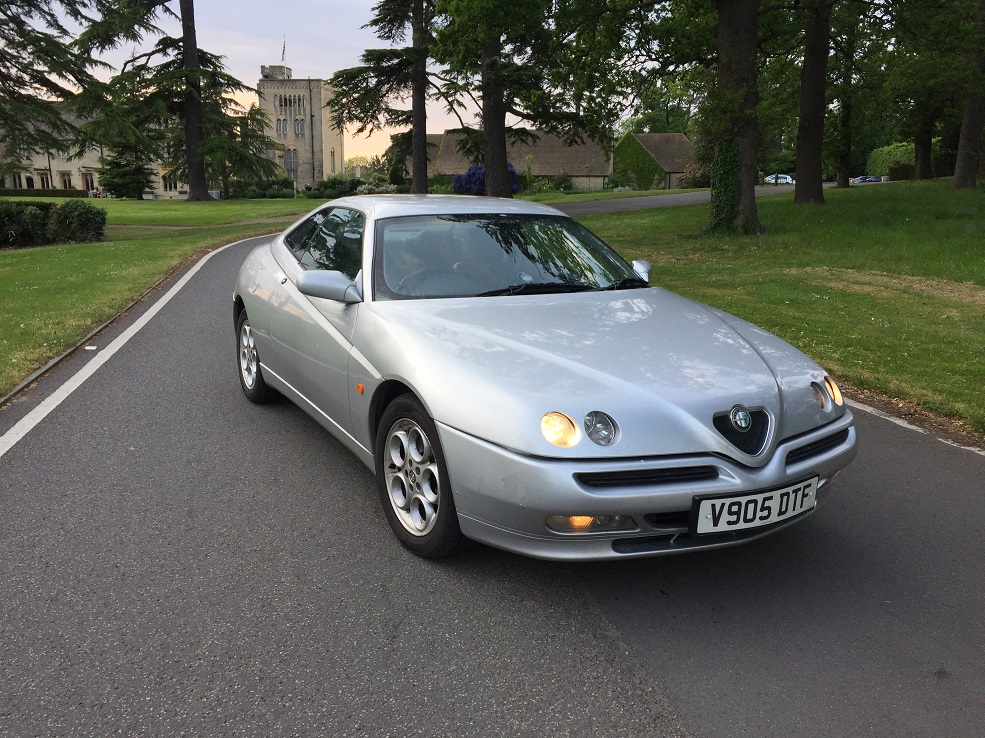 Described as being in good order apart from a power steering leak, the car was being sold by his son who didn't fancy trying to get it sorted. A quick squirt down the road showed that there was nothing much wrong with it apart from the PAS leak and a noisy wheel bearing, so a deal was duly done.
A few miles later, I realised I'd lucked out: the car came with a complete history including a recent cam belt change – the Fiat engine used in the '916' Alfas uses a belt rather than the chain of the older Alfa Twin Cam – plus a set of new tyres, a recent clutch and being the Lusso spec, a really tidy black Momo leather interior. Oh and a suitably retro Alpine stereo.
Experience with old Alfas has shown me that it's never that easy though and sure enough, there was a problem: Alfa Romeo no longer supplies the high- pressure pipe from the pump to the steering rack, while complaints from colleagues about the oil outside the office entrance meant I needed either a handy hose fabricator or a used part.
Find out next time how we got on.
Sam Skelton – Features Editor
Five hundred pounds to spend on a car? Easy. Of the 33 cars I've owned so far, 20 have come in at under that figure, and of the rest the majority were under £1000. So when MD Phil tasked us with buying budget modern classics, I felt comfortable – I was in my element here.
The rules were simple and achievable – it's exactly how I normally bankrupt myself anyway. And my eye was instantly drawn to one particular car on eBay. A silver Jaguar XJ Executive 3.2, with 94,000 miles and eight months test left. I'm usually wary of the fragility of X308s; I prefer X300s, but they're no longer cheap. But for £475 I was happy – until I realised that for the first time, buying a cheap modern classic had backfired on me.
It began with the car locking up its offside rear wheel under braking. And then doing the same while coasting. Patently dangerous, it was taken to local garage TW Autos where Tony diagnosed an ABS issue. But under harder testing on a quiet industrial estate, the initial problem returned with the ABS system bypassed. With Paul and Jeff watching, it became clear that the whole axle was moving. We dispatched the car to local specialist Nene Jags. The handbrake was engaging as a result of overtightening and the resultant lockup was causing the emergency stops. The play was caused by the subframe; which had corroded through completely on one corner by the mount.
The Executive appeared on eBay soon afterwards, advertised as spares/repair while I found a better challenge entrant. With £420 made back as the result of a Best Offer, it was time to go shopping again.
And on the Autoshite forum, I found a man called Richard Snelus, who was selling an Audi 80 TDi automatic. It had running issues – the usual VAG diesel 'hunting' – but also a power loss issue. I took a gamble at £200, believing a MAF sensor to be responsible for the power loss and encouraged by its overall fair condition. Worst case, if I was wrong I could sell the engine on and scrap the rest for what I paid. A local specialist used diagnostics to confirm my suspicions, so I ordered a used MAF for £33.50. With that fitted, the car was back on form. Maybe not Vorsprung durch Technik, but I'll settle for Vorsprung durch Traktor. News Ed Jeff was so impressed, he binned his MINI in favour of an Dragon Green slice of Teutonic tin for himself.
Jeff Ruggles – News and Markets Editor
So keen was I to get involved in this challenge, I actually did it twice. Having spent weeks hunting out and subsequently buying a perfectly usable and competent contender, I then had a last-minute change of heart, undid all my hard work and bought something slower, rustier and needing a lot more work. Confused? Let me explain…
Having run a couple of sub-£500 cars as daily drivers over the last couple of years, I felt pretty confident about this one. As a serial Mini and Metro owner, I initially figured it was better to stick to what I knew. With classic Minis way out of budget, I started by hunting out a tidy Metro. I even went to view one, but it was neither tidy nor blessed with any kind of MoT, so that was quickly ruled out.
Attention turned, therefore, to an early R50 MINI – a car on the cusp of modern classic status, but still cheap and plentiful. Getting a half-decent one with an intact gearbox for £500 would be a challenge, but one I'd achieved before and could achieve again. Maybe not a Cooper, but a ropey base-model One, perhaps.
As it turns out, I did find a Cooper. I made a cheeky £450 'best offer' for a 2002 example I'd seen on eBay, and though the offer was rejected, I agreed on £500 with the seller after he'd been messed about by a no-show winning bidder. For that I got a reasonably tidy R50 in black with a sporty white roof, and a pleasingly low 89,000 miles showing. Oh, and ticket until November. So far so good.
Whichever way you look at it, a mere £500 for a MINI Cooper is not to be sniffed at, so what was the catch? Well, no working heater, an illuminated airbag light, a blocked rear screen washer pipe, stained trim and absolutely no optional extras whatsoever were all were minus points, but after a polish, it certainly looked a lot happier. The gearbox oil was changed to preserve the fragile Midland gearbox, and the thermostat was changed along with its housing and a couple of fittings in an effort to restore lost heat to the cabin. That didn't work, so I eventually bit the bullet and replaced the heater matrix too. Success.
With the airbag light (mostly) off courtesy of a mate's diagnostic tool and a new set of wiper blades, I had a decent car on my hands. Indeed, I'd covered almost 2000 miles in it when I caught wind of a 1995 Mk3 Golf GTI in 2-litre eight valve flavour, in need of TLC…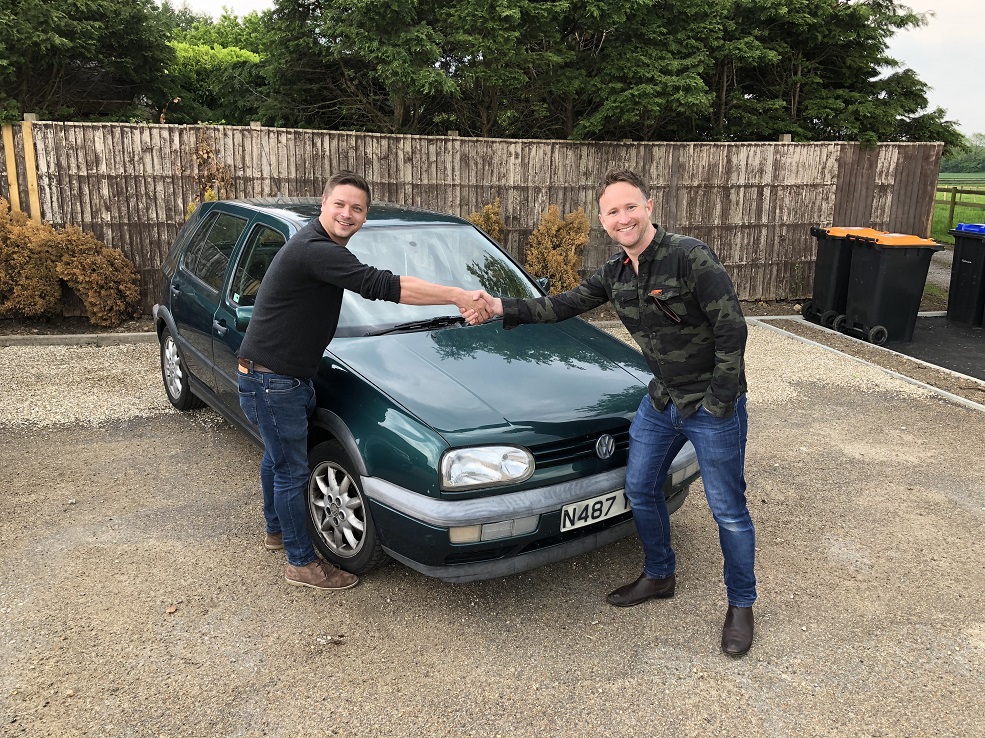 To cut a long story short, the Golf is now in my possession while the MINI has been earmarked for future adventures of a different kind. Why? Well, I own 11 Minis in various forms, and here was a chance to leave my comfort zone. Besides, I reckon the MINI would've been an easy win – since buying, I could have sold it at least ten times over.
In contrast, I'd never owned a Volkswagen before. Yes, it's much more of a gamble, but I like to do things the hard way. And I reckon the Mk3 Golf GTI is underrated anyway. At least that's what I'm telling myself in an effort to soothe the heartache of the missing front speakers, bodged windscreen, sagging headlining, torn trim, rusty wing and various gaffer tape repairs… Confident? Sure, I had a colleague reverse it up and down a car park for me by means of a thorough road test. What could possibly go wrong?
If it's important to you, it's important to us…
If you're looking to insure your pride and joy, whether it's worth £500 or more, give Bromley Pageant sponsor Peter James Insurance a call on 0121 506 6040 or visit www.peterjamesinsurance.co.uk
You can also see the trio of £500 cars along with their proud(ish) owners on the joint Kelsey and Peter James Insurance stand near the main arena at the Bromley Pageant.  The Peter James Insurance team will also be on the stand to discuss visitors' insurance options and answer any burning questions. Follow the link to purchase your Bromley.