Handsome, luxurious and solidly engineered, the Mercedes R107 SL is a great classic all-rounder. Here's how to buy a great one
While it is a sports car, you wouldn't describe the SL as an out-and-out performance car. While it has adequate pace, boasting a 0-60mph time comfortably under the 10-second bracket, the refinement and looks were thought of more so. This focus on design has paid dividends today, as you can park a Mercedes SL anywhere and it'll fit in.
The market for SLs has changed significantly in recent years. As the previous 'Pagoda' SL started to sell for big money, increasing attention was paid to the then more accessible R107, ultimately driving the price up for exceptional quality vehicles. This also resulted in a number of cars entering the market, which helped to stabilise prices somewhat.
Bodywork
The R107 is a 1970s (or 80s) car, so with this in mind you'd expect to find some rot on various panels around the car. However, it's pleasing to know that while you may well find corrosion, the SL is relatively resilient compared with most other machinery of this era. It's a simple case of using common sense when it comes to R107s – and inspecting carefully.
Rust can be a problem for pre-1976 R107 SLs as they were not well rust-proofed before they left the factory. Check with the current owner whether the vehicle has suffered from rust and what has been done subsequently. It's good to note that after 1980, Mercedes used wax cavity injection to counter rust. However, it wasn't until 1986 that bodyshells were galvanised.
Suspect areas for rust include the front and rear valances; don't be swayed by the bulky bumpers, and make sure you inspect carefully. Bumpers are made up of a combination of chrome pieces and hidden support girders. Water tends to collect underneath the bumpers, causing them to rot from the inside out. In terms of bubbling paint, the wheelarches, the door bottoms and the windscreen surround should be clear.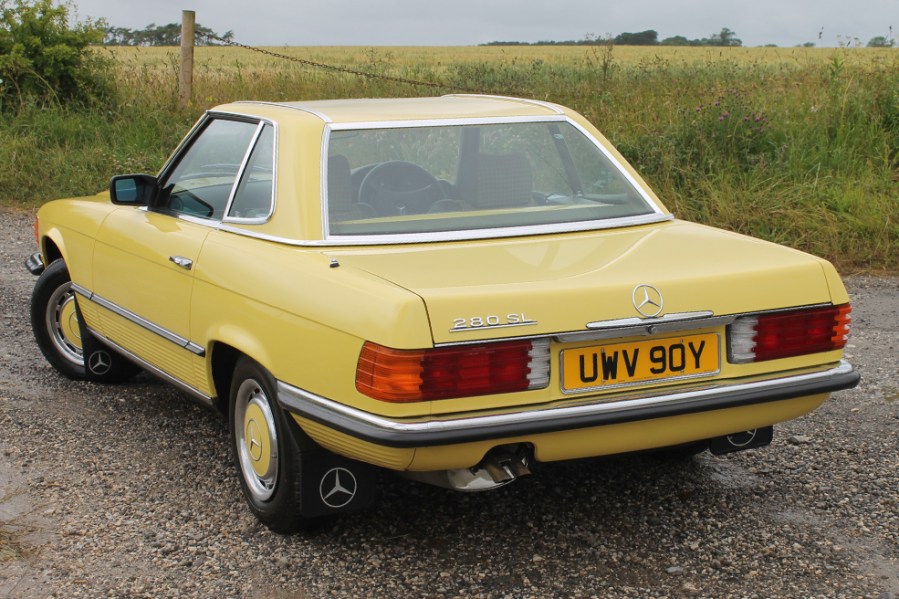 We spoke to a specialist who suggests that the rear bumper corners are the worst affected; replacing the part seems to be the only sensible solution. It's not a difficult process as the valance panels are simply bolted on so shouldn't cost a fortune. A major positive thing to note with SLs of this era is that Mercedes was one of the first manufacturers to properly support heritage vehicles in terms of parts. As a result, specialists suggest there is just about nothing you can't obtain between genuine OEM parts and aftermarket, which is encouraging for potential restorers and buyers.
These, however, are cosmetic issues that many an owner can live with. The same cannot be said of corroded sills or jacking points, as any weak metal here will compromise the car's structure. The subframe on the 70s R107 SL models also has a reputation for rotting rather badly; it's not the end of the world as replacements are available, but you'll need a specialist garage to do the necessary work.
You'll also need to check the air intakes, located at the base of the windscreen. Clogs will lead to bulkhead corrosion, which is not good news as you'll need to budget a four-figure sum for repairs (and that's assuming the rest of the hidden metalwork surrounding this area is also sound). The easiest way to find out whether this is a problem on the car you're inspecting is to unscrew the heater blower's plastic cover on the bulkhead – this allows you to have a good look inside to gauge the condition of the bulkhead.
Even if the bulkhead looks good and the carpets in the footwell are dry, it's still worth inspecting the condition of the floors, both from inside the car and underneath. The same goes for the box sections at the bottom of the engine bay. Water can also get into the boot through perished boot rubbers or failed tail lamp seals.
Finally, the roof; assuming you can find a secondhand hardtop, you'll need to have it repainted to match the rest of your SL's bodywork. Suffice to say, matters are a lot simpler if you buy your car complete with a hardtop already in place.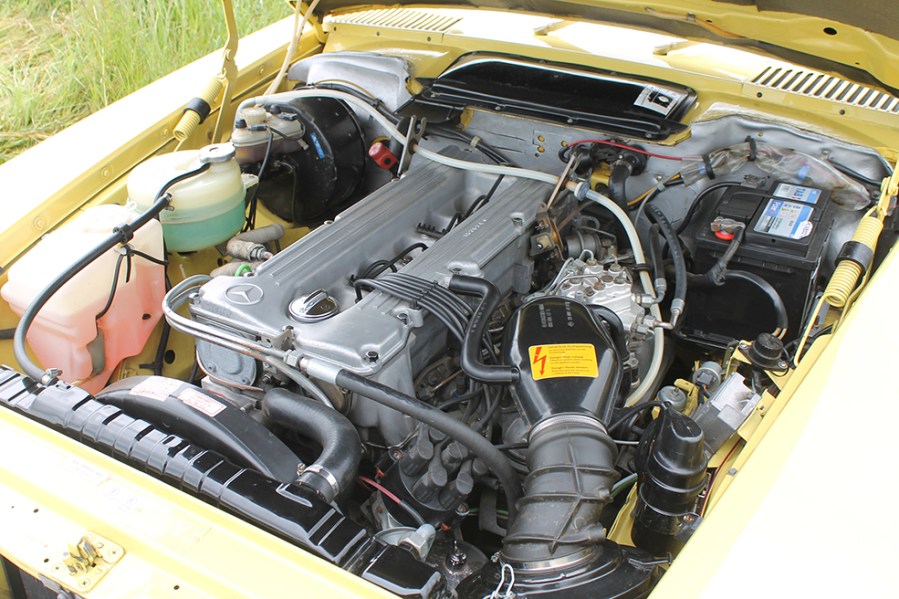 Engine and transmission
Again, common sense springs to mind when consulting the condition of the engine and gearbox. A car that's been well-maintained over the years is one that's still going to run happily today. If the vehicle has a comprehensive history of work carried out and regular services, then you're more likely looking at a healthy example. However, it's good to know that over the 18-year cycle of the R107, no single engine stands out as being worse off, whether that's in straight-six or V8 guise. They all, in fact, have a reputation for robustness.
On inspection, keep an eye out for blue smoke emitting from the exhaust tailpipes on start-up. Ensure that the owner doesn't pre-warm the car before your arrival as cold start-ups always paint a clearer picture. Blue smoke usually points to worn valves; these usually need to be changed every 70,000 miles, which is the same interval for changing the cam chain and tensioner.
If you need to have the stem seals replaced, then it's worth letting a specialist check the condition of the hydraulic tappets at the same time (especially if the engine seems to be making any ticking/tapping noises from the head). Ageing radiators are the most common reason for engine overheating, assuming the coolant level has been maintained.
Most R107 SLs came with automatic transmission – it was only the 280 and 350 models that could be specified with a manual gearbox. As you'd expect, the slush box fitted to these cars is just as long-lived as the rest of the machine. Bigger engines generate more torque, so a full gearbox rebuild will come sooner on a 500SL than, say, a 380SL, but when looked after they should still be going strong 150,000 reliable miles later.
Similarly, back axles are tough but will grow nosier with age and wear. Expect to pay £1500 upwards for the back axle to be rebuilt, while a fresh set of propshaft couplings will cost around £500.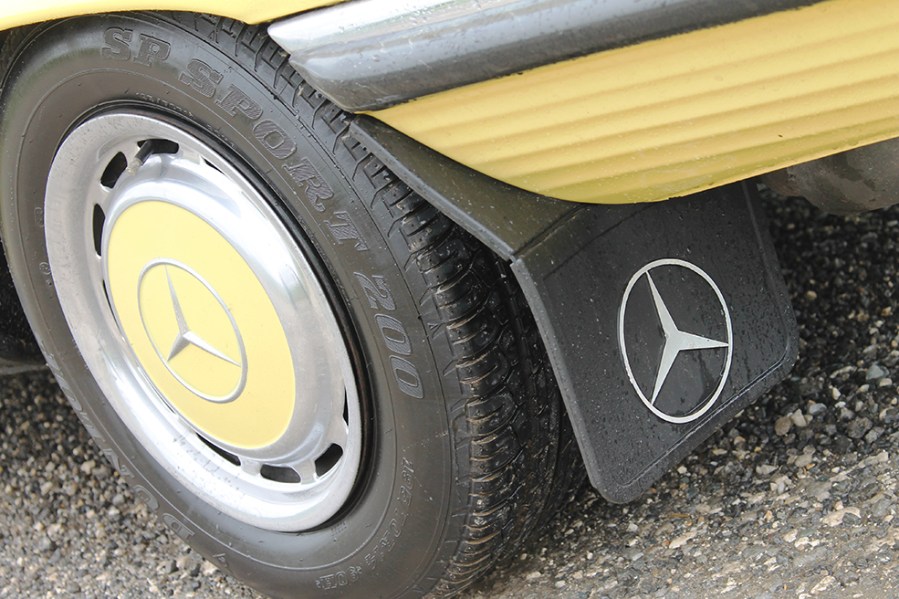 Suspension, steering and brakes
There's very little to worry about suspension-wise. Most components are shared with a number of other saloons from this era, so replacement parts are easy to come by, as we've already mentioned. If the car seems to roll unduly in the corners or handling just doesn't feel as tight as you'd expect, suspect worn shock absorbers – these are often neglected. Clonks and rattles are usually a result of worn anti-roll bar links, which are an inexpensive fix. You should be aware though, that if the subframe mountings have failed where they fix to the car itself, then you could have a potentially very costly problem on your hands.
All R107 SL models came with power steering as standard. The steering boxes on these cars don't last forever and after 90,000 miles will need adjusting at the very least. Of course, adjusting a steering box that's showing signs of wear is only staving off the inevitable, so if you're concerned about the feel of the steering then it might be worth having a word with a specialist.
SLs are also fitted with all-round discs plus a brake servo as standard; this is a reliable set-up that shouldn't be much cause for concern but will eventually need its service parts renewed. Regular heavy braking accelerates wear and may cause brake discs to warp, which will cause the car to pull to one side while out on test or result in odd squeaking and grating noises.
Anti-lock brakes were optional from 1980. Where fitted, look for a warning light on the instrument panel when you start the car. This should go out again shortly afterwards. If not, you'll need to check for faulty connections and may need to replace one of the ABS sensors at about £90 each.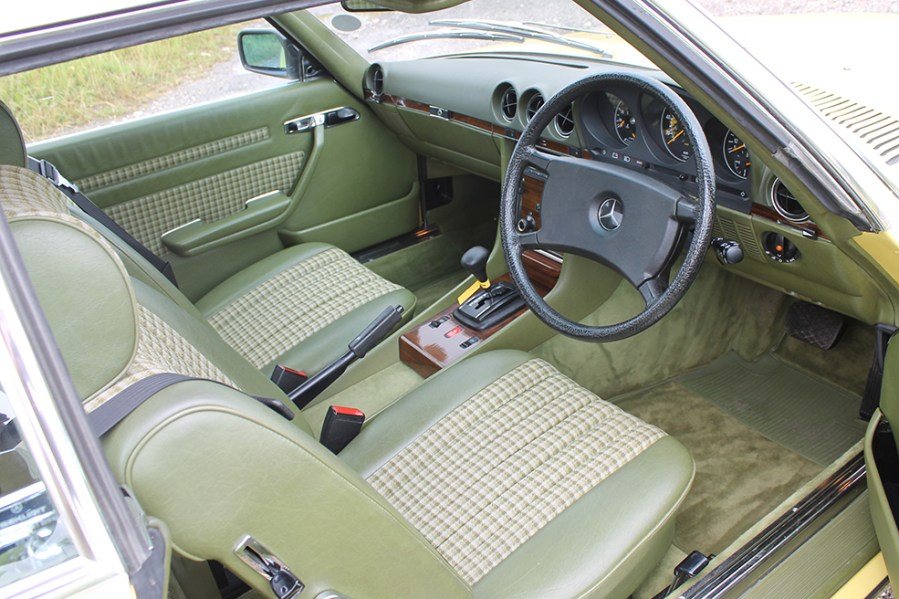 Interior and trim
You should begin here by inspecting the condition of the soft-top hood. Check that there aren't any abrasions or tears and that it fits well, but by the same token hasn't shrunk. Note that the cables and mechanisms that secure both the soft-top and hardtop in place can also break/seize. Specialists charge £800–1000 upwards for a replacement hood.
Try all the electrics as well – windows, the wash-wipe unit and things like air conditioning where fitted. You'll also need to make sure the instrument stalks are functioning properly as they have a reputation for being temperamental. If the element for the heated seats (which were introduced to the options list in the early 80s) isn't working, then replacing it could be potentially expensive as you'll need the skills of an upholsterer to carefully dismantle and reassemble the seat.
MB-Tex was Mercedes-Benz's alternative to leather – similar to hide but much longer-lasting. SLs do come with cloth interiors and vinyl too, but it's the plastic trim on the oldest cars which tends to suffer.
The central locking on these SL models is vacuum-operated, so there's the potential that this system may have sprung a leak. The tank is fitted under the offside front wing and is known to rot and in extreme cases fall off completely.
You should be suspicious of any examples that are fitted with non-standard wheels and tyres, as these cars' on-road dynamics are very easy to upset. Steel wheels should be fitted with 195/70/14 tyres, while for the alloy wheels it should be either 195/70/14 again or a 205/70/14 or 205/65/14 profile.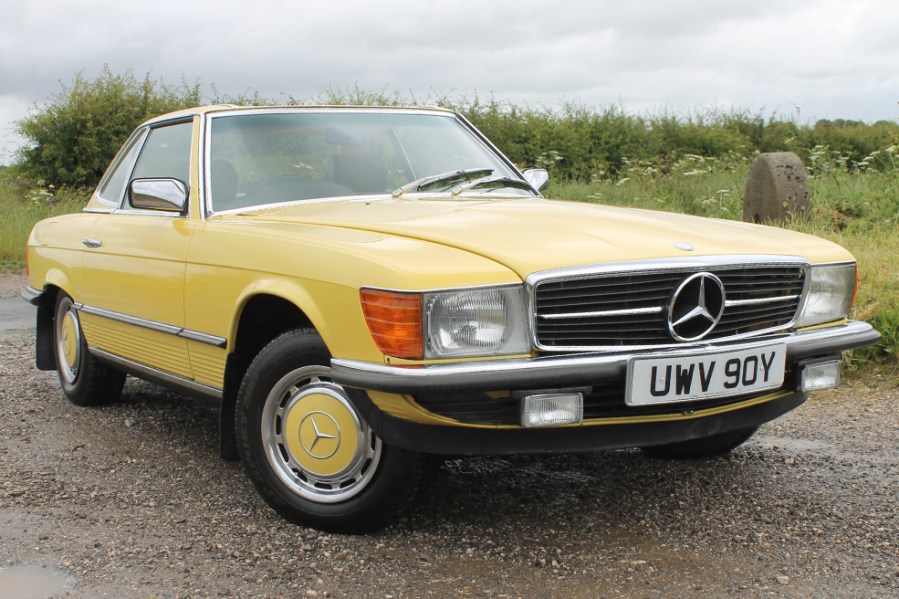 Mercedes SL (R107): our verdict
Timeless, beautiful and gathering popularity would be an apt way of describing the R107 Mercedes-Benz SL. Weighty would be another, but part of that comes as a result of its bombproof six- and eight-cylinder powerplants, thick steel construction and second-to-none build-quality. As such, while this Mercedes is no Lotus Elan or Mazda MX-5 when it comes to being lithe and nimble, the R107 SL has been known to easily outlast many of their contemporaries.
Treated properly, these machines have the potential to go on forever – and values should continue to strengthen over time.