The Land Rover Discovery Mk1 is a very practical and capable SUV that still stands as a great family car today. Here's how to buy a good one
Words: Chris Randall
Some three decades ago, buyers wanting a famous British mud-plugger had the choice of a rugged workhorse in the Ninety/One Ten, or the much plusher Range Rover. But Land Rover wanted to add a third option somewhere between the two – and so the Land Rover Discovery Mk1 was born.
Launched at the 1989 Frankfurt Motor Show, the fresh, modern design perfectly bridged the gap between the utilitarian and luxurious. Developed relatively quickly and on a modest budget, the Discovery borrowed the chassis and most of the running gear from the Range Rover and went on sale in three-door form only, reportedly to avoid it cannibalising sales from the more prestigious sibling.
A more practical five-door arrived a year later, but what stood out for many was the interior; light and airy thanks to the 'Alpine' windows, Terence Conran had a hand in its design and its fresh approach garnered a British Design Award.
Power came from 2.5-litre turbodiesel or 3.5-litre Rover V8 engines (initially carburettor with fuel-injection later) and being a Land Rover, the Discovery was supremely capable in the rough stuff. By the time production ended in 1998, numerous updates had included revised engines: a 2.0-litre MPi petrol unit was introduced, the diesel was updated to a more refined 300Tdi unit, and the V8 enlarged to 3.9 litres – and a facelift in 1994 that tweaked the styling, interior and added more kit.
The Discovery Mk2 – often known now as the Discovery 2 –  was produced from 1998 to 2004 and looked to build on the first generation's success. It's a notably different vehicle to the first car in many ways: it was both longer and wider than the original car and its cabin was arguably more luxurious, having ditched the hard-touch Conran design for something more sophisticated.
While still not especially complex by modern standards, the Discovery Mk2 introduced more technology to the mix, from electronic traction control and hill descent control to an optional 'Active Cornering Enhancement' (ACE) suspension system.
On the engine front there was a five-cylinder Td5 diesel or 4.0-litre V8, and both units featured greater electronic control in the quest for improved performance and economy. Buyers were offered five- or seven-seat versions; the latter's rearmost seats were forward-facing rather than the Discovery Mk1's foldaway jump seats, and seven-seaters boasted self-levelling rear air suspension as standard. A Premium model brought all the luxury accoutrements you could want.
But for all its upmarket aspirations, the second-generation Discovery still retained the off-road prowess Land Rover customers demanded. That ability was enhanced further by the 2003 facelift, when a locking centre differential became optional; previously, it had been retained in the transmission as on the original car but without a connecting linkage to operate it. Production ended in May 2004, making way for the Discovery 3 which was a larger and notably more complex beast.
Bodywork
While the Land Rover Discovery Mk1 chassis is considered pretty robust, it'll still require careful scrutiny for signs of corrosion (cross-members especially), off-road damage or amateur repairs. The bodywork doesn't fare so well and there are plenty of rust spots needing thorough examination; main problem areas include the A-pillars, inners front wings, wheel arches, the boot floor and the footwells.
Rusty footwells are exacerbated by sunroof leaks, but major repairs to any of these areas could well prove uneconomic, especially if the rot has been allowed to spread deeper into the structure. You'll also need to check the panels themselves, especially the tailgate which can also suffer from worn hinges and watch for galvanic corrosion where aluminium panels meet steel. Items like bumpers and side steps also rust through.
When it comes to the Discovery Mk2, the situation seems to be reversed according to specialists. While panels and bodywork still need checking for general abuse and damage, there's less likelihood of the major corrosion that can plague the first generation.
Instead, it's the chassis that presents the biggest risk to your bank balance, with the rear being where serious rot can take hold. A new rear half-chassis section costs £800-900 but the labour costs can quickly mount up unless you're confident of doing the work yourself. It also pays to check if any fresh underseal is hiding rot.
Assuming you've found a broadly rust-free example, the last checks are for general damage to lights, mirrors and other exterior trim and fittings (replacements for both generations are fairly easy to source), and for modifications. The latter come down to personal taste and whether you value originality, but don't be surprised to find additional lights, a snorkel, roof rack or similar. Mods such as bumper removal for better ground clearance likely point to more serious off-road use, so proceed with caution.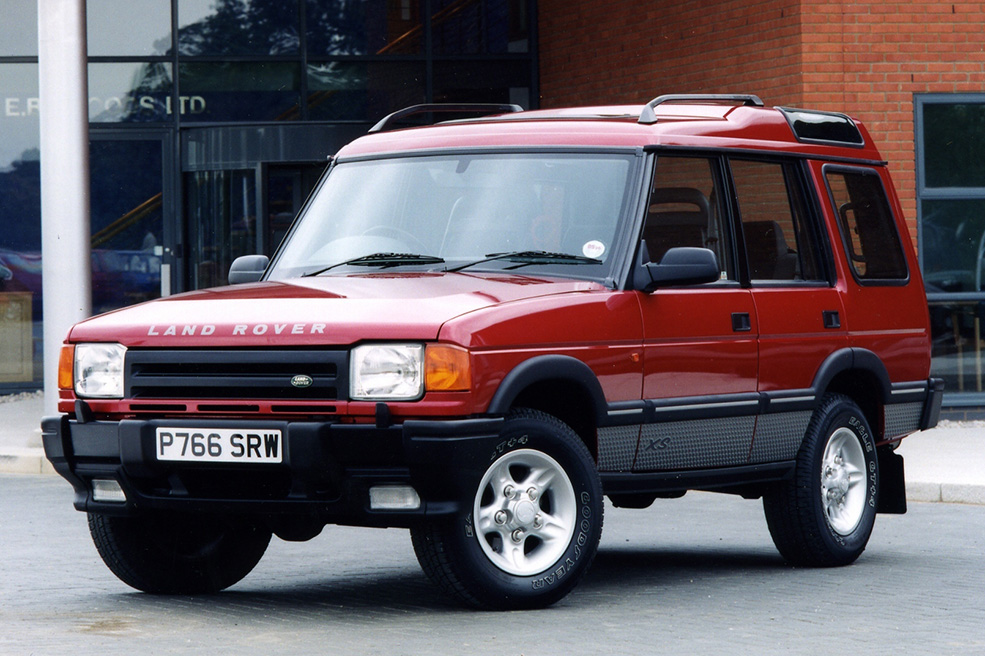 Engine and transmission
Unsurprisingly the majority of Land Rover Discovery Mk1 models were diesel-powered, initially just the 200Tdi, but with the 300Tdi introduced for the 1995 model year, and with the Td5 arriving in 1998.
All will cover high mileages if properly maintained but the spectre of neglect can rear its head, so give any potential purchase a thorough health check. Look for an excessively smoky exhaust and signs of overheating, and ensure there are no running issues that point to an ailing diesel injection system. Tdi engines need a fresh cambelt at around 70,000 miles (especially the 300Tdi version which gained a reputation for eating belts before a fix was introduced) so if there's no evidence of this it should be the first job.
As for the petrol units, the 2.0MPi unit struggles with the weighty Discovery and can suffer from head gasket failure, so you're better off with the V8. Regular oil and coolant changes are key to longevity, the former preventing premature camshaft and valve-gear wear, and you'll want to be sure that overheating hasn't done for the cylinder heads or gaskets.
Cracked cylinder bores on the 3.9 version will prove a much more costly fix. Oil leaks and water leaks aren't uncommon, either, and whether it's a carb-fed or injection version, make sure it runs smoothly. The ubiquity  of the V8 means just about anyone can fix it, and it's DIY-friendly too. Much of the above also applies to the second-generation Discovery, of course.
The Td5 diesel can suffer cylinder-head failure, so a careful check for coolant loss or overheating is needed, and it's wise to check the V8 for signs of failed fuel injector seals and engine management woes. Any warning lights will need further investigation as it could be a sign that engine oil has got into the wiring harness.  Lastly, plenty of V8s have been converted to LPG so ensure you're happy with the installation and ask to see the relevant certificates.
Transmission-wise, early D1s used the LT77 'box which can suffer from stiff gear selection and bearing wear, while the R380 unit fitted from 1994/95 (with reverse under fifth) needs a check for crunching synchromesh. The latter was carried over to the Discovery Mk2 and both generations were available with a four-speed automatic; ancient, treacly fluid and rough gear changes need watching for as a rebuild can cost a lot of money.
Water ingress from wading can also cause failure of the Discovery Mk2's 'XYZ' transmission selector switch, with new items costing around £400. All examples need scrutinising for oil leaks and ominous noises from the gearbox, transfer box and axles along with clunks signifying wear in prop-shaft and axle universal joints.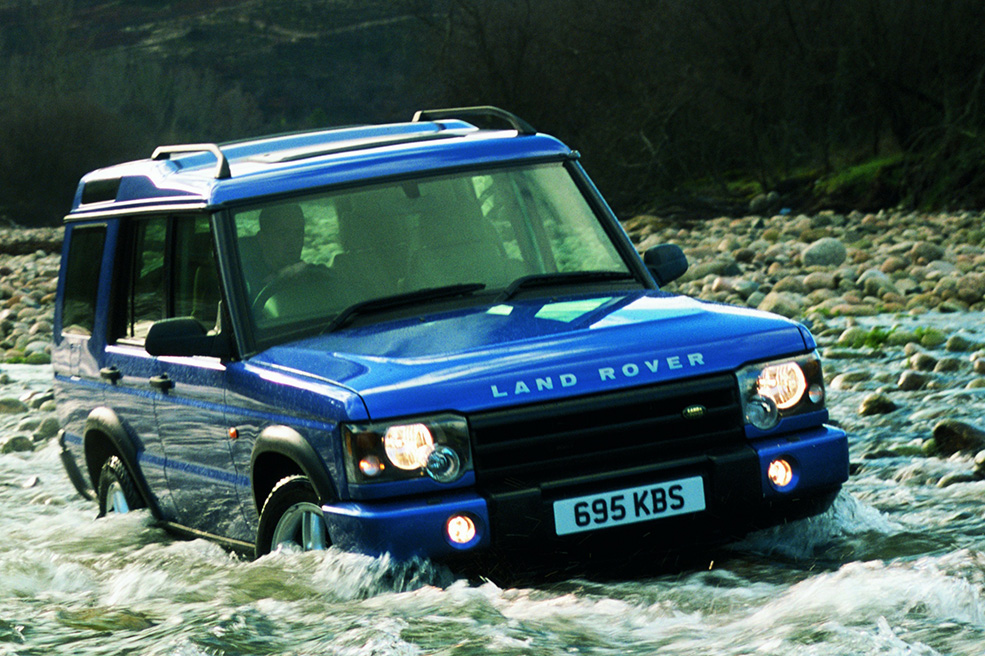 Suspension, steering and brakes
Both models feature the same rugged Range Rover-derived suspension system of live beam axles with coil springs front and rear, with the Discovery 2 having the option of air suspension on the back.
There are a number of bushes and joints that succumb to wear and tear, so don't underestimate the cost of a major refresh: a full set of poly bushes is £200-300 but replacement involves hours of labour. Neither model is a paragon of handling sharpness but knocks and clunks and excessive sloppiness means expenditure is on the cards.
You'll also need to watch for broken coil springs, tired and leaking dampers, corrosion around mounting points and evidence of off-road battering. The good news is that replacement parts are plentiful and affordable, with good quality springs and dampers costing less than £50 each. Where fitted, the the Discovery Mk2's self-levelling rear air suspension needs a thorough check, but changing the spring units isn't especially difficult and springs cost around £100 each.
A kit to convert to coil springs is less than £100, but potentially more troublesome and costly is the ACE suspension system so tread carefully; problems may need specialist diagnosis and parts are pricey.
Power steering pump failure, leaks from the hydraulics and worn steering boxes causing vagueness and wobbles can afflict both versions of the Discovery, too, so it pays to look out for these.
The Land Rover Discovery Mk1 uses two-part steering swivels at each end of the front axle that, if worn or pitted, will cost a few hundred pounds to replace both sides. It's also advisable to ensure the hefty kerb weight hasn't taken its toll on wheel bearings.
Discovery Mk2 steering joints are integral with the hub, with OEM replacements proving pricey. Check steel and alloy wheels for corrosion and damage; refurbishing the former is a DIY task, while specialists charge around £75-100 per corner to refurbish the latter.
The brakes were more than up to the job on both generations, so it's really just a case of checking they've not been neglected. Look for rusty brake pipes, corroded discs and a feeble handbrake which point to lack of maintenance. None of these issues is especially difficult or expensive fix and a set of front pads and discs for a Discovery Mk1 costs less than £100 from a Land Rover parts specialist.
More important is ensuring that anti-lock brake systems function as they should, as repairs here can get a little pricier. The Discovery Mk2 also got a more sophisticated suite of electronics to aid off-road ability, and faults can result in the illumination of the hill descent, ABS and traction control warning lights, although a new ABS sensor may cure it.
Interior, trim and electrics
The Discovery Mk1's pale beige or blue Conran interior was a real departure for the brand, but unless you're looking at a cherished example it's likely to have become somewhat shabby.  Sourcing original materials is nigh-on impossible so a professional re-trim is the only option, while later models can also suffer from a sagging headlining.
It's also sensible to ensure that seat adjustment and folding mechanisms still function properly, and watch for trim damage caused by water ingress via sunroof and window seals. The latter is a pain to cure, so former owners may have resorted to clumsy fixes using sealant. Electrically, the first-generation Discovery is relatively straightforward, so just ensure everything works, concentrating on the likes of central locking, electric windows/sunroof and air-conditioning, and watch for faulty alarms and immobilisers, too. Switches and stalks were borrowed from the Austin-Rover parts bin and tracking down replacements isn't too difficult.
It's a broadly similar story with the Discovery Mk2, although the cabin felt somewhat plusher in versions with wood trim and leather upholstery.  Age and abuse may have taken its toll by now, so examine seats, carpets and trim panels for damage. Broken door locks aren't uncommon either.
There's more gadgetry to worry about too, with plenty of toys in ES Premium models, so press every switch and button and don't underestimate the cost and frustration of getting inoperative equipment working again: previous owners may simply have given up.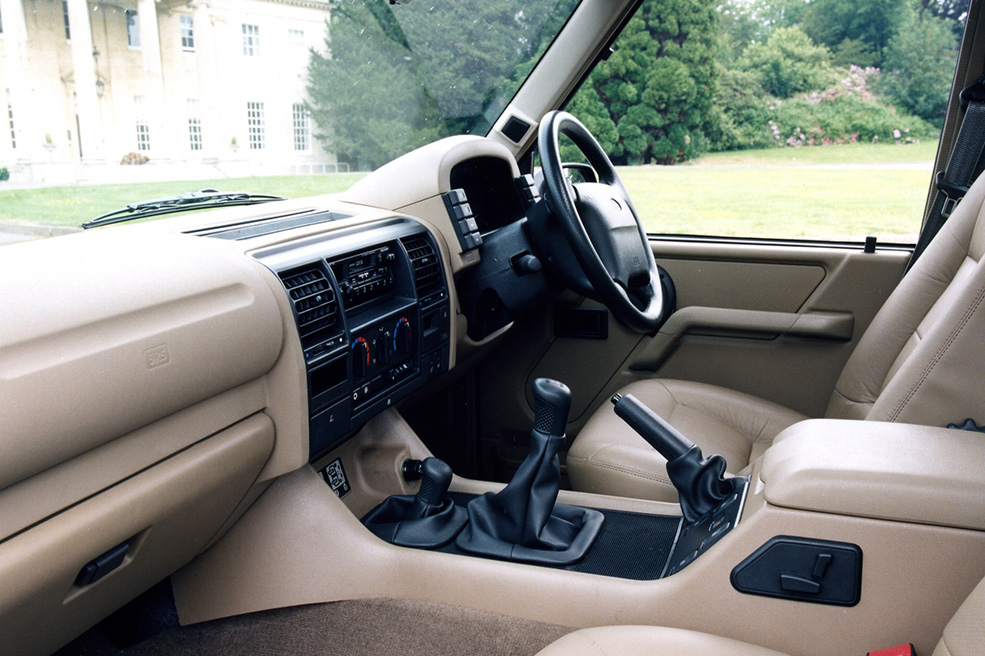 Land Rover Discovery Mk1 & Mk2: our verdict
The product of some clever thinking in period by a company trying to expand its product line-up on a tight budget, the Land Rover Discovery uses its Range Rover structure to good effect. The model has since become the backbone of the Land Rover line-up, and industry watchers have even suggested that without the Discovery, it's doubtful whether Land Rover would have survived in the long term.
Early Discovery models are the most desirable today but all Mk1 and Mk2 cars are worthy of attention – and if you need a large family car that can remain untroubled by farm tracks and wintry weather, few modern classics strike as good a balance as the Disco.