Combining period power with curvaceous good looks, this British sporting duo is hard to resist – but which one's the best buy, Jaguar XK150 or Austin-Healey 3000?
The late Fifties saw plenty of activity in the sports car market, with British makers in particular offering an array of models to suit all pockets – including the highly affordable Austin-Healey 'Frogeye' Sprite and the rather more expensive (and more powerful) Triumph TR3 and MGA. At the top of the tree towards the end of the decade, however, were the Austin-Healey 3000 and Jaguar XK150, costing from £1168 and £1666 respectively (including Purchase Tax) by 1959.
This made the twosome featured here significantly more expensive than their bigger-selling contemporaries from Coventry and Abingdon. Each went on to be a major success, however, appealing to well-heeled buyers seeking a high-performance experience in a stylishly sporting package. And it's a similar situation today, with both the 3000 and the XK150 having a loyal following – and, not surprisingly, hefty asking prices for the best examples.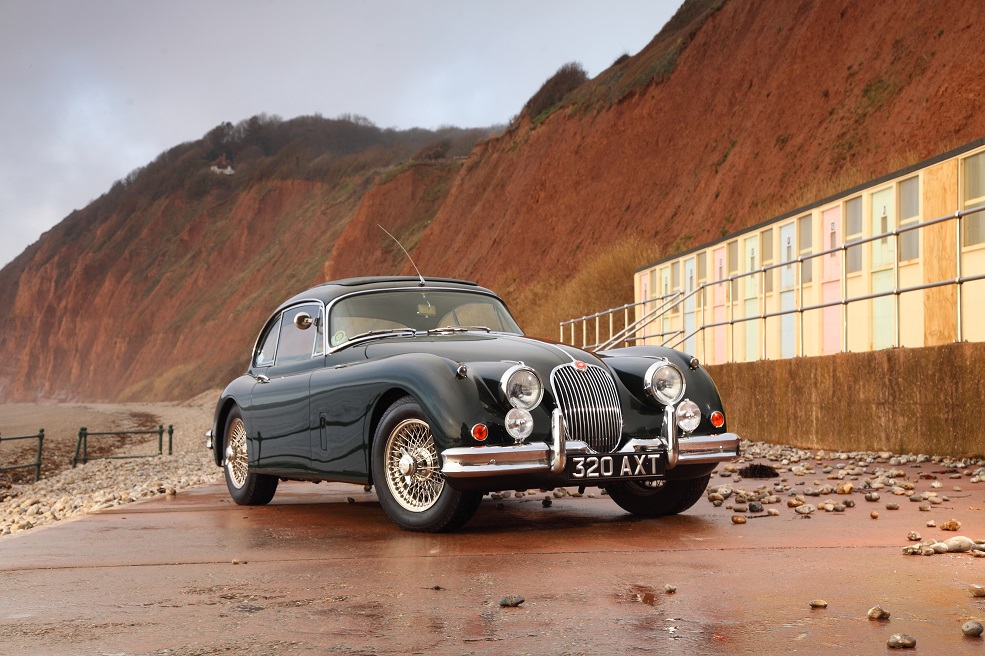 Jaguar XK150
First to market was Jaguar's latest XK, arriving in May 1957 – almost nine years after the headline-generating debut of the original Jaguar XK120. The new XK150 inherited an appearance similar to its forebears, albeit with a more modern twist. It was an impressive update of a highly successful model, even if it wasn't exactly what Sir William Lyons originally had in mind. Indeed, Lyons had already penned a completely new sports car design intended as an XK140 replacement, but reluctantly dropped the idea due to the high cost of retooling.
The XK150 was still instantly recognisable as an XK, of course; but with its one-piece curved windscreen, enlarged front grille, wider bonnet and higher waistline, the XK150 was a far more contemporary design. It was also a more practical proposition than its predecessors, with a useful amount of extra cabin space. The increase in elbow room was certainly welcome, achieved partly via the adoption of thinner doors with a straight-topped edge, doing away with the previously intrusive curves.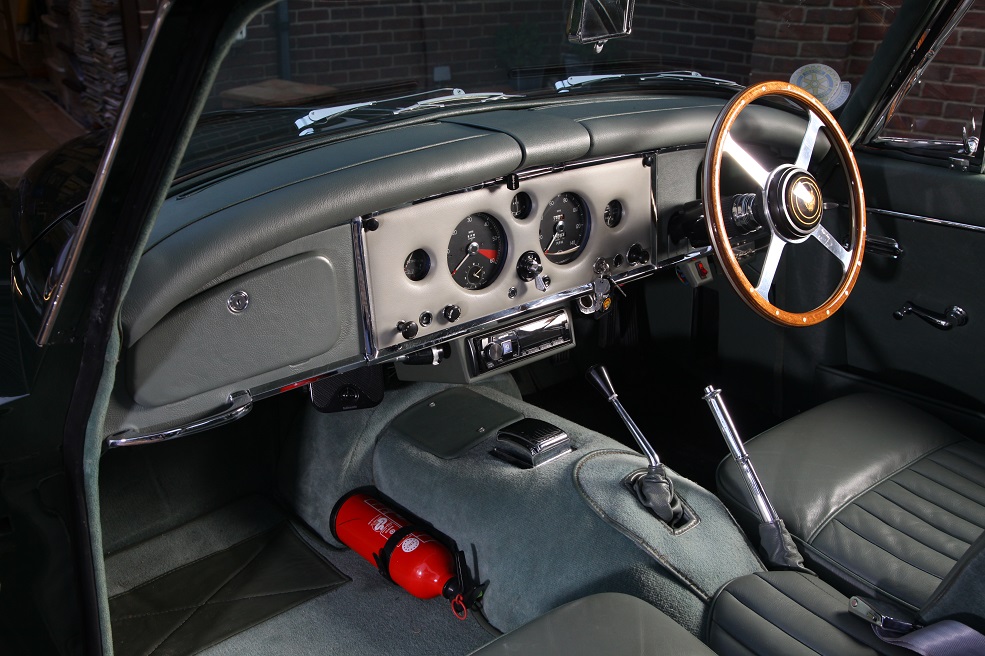 Entry and exit was dramatically improved too, with the one-piece windscreen being moved forward to allow easier access, while the interior itself boasted extra equipment and a touch more sophistication – with a leather padded dashboard top, redesigned instrumentation and wind-down windows being just part of the extra modernity. Body-wise, meanwhile, buyers could initially choose from FHC (fixed-head coupe) and DHC (drophead coupe) models, although a roadster was to follow in March 1958 – with its scuttle moved back to give it a longer bonnet and a racier appearance.
The changes to the range were far more than skin deep, however, with the XK150 famously adopting the Dunlop-designed all-disc braking system that had already proved itself in competition. Once fitted to Jaguar's latest production sportster, the overall driving experience was dramatically improved, finally banishing the previous XK issue of brake fade after prolonged use. The end result was a Jaguar sports car that offered confidence-inspiring braking ability to match its superb performance.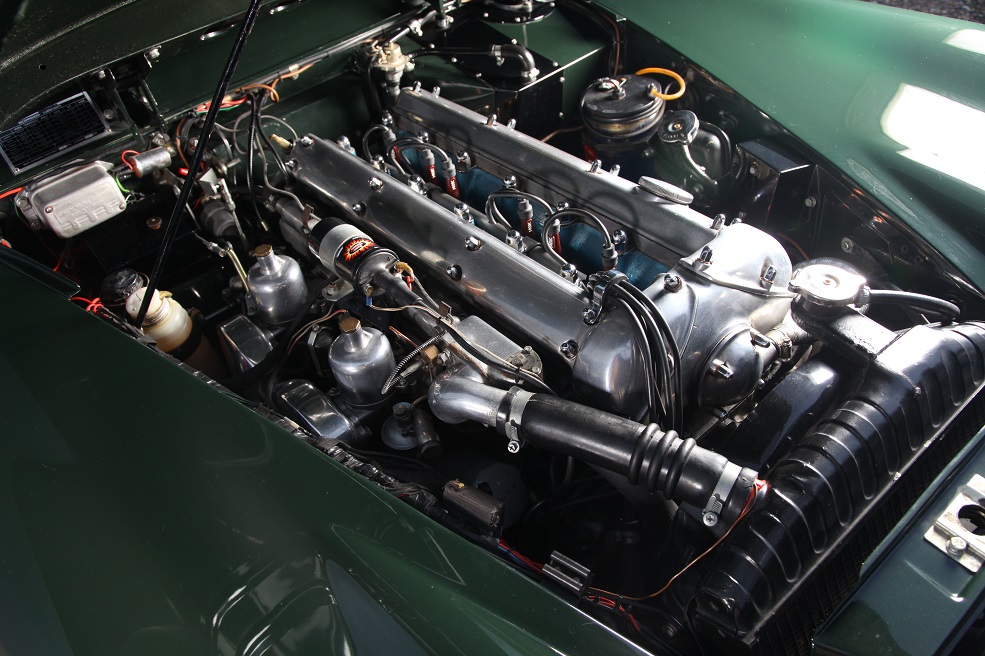 At launch in 1957, the XK150 came with the well-proven 3442cc XK unit, with twin SUs helping to provide the same 190bhp as before. However, Jaguar also offered the XK150 with a modified 'B-Type' cylinder head, which saw power boosted to 210bhp at 5500rpm. Buyers had a choice of Moss manual transmission (with four-speed as standard and overdrive as an extra-cost option) or Borg Warner automatic.
Jaguar didn't rest on its corporate laurels, as by 1958 the XK150 could also be specified in 3.4-litre 'S' guise, with its new Harry Weslake-designed straight-port cylinder head helping to boost power to an impressive 250bhp. The ultimate XK150s arrived the following year, however, with the debut of the 3.8 models, offering 220bhp as standard (complemented by 240lb.ft. of torque at just 3000rpm) or 265bhp in range-topping 'S' guise.
Any well-sorted XK150 is still a highly capable machine, with even the least powerful (3.4-litre) version providing impressive performance. When new it would hit 121mph flat-out, reaching 60mph along the way in just 8.5 seconds; and these days it's lost none of its driver appeal, with the rasp from that glorious XK straight-six being as addictive as the performance it provides. Throw into the mix sharp handling and standard-fit disc brakes and you have a classic sportster that's as usable as it is entertaining. The only real downside is the XK150's pricing, with extremely well-restored examples achieving £90,000-plus, although £65,000-£70,000 should buy a sound, presentable car that's ready to enjoy.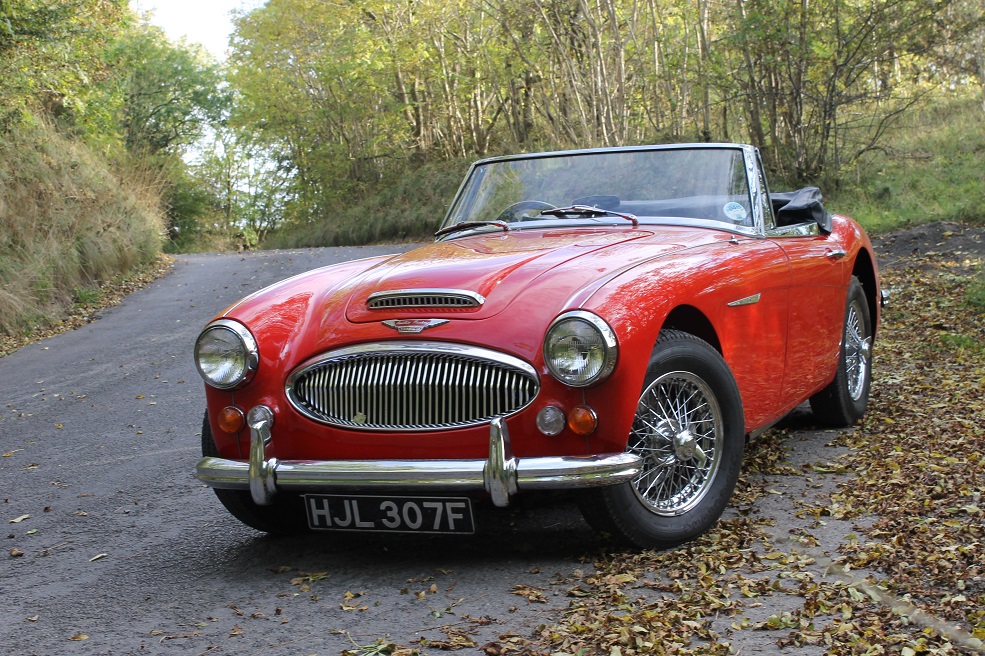 Austin-Healey 3000
When Donald Healey displayed a prototype sports car – known as the 100 – at the 1952 Earl's Court Motor Show, Austin boss Leonard Lord was so taken with the concept that he wasted no time in forming a partnership, resulting in Austin-Healey badged sports cars rolling off the line for the next twenty years. Most desirable of all were, of course, the 'Big Healeys', a range that made its debut via the four-cylinder Austin-Healey 100-4 of 1953 (assembled at Longbridge using bodyshells produced by Jensen) and ended with the six-cylinder 3000 series of 1959-67.
The MkI 3000 of 1959 had similar looks to the 1956 Austin-Healey 100-6, though under the bonnet sat a 2912cc version of its predecessor's straight-six engine – effectively the BMC C-series unit fitted with twin SU carburettors. Using model designations BN7 (two-seater) and BT7 (2+2), the MkI remained on sale until the arrival of the MkII in March 1961, the newcomer boasting triple SU carbs. The MkII models subsequently became known as the BJ7 and BT7 when they reverted to twin-carbs in 1962.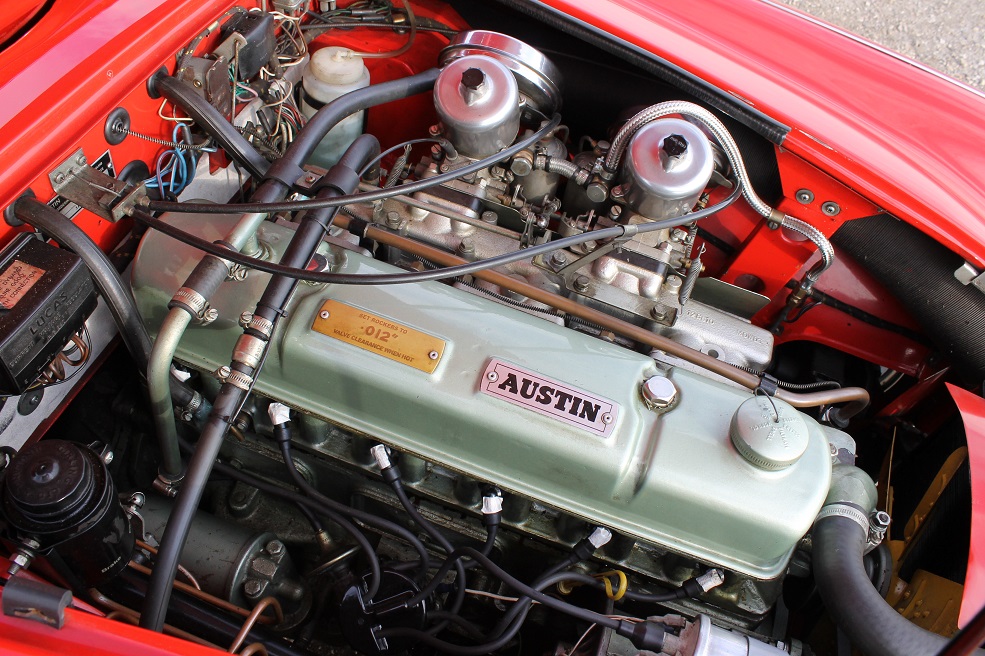 Longest-lived of all the 3000s was the MkIII of October 1963, which remained in production until late 1967 and was available only in 2+2 guise, known as BJ8. It was the most powerful (at 148bhp) of all the 'Big Healeys', fitted with a new camshaft and twin SU two-inch HD8 carburettors. Servo brakes came as standard, as did a walnut dashboard and wind-up windows, making the MkIII the best-equipped 3000 – and the most successful, with 17,712 built in total.
Those seeking the best in Austin-Healey performance will be well advised to opt for a Series III, whose top speed of around 120mph was the most impressive. In reality though, no Austin-Healey should disappoint in terms of performance, with quick feeling acceleration through the gears and excellent grip and handling by standards of the time. It's a real driver's car, and one that provides thrills aplenty on the right kind of winding A-road.
One thing to bear in mind is that, like the XK150, this was always a fairly rare car in home-market spec, with 90% of all 'Big Healeys' being exported to the USA. Only about 4000 Austin-Healey 3000s (of all types) were sold in Britain, though many US-based cars have since been repatriated, often with bodywork that's better than average but requiring work in other ways. If you're buying a car that's claimed to be British-spec, be vigilant when examining it – and look for signs of a right-hand drive conversion at some point in the past.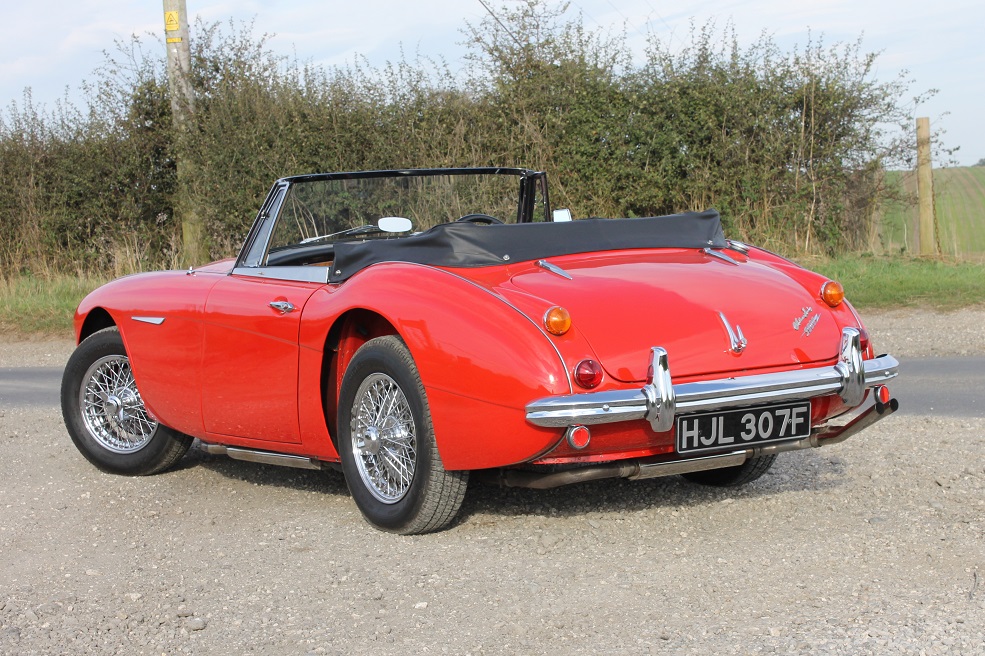 What's particularly good news about the Series III 'Big Healey' is the value for money it offers… relatively speaking. It's still a major financial undertaking, of course, but it manages to undercut by quite some margin an XK150 in similar condition. Asking prices of £60,000-plus are common for cars that have been professionally restored, while around the £45,000-£50,000 mark should secure a solid car that's solid, tidy and usable. If you fancy a project, you'll find them available from £15,000-£25,000 depending on just how much work is required.
Verdict
Neither of these sports cars is short of fans, with plenty of Jaguar and Austin-Healey enthusiasts keen to explain why theirs is the top choice. That's single-marque dedication for you. But looking at this twosome objectively, can there really be a winner?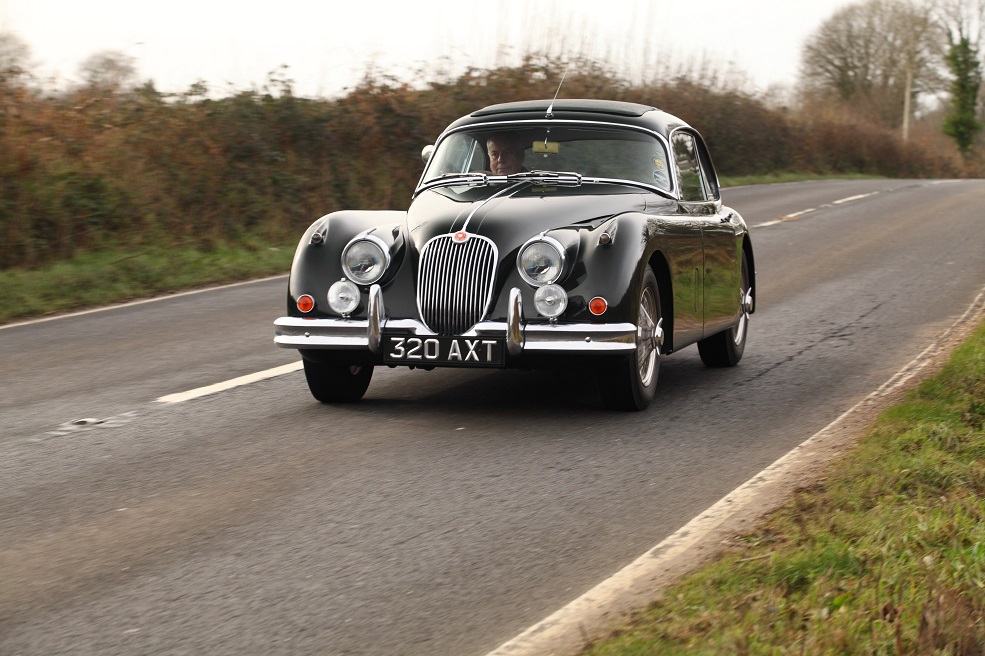 If money were no object, my personal preference would be the Jaguar XK150, the final part of the original XK's journey prior to being usurped by the E-Type in 1961. Its lusty XK powerplant, achingly handsome styling and rewarding driving style make the XK150 a top option for any fan of upmarket British sports cars. And the fact that it was available in three different body styles means there's a touch more choice for today's buyers.
For most of us, however, money is very much an issue, which is where the Austin-Healey 3000 has the edge over its Jaguar rival. It might be less powerful than even the smallest-engined XK, but it's a car that still delivers in terms of driver thrills – and is capable of turning just as many heads out on the road. It's not a cheap classic, but when it comes to value it's hard not to see it as the best buy here. Of course, that doesn't necessarily mean it's the best car…
Words: Paul Guinness