The Jaguar E-type S3 is the most attainable example of the breed – and could well be a savvy investment. Here's how to buy one
Words: Paul Guinness
Although there's no such thing as a cheap Jaguar E-type, it's certainly the case that the Series 3 offers the best value of them all. With an early flat-floor Series 1 setting you back anything up to a cool quarter of a million pounds in exceptional condition, the final V12-engined version from the early '70s is relatively affordable by comparison.
It might not be everyone's idea of the ideal E-Type, thanks to it evolving into more of a grand tourer than the raw and raucous sportster it started out as; but the Series 3 does have plenty to offer, and might just be where the clever money is right now.
Launched in 1971, a decade after the E-type first took a bow at the Geneva motor show, the Series 3 brought with it major changes. It had flared wheelarches, a wider track and an additional two and a half inches in width across its bodywork. The E-type had grown up – in every sense. The front suspension, for example, featured anti-dive geometry to help keep the front end level under harsh braking; the brakes were uprated via a bigger servo and an extended handbrake lever; and power steering also now came as standard.
It was under that vast bonnet, however, where the Series 3's biggest difference lay, with the original E-type's legendary six-cylinder XK engine being replaced by Jaguar's new 5.3-litre all-aluminium V12 – a unit inevitably destined for the XJ saloon line-up but also deemed suitable for the latest E-Type. With a compression ratio of 9:1 (or 7.8:1 for American-bound models thanks to emissions regulations), the V12 produced 272bhp – a figure that wasn't all that much of an advance over the previous six-pot.
Where it did score, however, was via its torque rating of 304lb.ft. at 3600rpm, enabling the latest E-type to become a low-revving, high-performance but really rather effortless touring machine. It could still manage 0-60mph in under seven seconds and achieve well over double the UK motorway speed limit when driven flat out, but all this was achieved with a level of new-found sophistication.
The Series 3 continued in production through to the 1975 model year, with the final fifty commemorative cars taking the number of V12 E-types sold worldwide to 15,287 – of which 7297 were of the 2+2 variety. It meant that the V12-engined model accounted for 21% of total E-type sales, an impressive achievement given its prodigious thirst (12-15mpg was typical) at a time of global energy crises and soaring oil prices.
Nowadays the Jaguar E-type Series 3 enjoys a decent survival rate, while also offering good value by E-type standards. As with any sporting Jaguar, however, today's buyer will be wise to be vigilant, as there's no shortage of potential pitfalls.
Bodywork
The Series 3's bodywork consists of a steel tub with steel doors, bonnet and either a boot lid for the roadster or a third door for the FHC. The body tub is an early monocoque design, with a rear subframe to house the differential, rear suspension and inboard disc brakes. Underneath the front-hinging bonnet, there's an all-steel square-tube framework which is secured to the engine bulkhead and supports the engine and front suspension.
Corrosion is inevitably the biggest enemy of any E-type and can be found in typical areas such as the wheelarches, sills, floors, door bottoms and the engine framework. Rust-free imports from hot, dry climates are worth considering if you want to avoid corrosion issues and the possibility of spending thousands of pounds on repair panels. Some of the most costly repair sections include the bulkhead top panel (or what many people call the scuttle panel, below the base of the windscreen), which is available new for around the £1200 mark.
Be vigilant when checking any E-type S3, particularly if it's one that's been restored. Be on the look-out for poor quality repairs and signs of filler, and be wary of any bubbling paintwork – a sure sign that rot is working its way through from the other side of the panel.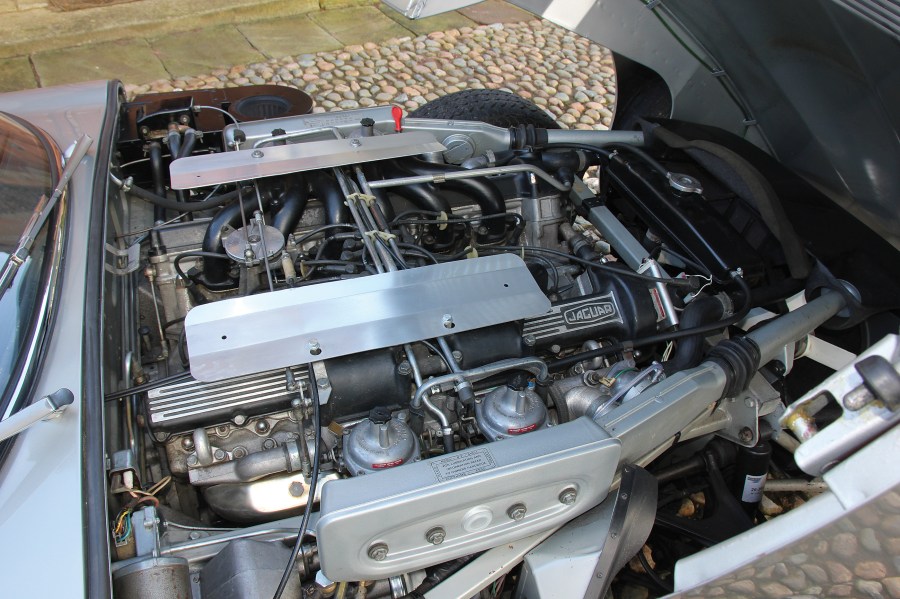 Engine and transmission
Routine maintenance and regular use of a Series 3's V12 engine is essential for ensuring it remains in good working order. The coolant should be renewed every two years and it's also worthwhile flushing the engine and radiator at the same time to avoid a potential build-up of silt, which can block waterways, clog the water pump and ultimately result in overheating issues leading to head gasket and engine failure. Series IIIs exported to the USA had to follow stricter emissions laws than the UK, hence the lower compression ratio, which means a re-import might feel underpowered compared with a home-market example.
The V12 for the E-type remained at 5343cc throughout the Series 3's lifespan, consisting of aluminium 12-valve cylinder heads and an aluminium engine block with a forged steel crankshaft. The timing gear uses a single duplex chain connected between the crankshaft and the overhead camshaft sprockets. The chain's tensioner works well but should be replaced once it eventually starts to slip – and that means an extensive engine strip-down. Four Zenith-Stromberg 175CD carburettors provide the fueling, but these are often difficult to set up and balance, which is why many Series IIIs have undergone conversion to SUs.
The V12 is known for being a smooth-running engine, so you should be wary of any knocks or rattles, as well as checking underneath for oil leaks and ensuring there's around 60psi of oil pressure at speed. Low-mileage cars can bring their own problems, as a V12 that isn't frequently run can suffer from its piston rings seizing into the cylinder bores, although lubricating the bores can sometimes resolve this. The oil seal at the rear end of the crankshaft is known for drying out, which then rubs after starting and causes an oil leak. If you're buying a car in need of work and with known engine issues, you need to budget accordingly, as a marque specialist will generally charge upwards of £12,000 to fully rebuild Jaguar's V12.
Four-speed manual and three-speed automatic gearboxes were offered in the Series 3 E-type. In manual cars, it's important to check the operation of the clutch, as a short pedal travel suggests the clutch needs either adjusting or replacing. You can buy a new clutch kit for less than £300, but a Jaguar specialist is likely to charge in excess of £1000 for the work. If the car you're buying is an automatic, make sure the gear changes are smooth and that there's no sign of it slipping a gear when under load.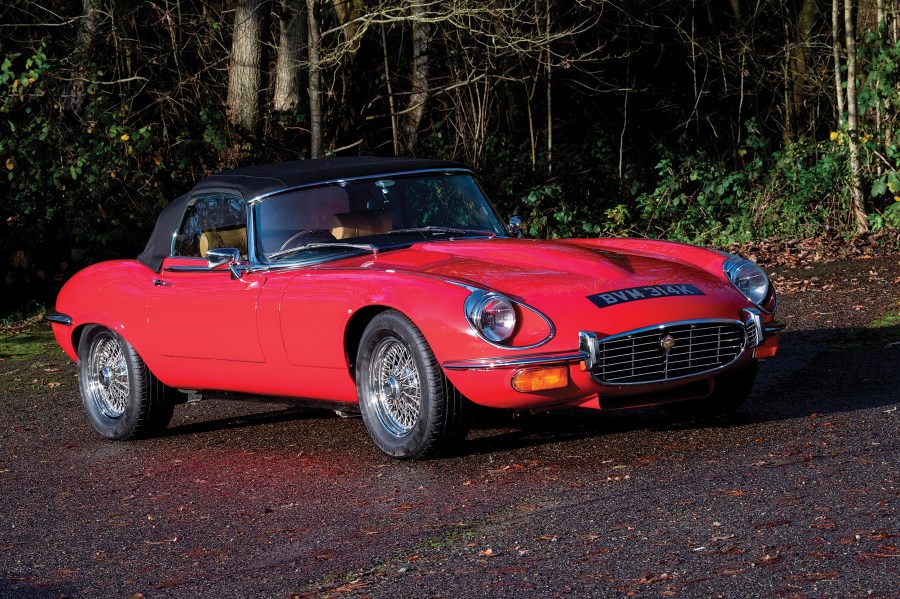 Steering, suspension and brakes
There are servo-assisted disc brakes all round (three-piston calipers at the front and two pistons for the rear), with the front end being easiest to inspect. Lack of use may result in a seized caliper and a heavily corroded brake disc, so check that the brakes aren't showing signs of overheating after your test drive. Discs and pads generally cost £75-100 depending on whether you go for 'budget' or 'branded', while a single front caliper will set you back around £150.
The inboard rear brakes are not so easy to inspect, although there may be an access hole inside the boot – without which it's a case of crawling underneath or having access to an inspection pit or ramp. Check the condition of the discs and the thickness of the brake pads and separate handbrake pads, as well as the mechanical brake caliper. Exchange calipers as well as new discs and pads are all competitively priced via independent Jaguar parts specialists, but the work involved in fitting them is very labour-intensive and requires removal of the rear subframe and diff assembly. Infrequent use can result in the rear brakes and the handbrake being seized on, which again can result in them overheating.
A power assisted rack-and-pinion steering system is employed, which comprises a belt-driven power steering pump. Look for fluid leaks from the pipework's connections, although new pipes are available. If there's lot of play in the rack or the pump is noisy, new components are available – but you should budget accordingly (up to £350 for a new rack) when buying the car.
The front suspension consists of double upper and lower wishbones with a separate telescopic damper and torsion bar, plus an anti-roll bar. At the rear, there's a wishbone with the driveshaft being used as the other wishbone, along with a radius arm, coil spring and telescopic damper. Look for uneven tyre wear, which could suggest incorrect wheel alignment at the front, but also worn suspension components all round. Many S3s have been fitted with polyurethane bushes in recent years, though this can have a negative effect on ride quality.
Interior and electrics
It's important to check for water leaks inside the cabin, especially on the roadster, often caused by worn seals around the underside of the hood or gaps between the tops of the door glass and the seals. You obviously need to check the condition of the hood itself, looking for tears in the material and other signs of damage. Aldridge Trimming sells PVC hoods from around £300, although a mohair one (coming in at over £450) is a popular choice. If you don't intend changing the hood yourself, you also need to factor in labour charges.
The S3 E-type interior is trimmed in several separate sections of carpet with leather or vinyl upholstery. If the car has had previous problems with leaks, you may find it feels and smells damp. Full carpet sets are available (Aldridge Trimming can also help here), albeit costing well over £500 for original spec, although cheaper options are available. If the seats are damaged or worn (with the outer bolsters on the side of each front seat being particularly vulnerable), you can buy a pair of original-looking perforated seat covers from around the £800 mark.
Finally, check that all the instruments and switches work as they should, and that the instruments are illuminated when the sidelights and headlights are switched on. You should also waggle the steering wheel up and down and from side to side to check the bushes inside the column.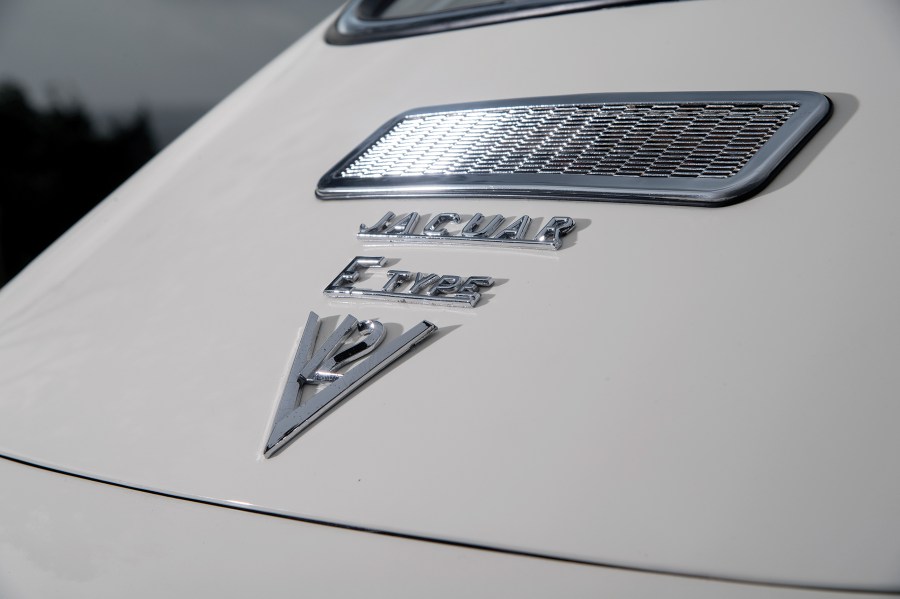 Jaguar E-type S3: our verdict
If an E-type has always been on your classic-car wish list and you're ready to finally take the plunge, it's hard not to be tempted by the extra value for money offered by the Series III.
There is, however, much more to this final-generation E-type than its relative affordability, as this is the model with the highest levels of equipment (including power steering and servo-assisted brakes), helping to make it arguably the easiest version to live with.
And, of course, the Series III is also the only E-type to benefit from Jaguar's legendary V12, an engine that's an absolute joy when meticulously maintained and running right.
Jaguar E-type Series 3 timeline
1971
Series 3 E-type launched (March) in roadster and 2+2 FHC guises.
1972
Interior and exterior colour options changed.
1973
February sees Borg-Warner Model 12 replace Model 8 on automatic cars
1973
Quad-pipe exhaust replaced by twin set-up in March. 2+2 production ends in October.
1974
The final 50 Commemorative cars produced. All are black, except the penultimate car.
1975
The final new E-types are delivered.