Functional design and a fun driving experience ensured a strong following for the Fiat Panda and it's just as popular today. Here's how to get a good one
Words: Chris Randall
The idea of simple, utilitarian cars was nothing new in the world of motoring, with Fiat's own 500 being a famous example. But the late 1970s saw the company revisit the theme, the result being the loveable Panda. Taking its name not from a black and white bear but from Empanda, the Roman goddess of travelling, the styling was the work of Giorgetto Giugiaro and, in terms of simplicity, it was an absolute masterpiece.
Flat panels and equally flat glass that was interchangeable from side to side provided a boxy silhouette that resulted in a spacious and airy interior. And once inside, buyers discovered a delightfully minimalist feel with washable fabrics and a rear seat that – via seven different positions – could end up as a hammock or bed. It was nothing short of brilliant, and after being revealed to the public at the 1980 Geneva Motor Show, it marked the beginning of a model that would remain on sale in the UK through to 1995 and sold in Italy until 2003.
That first model, badged as the Fiat Panda 45, cost £2860 when it landed here and was powered by a 45bhp, 903cc engine borrowed from the Fiat 127. The Super version arrived in 1982, complete with a five-speed gearbox, with the clever 4×4 launching the following year and going on sale in the UK in 1984 with a price of £4390. The first such car with a transverse engine, Steyr-Puch developed the four-wheel drive system, while power came from a larger 965cc engine managing 48bhp; it was remarkably adept off road and still provides plenty of mud-plugging fun today.
The first major change came in 1986 when the Fiat Panda – now known as the Mk2 with model code 141A – received the new 999cc FIRE engine along with revised rear suspension, swapping the leaf-sprung live axle for a coil-sprung independent set-up (though the 4×4 retained the earlier arrangement). Smoother bodywork and one-piece door glass were also among the changes.
A further update in 1991 introduced new trim levels and the Selecta model with a CVT transmission, while the introduction of catalytic converters shortly afterwards saw the engine range trimmed. The 4×4 was dropped for the UK and manual Pandas used only the 999cc FIRE unit, with the CVT soon swapping that for an 1108cc version. And that's pretty much how things remained until UK sales ended in 1995, after 161,501 Pandas had been sold. A few special editions had livened things up along the way, including the Panda Habitat and Panda Italia 90 with its football-inspired wheel trims, while the 4×4 Sisley looked especially smart.
Bodywork
Affordable and basic it may have been, but the Fiat Panda's bodywork proved more robust than many expected, while being partially galvanised from 1990 helped matters further. Yes, corrosion does get to them but it's often not as serious as the Italian reputation for rust might lead you to believe. With that in mind, the starting point is an examination of the exterior panels, concentrating on the bottoms of the doors and tailgate, the leading edge of the bonnet, and the extremities of the wings and wheelarches. Finding replacement panels is straightforward, with Surrey-based specialist, Ricambio, able to supply a wide variety of parts; doors and rear wings are £120 and £140 respectively.
One area worth closer scrutiny is the condition of the sills, particularly where they're spot-welded to the floorpan. Not only is there the risk of rot spreading further into the floor, necessitating more extensive surgery, but repairs will involve cutting off the outer sill to reach the offending area. And speaking of floors, take a good look inside the boot, paying special attention to the seams where it meets the inner rear wings; inspect the area from within the wheelarch, too, and bear in mind that it's not an especially easy area to repair. You should also thoroughly check for bubbling around the front and rear screens and for signs of water getting into the cabin caused by corrosion around the front scuttle.
Assuming you're looking at a broadly rot-free example, it's a good idea to spend time checking that exterior trim isn't missing or damaged, although parts availability is pretty good with a decent selection of secondhand bits out there. Replacement bumpers are easy enough to find, and if you do struggle to source anything, then widening your search to Europe should provide the answer. Other than the points we've already noted, it's a case of assessing the overall condition and budgeting accordingly if there's rectification work needed.
Finally, do remember that the Fiat Panda Mk2 differs from the original far more than outward appearance suggest, so don't assume that parts will be interchangeable.
Engine and transmission
The engines fitted to the Fiat Panda usually prove long-lasting unless neglected, and FIRE units are capable of 200,000-plus miles with proper maintenance. You'll want to check for the usual signs of wear and tear – excessive exhaust smoke, for example – along with oil leaks and evidence of a cooling system ready for an overhaul. But assuming there's a record of regular oil and filter changes, there shouldn't be a great deal to worry about.
The 903cc engine can suffer from noisy valve-gear and a worn timing chain, but a replacement for the latter is less than £50 and it's not a difficult job to do. The FIRE unit used a timing belt – a kit is even cheaper at around £35 – and although it's a non-interference engine, meaning breakage isn't the end of the world, seeing evidence of periodic replacement points to careful ownership.
For all engines, it's worth a check under the oil filler cap for signs of 'mayonnaise', but it's more likely to be a result of short journeys than an indicator of a failed head gasket. Should any of the engines need a complete rebuild, it's possible to source just about every part, although in truth it's going to prove easier and cheaper just to get a good secondhand unit instead; you can probably pick one up for not much more than £100–150.
Finally, use the road test to check for any signs of poor running. The ignition system is very simple, so an overhaul is both cheap and straightforward, but issues could also be a caused by a worn carburettor or problems with the fuel injection system used on later models. The former is a Weber item and rebuild kits are available, while the latter could be Bosch or Weber; it's broadly reliable but diagnosis and repair may need the skills of a specialist.
Transmission-wise, the manual 'boxes are tough and the commonest issue is crunching into second or third gear. It could be the synchromesh itself that's on its way out or worn bearings, so budget for a rebuild or a secondhand unit. Another thing to watch for is a notably baggy gearshift, although a repair kit for the earlier rod-operated change is available for around £15; later Pandas used cables and, although more reliable on the whole, it seems that sourcing parts isn't as straightforward.
An alternative was the CVT transmission, and it appears there's an element of potluck as to whether it proves okay or troublesome. If it's the latter, bear in mind that repairs can be tricky, as can finding a CVT specialist capable of working on it, so a manual is probably the safer option.
This brings us to the popular and capable 4×4. The system was impressively simple, with the rear wheels brought into action via a dog clutch engaged by a T-bar handle in the cabin. It doesn't have a reputation for being problematic, and aside from checking for wear in the propshaft joints and for any worrying noises, it's going to be a case of ensuring the system works as it should. You'll need a loose surface to do so, and a light should illuminate on the dash to show that it has engaged.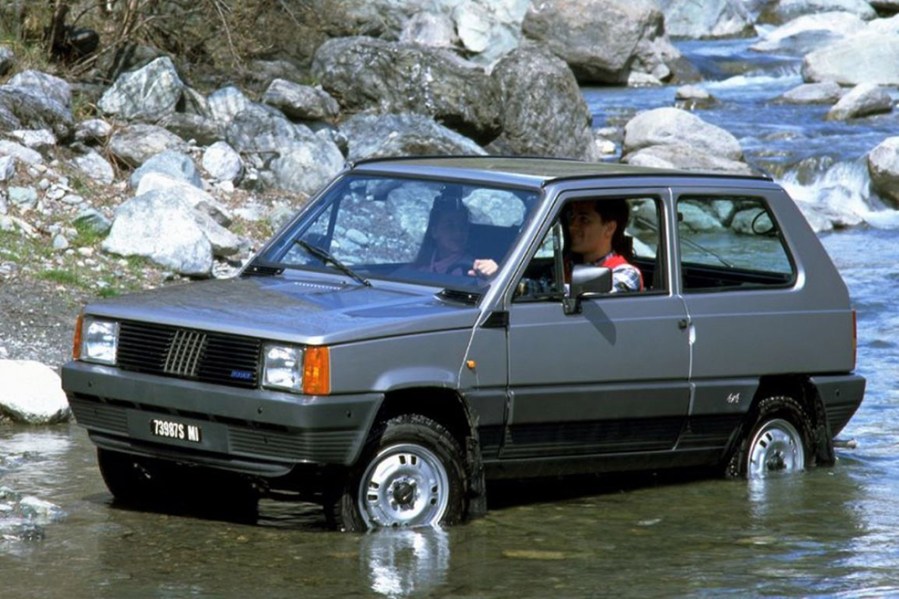 Suspension, steering and brakes
This was another area where the Fiat Panda proved admirably straightforward in its engineering, which is good news for anyone considering the characterful supermini today. The brakes comprised discs up front and drums and the back, and it's a set-up more than capable of stopping such a featherweight car. You'll just need to check for the usual wear and tear, and for signs of corrosion or seized parts than can result from lack of use – replacement bits are cheap and there's nothing to faze a competent DIY-er when it comes to an overhaul.
It's much the same story with the suspension, which launched with MacPherson struts up front and a beam axle aft with leaf springs. The test drive will quickly reveal any creaks or knocks that signal an impending overhaul, so just concentrate on looking for the usual culprits such as worn or perished bushes, tired front struts, or badly corroded or broken rear springs. It's wise to scrutinise the integrity of the mounting points for the latter, too.
The arrival of the Mk2 signalled a swap to the 'Omega' rear axle with coil springs (although not for the 4×4) and its worth checking for corrosion both where the springs locate and for rust or fractures in the springs themselves; new ones cost less than £100 per pair, so replacement won't exactly strain the wallet.
The steering should feel light and accurate with no obvious play that points to wear in the rack or track rods. And finally, while the Panda makes for an entertaining and frugal daily-driver classic, it's worth checking that cars saved for high days and holidays aren't sitting on aging tyres.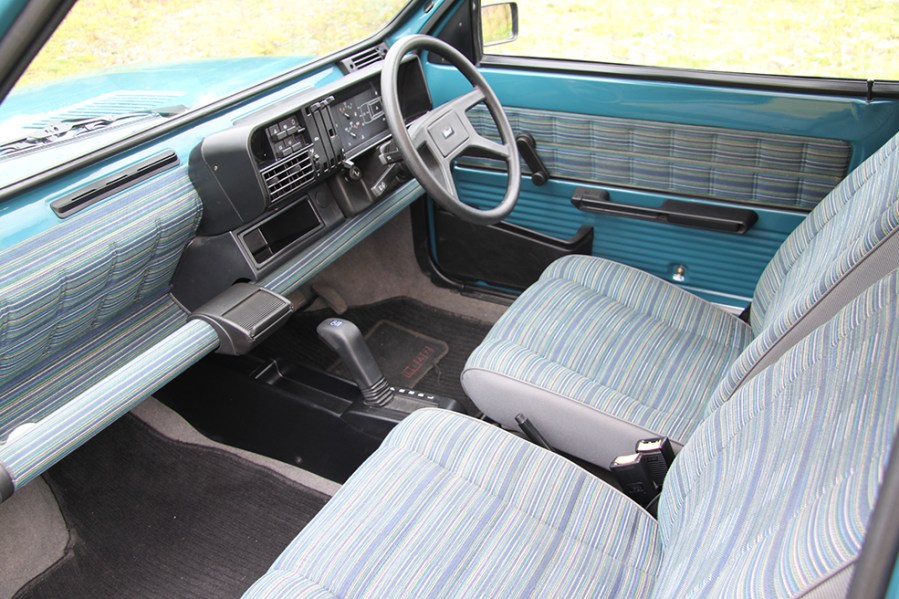 Interior, trim and electrics
Small cars of this era were hardly known for their extravagant cabins, but even by those standards the Fiat Panda's was admirably simple – although clever and practical at the same time. The upshot for anyone considering these cars today is that not only is it very usable, but any wear or damage will quickly become apparent. Haggle accordingly if you're going to have to replace stained or ripped seat trim, but the good news is that you shouldn't have any trouble sourcing secondhand parts.
Carpets are also cheap to replace (take a look underneath for damp, or rust in the floorpan), but it's advisable to take a closer look at the condition of plastic trim. The rectangular instrument binnacle can prove a bit fragile, and so with replacements proving hard to find, you may have to resort to attempting your own repairs if you discover cracks or other damage.
The Panda's simplicity also extends to the electrical system – and with almost nothing in the way of modern gadgetry, it shouldn't take long to establish that everything's working. A quick check of the dials and switchgear should suffice, and most problems are caused by poor connections or corroded earth points; a session with a multi-meter should track down the cause. Headlight switches that have burned out or a worn windscreen wiper linkage are other things to watch for, and check that door locks and window mechanisms are working properly.
Fiat Panda: our verdict 
The passing of a few decades has done nothing to dim the little Fiat's appeal. If anything, the combination of chic styling, simple engineering and ease of ownership has attracted a new legion of buyers, and that's kept values buoyant. One thing to note, though, is that there's quite a gulf between the prices of two- and four-wheel drive Fiat Panda models, with the latter's go-anywhere ability and chunkier looks proving very popular. So, while a project Panda can be picked-up for as little as £300–500, you'll need to pay more like £1000–1500 for a down-at-heel 4×4.
For a more usable example that you can improve as you go, budget £1500–2000 for a regular Panda and £4000–5000 for an all-wheel drive, with something considered to be in very good order fetching £3000–4000 – or £8000–12,000 for a 4×4. The very best two-wheel drive cars (particularly early examples) can command in the region of £6500 or more – but unless you really must have something in concours condition, there are clearly more affordable ways to enjoy everything this characterful Italian classic has to offer.
With prices likely to increase further, the time to grab a Fiat Panda is now.