We reveal some of the common classic car related scams that can be found online and how to avoid them.
If you use the internet, there's apparently more chance of being a victim of online fraud than there is of your home being burgled. Perhaps that's due to the exposure to the entire online criminal world, but it has become a major problem, especially where classic cars and parts for classic cars can be bought and sold. False advertisements, dodgy delivery deals and equally dodgy deposits are some of the problems that see innocent people lose their money.
One of the main problems online is the barrage of fake email messages that aim to steal your personal details. Known as phishing, these messages are supposedly from your bank, eBay, PayPal and similar organisations. They often explain there has been a problem with your account, it has been suspended, or you have paid a large amount for something you have not ordered (usually from abroad). This immediately stirs most people into a panic. The message will contain a link to click on to enable you to sign into your account and resolve the problem. Such a message is never genuine (the aforementioned organisations never ask you to sign in via an email message). By clicking on the link inside the email message, a fake login screen will open, allowing you to enter all of your details (eg username and password). This information will be captured by the people behind the phishing scam. And once they have your username and password for instance, they can then go on a spending spree.
So how do you tell the difference between a genuine email message and a fake phishing scam? It's not that easy. Fake emails often contain spelling and grammar errors, but they usually contain stolen company logos, contact details and legal disclaimers to help make them look convincing. As mentioned, never click on any links, but if you are concerned, log into the relevant account in the usual manner (via the official website) and if necessary, contact the organisation to discuss the problem, using their correct contact details.
Phishing scams are not just found in email messages. Text messages received on internet connected mobile phones (smartphones) are just as vulnerable, so never click on any links found in such messages.
Phishing scams are often the beginning of many other forms of fraud. Stealing someone's eBay account details for instance, can result in an innocent person's account being fraudulently used (hacked) to sell non-existent cars and parts. I have been following the sale of a non-existent trailer for over a year, which appears through genuine eBay account holders who have been hacked. Consequently, the unbeknown eBay seller has a good record, so the sale seems genuine. However, the fraudsters will either ask interested buyers to email them with their mobile phone number or even advertise their own number for you to contact them. Their aim is for you to agree to buy the trailer and pay a deposit into a bank account. As we have discovered with the fake trailer sale, the bank account has been opened with fake documents, but once the deposit has been paid in, it is immediately withdrawn. The fake seller promises to deliver the trailer, but never turns up (and there never has been a real trailer for sale).
This example may seem obvious, but these fake postings are all over the internet on classified ad websites and are also being sent to magazines to be included in their classified pages. The main clue to the scam is the deposit, but this isn't always stipulated. The price is usually cheaper than the market value, tempting potential buyers into a bargain. Often, the advertisements have been stolen and of course, the vehicle or parts don't even exist. Our advice is to never pay a deposit, but to speak with the seller and insist you visit and pay cash in full. Don't be pressured by the fear of missing the sale.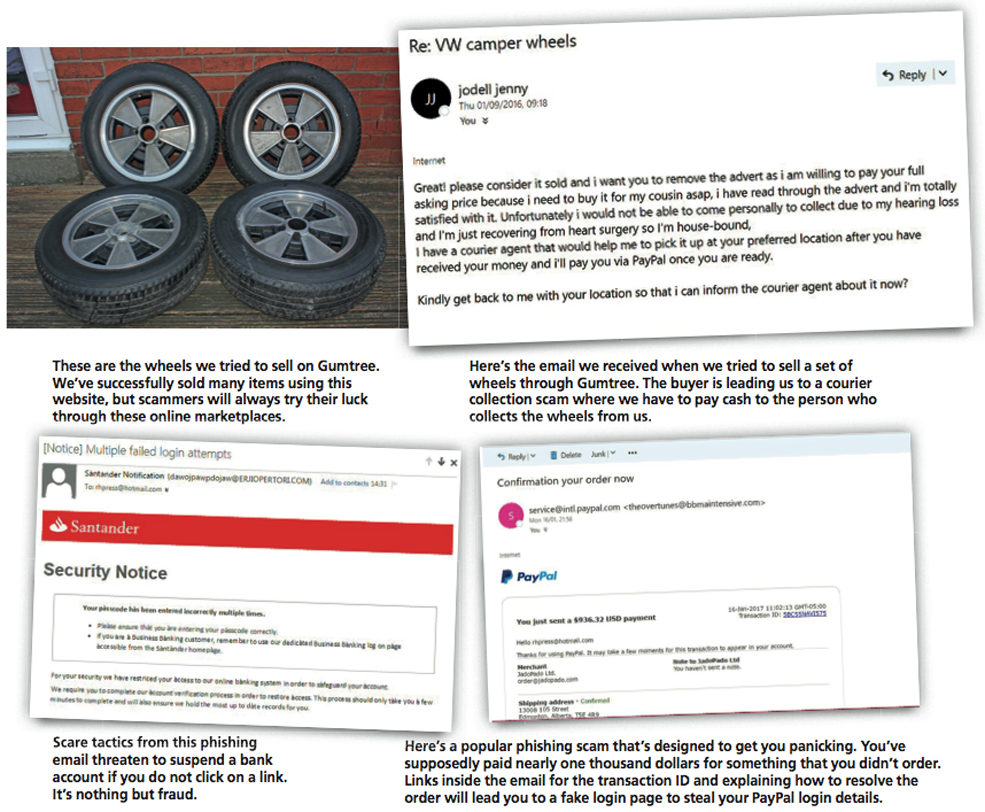 In some cases, the sale of an item may never involve the buyer and seller meeting, such as the sale of car parts that are posted to an address. Here, the fraudsters have devised several scams, so if you sell car parts online, read on. The most obvious scam in this instance is the non-delivery of goods. Fortunately, tracking services can help here and receiving payment via PayPal for example, will ensure the delivery address is correct (providing the account hasn't been hacked). However, there are more scams to look out for that are not so easy to avoid.
I recently advertised a set of wheels on Gumtree and quickly received an email message asking me to remove the advertisement as the person contacting me wanted to buy them. Good news I thought, at first, but the email message explained that the buyer could not collect the wheels due to a heart condition and could not be contacted because of hearing problems. Instead, they would organise a courier to collect the wheels.
I discussed this with Gumtree, who explained that had we proceeded with the sale, the buyer may have sent us a deposit for the wheels, but we would have had to pay the courier upon collection (more than the deposit). The buyer would have promised to refund us and probably over pay us for our trouble, but we would have said goodbye to our wheels and wouldn't have received any more money.
A similar scam occurs where overpayment is made. If you sell an item and require a PayPal payment, the supposed buyer makes a payment that is too much. They ask you to quickly pay the difference into a bank account, before the funds for the first payment have been cleared. The first payment will have been made with a stolen debit/credit card or PayPal account, so all of the money you have received will have to be returned, and you won't get your refund back.
Hopefully, our advice on scams hasn't scared you into disconnecting your internet connection. Instead, arm your computer with anti-virus and internet security software, and never react quickly to emails messages, sales or purchases. Remember, if it sounds too good to be true, it probably isn't.