Four-wheel-drive SUVs from the 90s are becoming hot property these days, with values on the rise. Here are our favourites
Suzuki Jimny Mk3 (1998–2018)
The long-serving successor to the similarly enduring Suzuki SJ, the Jimny is a more modern interpretation of the same small-but-mighty recipe. Intended both as a narrow-bodied, 660cc-powered kei car for the Japanese domestic market and a wider-bodied 1.3-litre version, the Jimny had many trappings of a full-sized off-roader in a smaller package. The Jimny is rear-wheel-drive in two-wheel-drive mode, with selectable four-wheel drive and a low-range mode.
Loved by farmers, rural community nurses and cash-strapped off-road enthusiasts alike, the Jimny's combination of go-anywhere ability and (relatively) low cost mean its rivals in period were few and far between, with most being similar offerings from other Japanese manufacturers. Today, the arrival of the Mk3's retro-styled replacement has seen demand for the older model rise – and prices have inflated accordingly.
The good news is there's still scope to grab a bargain at the bottom end of the market, with higher-mileage examples starting at around £1,500. As with any ageing Japanese car, rust should be your primary concern – and avoid heavily modified examples. Find a good one and you'll be in for lots of fun when the snow comes!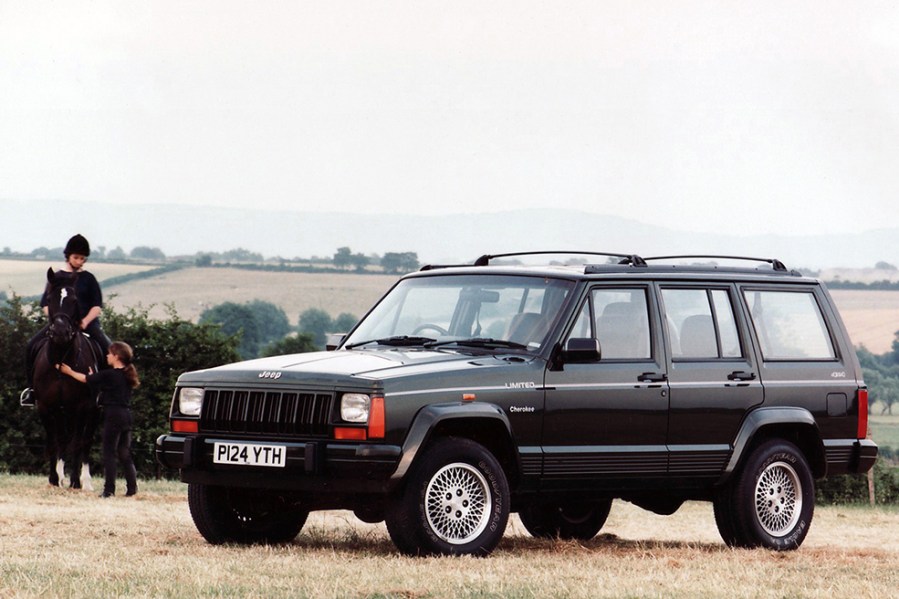 Jeep Cherokee (1993–2001)
The Cherokee is becoming a 4×4 icon. At launch here in 1993 it represented a promise of luxury, off-road ability and a passport to the wilderness. Today, its pledge still holds true – except now you won't need to dig nearly as deep as its £15,840 new asking price for the privilege. Indeed, depreciation for this angular full-fat off-roader was savage from the start, so they've always been cheap.
The US-inspired 4×4 came with a 2.5-litre turbodiesel, and 2.5-litre and 4-litre petrol engine options with Sport, Limited and Limited SE trim levels. The Orvis, on sale from March 1999, was the high-spec model with standard everything. Because the six-cylinder 4.0 is only marginally more thirsty than the 2.5, and being so silky smooth, it was always the favoured engine choice.
The posh Jeep's bargain bucket price tag tended to attract skinflint owners who ignored important servicing, such as the 3000-mile oil and filter change. Moreover, head gasket failure was common and conrod bearings would let go, leading to low oil pressure. In short, even the best examples soon became shabby, or were broken for spares, and prices hit rock bottom.
Then, about a decade ago, enthusiasts started to appreciate the classic, boxy looks of the early car – and values began to rally, helped along by excellent parts availability. Indeed, those rare early square headlamp survivors are now cared for by enthusiast owners who'll want serious money.
Even though the ULEZ restrictions have put paid to most central London demand, showroom-condition cars are approaching Land Rover values. Now's the time to hop on the wagon if you are interested.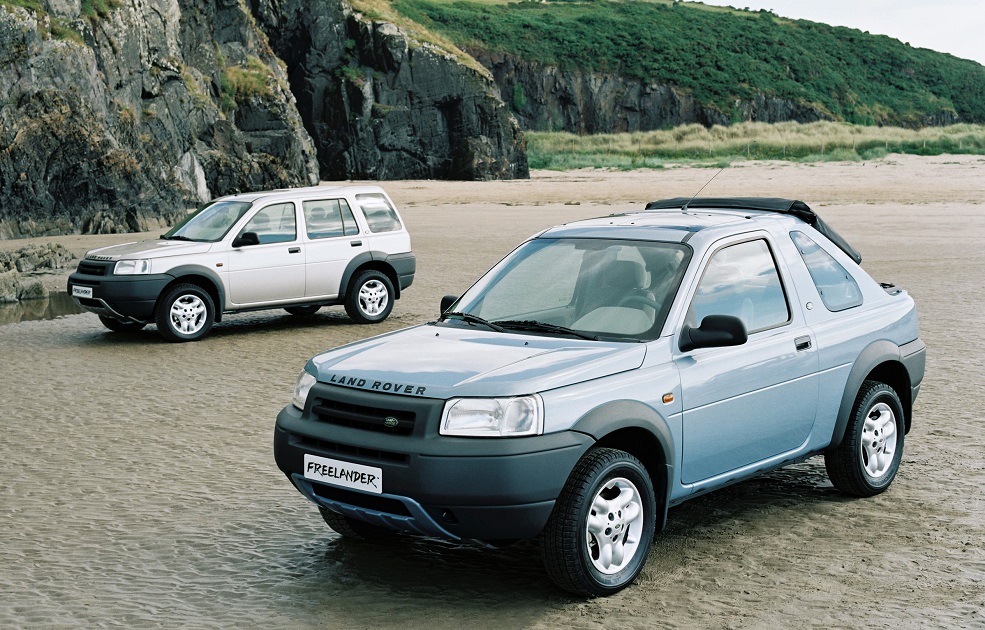 Land Rover Freelander 1 (1997–2006)
As an easy-on-the-eye soft-roader with Land Rover credentials, the Freelander made a pretty decent fist of things. Available as a three and five-door, as well as an intriguing soft top, it struck a great balance between modern car comforts and off-road ability.
The cheapest model in the range, the meagre three-door 1.8i Softback, was priced at £16,395 new, while the five-door hardtop in 2.0di XE guise was significantly more at £22,815.
Sadly, soon after launch, patchy build quality spoiled things for the Freelander. Sellers struggled to find buyers willing to spend £5000 for a vehicle just five or six years old. That said, demand for the diesel was stronger, with £7000 being the going rate.
When the Freelander 2 appeared in 2006, prices for the Freelander 1 tumbled into bargain territory. Post-2004 facelift cars won't be much more, although there's still a premium for the Td4. There is, however, a growing appreciation for the earliest models, particularly three-door soft tops – these are well worth keeping an eye on.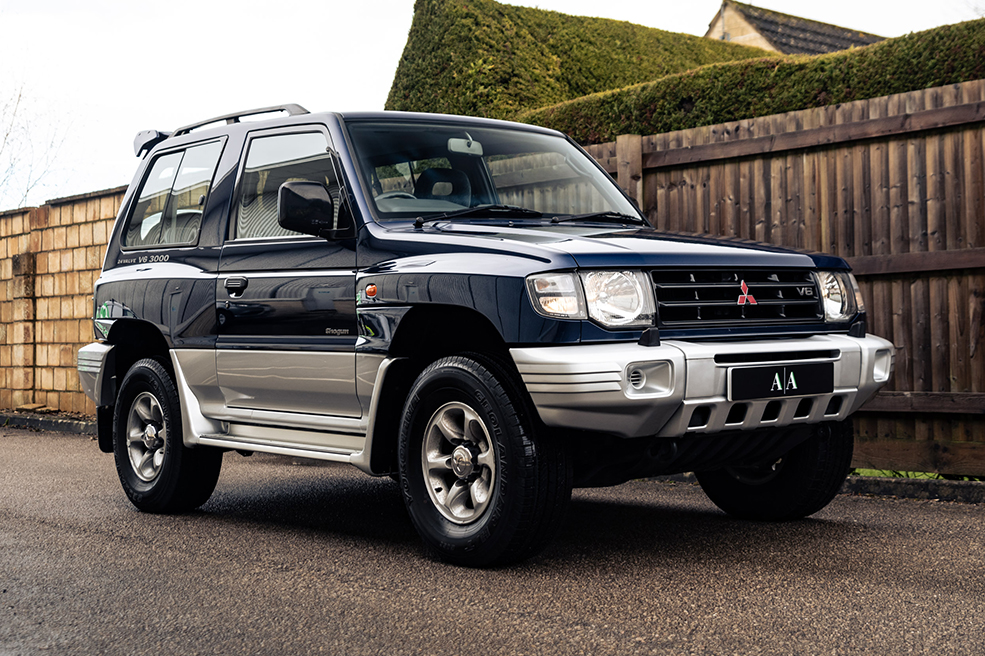 Mitsubishi Shogun Mk2 (1991–1997)
The original Shogun was a serious rival to the Range Rover in terms of luxury and off-road ability, but the Mk2 from 1991 was a very different animal to its boxy, chrome-adorned Mk1 predecessor. While the nimbler SWB was well suited to the burgeoning soft-road market at the time, it was the imposing five-door LWB Shogun that attracted the most interest, especially as it could usually seat seven in comfort.
There were two engine options when it went on sale here in 1992; the flaccid 98bhp 2.5-litre TD and the 147bhp 3.0-litre V6 petrol – new they sold for £22,905 and £23,255 respectively in LWB guise. Not cheap, but significantly less than the same era Rangie 2.5 DT which retailed at £33,025.
UK Mitsubishi dealerships were somewhat thin on the ground during the 90s and 2000s and the Shogun was a rare commodity, so values remained high throughout that period. But then something happened. Specialists, recognising the need for a pokier diesel, began importing the 138bhp 2.8TD Pajero – the Shogun's home market equivalent – direct from Japan.
Being lower mileage, better specced and in much better condition than their UK counterparts, they sold in their droves in the mid-2000s. Inevitably, the market became flooded with 'greys' and when the better 2000-on 3.5 V6 TD Mk3 entered the used market, no one wanted them anymore. With the move away from big, thirsty 4x4s in the last decade, Shogun/Pajero values continued their downward spiral.
Today, though, interest in the angular Mk2 (without the 'blistered' arches of the 1998 facelift) is on the rise. As ever, mint imports with no rust are the best cars to go for.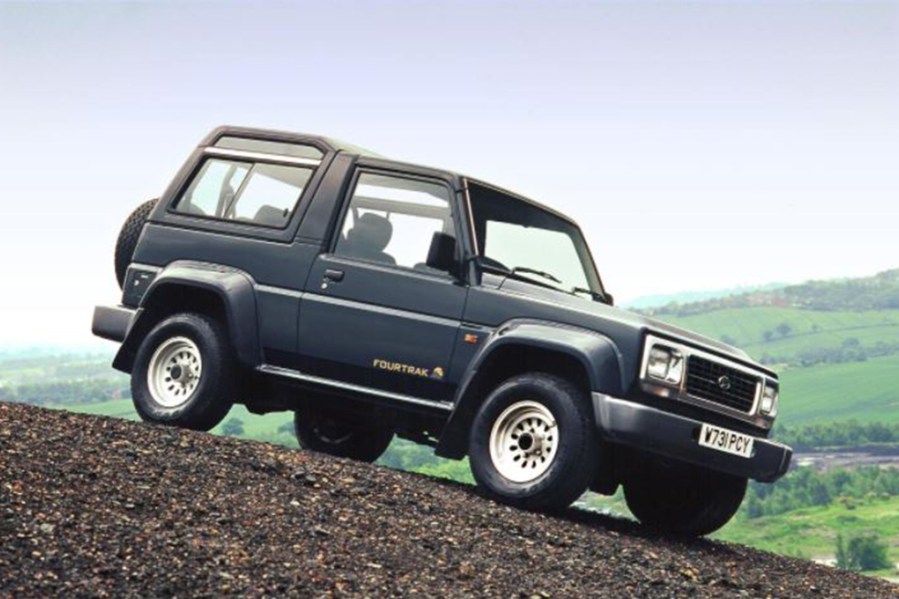 Daihatsu Fourtrak (1984–2002)
Long the preserve of farmers across the country, the Daihatsu Fourtrak was something of a modern Land Rover Defender alternative in period, and quickly gained a loyal following. Its combination of strong, dependable diesel engines, compact size and impressive off-road ability combined to create a perfect working vehicle.
Rust proved to be an issue in later years, so much so that good examples saw their prices rise as the majority ended up in the scrapyard. Daihatsu's exit from the UK in 2011 didn't help the aftersales situation, but today there are a number of specialists available to assist.
If you can track down a rust-free example, buy it. The Fourtrak is an endangered species these days, so a cherished car is bound to climb in value in future.