The Nissan Skyline GT-R needs no introduction – apart from to your bank manager, perhaps. Here are our favourite examples of the breed
For years, the Nissan Skyline GT-R was a dimly understood legend, known best in its native Japan and more broadly for its racing successes in the southern hemisphere.
Now however – thanks mainly to a combination of exposure through videogames, films and the internet – the Skyline GT-R is a household name. Values have rocketed as a result – classic GT-Rs are now priced in line with much more traditionally exotic machinery.
Nissan Skyline 2000GT-R 'Hakosuka' (C10) (1969-1972)
The original GT-R was introduced in 1969 as a performance version of the third-generation Nissan Skyline, a model that had been a mainstay of the Prince lineup since 1957 before that manufacturer was merged with Nissan in 1967.
Produced as a road-going version of its racing car, the Skyline 2000GT-R used a Prince-designed dual-overhead cam 2.0-litre straight-six. The car was available with four or two doors, and both were successful in racing.
Today, the car is known in enthusiast circles by its Japanese nickname, 'Hakosuka' – or 'box Skyline' – and has become the most valuable of the lot. If you have to ask how much a mint-condition example costs today, you really can't afford one!
Nissan Skyline GT-R (R32) (1989-1994)
Wishing to re-enter international motorsport, Nissan decided to adopt a four-wheel drive configuration for its early Nineties Skyline GT-R, known internally as the R32.
Inspired by the all-wheel drive, twin-turbocharged six-cylinder Porsche 959, the R32 was to serve as a performance road car flagship and take the Nissan back to the race track. As new decade dawned, the BNR32 GT-R ended the reign of the Ford Sierra RS500 in Australia; traditional touring cars simply couldn't keep up.
Computer control was the GT-R's advantage – and Nissan would develop its system (and carry on augmenting it) right up until the present day; that the GT-R could apportion power to the most expedient wheel (on road or on track) created a drivers' car unlike any other.
Road car production began in earnest in late 1989 – and, as per the rule for GT-R production, various homologation and limited editions appeared over the course of the R32's career, all of which influence asking prices.
Beyond the standard GT-R, Nissan's motorsport division NISMO lent its name to 560 cars built in compliance with FIA Group A homologation rules; N1 models (for domestic racing purposes) followed, along with Victory Specification (V Spec) cars with two iterations (V Spec I and II) to celebrate race successes in Group A and Group N categories.
These cars were quicker than previous generations, being able to feed power from side-to-side as well as front-to-back as and when needed. V Spec models continued into subsequent iterations of GT-R.
Nissan Skyline GT-R (R33) (1995-1998)
The GT-R's legend continued into the 90s; buoyed by appearances in Sony Computer Entertainment Europe's Gran Turismo series, young car enthusiasts suddenly had their defining super car.
Having retained the R32's 2.6-litre twin engine with a few mechanical improvements, engineers continued to improve the car's four-wheel drive system and shell to up cornering speeds and handling potential.
All R32s were grey imports, and while this tradition continued with the R33,  Nissan dealer turned specialist Middlehurst rose to prominence preparing and SVA-testing the cars for UK use.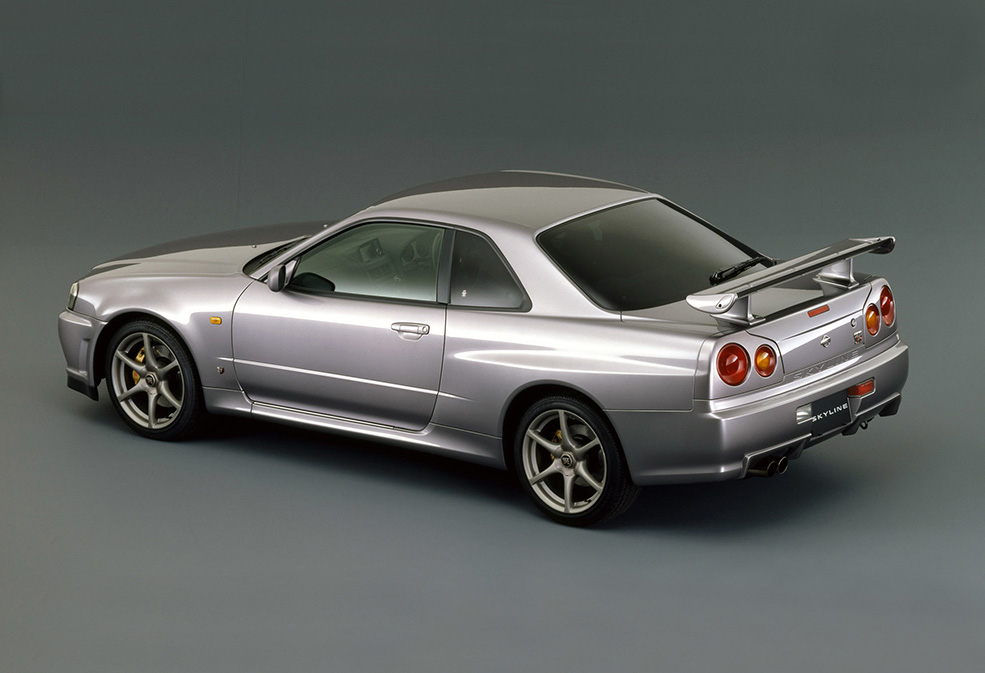 Nissan Skyline GT-R (R34) (1999-2002)
The last of the Skyline GT-Rs was the fastest of the lot thanks to a 2.6-litre twin-tubocharged straight-six. Power allegedly stuck to the famous Japanese manufacturers' 'gentleman's agreement' of 276hp, but by some accounts the actual output was a little higher. A handful of examples were imported officially by Middlehurst Nissan, but this was still largely a Japan-only car.
Nissan's limited edition craze hit its zenith with the R34: in time, Nismo R Tune, S Tune and Z Tune variants would appear, each scarcer and more honed than the last.
The Porsche-beating performance of the R34 became well-known on UK shores thanks to the grey-import scene and growing enthusiasm for Japanese car culture. Such was the following that the R34's replacement – simply called the GT-R – was a huge hit when it was officially brought to the UK in 2008.