The British Motor Corporation found itself with an array of large cars in 1952 – and by the start of the British Leyland era in 1968, the last big Austin was entering production. Here are our favourite large BMC saloons.
Riley Pathfinder (1953-1957)
The Riley Pathfinder represented the brand's technological apex as a semi-autonomous manufacturer. Signed off when the Blue Diamond was part of the Nuffield Organisation, the creeping influence of BMC's badge engineering had yet to infect the marque. Looking for all the world like an elegantly upscaled MG ZA/ZB Magnette, it was no surprise that the Pathfinder shared the same designer, Gerald Palmer.
With an optional right-handed gear change and front bench seating, there was room for six people, and thanks to a 2.5-litre twin cam engine, performance was competitive. Gradually, the range was cheapened: coil-spring rear suspension gave way to leaf springs by 1957. In the same year, BMC's 2.6-litre C Series supplanted the Riley four-pot, creating the Riley Two Point Six which lived until 1959.
Today, surviving Pathfinders are few and far between – so grab one if you can.
Morris Isis Series I (1956-1958)
Platform sharing would soon become a BMC watchword. With Austin and Morris combined, BMC revived the dormant Isis nameplate to create an affordable executive car challenger to the likes of Ford and Vauxhall.
An Oxford Series II shell was stretched enough to accommodate the rapidly ubiquitous 2.6-litre C Series engine – the same unit which rationalised the Riley Pathfinder). With a single SU carburettor, the new car was slower than its Austin Westminster counterpart but cost less on the company car ledger.
With fewer than 9000 Isis Series I examples built, tracking down a good example is a harder task than it may first seem.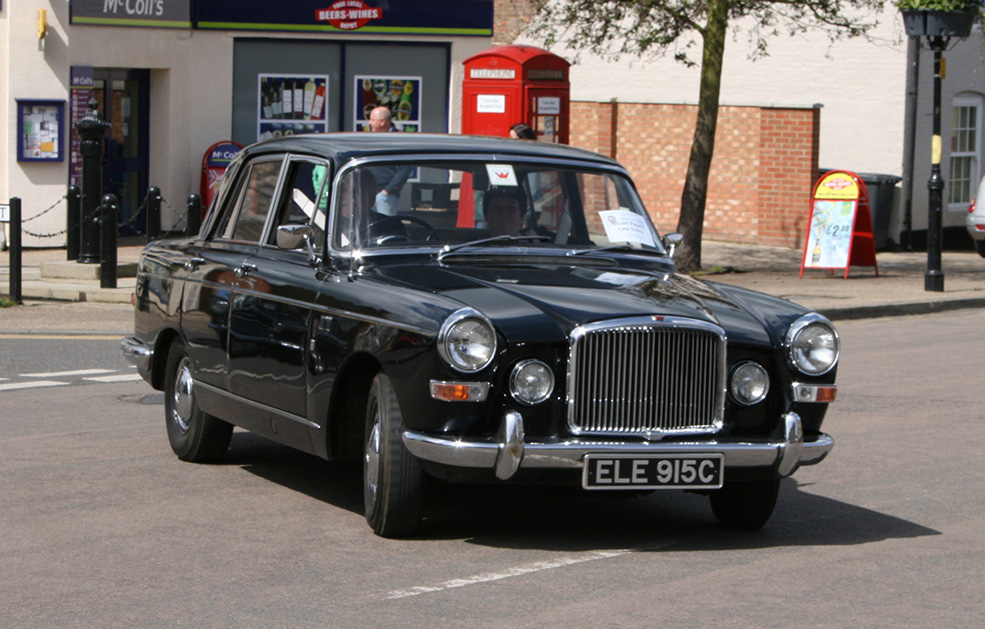 Vanden Plas Princess 4-Litre R (1964-1968)
Arriving in an ambitious plan to produce an entry-level Rolls-Royce, the Vanden Plas Princess 4-Litre R was the most ambitious of the Pininfarina-styled Austins.
As the luxury car market gradually shifted over to favour sports saloons, the 4-Litre R quickly became outmoded; stalked by a Triumph 2000 and Jaguar Mk2 in Peter Yates' Robbery, it remains a fascinating anachronism.
By the time the Vanden Plas went out of production in 1968, British Leyland was establishing itself – and Jaguar's seminal XJ6 Series I was ready, effectively replacing the Mk2, S-type and Mk X/420G in one fell swoop.
With an interior trimmed and finished by Vanden Plas' Kingsbury workshop, the 4-Litre R's main selling point was its Rolls-Royce-designed straight-six engine. Derived from a military engine family of four, six and eight-cylinder units, the 3.9-litre inlet-over-exhaust 'B' was never used in a passenger Rolls (or in any other car bar the ill-fated Austin Healey 4000) – but its lineage was clear.
Despite competitive pricing for the sector, 4-Litre R sales were modest. Many simply rusted away or were banger-raced, and as a result values (and asking prices) are rising steadily.
Austin 3-Litre (1967-1971)
The last big Austin arrived just as BMC merged into the British Leyland conglomerate. An unhappy marriage of Issigonis' pragmatism and traditional luxury car running gear, the Austin 3-Litre blended an Austin Maxi passenger cell with longitudinally mounted BMC straight-six driving the rear wheels.
That the C Series engine now had seven main bearings and displaced 2.9-litres mattered not; despite the engine's exclusivity upon launch (it was shared only with the MGC) the 3-Litre was neither fish nor fowl.
The last thing British Leyland needed was another in-house rival to its already packed stable of executive cars from Jaguar, Rover and Triumph – so pulled the plug before 3-Litre production reached 10,000.
Chronically misunderstood when new, the 3-Litre has a small but loyal following today, with prices strong as a result. Crayford converted a few cars into estates in period and these command a premium.