The Saab 900 convertible is widely seen as one of the most enduring classics of the 1980s. But is the E30 3 Series convertible better?
Words: Sam Skelton  Images: Paul Walton
Four seat convertibles are a rather pleasant thing to have. Often they're not too sporty, they're fun for all the family, and they still allow you to enjoy the wind in your hair. It's a formula that works well, as any number of Triumph Stag and Mercedes convertible owners will attest. But most of these cars are fetching values that put them beyond the reach of the average enthusiast. If you want genuine classic status and a four seat tourer, there aren't many cars you can choose from if you're on a tighter budget.
However, BMW and Saab can help. Both recognised in the mid 1980s that there was a market for an executive car without a roof, for the executive who still wanted something a shade different. The E30 cabriolet and Saab 900 cabriolet cater perfectly to that niche – and there's one for almost every budget, from the rip-snorting 325i and 900 Turbo down to more relaxed 900is and 318is for those who'd rather let the style be the statement. We've taken two of the most desirable models – a 900 Turbo 16 and a 325i SE automatic – to determine which offers the better experience.
The Saab 900 Convertible was launched in 1987, coinciding with the 900's new slant-nose facelift in most markets – though the USA had 400 1986MY convertibles with the original bull nose.  The 900 was developed to capitalise on the same market that BMW was chasing both in house and through Baur – the market for a four seat convertible in a world where safety concerns had all but killed them off. The American market was the primary motivator – and Saab's American president Robert Sinclair was the driving force. The idea had been examined before, but it wasn't until Saab attempted to import two door 900 saloons at a cheaper price than the hatch that development began.
Sinclair told Swedish bosses that there was no market for an entry level Saab in a company he had been positioning upmarket. But he tried to be flexible. He told Sweden he'd take the 1000 two doors they were trying to offer "if they were equipped with cast aluminum wheels, leather upholstery, central locking, fuel injection, five-speed gearbox – and convertible tops."
Saab engineers thought he was mad. But he sold them on the idea both by assuring them of the lack of competition – in readiness for a law that was never passed – and by offering Saab Sweden's president Sten Wennlo a deal whereby the American branch would do the R+D work. The American Sunroof Corporation engineered a prototype based on a two door saloon, while Swedish coachbuilder Leif Mellberg developed one based around a three door hatchback with a part-targa roof like a Jaguar XJ-SC. The ASC two door based study was chosen, which was shown at the 1983 Frankfurt show to such acclaim Saab felt it had no choice but to produce the car.
Production was subcontracted to Valmet in Finland. It was felt that demand would be low; based on Sinclair's assurances to order 1000 a year for 3 years and an assumption that the rest of the world would take 500 per year. Instead, Saab sold almost 49,000 convertibles – 7000 per year on average.
Of the two, the Saab has always been seen as the more individual choice for the focused driver, so it's here we'll start. There's a simultaneous feeling of sitting high and low, an illusion caused by deep footwells and high body sides to the car. With no deep centre console in the way, you lose the sense of being cocooned, and have to rely on the comfort of the seat for any sensation of snugness. The wheel and pedals sit in front of you, right where you want them, and the dashboard is laid out in a clear if idiosyncratic manner – square buttons abound in the walnut fascia panel, which belies the age of the underlying 99 architecture by being both small and shallow. Door trims are simple affairs, with a stylised pull cord for shutting and an interior handle which looks like the lock release for an MGB inner handle. There's a pleasant sense of solidity in the cabin – it feels well built and well put together in a way that so many cars of the period didn't. Get into a 900 out of something like a Ford Sierra or Austin Montego and you're clearly a class above.
Our test car is a Talladega Red T16S convertible, which means it comes with 175bhp and 188lb.ft of torque. This is transmitted through the front wheels, via a five speed manual gearbox. Turn the key with the clutch depressed. Not only is the ignition switch between the seats, but it incorporates a reverse gear lock to ensure you never leave the car in neutral. Crank it with the clutch up and you'll leapfrog backwards into whatever's behind you. Once moving, the supreme torque is the first thing you notice – you can drive it in high gears knowing the engine will pull you forward if need be. Unsurprisingly, if you choose to put your foot down this translates into quite astounding performance, and you feel the maximum benefit of all that boost. But unless you're on a billiard table smooth surface this may not be the best idea. Unless it has good tyres, a 900 can easily break front end traction through wheelspin, and on rough surfaces any sort of aggressive driving feel uncomfortable because of the lack of shell rigidity.
So it's a cruiser rather than a sports car, albeit one which is unstoppable on the average motorway slip road. But that's OK – most of the time, we buy cars like this to cruise in. And the 900 has enough of a sense of occasion to make you want to do so. You feel special and separate in a Saab of this era, something helped by the involuntary giggle every time you drop it into third and put your foot down. It's comfortable, with plenty of room and good support from the seats. The gearbox is a little notchy, but Saabs aren't renowned for their pleasant shift action and it's certainly a positive gearbox. It's rough around the edges when you push it hard, but with almost 200bhp through the front wheels that really shouldn't come as a surprise. Add to that that the Saab community is welcoming and friendly, and you have a recipe for a very capable classic charmer.
The BMW E30 came along in 1982, as a replacement for the previous E21 model. Where previously the range comprised just a two door saloon (a nod to its 02-series predecessor), the E30 would see that expand with four door and estate variants listed alongside the initial body by the end of production.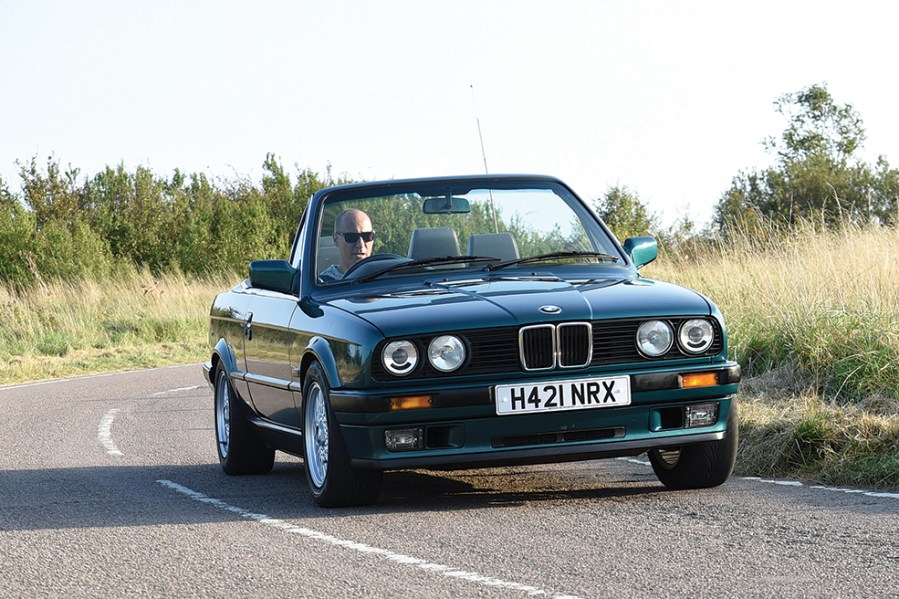 But more interesting was the work it did based on that of an external coachbuilder. Baur had been chopping the tops from two door BMW saloons since the 1960s, and its initial conversion to the E21 3-series, the TC1, had been well received. Baur therefore developed a new TC, or Top Cabriolet, based upon the E30. As before, it featured fixed window frames and pillars, in order to add structural rigidity necessary for the lucrative American market. BMW however, had other ideas – and by launching its own full convertible it effectively decimated Baur's business. Its E36-based Top Cabrio was a four door landaulet in order to avoid competing in the same market.
BMW's take on the E30 convertible theme came along in 1985. The in house car featured an absence of pillars, with frameless windows and a multi layered hood for additional insulation. Unlike the Baur convertibles, BMW initially only released its in-house convertible with the 2.5-litre six cylinder engine. This left Baur able to offer cars to those who wanted the smaller engines, though four cylinder 318i and six cylinder 320i models joined the factory range in 1988. Baur did not cease production of its convertible until 1991, when the availability of two door saloon shells stopped.
A rare and interesting derivative, with just 786 built, was the original M3 convertible. This was M-Division's first convertible car, and a more subtle prospect than the saloon. It retained the saloon's wide wings and bodykit, but the absence of the different roof metal made it harder to tell at first glance whether it was an M or not. The M3 was barely any quicker than the 325i with 0-60 in just over 7 seconds, but the way it delivered it was far more aggressive and frenetic than the laid back straight six. These remain one of the most valuable E30 derivatives today.
A facelift in 1990 saw the convertible gain the new headlamps, valances, bumpers and wheelarches the saloons had received three years earlier. The E30 convertible continued alongside the new E36 range, until the E36 convertible was announced in 1993.
Stepping into the BMW is a different experience to the Saab. There's no mistake, you sit low in an E30 – deep dash angled toward the driver, with a centre console reinforcing the cockpit feel. It really does work, especially with the black leather of our test car. The seats aren't as soft or as comfortable as those in the 900, but they hold you far better – bigger and better shaped bolsters give the impression this is a car that might be better to throw about. It's more stylised than the Saab, but no less solid in feel – the conversion feels well executed on a premium base. It's more austere – fewer buttons and no wood – but that's what the market wanted. Look at the majority of executive cars of this period and the trappings seemed sparse.
Our Laguna Green 325i SE automatic test car is arguably one of the best matches to the Saab we have on test. 169bhp and 167lb ft of torque isn't quite as much as the Swede, but it's not far off and it's delivered in a different way. Switch it on – on the column – and the six-cylinder engine note makes the Saab's four pot sound a bit low-rent. It's silken and mellifluous; as aurally delightful as only a BMW six can be. The automatic seems to be well chosen in this installation, with good ratios and a smooth shift action. It's not perhaps what the E30 enthusiast would choose – many of whom hold manuals in higher regard – but for a cruiser it's just fine. The suspension is firmer than the Saab but very well damped, and while it doesn't feel sporting the whole car feels far tighter than the Finnish Fancy. It's quick enough – not a patch on the 900, but then it's nowhere near as brutal in its execution.
The BMW is more relaxed in its delivery – more consistent, with no lag but no dramatic shove either. It's still more than fast enough in modern traffic, and it's able to carry more through the corners thanks to a far stiffer-feeling shell. People talk of a light rear end in E30s, and the common joke about the paving slab in the boot, but this example felt fine. Not perhaps sportscar squat, but then it isn't one. More than anything it feels like a capable junior GT – ideal for a weekend away.
Does it feel special, though? Yes, but in a different way. The E30 feels more like a car which appeals to the head than the 900's heart – it makes more sense, it's objectively better in corners, and it's a wiser bet in terms of predictability. It appeals to a very different type of person – perhaps more mainstream, with a more universal appeal.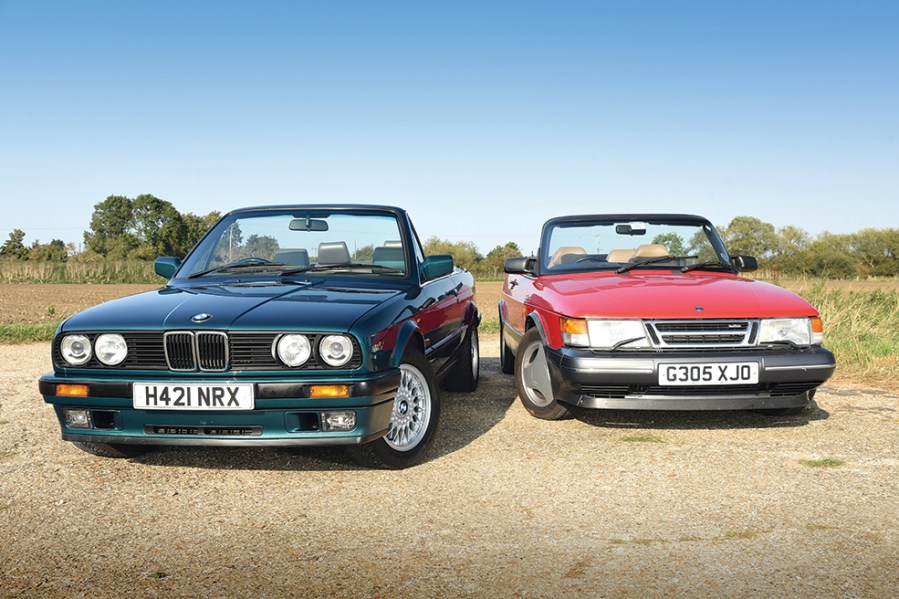 Saab 900 Turbo 16 vs BMW 325i (E30): our verdict
Those who want a B-road companion will almost certainly buy the BMW from this pairing. It's got more of a cockpit feel to the cabin, it corners better, and you feel lower in the cabin. But if your idea of fun involves putting your foot down on motorway slip roads, the BMW just can't hold a candle to the 900's ferocious acceleration. Both make excellent regular use companions, so on a purely objective basis there's little to determine a winner.
So allow me to be personal here – because old cars make a very personal statement, we buy with our hearts and not always our heads. Moreover, if you've chosen a convertible variant at least some of the appeal is in how you feel driving past a shop window and admiring your reflection. Our preconceptions and preferences will therefore have a natural influence.
Offer a BMW enthusiast a tired 318i or a mint 900 Turbo and he'd choose the BMW, likewise a Ford nut would never countenance a Cavalier. We're all biased. And my personal bias as a long term 9000 owner and enthusiast is toward its older brother. Had this test been conducted by our colleague Paul Wager as a long term BMW enthusiast and former editor of Total BMW, I have no doubt that the conclusion would be reversed.
But for me, the Saab's handling flaws give it a more human edge – the fact it can't quite cope with the power it has makes it amusing where the BMW is perhaps a shade too competent to be truly loveable. I also find myself giggling like a schoolboy when I put my foot down, there's a brief pause, and then the world explodes. It's also, to me, by far the prettier of the two cars. The BMW may be understated and simple in its execution, but the weird and wonderful angles of the Saab and its peculiar narrowness lend it an idiosyncratic appeal.
Yes, the BMW is more sensible, smoother, more grown up, more complete. But if I wanted a grown up car I'd buy a saloon. The 900 blends the right amount of sense with the right amount of silliness, making it a classic I'd look forward to driving every single time. And surely that's the point?