Few cars define the 1980s as well as the second-generation BMW E30 3 Series, but but buying one today can be challenging. Here's how to secure a great example
The E30 3 Series arrived in 1982 as a replacement for the E21-generation car and remains one of BMW's defining models. It says a lot about the era into which it was born: expensive and under-equipped compared to an equivalent Ford or Vauxhall, but it had the cachet and depth of engineering that discerning buyers still crave today. The E30 has graduated from the 'banger' phrase it endured in recent years; not many are left as a result, and the good ones that remain can be expensive.
The E30 reached our shores in early 1983 with a small model range: the 316 with a carburetted M10 four-cylinder motor, along with the 320i and 323i with the M20 straight-six with Bosch LE Jetronic injection. Power outputs were 90bhp, 122bhp and 139bhp respectively; to bring things to a halt, the 323i had rear discs and both six-pot cars got vented front discs. Four-door cars arrived in right-hand-drive form in September 1983 along with the LE Jetronic-injected 318i, a big seller in the E30 range. At this point the 323i was given a power boost to 150bhp, and in 1985 the 170bhp 325i replaced the 323i. The whole range also received minor mods such as lower-profile tyres and revised trim.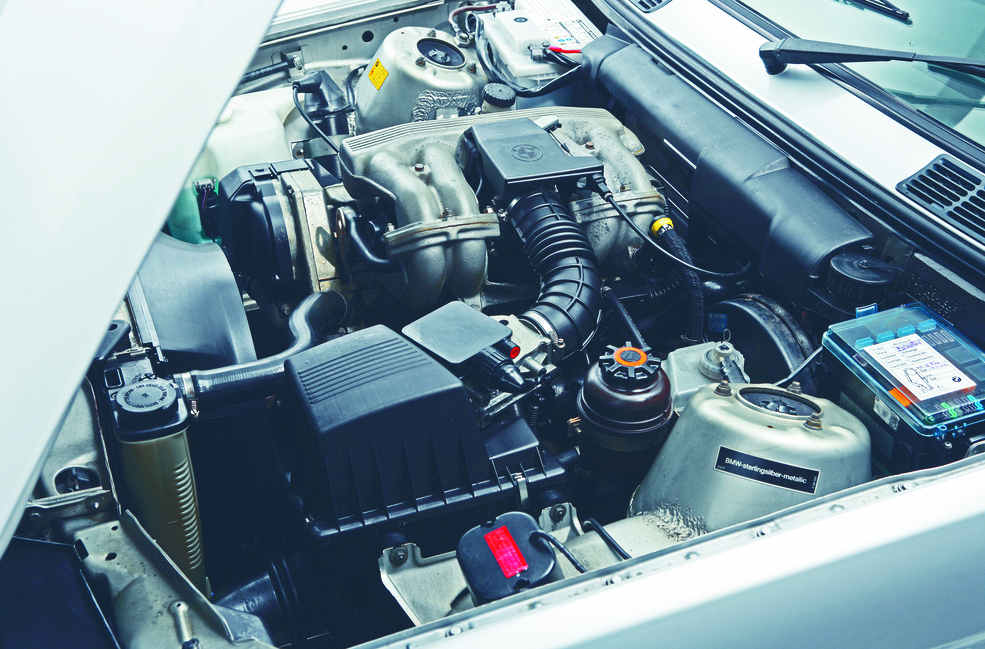 The 325i Sport also arrived in late 1986 with 15-inch BBS wheels, lower and stiffer Bilstein suspension, limited-slip diff, dechromed trim, sports seats and steering wheel, a closer-ratio gearbox and details like black headlining. A 325i full convertible also arrived that year to quickly outsell the Baur targa version.
In 1987, the E30 3 series was revised with plastic bumpers, bigger tail lights, reshaped rear arches and rear valance, new front apron and ellipsoid headlights and a new M40 engine for the 318i as well as new Motronic 1.3 engine management on the 320i and 325i. A 325i Touring estate arrived at the same time but the convertible would not receive the styling facelift until late 1990.
In late 1988 the 316 was replaced by the M40 316i and the whole range received standard power steering, electric front windows, central locking and green tint glass, at which point the 316i and 318i had a boost in sales. A revised 325i Sport arrived at the same time and even after six years, the E30 3 Series was selling very strongly. A two-door-only 16-valve 318iS arrived in late 1989 with the new M42 engine packing 143bhp – usefully faster than the 320i and good for another 5 mpg whilst having uprated suspension, dechromed trim, BBS wheels and M3-style interior trim with tartan seat trim on BMW Sport seats. This was an excellent package that again found a lot of buyers.
By 1990 the E36 was on its way and so development stopped, with the saloons leaving production late that year. The Touring and convertible models were now boosted with 316i (Touring), 318i and 320i models between 1988 and 1991, with the last Touring being built in January 1994, marking the end of an 11-year run.
The E30 3 Series had done a magnificent job of putting BMW on the map, with a model for everyone. It had always been a well-made car with instant appeal and as such outdid the previous E21 3 Series. It's also one of the last 'traditional' BMWs before the slippery E36 arrived.
Engine and transmission
The M10 as fitted to the 316 and metal-bumper 318i is a good engine, if old fashioned. It's a heavy unit that's long lived if maintained properly. Skipped oil changes will result in blocked holes in the oil spray bar for the camshaft, resulting in cam and rocker wear that's not so cheap to fix. Most leggy units will need a top-end rebuild with new valve guides as well – this was really a 1960s engine so as well as oil changes the tappets need checking every year or 10,000 miles, along with a cleaning out of the spray bar. It's worth opening up the holes slightly with a tiny drill and fitting new banjo bolts from BMW – but on no account thread lock these as it will congeal in the centre and block it. The 316 carburettors were universally hopeless in old age and most cars will have had a Weber fitted with a manual choke.
The 318i with LE Jetronic goes a bit better but the later M40 version was somewhat better – lighter, more lively and better on fuel. These were well known for camshaft wear, again due to skipped oil changes and the spray bar blocking. However, replacing the cam and rocker fingers is an easy job, as is replacing the cambelt, but be aware that M40 engines after late 1991 started using the different E36 belt tensioner which does not interchange.
With Motronic, the M40 is far more efficient and reliable and a good one is an excellent unit. The M42 in the 318iS was very good too and uses a cam chain. These were very reliable but had two issues; one was that the chain roller gear retaining bolt could break off and this was resolved in 1992 with the E36 but it was never common.
Secondl was the rubber profile gasket at the front of the head allowing coolant to get into the oil. This was pretty common back in the day, very rare now and most have been fixed. If the engine is tired, an E36 unit will cost you very little and once the manifolds, sump, flywheel and engine loom are swapped, it goes straight in.
The M20 was a good unit but like all engines, has some weak points. Head cracking is the main issue, with a hairline crack appearing under the front cam journals allowing coolant to leak into the engine causing dreaded 'mayo' in the head area. A good used head is one option, a new AMC casting (if still available) is another, and cracks can be repaired if done properly. A new or good used head is a better option.
Pre-1988 engines used 17mm hex-headed cylinder head bolts and, while rare, are at the age now where the heads can break off potentially causing a lot of damage. These really should be replaced one by one with new Torx-headed stretch bolts; a couple of hours' work. The Motronic 1.1 system on metalbumper 325i models can cause issues now with failed sensors and ECU dramas; a conversion to the later 1.3 system is a good plan, as parts for the 1.1 system are getting rare. M20 cambelts are easy enough to replace and the parts are inexpensive, but we'd recommend you change the water pump at the same time.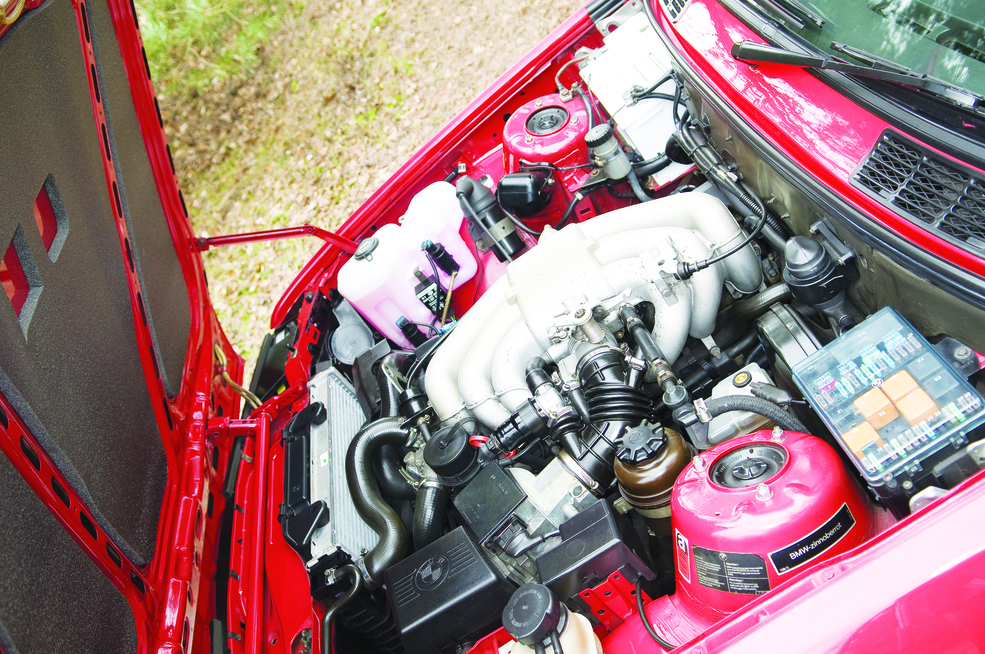 There's no real trouble on the gearbox front: the Getrag 240 as fitted to the 316, 318i and iS, and the 320i, are all good units that are cheap to replace but M10, M40, M42 and M20 boxes don't interchange. The Getrag 260 on the 323i and 325i is tougher still and clutches are easily available and not hard to replace. The three-speed automatics were used until 1984 and then replaced by the four-speed automatic. All are reliable enough and again, not hard to find used in working order.
The 325i mostly used the switchable sport/economy unit. It's not a good idea to leave the engine idling in P or N for long periods on four-speed autos, and revving on P/N is a no-no as both can damage the forward clutch packs.
Diffs are no trouble. The 'small case' units on the four-cylinder cars and some 323i's can whine in old age but they're easy to replace. The 323i and 325i units are long lasting and some have an LSD fitted, standard on Sport models.
Suspension, steering and brakes
The front suspension struts can rot in the spring cup area. Take a small hammer to these and they may well break through, with replacement the only option. Dampers are inexpensive on standard cars and not too hard to replace, bearing in mind that 316, 316i and 318i cars have skinny 45mm-diameter struts, and most Touring and six-cylinder/318iS cars having the fatter 51mm struts.
Steering racks can leak and really good used ones are getting rare – a conversion to the quicker-ratio E46 3 Series rack is very worthwhile, as the E30 3 Series drives a lot better afterwards. A purple-tag E46 rack is cheap and new conversion pipes and steering linkage are readily available. Wishbone ball-joints can wear but fitting a complete new unit isn't a difficult job.
At the back, the rear axle beam bushes are a common casualty and can't be changed without the special tool – so pay someone else to do it! Broken rear coils are fairly common but beware rotten trailing arms around the spring mounting lugs.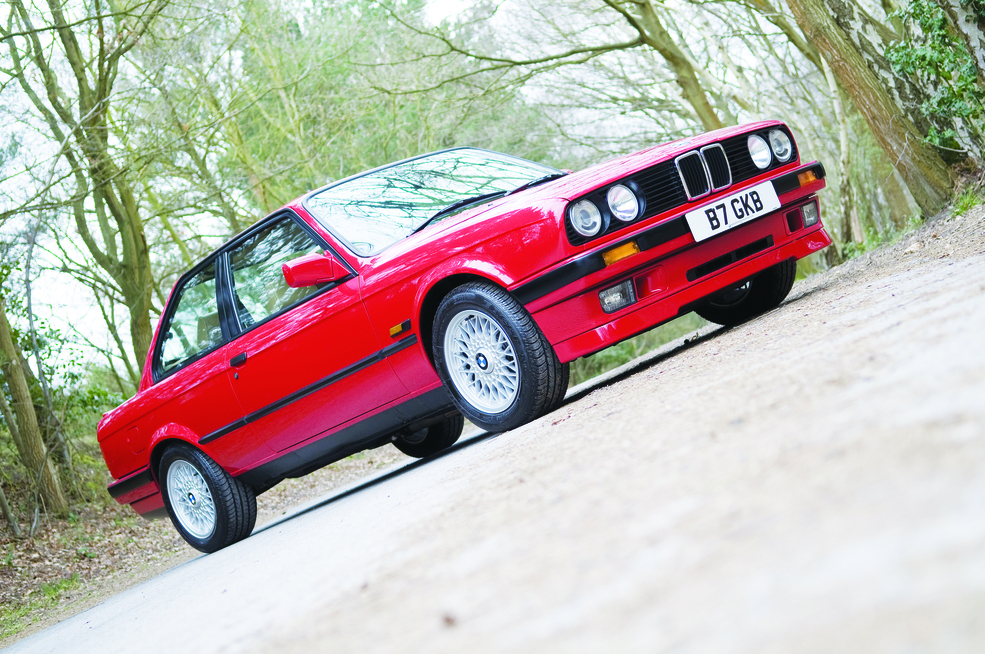 The 316, 316i and 318i cars normally have rear drum brakes while the others have discs all round. The normal problems areas apply – rusty brake pipes, perished hoses, tired calipers and leaky rear brake cylinders – but there's nothing too awful to fix. The 325i model nearly always has ABS, so this needs to work. Faults include sensors, rust on the hub-trigger rings, the relay and even the pump itself, but nothing is too expensive to replace and there are enough used pumps out there.
New master cylinders are available, but before you buy one to cure a 'long' brake pedal it's worth adjusting the linkage; this goes across behind the heater and over time, a little bit of wear in the bushes can cause a lot of free movement at the pedal. By dropping the glovebox and the panel under the steering column you can access the 17mm locknut at either end of the cross-linkage rod and adjust the brake pedal upwards an inch. This make a tremendous difference to brake feel – but don't overdo it as you may cause the brakes to lock on when hot.
Bodywork
This is where a typical E30 3 Series purchase is won or lost as despite the excellent paint and assembly quality, they do like to rot. The normal places are the bottoms of the front wings, rear sills, all four jacking points, front square lifting pads (they're not jacking points!) rear arches, battery tray – and on the plastic bumper cars, inner rear arch housings. Replacement panels are available but it's important to look everywhere for rust.  On all cars it's essential to pull the boot side carpets out for a good look, as here is where you'll find serious trouble.
Cars with a sunroof have their own problems; the sunroof panel itself can rot, and rust can form between the sunroof cassette and the roof skin resulting in rust pushing through – a very expensive and tricky repair often needing a new roof skin. Doors, bonnets and bootlids don't often rust but are cheaply replaced if they are. Also inspect the area where the boot seal fits on and the front inner wing to chassis rail sections; in short, check everywhere, as many decent-looking cars are hiding lots of rust. Most rust-prone is the 325i Sport: rust behind the bodykit side panels is common and you'll be lucky to find one that hasn't had some trauma here in the past.
The E30 3 Series' fuel tank is steel, with predictable results. You can still buy new replacements but there are various different types and you'll doubtless need a new steel filler neck pipe as well.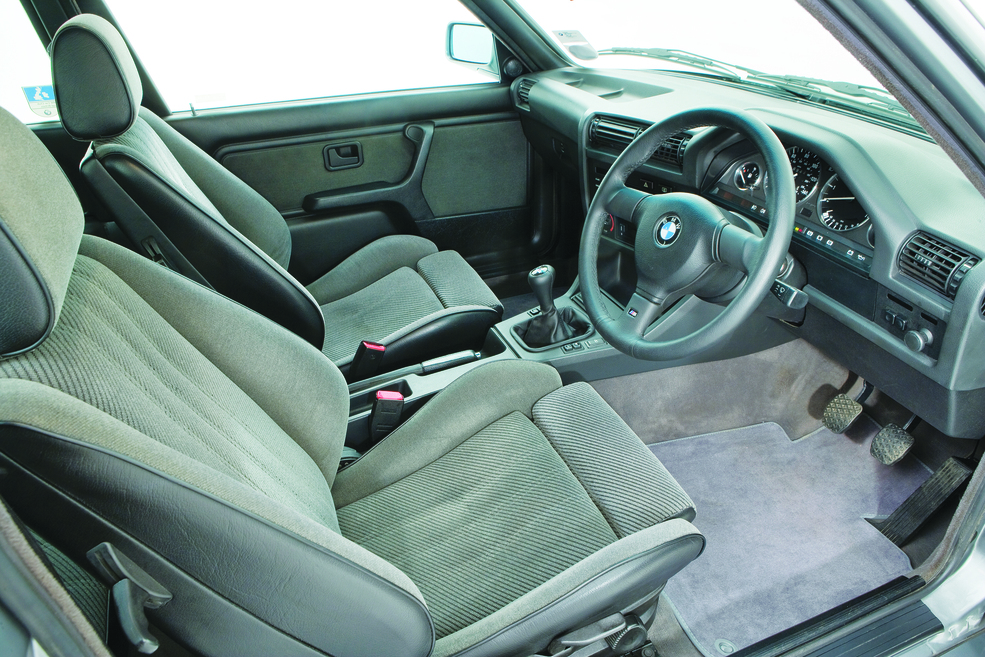 Interior
Uncracked E30 dashboards are now serious currency; you'll pay huge sums for one now and they are no longer available new. Worn driver's seat bolsters are common but you can use a good passenger seat either to fit in its place (the release levers will be on the left but accessible), or to use the covers to fashion a repair. Faulty instrument-cluster circuit boards result in a non-working rev-counter, a misbehaving temperature gauge or service indicator (SI) lights that won't reset. There are still a few good used ones about which is just as well as they're no longer available new.
Better-spec cars will have an electric sunroof and windows that rarely go wrong, and some have the on-board computer and air conditioning. The air-con will be the old R12-type on most cars that will need overhauling and converting to R134A. Central locking faults are normally down to a faulty solenoid relay in the driver's A-post behind the speaker.
Miscellaneous issues
Uneven or high idling on the M20 LE Jetronic engines can be a minefield: incorrect timing, a faulty air slide valve and incorrectly routed vacuum advance/retard pipes can all cause issues. It's best to start from scratch and do everything correctly. Faulty seals let rainwater past the rear light seals whilst the headlight aim adjust control can seize up, as can the headlight wash wipe motors.
Some cars have check control and it's useful, so make sure it all works, especially the coolant level sensor as it could save your engine. Viscous fan couplings will be tired if original but they're cheap and easy to replace. Radiators are good but some – especially the pre-facelift 325i – are getting hard to find outside the BMW dealership network.
Tyres are still easy to find but beware cars with Michelin TRX Metric tyres – they were an option in the mid-eighties and are no longer available.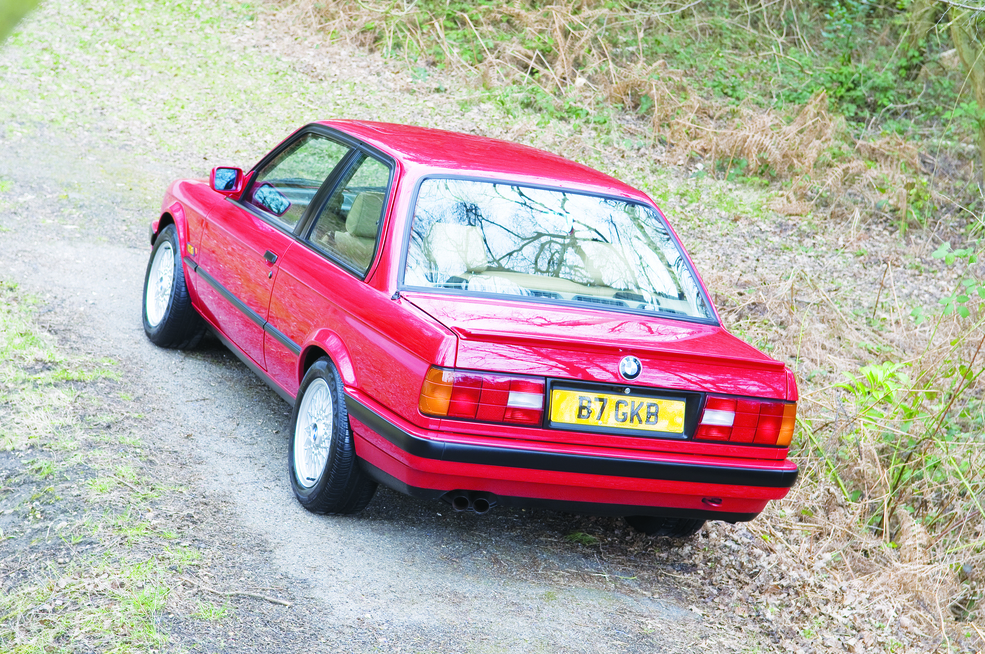 BMW 3 Series (E30): our verdict
The E30 is most definitely a classic now, with prices to match. In an ideal world it's the six-cylinder version that's best; sadly, prices now reflect this and the 325i Sport is particularly out-of-reach for many. If you're willing to compromise on power and performance, however, lowlier examples can still offer much of the same experience – and offer a great place to get started in the world of DIY classic-car ownership.
Condition is everything and major projects are rarely worthwhile, especially if rust is an issue; restoration costs can spiral so it pays to buy the best example you can: it's a far better idea to buy a really nice 320i than a rough 325i!