The Mercedes SLK was part of a mid-90s flurry of convertible sports cars but has a very different personality to most of its peers
Words: James Bowers
Once upon a time, small convertible sports cars were the rising niche in the automotive market. Models like the Mazda MX-5, MGF and BMW Z3 all performed well on showroom forecourts; far better than their modern-day counterparts do. Naturally, Mercedes also wanted a slice of the pie and the R170 SLK, or 'Sportlich Leicht Kurz' – Sporty Lightweight Short, to you and me – was what they came up with. The name might be rather unimaginative but, on the surface at least, it certainly seems to be accurate. The SLK was built atop a shrunken version of the C-Class platform, weighed between 1195 and 1461kg depending upon spec, and had an engine range which suggested it could be quite a sporty proposition. All the right attributes were there on paper, but what about in practice?
To find out, I got behind the wheel of an SLK 320, which was positioned at the top of the trim level tree. In this guise, the Merc comes with a 3.2-litre normally aspirated V6. Now, although it is a tad heavier than the more common four-cylinder cars, it makes up for the slight extra heft with a claimed 215hp. By comparison, an early SLK 200 churns out just 134hp. The supercharged SLK 200 and SLK 230 Kompressor models are a little livelier though, producing between 160bhp and 195bhp respectively, but still aren't in the same ballpark as the V6.
Prior to 2001, those powertrains would have been accompanied by a five-speed manual gearbox, whereas later models got a six-speed. The car that I'd be driving, however, was equipped with Mercedes' '5G-Tronic' automatic transmission instead. And in truth, that's probably the option that suits this car best.
Indeed, if you were hoping to read that the SLK comes across as a proper driver's car like the Mazda MX-5, then I'm afraid I've got some bad news.Even with the V6 at its disposal, the SLK doesn't blow you away until you really mash your foot down on the loud pedal. Admittedly, this momentary lag is partly due to the car's auto-box, which doesn't particularly like to be rushed into a downshift. Nevertheless, even in a manual car, the SLK's power delivery is unlikely to feel as energetic as that of an Audi TT from the same era.
Then there's the way it handles. Sure, there's a decent amount of grip available when you chuck the car through a sequence of bends, but it gives you little in the way of feedback through the steering wheel. If you're absolutely adamant on using an SLK as a sports car though, the rarer AMG variant presents an expensive compromise. That car uses the same M112 V6 block as you'll find in the example that I'd been given the chance to have a go in, but the big difference is that the AMG is aided by a twin-screw supercharger.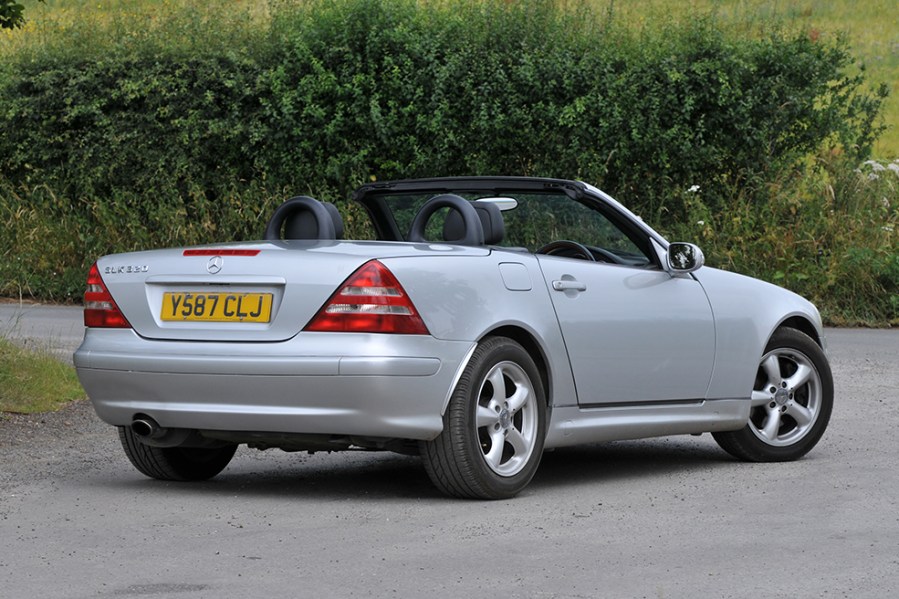 Power output is therefore boosted to a mighty 349hp, dropping the 0-60mph time from 6.9 to 5.2 seconds. But, as impressive as those stats may be, there's no getting away from the fact that it still uses the same slightly wooden-feeling chassis as the regular SLK. The moral of the story? If you want a German convertible sports car that's actually sporty, get a Porsche Boxster, or if you're on a tighter budget, an Audi TT.
Anyway, with that mild disappointment dealt with, let's focus on what this car is actually good at – and ultimately – what it was designed for, despite the slightly misleading name. More than anything else, the SLK is meant for briskly swanning about in comfort on a sunny day. And it does that rather well indeed.
To make the most of the sunshine you need a convertible with a decent roof: one that doesn't take an excessive amount of brain power to understand, or an army of people to retract. Happily, the SLK's roof is perhaps its biggest plus point. Its hydraulic system ensures that you don't have to lift a finger – well, other than to press a button – in order to trade its metal canopy for the great outdoors. And that's the other thing – whereas Porsche, BMW, and Audi were still using cloth roofs, Mercedes were early trendsetters of the convertible hardtop.
Much more than just a fancy piece of engineering to show off to your mates, the hardtop offers less leaks, more security and greatly reduced external noise compared to its soft top rivals. Of course, it isn't without flaws though. It's a heavier solution, which again speaks to the car's lack of natural sporting prowess, and from an aesthetic point of view it's not something which is universally loved.
We'll let you decide whether you're down with the hardtop or not, but in a more general sense, it's fair to say that the SLK's aesthetics make little effort to wow people. If you're being kind to the car, you could perhaps describe it as quietly elegant, but I'd be tempted to use the word 'bland' instead. The most striking thing about it, therefore, is that three-pointed star on the grille. Simply being a two-door, drop-top Mercedes is enough to give this car the sort of image that its suitors are likely to want. Which is lucky, because the finer details of the design aren't anything to write home about.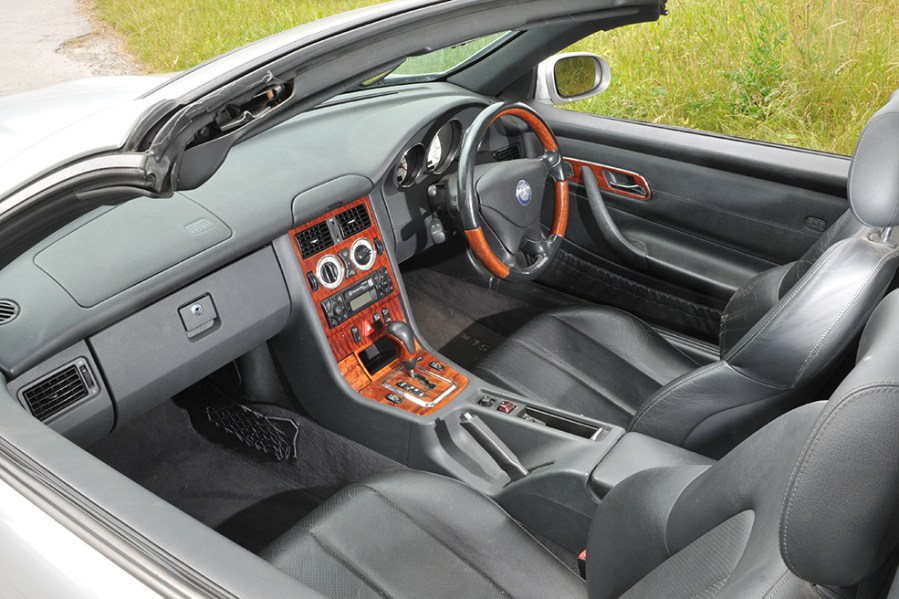 On a rosier note, the interior certainly does fit the bill of a luxury roadster. The wooden dash is grand and upmarket, though the accompanying switchgear is beginning to feel its age. That said, it's all nicely positioned and easily reachable, making for a cabin experience that feels well-tailored. It's comfortable too. The leather upholstery is plush, and the seating position gives you an adequate view of the road and the instrument gauges. Taller drivers may find themselves peering over the steering wheel a bit though – I'm only 5ft 9 and had to recline my posture a little more than usual to feel comfortably rooted within the car.
Beyond that though, I only have one major gripe about the SLK's interior. In traditional Mercedes style, all the stalk-based driver aids are located on the left-hand side of the steering column, which is fine until you go to indicate. The number of times that I accidentally flicked the cruise control stalk instead – which is located directly above the indicator – was mildly infuriating. Still, nothing that a bit of added muscle memory can't fix, I suppose.
Those minor foibles aside, the SLK makes for a pleasant vehicle to cruise about in. In fact, the suspension set-up offers perhaps the best overall insight into the car's personality. It's not so softly sprung that it lacks poise, but the intention behind its ride is clearly to soak up the road's imperfections, rather than translate every contour to the driver's bum.
Similarly, while I may have critiqued the 3.2-litre V6 for its lack of all-out enthusiasm, it's a good, 'wafty' compromise that does at least ensure the SLK never gets in its own way. Be mindful of the smaller-engined SLK 200 though, as for an upmarket 'sports car', it's likely to feel a little sluggish and underpowered at times (especially the early non-supercharged ones).
With this car, the value is in the nuance. If you want a two-seater convertible with serious athletic pedigree, then the SLK isn't the car for you. However, if you're after a well-priced, comfort-focused drop-top instead, then it just might be. These days, you can pick up a tired four-pot example for less than a grand, but even the best V6 examples rarely break £6000. Depending on which engine you opt for, a healthy car can be had for anywhere between £2500–5000: not bad for a drop-top Merc.