The Porsche 924 Turbo is one of the racier efforts in Porsche's transaxle back-catalogue. Today, it makes for a very exciting classic
Words: Sam Skelton
It almost seems like a redundant concept; for Porsche to produce a car with 911 levels of performance at a near 911 price, that wasn't a 911. Doesn't it? And today on the classic market, the concept seems equally redundant owing to the existence of Porsche's later 2.5-litre 924S. But to dismiss the 924 Turbo as an irrelevance would be a catastrophic error.
The story of the Porsche 924 begins in 1965, with the Volkswagen-Porsche 914. This model was a joint venture between the two companies, with each having its own variant. This relationship worked well, albeit with some market confusion among buyers who weren't sure if the 914 was a cheap Porsche or a fast Volkswagen. In 1971, both companies began work on the replacement – dubbed EA425, this four cylinder sports coupe was funded by Volkswagen and developed by Porsche.
Internal politics saw the close research and development relationship between the two companies draw apart during this era, and the EA425 project was eventually all that was left by 1974. At this point, changes in the hierarchy at Volkswagen brought in new boss Toni Schmücker, who cancelled the EA425 project following the disbanding of the joint dealer network.
Porsche now had a near-complete four cylinder sportscar project for which funding had been dropped, along with a single model range which was ageing and ill-equipped for a world post oil crisis. It therefore did the obvious thing, and made Volkswagen an offer for its intellectual property associated with the project.
With the EA425 brought in house, it was assigned the Porsche development code 924. It was to use a number of Volkswagen and Audi parts, and be built at the former NSU factory in Neckarsulm now owned by Audi. This not only meant that the Audi-supplied parts were available in house but saved the jobs of many at Neckarsulm who would otherwise have been laid off.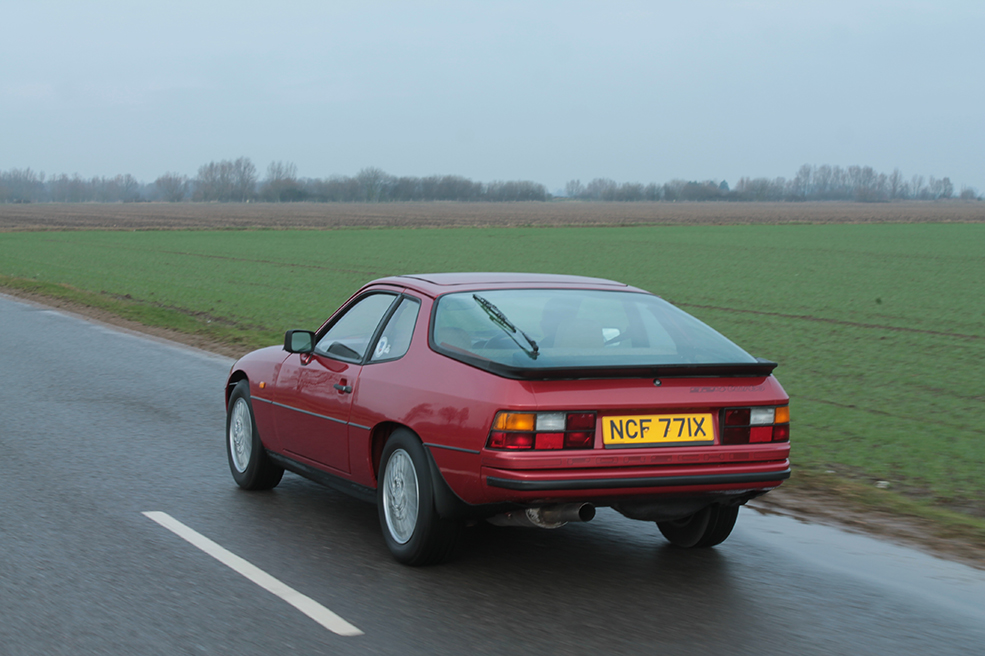 Sales of the 911 in Britain at least had become so dire that Porsche GB was starting to allow dealers to take cars on a sale or return basis, aware that the dealers' reticence to purchase a car which may languish in stock was harming the company's sales figures as well as those for dealers.
The newer and more affordable model turned things around – while it still had its detractors, the 924 arguably saved the Porsche brand in Britain. 924 buyers were typically younger, affluent, and for many it might be their first sports car. This was encouraged by the media; the near 50/50 weight balance made the 924 an easy car to drive quickly, and there was less need for developed driver talent than in something like its big brother 911.
Over the years Porsche sought to modify and improve the 924 formula. Launched in 1978, the 924 Turbo was Porsche's attempt to bridge the gap between its well-loved and widely acclaimed 911 series and the smaller, lighter 924, which was more junior GT than sports car. Uprated suspension was fitted, along with rear disc brakes, five stud hubs (beware if sourcing alloys for a standard model), and a five-speed Getrag gearbox as standard equipment. The compression ratio was reduced to 7.5:1, with a KKK turbo boosting at 10.15psi. This meant 170bhp at 5500rpm, 140mph flat out and a circa 7 second 0-60 time.
Britain got the 924 Turbo for 1979, following delays in engineering a right-hand drive conversion. All standard UK cars came with the Lux pack, including electric windows and a smaller four-spoke steering wheel. Visual differences included a series of slots in the nosecone to aid under-bonnet cooling, a NACA duct on the bonnet, a subtle rubber rear spoiler and the fitment of cross-spoke alloy wheels as standard.  Changes in 1981 created what was effectively a 924 Turbo Series 2 – a smaller turbocharger reducing lag was the major alteration. An increase in compression ratio to 8.5:1 made possible by a new ignition system and a power hike to 177bhp meant that this was a more usable and entertaining package.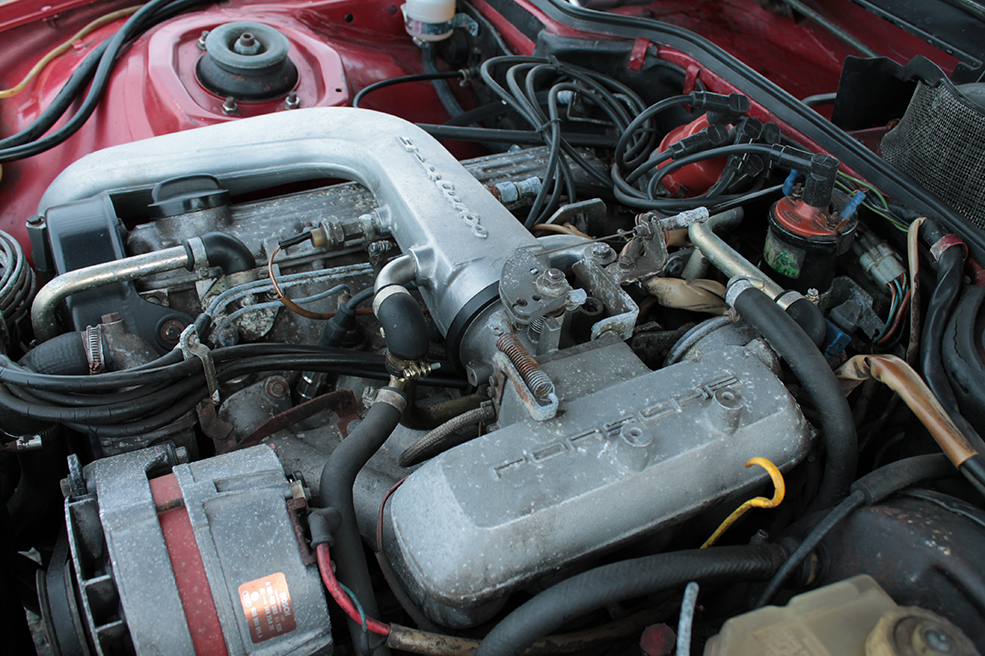 The following year saw production cease for almost all markets in favour of the new 944; a wider, more aggressive-looking car whose four-cylinder 2.5-litre engine was derived from the 928's V8. Italy remained the exception because the 2.0 engine slotted perfectly beneath its punitive tax threshold.
Contemporary testers in the UK praised the car's performance and its improved fit and finish over earlier 924s. However, they expressed reservations about the steering (geared lower through longer steering arms, possibly to offset weight induced by the smaller Lux wheel), and about the ZF gearbox with its dog-leg first gear. Overall Motor magazine was impressed – the character it had felt lacking from the base 924 was back – and its road test concluded with the certainty that the 924 Turbo was the direction in which all modern supercars should aspire.
To criticise the 924 for a lack of character is perhaps a shade cruel, but there's no denying that the 924 Turbo has charm in spades. The cosmetic differences may be subtle, but they really work. This car doesn't look like the 924s which were once an entry-level classic bargain; it seems more purposeful and more menacing despite sharing the same shell. This is what Porsche was trying to achieve with the wider arches of the later 944, though we're not sure which of the two offers the more successful styling upgrade.
The 944 is undeniably of its era, yet the 924's delicacy means that even now it's hard to place precisely to which decade the car belongs. The differences are subtle; much of this car's shell is shared with little brother 924 making repairs relatively inexpensive, but they add up to completely change the car's character. Despite the shape's overall similarity to the 928, it doesn't look like a would-be 928 either. It has its own definite identity.
The Surinam Red Series 2 we're driving belongs to serial Porsche enthusiast David Olverson. David also owns a Series 1 924 Turbo undergoing restoration, and an early 928S. That makes it one of the last UK examples, though technically it's not UK spec. The wind-up windows and three-spoke steering wheel are giveaways; this car was ordered in Germany in RHD by a first owner in the Forces, who kept the car once back in Blighty. In 1979 in the UK, a 924 Turbo was £13,129, while a 911SC cost just north of £16,000 and a Lotus Eclat £14,000. And SAAB could sell you turbo technology for under £10,000.
From behind the wheel you could be in any other 924. You still have the steering wheel which creates an odd optical illusion of being closer to you at the top than the bottom – a negative rake, though in truth it's vertical. You still have the same dials, the same control layout – much of which is nicked from the Golf and Polo parts bin. It's all business as usual right up to when you absentmindedly engage first gear and find yourself going backwards. The dogleg shift is common to many performance cars of the 1980s to use a Getrag gearbox; like the later BMW M3 and Mercedes 190 2.3-16 it aligns second and third and fourth and fifth to ensure swifter changes between these gears for brisk driving. Once you're used to it, the system that works well and is more intuitive than you'd think.
But unlike most 924s, what happens when you drop it into second and nail it is almost alarming. First, there's the lag – this is an early turbocharger setup, and we counted four seconds before the 924 realised we were summoning up extra grunt. But the explosion of power and torque belied its 177bhp on paper – this car on boost really does feel like it's got closer to 200bhp to play with. While the 944 replaced it on paper, it really doesn't offer the same brutality of surge, the same thrill as you realise you've timed everything perfectly, or – quite – the same Cheshire cat expression. Take your time over the gearchanges, make neutral a definite step each time rather than trying to be clever. The 'box won't reward you if you rush but if you're definite it's a joy to use. And if you can keep that turbo spinning it's an astoundingly rapid car by the standards of its day.
One pleasant side effect in this particular example is the far lighter steering than you would expect; a combination of those longer steering arms reducing gearing and the larger non Lux steering wheel, but this is not common to true UK spec 924 Turbos. The steering in those should still feel lighter than a naturally aspirated Lux owing to the gearing, though by less of a margin. We found this car perfectly communicative – while Motor would have preferred more direct gearing in period, we didn't push David's beautiful example hard enough to appreciate the benefit for which they might have hoped.
What helps of course is the weight distribution – the transaxle gave the standard Porsche 924 a 48/52 split, though the weight of the turbocharger installation nudges that a little closer to an even weight balance in the turbocharged model we have here. This means a well-balanced, poised chassis, and a car which imbues confidence in every corner.
It's hard to see why anyone back in 1979 would have willingly shelled out the extra for the by then fifteen-year-old 911 design over this. People used to joke about the 924 having a van engine owing to the very brief period when the LT shared the EA831 inherited from NSU – this car is less van, more Van Halen. As the revcounter continues its sweep round the bottom half of the dial the car really starts to come alive, and it's toward the top of its rev band where the most power can be felt. You find yourself almost giggling at the fun you can have when you learn to keep it on the boil.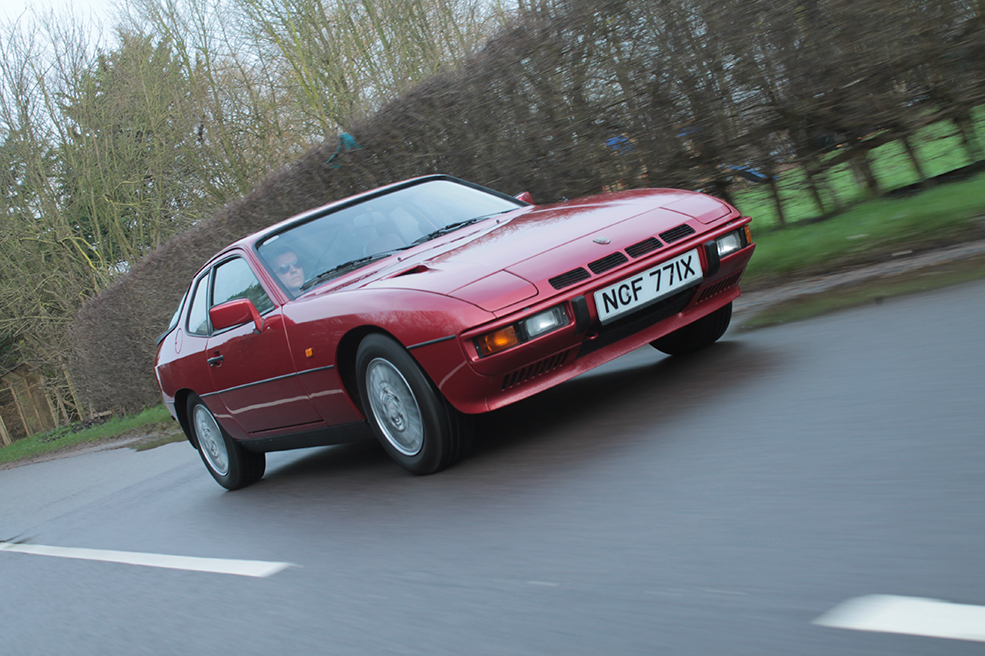 So its sports car credentials are well-established, but what's even better is how much better than a naturally aspirated Porsche 924 it is at being a GT car. The higher gearing – around 24mph/1000rpm – means that the extra power doesn't bring an economy penalty when you're cruising on the motorway, and that cruise will be more relaxed too given the lower revs. It's firmer than a naturally aspirated 924, but not firm in and of itself. It's well-damped too, and could teach a lot of modern saloons a thing or two about ride comfort. David hasn't done any brim to brim fuel consumption tests, but suggests that high-30s would be a reasonable return from every motorway gallon.
In period Motor only returned 21mpg, but by the tester's own admission, the car that was on test was pushed extremely hard. It's plausible to expect an average of somewhere around 30 today. Which, for a 1970s car that can put a smile on your face the way the 924 Turbo can, ranks as some sort of efficiency miracle.
It's hard to know what cars to suggest as alternatives to the 924 Turbo. You could look at turbocharged Saabs as an alternative perhaps, one with more practicality but less of a sense of speed and less overall poise. Possibly a Lotus Eclat would be a good competitor, but the turbocharged shove would be missing, and we're not sure they'd have appealed to the same buyers. A 911? A little too expensive, and far more of an enthusiast experience than a 924.
The beauty of the Porsche 924 Turbo is that while it takes time to learn, driving it hard isn't dangerous, you can't overcook it as easily as a 911, and it's a better all-rounder. Perhaps the TVR Taimar Turbo was the closest period equivalent – but then that car doesn't feel as well-assembled, nor as versatile as the 924. A Porsche 944? A different animal entirely, and dare we say it, less fun.