We sample a fastidiously maintained example of the E30 3 Series Convertible – perhaps the perfect summer classic
Words and images: Jack Grover
The E30 was very much evolution not revolution for BMW, being a very sensible progression from the 2002 and the original E21 3 Series. But in the world of soft-tops it did introduce one significant change. On both those previous models BMW had catalogued a cabriolet, both produced out-of-house by the independent coachbuilder Baur, who had turned the 2002 into both a full cabriolet and a targa-top, while offering the E21 only as a targa. Baur continued to offer a soft-top option on the E30 once that was introduced in 1982, also being a targa, resembling a two-door saloon with the glass removed but leaving the window pillars, which were then covered by two separate roof sections – top and rear – which could be fitted one without the other.
Continued demand for a true convertible forced BMW's hand and in 1986 they introduced a factory-built E30 Convertible with four seats and no standing roof structure. More attractive than the Baur with the roof up and down, the official job was sold alongside the Baur offering, giving buyers a varied choice of roof arrangement.
Few cars embody the spirit of the 1980s quite like a white six-cylinder BMW – it being only one rung below a red Porsche on the yuppie ladder of desirability. The 1980s was the decade when BMW really made inroads in the UK, and though not exactly mainstream, it certainly became an executive brand of choice. Buyers' aspirations had gone higher, and more foreign, than a Triumph, Rover or Ghia-badged Ford and now wanted something crisp and German. The other trend in the 1980s was the revival of the four-seater convertible – perhaps fuelled by too many episodes of Miami Vice.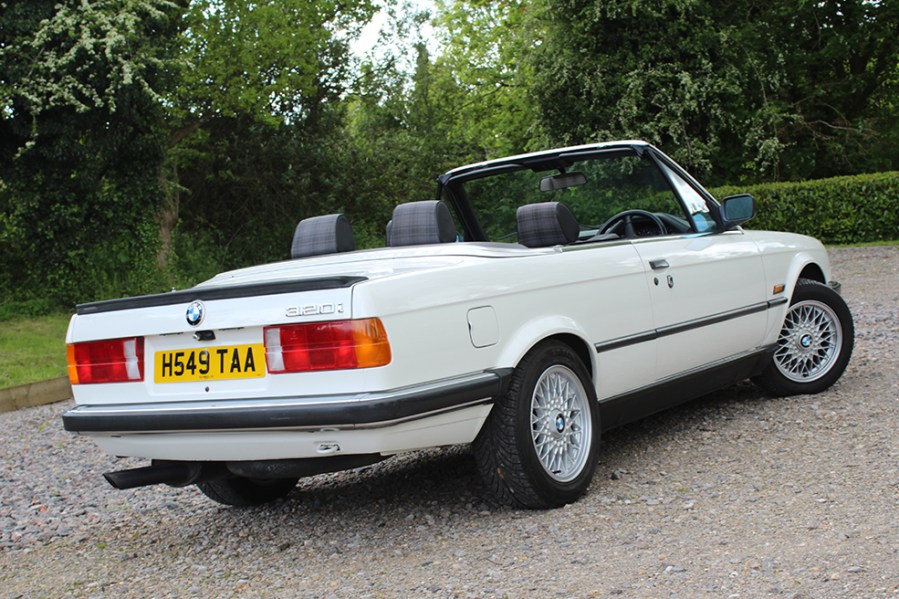 Thus we come to this white, six-pot BMW E30 3 Series Convertible. It was actually built after the calendar had turned on the Decade of Greed, being rolled out of the factory in June 1990 – a few months before the first 'E36' 3 Series was built but a good three years before the last E30 Convertible was made. BMW hadn't acquainted itself with the various option packs and 'lines' that delineate its modern-day range, and E30 equipment levels were infamously stingy for the prices paid, so the Convertible largely came in an 'any spec you want so long as it's this one' form. However, this one got alloy wheels, rear head restraints, tinted glass and a leather-wrapped steering wheel on top of other standard-issue bits like the factory-fit alarm and front fog lamps. The dealer (B.D. Amos of Salisbury) also added the rear boot spoiler, floor mats and an Alpine radio.
The car's current condition is credit to two things – the generally high standard to which the E30 was built, and the level of care lavished on it by its owner. Looking at it, you may think that it's another low-mileage stunner. In fact, it's done nearly 107,000 miles – lower than average for a car of its age but more than enough to produce signs of wear and tear.
But this is the complete opposite. To say it looks good for a car with half its mileage is not doing it justice – try a quarter. Seat bolsters, carpets, pedal rubbers, steering wheel, gear lever gaiter – all the things you'd expect to show some sign of wear after over 100,000 miles show little or none. There are some wear patches on the hood where it has creased when folded and rubbed against the frame, but this is hardly something to hold against it. The wheel arches, sills, inner wings, boot floor and scuttle panel are all clean and solid.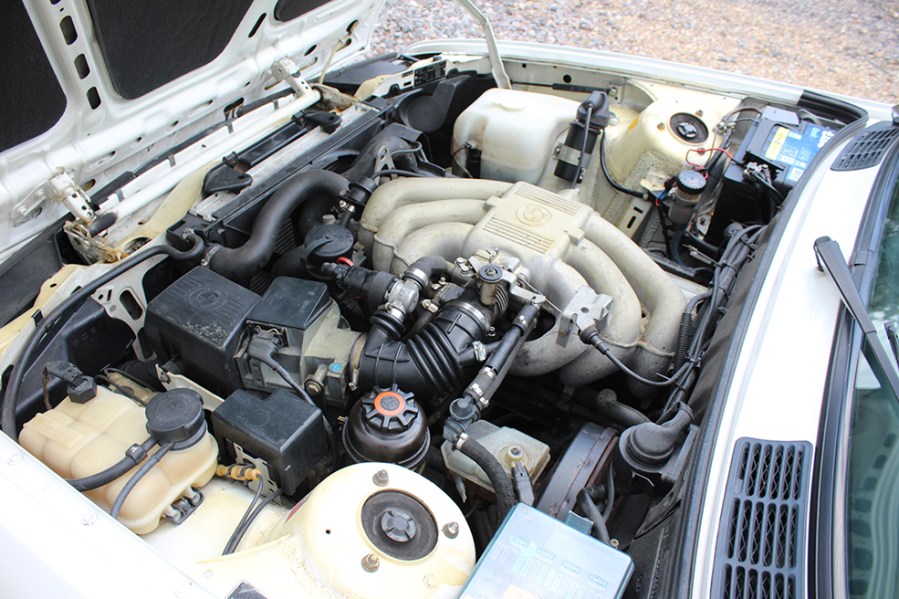 And it drives as well as it looks. It's a rare car that drives as well as one that's been built well in the first place, fully bedded in over tens of thousands of miles and been fastidiously maintained – they often drive even better than a tight, scarcely-used car which hasn't 'loosened up'. Not that there's any real sense of looseness here, but everything feels very harmonious and smooth.
Yes, a Convertible will never really be an Ultimate Driving Machine but you don't need to do anything 'ultimate' to enjoy a classic BMW straight six – and with the roof down you can hear this one even better. Is there some scuttle shake? Of course. It is a problem? No. Think of this 320i not as a degraded 325i two-door but as a sort of more modern Triumph Stag or a more practical Mercedes R107 SL – and thanks to its small size and BMW underpinnings it still feels daintier and more composed to drive than either.
BMW 3 Series Convertible (E30): our verdict
You couldn't really ask for a better example of an E30 Convertible than this one. If, as its last owner did, you want to keep it for special occasions and runs through the countryside on summer evenings then it will do that perfectly. But with over 100,000 miles on it you wouldn't be doing it any disservice to use it regularly for commuting or some holiday touring. Just keep up with the maintenance and, perhaps, don't try to use it through a winter.