Few classics are more useful than a pick-up, the kind of machine that will turn heads and carry loads in equal measure. Paul Guinness looks at a selection of today's best-buy models
MINI PICK-UP
While more than half a million examples of the Mini van were produced by BMC and British Leyland during its long career, just 58,179 pick-up versions rolled off the line – making this one of the rarest Mini variants of all. Add in the fact that pick-ups are generally bought to do a job of work, and it's hardly surprising that this particular load-lugging Mini is now an unusual sight.
As soon as the Mini arrived in 1959, it was obvious BMC was going to make the most of its little marvel by introducing a plethora of different derivatives. Not surprisingly, these included van and pick-up versions, which went on to prove a popular choice for more than twenty years. In fact, the Mini van and pick-up survived from 1961 through to 1982, at which point BL opted out of the 'small pick-up' market altogether.
Standard Mini pick-up power came from the ubiquitous 848cc OHV A-series engine, though a 998cc option became available later on. These produced 33 and 39bhp respectively, ample power to deal with most users' requirements.
Any Mini pick-up will carry a quarter of a tonne via a well-proportioned load area measuring almost 55 inches in length and 53 inches wide. Back in the '70s, British Leyland described the pick-up as 'simply the most versatile member of the whole Mini family', a vehicle that was 'ready and willing to take on the everyday transport jobs of a thousand different trades and businesses'.
Buying a Mini pick-up makes just as much sense in the 21st century, as long as you end up with a decent example. Unmolested, original Mini commercials are now fetching serious money, so you'll either have to pay for the best (at £10,000-plus in most cases) or be prepared to carry out some DIY restoration work.
Watch out for the perennial Mini rust issue, even more prevalent in a hard-working commercial. And don't be surprised if you find vendors asking what seems like over-ambitious prices for the best-preserved examples. So popular are these miniature classic commercials, they're no longer the cheap and cheerful option they once were.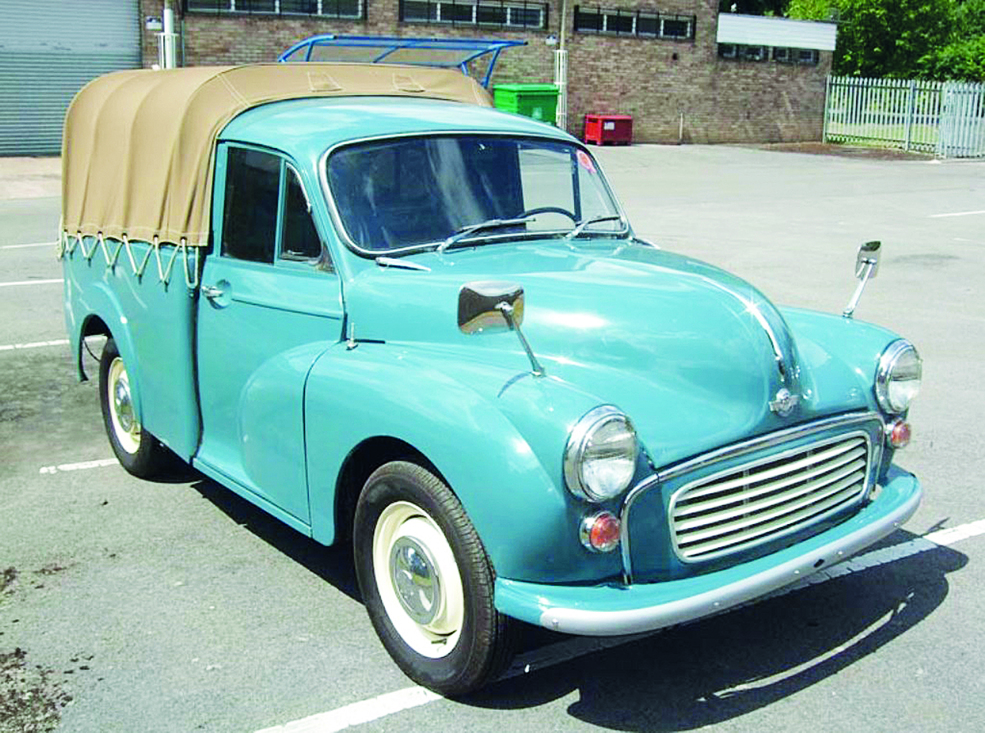 MORRIS MINOR PICK-UP
How could anyone looking for a classic pick-up not give the much-loved Morris Minor some serious consideration? Commercial versions of the Minor debuted in 1953 in split-screen Series II form, sharing the same 803cc OHV engine as their saloon counterparts. But from the doors back it was all very different, with the pick-up offering a usefully large and flat load area sat atop a separate chassis.
The Series III pick-up arrived in 1956, complete with 948cc engine and more power, which eventually gave way to the 1098cc model (known as the Series IV in commercial guise) in 1962. Interestingly, BMC introduced an Austin version of the Minor pick-up in 1968, complete with Austin-style 'crinkled' front grille; production of all Minor commercials ceased in February 1972.
Biggest problem for any neglected Minor pick-up – not surprisingly – is rust, so make sure you check everywhere for signs of structural and cosmetic rot. The good news, however, is that a vast array of reproduction panels and repair sections are available from Charles Ware's Morris Minor Centre (www.morrisminor.org.uk).
As with the Mini, BMC's Minor-based pick-ups were dramatically outsold by the van derivative when new, making any original-spec example relatively rare by Minor standards. Many have been fitted with non-original rear ends over the years, and are generally worth less as a result.
Assuming you want an original-looking Minor pick-up, you'll need to spend £5000 upwards to get one that's even vaguely roadworthy, with top examples often advertised at £10-12,000 (or more) depending on their standard of restoration.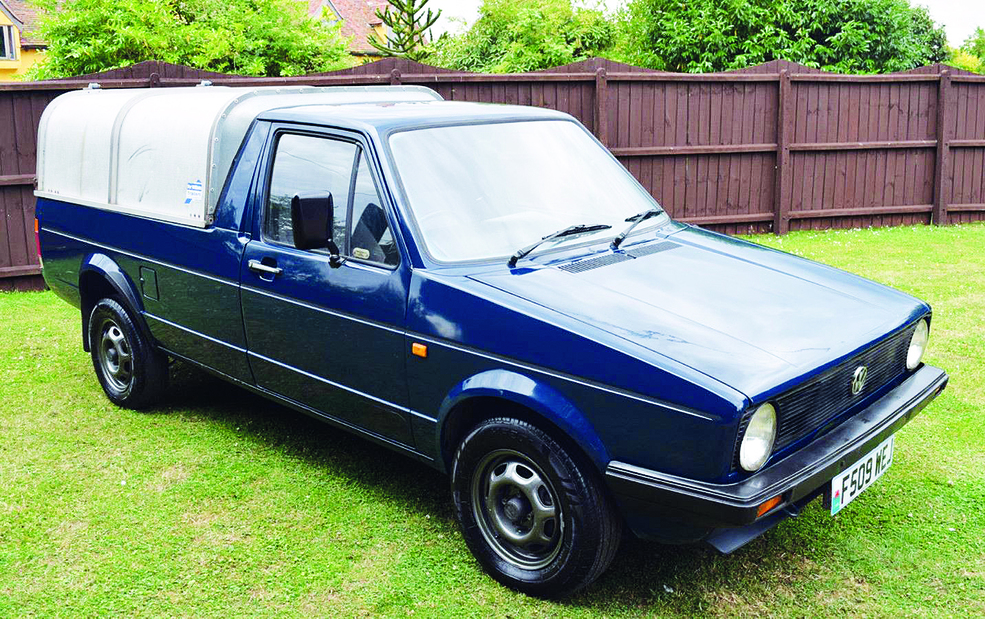 VOLKSWAGEN CADDY MkI
Pick-ups have always been big sellers in the USA, with the scale of their popularity being matched by the sheer heft of most of them. American buyers love big trucks – and they buy them in big numbers. And yet the Golf-based first-generation Caddy was created primarily with the US in mind, despite this VW's relatively diminutive dimensions.
In fact, the earliest examples of the Caddy – launched in 1979 – were produced at Volkswagen's Pennsylvanian factory and were initially known as the VW Rabbit Pick-Up (the Rabbit being the American-spec version of the Golf). But the canny German firm saw wider potential for its handsome new truck, and from 1982 began European production. Instead of naming it the Golf Pick-Up, however, Volkswagen decided to call it Caddy.
The Caddy was inevitably offered in right-hand drive UK-spec form, and soon became a fairly common sight. With BL phasing out the Ital-based pick-up and with most other manufacturers focusing on the one-tonne market, Volkswagen filled an obvious gap via its compact Caddy.
Although the regular MkI Golf was phased out by 1983, the Caddy derivative went on to enjoy a long and successful career, remaining in production right through to '92. Most UK-spec examples came with 1.6-litre petrol power, although a diesel was also available.
These days the Caddy is hugely popular with surfing dudes and custom fans, with many surviving examples having been lowered and modified. But there are standard ones out there, usually with asking prices of £2-4000 depending on their overall condition.