All-new, all-electric MG Cyberster sports car revealed in full ahead of expected on-sale date in summer 2024
In its modern guise, MG has been at the forefront of affordable electric motoring. Models including the MG ZS EV and MG5 EV have lead the charge, offering practicality and useful range at a price point that undercuts rivals by a considerable margin. The success of this recipe has resulted in a welcome renaissance for the MG brand in the UK in recent years – and the firm doesn't plan on letting up.
While the recent MG5 EV and MG4 EV have been an important cars for the brand, enthusiasts will be most excited by the prospect of its electric underpinnings being used in its next two-seat MG sports car – the newly revealed MG Cyberster.
MG parent firm SAIC had all but confirmed ongoing suspicions with its trademarking of the MGC EV name in 2022, folllowing on from the MG Cyberster concept on 2021. Leaked patent images stoked the fire further in June this year – but with the full reveal of the MG Cyberster at Auto Shanghai this week, it appears MG is sticking with the Cyberster name for production.
The new car features an as-yet unconfirmed electric drivetrain, most likely derived from that found in the MG4 EV hatchback. Performance figures are also unconfirmed but MG describes the Cyberster as 'powerful'.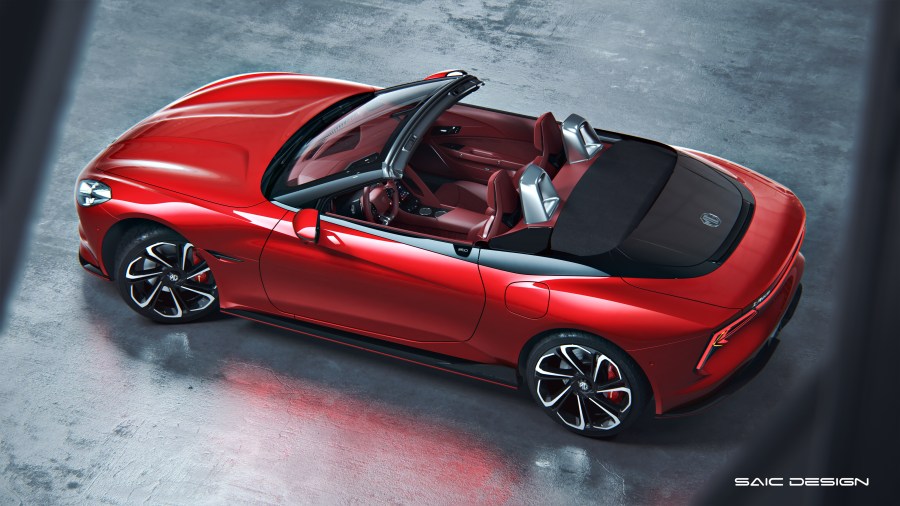 MG says it has looked to the past for inspiration in the Cyberster's design process, citing the car's 'long bonnet, low nose and curvaceous surfaces' as nods to classic MGs. Modern design touches include scissor doors and a Kamm-tail rear end.
"Our intention was to create a completely new roadster ready for a new generation of sportscar drivers and which opens a bold and compelling new chapter for MG," said Carl Gotham, Advanced Design Director of MG's Marylebone design studio in London. "The focus for Cyberster was to create a design that was respectful of the brand's illustrious past and to bring back that sporting bloodline, while also being absolutely clear that it should be modern and forward-facing like the MG of today, completely in-tune with the rapid transition to electric vehicles."
The MG Cyberster is set to go on sale in the UK and Europe in summer 2024; prices are yet to be announced but the car is likely to take on the forthcoming all-electric version of the Porsche Boxster that's slated for arrival in 2025.