As the manufacturer pushes towards an electrified future with its new cars, Hyundai has paid tribute to its past with a resto-modded, all-electric Hyundai Pony
We've seen plenty of manufacturers reimagining iconic models from their back catalogue as restomods in recent years, but we suspect a modernised Hyundai Pony will still be a surprise for many.
The original Pony was something of a landmark car for Hyundai, making its debut in 1975 and becoming South Korea's first mass-produced and exported car. The concept version has been called the Heritage-Series Pony and keeps the original Giugiaro-designed silhouette, but features a host of mod-cons to complement its sleek matt silver exterior.
Modifications include camera-based mirrors, a digital-touch transmission and the same pixelated U-shaped headlights and tail-lights as found on the brand new (and Pony-inspired) Ioniq 5 hatchack. There's no clarification on the Pony's drivetrain, but we're confident it's been imagined as a full battery EV, most like using the same motor and battery set-up as the new Ioniq.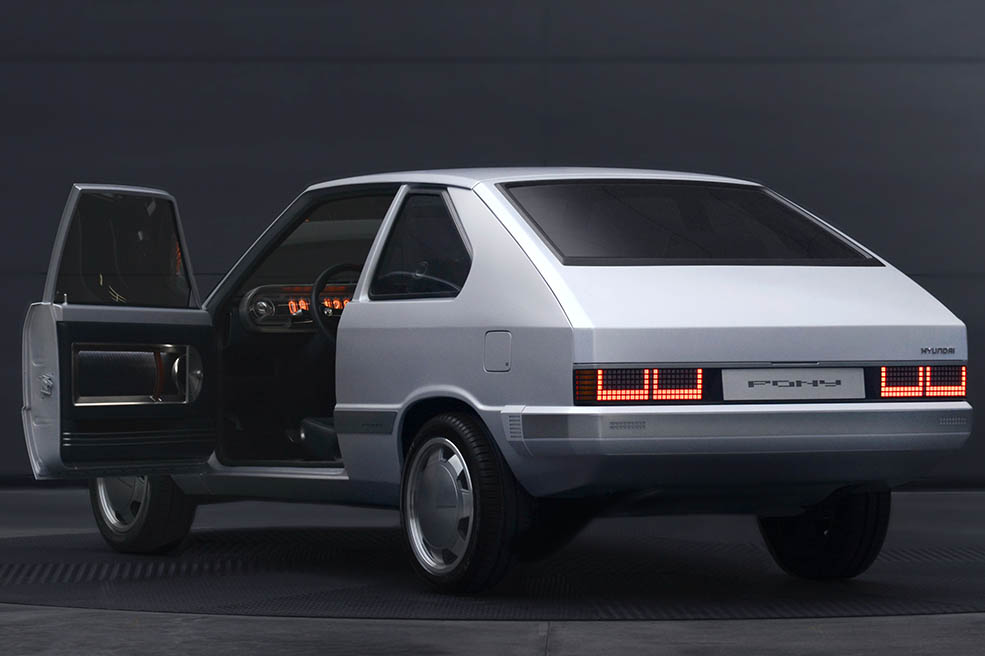 More radical is the interior, where a simple aluminium-coloured dashboard uses illuminated Nixie tubes rather than a conventional clock or dial set-up. There's also digital touch transmission and what Hyundai describes as a voice-activated steering wheel. It's also equipped with a scooter-style 'last-mile mobility device' stowed in the boot – much like the Honda City/Motocompo combination of the 80s.
Although it looks very much like a rendering in these images, Hyundai says the car exists and is featured at the recently opened Hyundai Motorstudio Busan in South Korea as part of its 'Reflections in Motion' exhibition, which runs to June 27. Needless to say, the chances of it ever being any more than a one-off slim.