New year, new project? Despite the fact that money's short at this time of year, it shouldn't put you off buying one of these budget, open-topped gems.
Christmas is but a distant memory, and you've finally overcome the self-loathing for consuming your own bodyweight in chocolate over the festive season. Which leaves a bit of a yawning gap, doesn't it? Well, not for long we hope because now's the perfect time to go out and buy a new winter project.
The thing is, for obvious reasons, there's not a lot of cash floating around at this time of year so we are talking about cars of the inexpensive variety. In fact, we've set our budget at just £2000 – give or take a bit of seasonal goodwill. Talking of which, lack of funds works both ways you know; at this time of year sellers will always be eager to do a deal. Moreover, following the 'new year, new project' principle, the market is usually awash with cars for sale, so there will be plenty of cars to choose from.
Spending such a paltry amount doesn't mean you can be reckless, though. In fact, all the usual buying caveats apply – so view as many examples of the same model as you can and be prepared to walk swiftly away from any that run the risk of still being up on axle stands come Autumn.
When funds are limited running and repair costs also come into play. And with a project, the availability and price of replacement parts and repair panels is a major factor. Fortunately, all of the potential candidates we've picked are well catered for when it comes to affordable spares – so if you pick up a car cheap, rest assured it won't cost a king's ransom to fix it up and keep it running afterwards.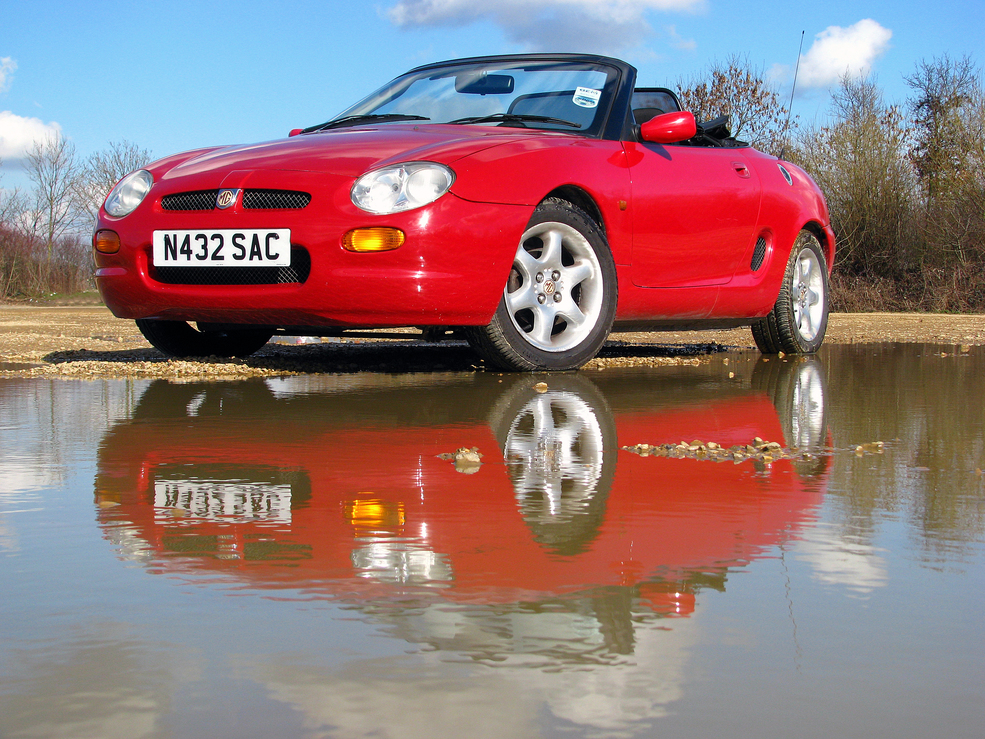 MGF
Let's start with a perennial favourite, the MGF. It's a car that refuses to date and its many innovative features, not to mention that MG moniker on the bonnet, makes it an interesting proposition for those on the hunt for a budget, open-topped car that's fun to own and cheap to run.
With its mid-engined setup and Hydragas suspension the MGF was a relatively sophisticated beast at the time and it still drives well today. It's actually a bit more forgiving than the traditionally-sprung TF that replaced it in 2002. It's pokey enough, too, and with the 145bhp 1.8 with variable valve control it's able to do 0-60mph in around seven seconds and go on to 120mph. In short, with the hood down it will feel plenty fast enough for most twisty A-roads.
Launched back in 1995, from a buying perspective, indeed it's these MGF VVC models (from 1996) which appeal most. It got better trim in 1999, and that year also saw the arrival of the 75th Anniversary special edition in Mulberry red or black, with black hood, leather seats and a red tonneau cover. In 2000, this was joined by another special edition, the blue Wedgewood SE of which just 652 were produced.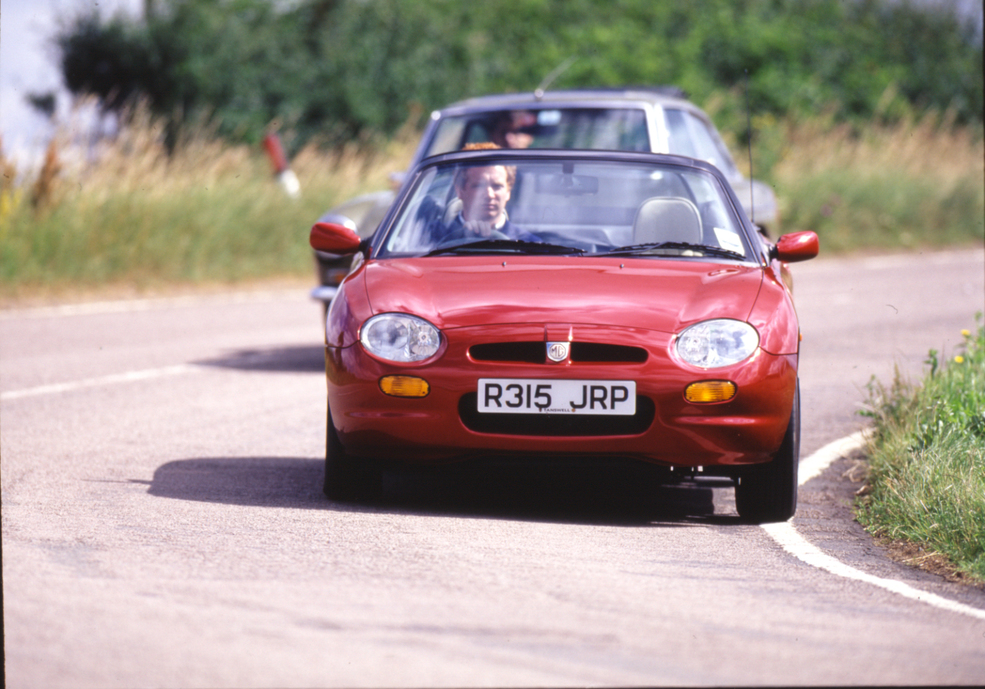 The range was extended in 2001 with a new, entry level 1598cc 112bhp model and the limited edition Trophy 160SE which, as its name suggests, boasts another 40bhp and also benefited from aerodynamic tweaks, a slightly stiffer suspension setup, revised steering and close-ratio gearing. The big change, of course, came in 2002 with the Peter Stevens' tweaked MGTF which had sleeker bodywork with twin projector-style headlamps and traditional coil sprung suspension, the latter being retuned in 2005 to provide a slightly softer ride.
So what do you need to know before you wrap up and rush out and buy one?
That K-Series engine has a history of head gasket failure and the fact that a low-coolant level warning light was only fitted to the very last TFs doesn't help. The vast majority will have been fitted with a beefier multi-layer steel (MLS) gasket by now, of course, but it's worth keeping an eye on the temperature gauge and look for early signs of oil/water contamination. Because the radiator is at the front of the car there are water pipes running underneath and these can develop air locks, corrode and leak, further increasing the risk of overheating.
On VVC engines, any rattling from the right-hand side of the could be the control unit – they don't cope well with over-revving. Replacement is a costly and time-consuming job, so don't take any prisoners when negotiating – try and get at least £300 knocked off the price.
These cars are also plagued by damp start problems – not helped by the fact that louvres in the boot allows rainwater to fall directly on top of the engine. Most issues concern duff coil packs and problematic ignition leads; early cars had a single coil pack for two spark plugs and long ignition leads, while later cars were better because the packs were moved on top of the engine. Either way, if an MGF you view has problems starting, make ignition lead replacement your first plan of action.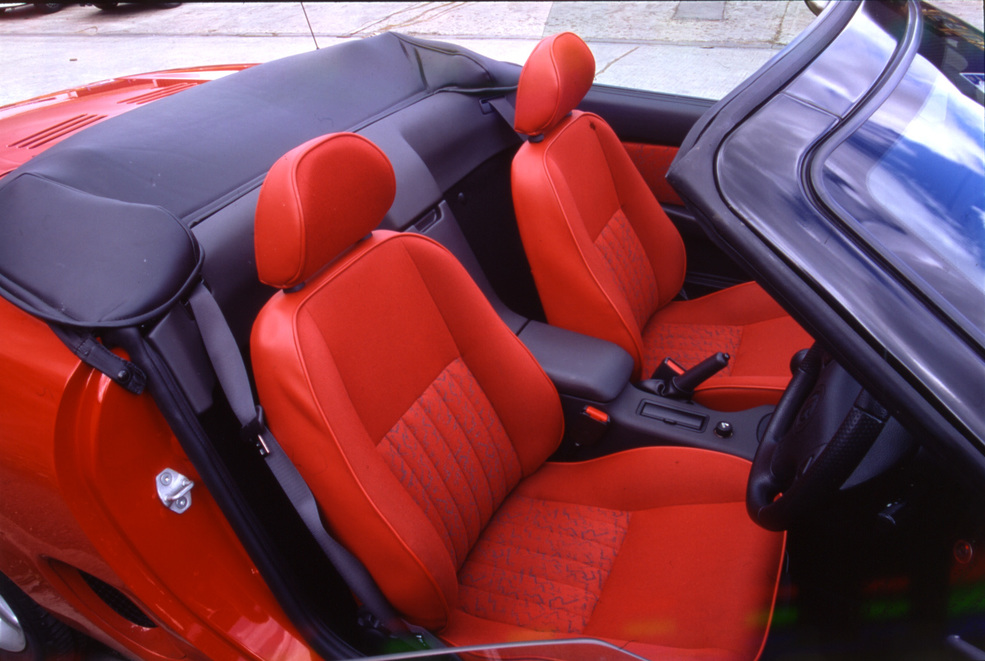 Other electrical problems associated with the MGF include duff window regulators and central locking systems, along with occasional bad earth issues so make a point of checking everything works as it should. Oh, and beware of any dash warning lights to do with the power steering, it's an electronic affair located on the column itself and often fails. Other things to look out for are worn upper balljoints and detached rear shock absorbers.
As for the hood, early MGFs were notorious for letting in water, and the most common cause is ill-fitting or damaged rubber seals. The TF is more watertight. The hoods themselves rarely give problems and are quick and easy to fold, unless the frame's been bent. New hoods start at around £500, but if it's just the rear plastic screen that's had it, then these can be replaced separately for less.
If this all sounds a bit worrying, don't let it put you off because most MGFs will have been well kept by fastidious owners who will done all the outstanding jobs as well as adding all manner of accessories; the MGF is a perfect car to spoil with natty bolt-on goodies and upgrades.
As for price, needy projects start at as little as £400. Double this and you'll find yourself behind the wheel of a nice one with leather trim and a bit of history. Needless to say, autos and somewhat flaccid 1.6i sometimes struggle to find buyers. MGTFs kick off at around £800, with good examples making no more than £2000. Special editions such as the Trophy 160 usually sell for around £4000. But who knows, if it's cold and wet when you view a car for sale you might get lucky!
TRIUMPH SPITFIRE
The first 'Spitfire 4' (the number referring to its cylinder count) hit the road in 1962, it was tweaked in 1965 to become the MkII and was gifted with a 75bhp 1296cc engine from 1967 when it transitioned into the MkIII. Michelotti gave it another makeover in 1970 by adding flared rear arches to make it into the MkIV – which in turn received reclining seats, wood dash and more negative camber at the rear from 1973. But before we go any further, time for a quick reality check; examples from the '60s are now hugely sought after, so with a measly £2000 at our disposal we're looking at dog-eared MkIVs and the model that followed in 1974, the 1500. Still, don't feel disheartened because both offer the prospect of fun and classic-fettling frolics aplenty. Although outright power from the 1500 was actually down a little on its predecessor, its longer stroke gave the car more torque and better cruising ability so it's not all bad. Performance from the 1500 is as follows; 0-60mph is achieved in 13.2 seconds and it can go on to a (theoretical) maximum speed of 100mph.
As well as boasting slightly improved driving dynamics, the 1500 had a much-improved interior with better seats and trim, with the majority of switchgear getting a revamp with TR7 items taking the place of former Herald fittings. Everything's available, so don't worry if it's all looking a bit scruffy.
To be honest, rust will be the biggest deal-breaker when looking at cars for sale with corrosion often taking hold just about anywhere and everywhere. As a guide, the worst hit areas will be the sills, door bottoms, boot floor, wheel arches, A-posts and the front mounting point for the rear leaf springs. Be careful if there's rot in the windscreen frame as, unlike the MkI-III which had a separate windscreen frame, it's built into the bulkhead on the IV and 1500 making repairs more tricky.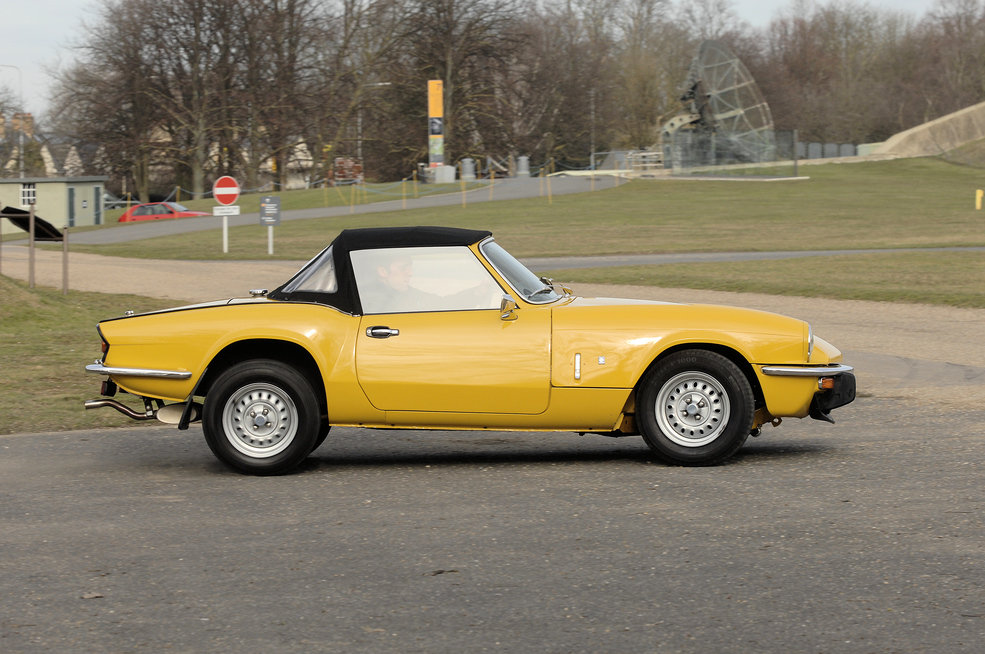 Apart from being generally tired, engines shouldn't be an issue. Excessive valve gear rattle will mean a top end rebuild, which is hardly a mammoth job on this car, but big end noise isn't good, nor is play in the crankshaft. You can check for the latter by tugging on the front pulley. If there's excessive movement, it will be the thrust washers which, if they break up and fall out will wreck the engine. Because all the necessary parts are cheap and readily available, why not make a rebuild your first job while waiting for the weather to improve?
If anything, the 1500 was a little more fragile – poor idling is likely to be due to a failed Waxstat jet in the SU carb, and the feeble radiator can cause overheating. Meanwhile, knocks from the front suspension could either be the vertical links, worn nylon bushes in the trunnions or broken anti-roll bar links. They're all easy and cheap to fix. Less so are the rear wheel bearings, as you'll need a press to get them out, so if you hear a whirring sound negotiate accordingly.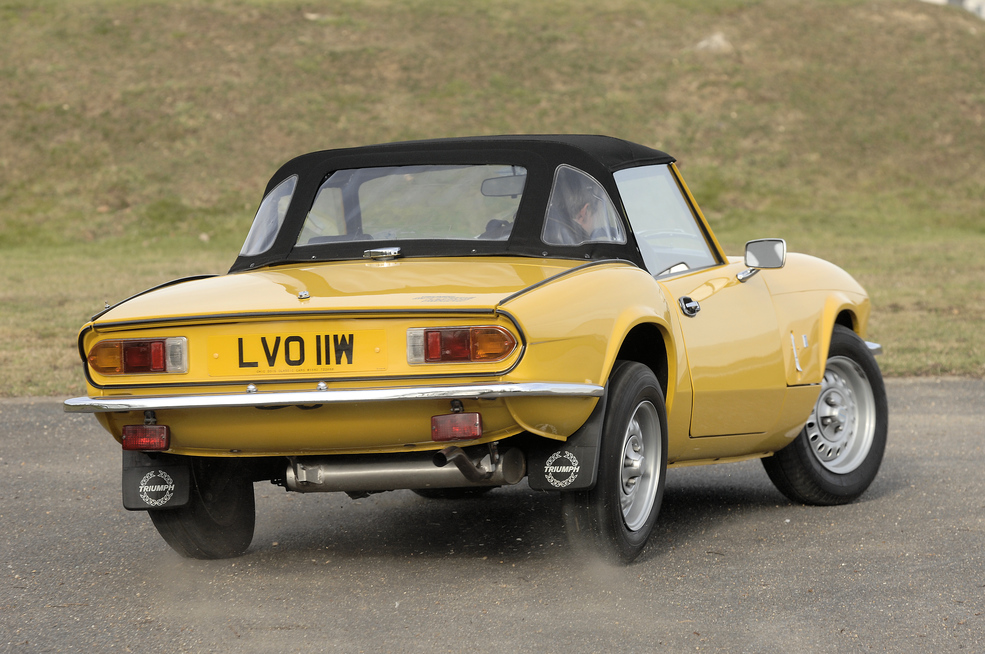 Interiors can be easily and cheaply refurbished and if the hood is shot, don't panic as vinyl replacements start from under £300.
So how much might you need to pay? Nice examples with everything done usually fetch between £4000-£6000, with roadworthy MkIVs usually changing hands for around £3,000. You might catch an owner in a generous mood and prise it off them for a grand less, otherwise buy a project for £1500 and get the pleasure out of doing it yourself. As always, do a quick tot up of what welding needs doing, what repair panels are required and assess the general health of the engine and the rest of the running gear before parting with any cash.The generally more civilised 1500 will change hands at similar money to the MkIV.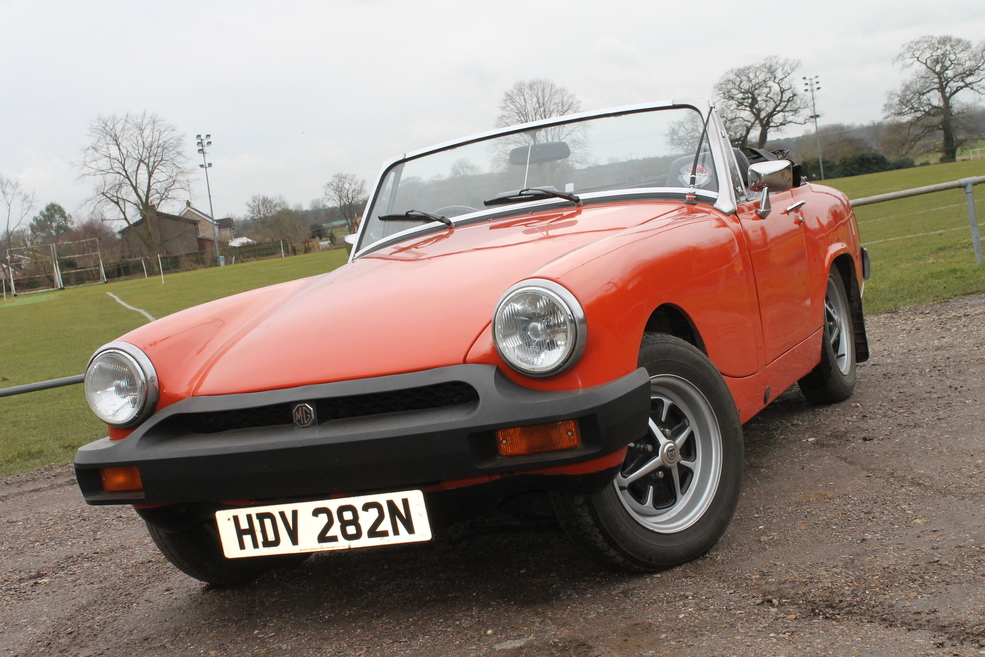 MG MIDGET
The first Austin-Healey Sprite broke cover yonks ago, in the late 1950s to be precise, and the badge engineered MkI Midget clone first appeared in 1961. The Austin-Healey Sprite was rebadged the Austin Sprite in late 1970 then dropped altogether in July 1971. The Midget, however, survived and was treated to rounded rear wheel arches in 1972 before undergoing what was undoubtedly the most controversial change in 1974 (for the 1975 model year) when, under the control of British Leyland, it received rubber-faced bumpers and a 1.5-inch rise in ride height in order to meet US safety regulations. At the same time, the 1493cc Triumph unit from the Spitfire 1500 replaced the well-liked A-Series 1275. Despite the extra capacity, the 1500 Midget was never that quick with 0-60mph timers needing to wait 18.5 seconds before they could record their result. But that was missing the point a little; sitting so close to the road in such a diminutively proportioned open-topped two-seater was always going to invigorate more than simple numbers on a piece of paper could ever transmit.
Of course the purists will always err towards the more classic, chrome-bumper-ed Midget – but in our humble opinion, there's just as much satisfaction in owning the later car, especially as it easily dips below our skinflint winter project budget.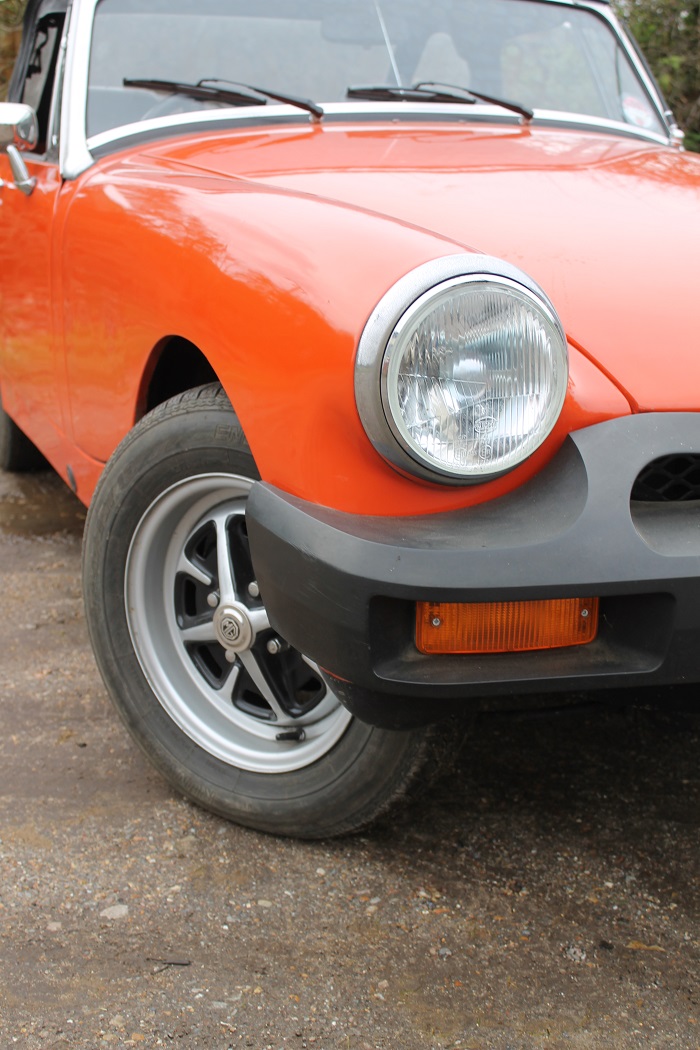 Again, though, rust is likely to be your biggest enemy. Specialists often say the 1500 Midget's metal wasn't as good as it was on earlier examples, and the rustiest bits will be the sills, sill steps, floors, door bottoms and the rear suspension mounts where they meet the back of the boot. Bear in mind the sills are structural, and because corrosion will start at the front and gradually work its way back you need to inspect their full length. A good tip is to wiggle the doors on their hinges as excessive movement will point to A-pillar rot which can be a difficult job to sort properly.
The A-Series engine is strong, torquey and very tunable. The tappets can get noisy, but lots of the din can be adjusted out, while a deep rumble from inside the engine suggests main bearing wear. A heavy knocking, which becomes more noticeable on the overrun is more likely to be the big end bearings. If the car you're viewing struggles to idle, suspect a leak in the inlet manifold. The Triumph offering is generally less strong, requires regular oil changes and doesn't respond well to being over-revved. While out on a test drive, see if the owner rides the clutch. If they do, it can lead to wear to the thrust washer, allowing the crank to move backwards and forwards. Like in the Spitfire, you can detect excessive wear is to get a helper to depress the clutch with the engine running while checking pulley movement. Rear axle whine is also par for the course and oil leaks don't bode well for the axle's longevity, so climb underneath to look for tell-tale signs.
Another thing to check on a test drive is the state of the transmission. The Midget's 'box can whine horribly, jump out of gear and lose synchro and rebuilds are £500. If you find one with a Sierra five-speed 'box fitted – snap it up! While on the subject of useful upgrades, if you spot an external rocker oil feed, oil cooler and high power fan on a 1500 see it as a bonus.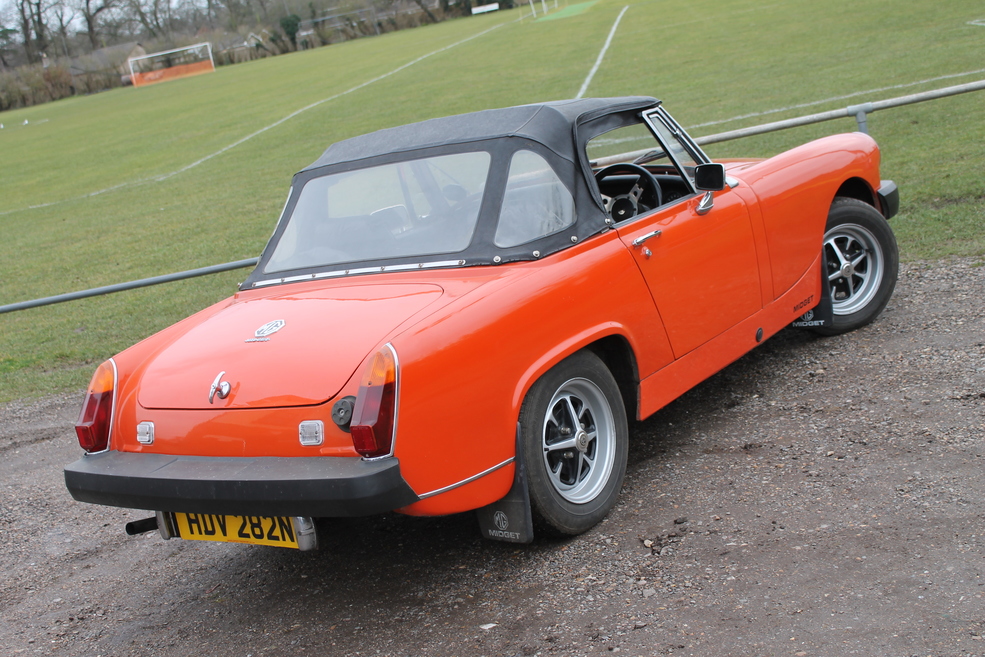 When it comes to price, the less liked rubber-bumpered 1500 Midget will command the lowest prices and there's a good chance you'll come across a project for little more than £1000. You'll need a bit more for a pre-'74 1275cc Midget, but if you like the more classic look and the bombproof A-Series engine, it's likely to be a price worth paying. A car that meets MoT standards with work still left to do will be at the top end of our budget, while £1,500 should still be enough for a project with some tidying left to do, although securing a pre-'72 car without the flared rear arches may need harder negotiation.