Welcome to the finale of our Old School vs New School series where we visit the controversial subject of traditional classics compared to their more youthful equivalent. This time, the original VW Beetle vs the MK1 VW Golf…
Just as today's paper is tomorrow's chip wrappers, so each modern classic will eventually take its accepted place in the line-up of cherished classics at a car show of the future and we've picked another selection we reckon offer a good illustration of the changing tastes.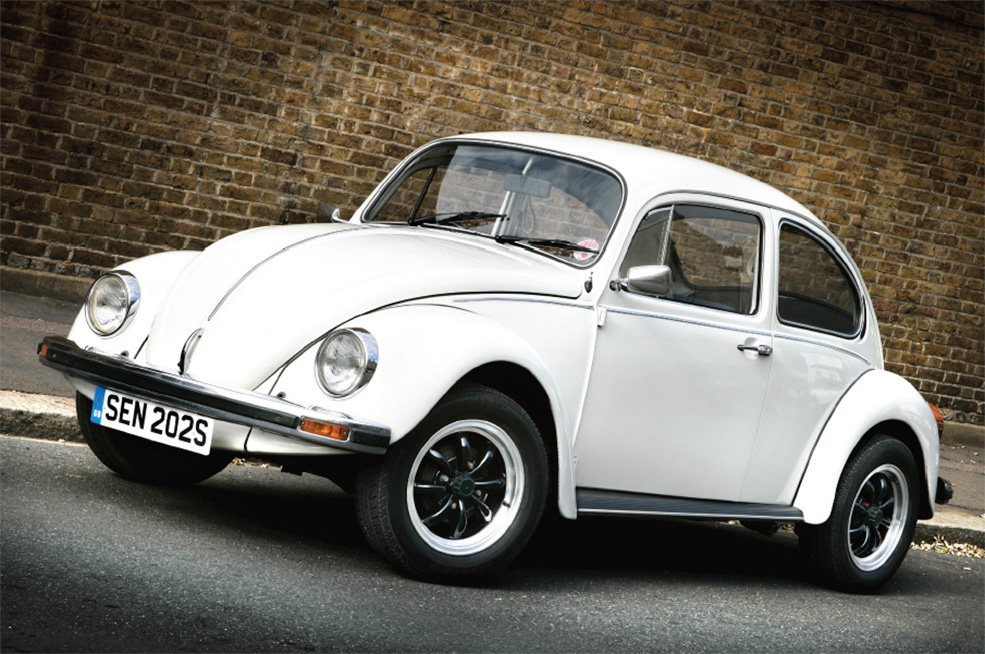 OLD SCHOOL: VW BEETLE
TECH SPEC
Engine: 1198cc
Power: 40bhp
Top speed: 72mph
Fuel consumption: 32mpg
Gearbox: four-speed manual
It's no coincidence the Beetle was called the 'people's car' because during its eight decade production lifespan it's remained one of the most idiosyncratic and most loved vehicles of all time. As it's enjoyed such a long and illustrious history which dates back to just after WW2, the tricky bit is generalising about the various models; obviously there's a big difference between a Split Rear Window Beetle from the early 1950s and a curved screen MacPherson strut 1303 Super Beetle made two decades later. That said, the basic format didn't change – namely the air-cooled engine in the back powering the rear wheels, a platform chassis, bolt on wings and that wonderfully distinctive bug-like shape.
Incredibly, the very first Beetles left the Wolfsburg production line 80 years ago this year; they had a dividing bar in the rear window which was removed in 1953, these models being commonly known as the 'Oval'. The rear window was enlarged again in 1958. Bigger engines arrived a decade later (1300cc and 1500cc from 1966 and '67 respectively) and most cars got upright headlights in place of the previous sloping affairs and 12v electrics from '67 which also helped driveability.
The switch from torsion bars to MacPherson struts initially on the flat windscreen 1302 in 1971 also made a big difference, as did the arrival of the Super Beetle with its rounded screen and curvy plastic dash two years later. There was also an attractive Convertible in the Beetle line up. Production switched from Germany to Mexico in 1979, with the last one finally leaving the production line in 2003.
WHAT'S THE APPEAL?
In short, it's a cool car that's full of character – and, if you happen to fall in love with its personality, you'll want to buy one. If not, you won't. It's as simple as that. Being German, the Beetle is beautifully engineered and actually still pretty convincing as an every day classic. It's not quick, obviously, but it's still surprisingly good to drive with responsive steering, firm suspension and a wonderfully precise gearbox.
OWNING THEM
A Beetle gives you instant membership to a worldwide network of clubs, specialists and parts suppliers. What isn't readily available off the shelf from the likes of Heritage Parts Centre, who are UK agents for VW Classic Parts, can be purchased secondhand at a show. There's one virtually every weekend. As for DIY, the idea that Beetles are difficult to work on is a myth. And anyway, they should still provide good reliability. Becoming a Beetle owner will make you a member of a worldwide family of VW fanatics; it's to enjoy what's become a worldwide family of other air-cooled VW fanatics, and that's another big attraction.
BUYING THEM
• Rust is an issue, though body panels and repair sections are readily available
• Beware rotten heater channels and floorpans; taking the body off the chassis to do a proper repair is an involved process
• Blue smoke on the overrun points to worn valve guides
• Check for crankshaft end float by tugging the bottom pulley
• Avoid ones that have been too bodged/tampered with
• Later models offer better value and are more appropriate for daily use
VALUES
The days of being able to pick up an MoT'd Beetle for a few hundred quid are long gone, sadly. Indeed, values have to a large extent shadowed those of the even more desirable VW Bus, and sought after '60s cars, if original and solid, will easily fetch £10,000-£12,000. An Oval rear window model with some work left to do might be three times that. The best buys are rust-free US imports and early '70s UK cars – the latter of which start at £4000.
INSURING THEM
To cover a 1974 VW Beetle 1300 worth £3000 you're looking at £65 with £100 accidental damage, fire and theft excess through Adrian Flux. Quotes are based on a 45-year-old male, second vehicle. The car is garaged, covers 3000 miles a year and lives in an SP2 postcode. He has no claims or convictions, is a club member, and is employed as a marketing manager. Comprehensive cover quotes were supplied by Adrian Flux and include free legal cover and optional agreed value. You can get your own quote at Adrian Flux or on 0800 369 8590.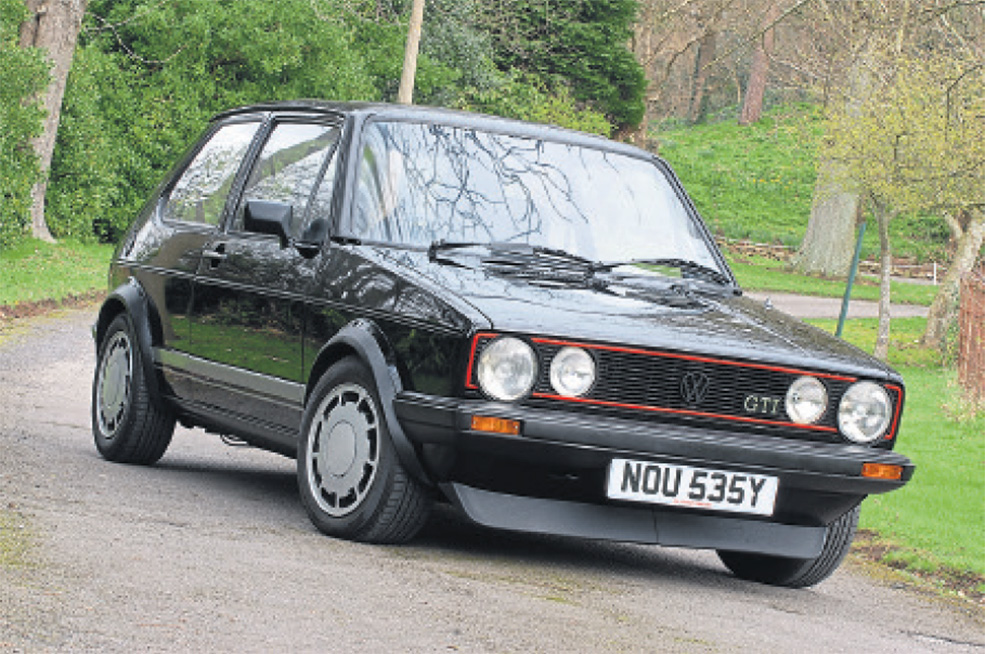 NEW SCHOOL: MK1 VW GOLF
TECH SPEC
Engine: 1588cc
Power: 75bhp
Top speed: 99mph
Fuel consumption: 35mpg
Gearbox: four/five-speed manual
Overshadowed to an extent by the original hot hatch GTi version, the humble first generation Golf is now something of an icon in its own right. Why? Because it's a beautifully simple concept that offers the perfect mix of retro nostalgia and modern day practicality. Cruelly, of course, it was the water-cooled Volkswagen that finally sounded the death knell for the Beetle when it was introduced in 1974 – but as viable replacement it represented something of a masterstroke by the German mass car manufacturer.
Available in both three- and hugely practical five-door guise and with either a 1.1 or 1.5-litre watercooled, four-cylinder engine up front, the Golf was an instant hit across Europe. Indeed, with its scalpel sharp Giugiaro styling and hugely handy rear hatch, it revolutionised the whole small car market in an instant and has subsequently set the benchmark against which all other manufacturers have been judged ever since.
Being 'just right' from the start there were very few visual changes in its production lifespan, beyond various bits of extra body trim, oh, and the replacement of those original classic-looking chrome bumpers with less elegant grey plastic affairs in 1979. Engine-wise, there was a 1.1, 1.3, 1.5, 1.6 and a non-turbo 1.6 oil burner which joined the model line-up in 1978.
The Mk1 was replaced by the altogether bigger and heavier Mk2 in 1983, although the Karmann built Cabriolet and the Caddy pick-up went on a bit longer.
WHAT'S THE APPEAL?
Now, with just about everything being controlled electronically, there's something hugely refreshing about the simplicity of the original Golf. It looks great, too, with a large glass area and lots of arrow-straight panels and sharp angles which contrast wonderfully with everything else on the road these days. And being so light, it handles nicely and examples fitted with even the smallest engines will still feel nippy. Inside, as you'd expect, the approach is one of massive understatement, yet somehow when you're behind the wheel it still feels bang up-to-date. In fact, it's only now you realise just how ahead of its time it was.
OWNING THEM
The 'less is more' concept means the Mk1 Golf is strong, reliable and refreshingly straightforward to keep. Virtually everything is still available from independent parts specialists and because there's little in the way of tecŸical sophistication, body repairs aside, there's unlikely to be any expensive bills when it comes to repairing one. You can even get hold of pattern front wings for under £80. Other running costs are equally derisory for Mk1. Because there's nothing to it, you can expect 35mpg on a run and being covered by classic insurance now, you won't pay much for your premiums. Furthermore, there's a dedicated club for Mk1 owners; www. vwgolfmk1.org.uk.
BUYING THEM
Rot can take hold in the sills, valances and front wings, as well as in the door bottoms and windscreen surrounds
Main crankshaft seal can leak oil which is an engine out job to replace. When valve seals leak there will be lots of blue smoke
Fuel filler necks rust and contaminate the fuel system so if the engine runs rough, this could be why
Carbs wear on small block engines – a repair kit is £15• Synchro can go on second gear
Buy based on body condition above everything else
VALUES
Sadly, the survival rate for the less sporty Mk1 Golfs isn't as good as that of the GTI version. Early chrome bumper models, therefore, are now particularly sought after and fetch strong money. In fact, £5,000 will be the minimum for one of these. Very early ones with the 'Swallow tail' rear panel will be more. The best buys are the later, often overlooked 1.3 LX models – and with £3000 in your pocket you should be able to pick one up in reasonable nick. Strangely enough, the best value buys are the Cabriolets which seem to command less money than the hatches. A late non-GTI could be yours for £2500.
INSURING THEM
To cover a 1982 VWGolf GTI worth £8000 you're looking at £120 with £150 accidental damage, fire and theft excess through Adrian Flux. Quotes are based on a 45-year-old male, second vehicle. The car is garaged, covers 3000 miles a year and lives in an SP2 postcode. He has no claims or convictions, is a club member, and is employed as a marketing manager. Comprehensive cover quotes were supplied by Adrian Flux and include free legal cover and optional agreed value. You can get your own quote at Adrian Flux or on 0800 369 8590.
OLD SCHOOL VS NEW SCHOOL SERIES
Thinking of getting your hands on a modern classic car? Check out past features from our old school vs new school classics series.